News You Can Use
---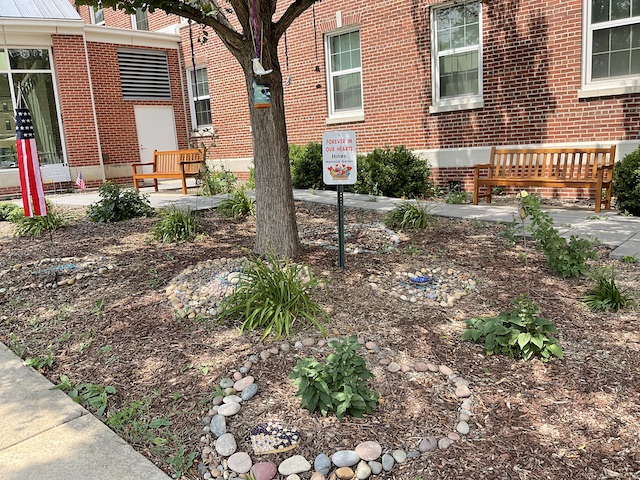 Team effort yields memorial garden at Hines
A group of nurses at Hines VA Hospital recently rallied a team of volunteers to create a memorial garden at the hospital to honor "fallen" staff members and Veterans. The garden features memorial stones organized around a heart motif along with benches, daylilies, roses, hanging bells, crystal birds and a patriotic windsock. "The garden provides a place for peaceful reflection for the staff in these challenging times," says Francine O'Connor, a retired nurse who joined in the effort.
---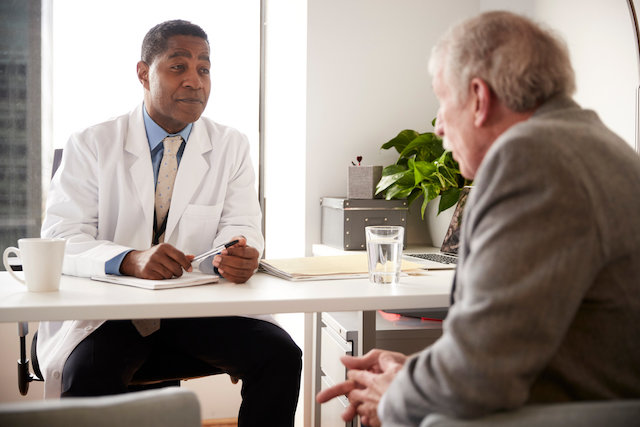 PACT Act expands eligibility for benefits
The Veterans Administration is expanding eligibility for health care and benefits for Veterans who may have been exposed to hazardous materials — including burn pits, radiation, Agent Orange, and other Gulf War toxins — during their military service. The Honoring our Promise to Address Comprehensive Toxics Act of 2022 (PACT Act) adds more than 20 new presumptive conditions, including respiratory cancers, for Veterans exposed to burn pits or other toxins.
For details, click here.
---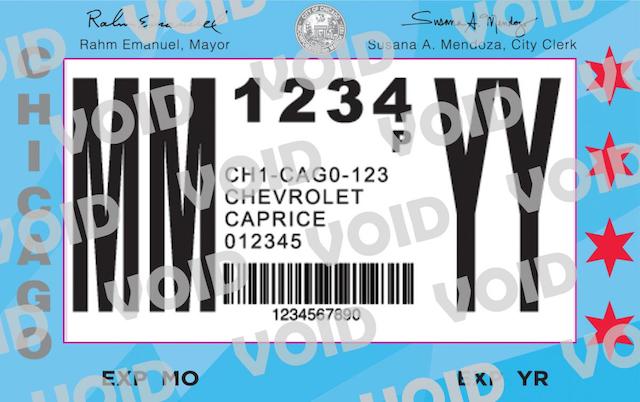 Chicago approves no-fee vehicle stickers for Veterans
The Chicago City Council voted to pass and codify the City Clerk's No-Fee Veterans City Sticker pilot into a permanent program that now also includes small trucks. Those who have a Veteran designation on their Illinois Driver's License or Illinois State ID are eligible to receive a free Vehicle City Sticker.
For more, click here.
---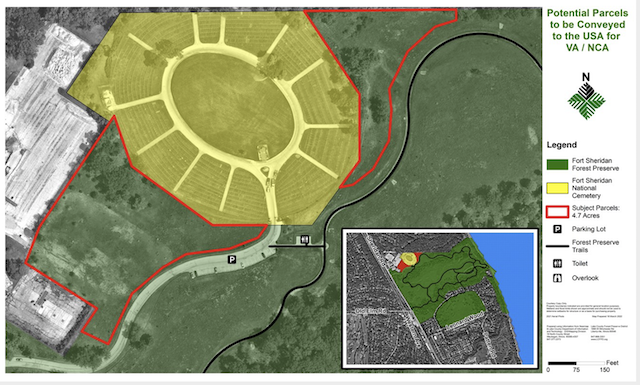 Fort Sheridan Cemetery expansion gets green light
Lake County Forest Preserve officials have agreed to move forward with a plan to convey 4.7 acres of its property for the expansion of the Fort Sheridan National Cemetery. Playing a role in that decision was a petition with 699 signatures favoring the land transfer, which extend use of the cemetery for 50 years. The petition was submitted to the district on Aug. 29.
For details, click here.
---
'Taps' isn't just for buglers anymore
At 3 p.m. on Memorial Day, musicians around the country lent their talents to Taps Across America's National Moment of Remembrance. The organization called upon all Americans to pause then for a minute to remember those who died in military service to the United States. Those who could were asked to mark the moment by playing "Taps." Undaunted by his lack of a bugle, Judson University music business major PJ Sasso performed a stirring rendition on his melodica in front of the Italian American Veterans Museum. Thanks for keeping the tradition alive, PJ!
To view the video, click here.
---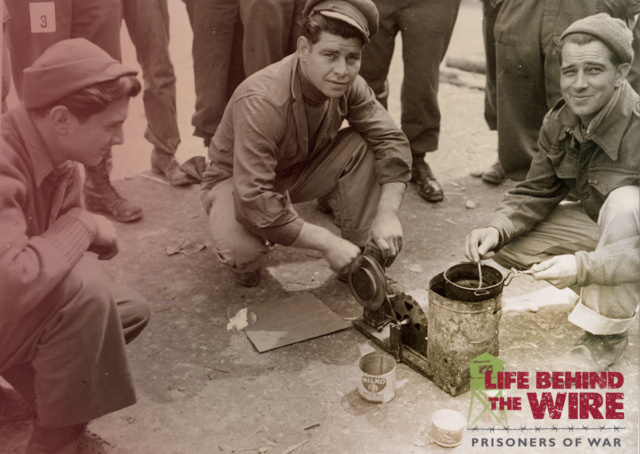 Pritzker exhibit focuses on POWs
What happens when a soldier, sailor, airman, or Marine is captured during war? How do they cope with the physical and mental toll of prison life after capture? Everything from escape attempts and their consequences to the ingenuity and inventiveness of prisoners are explored in the Pritzker Museum's latest exhibit, "Life Behind the Wire." Visitors can explore artifacts, archival materials, photographs, and oral histories that examine day to day life in a prisoner of war camp and individual reflections of life as a POW.
For more, click here.
---
Armed Forces Day: May 21, 2022
Armed Forces Day will be honored on May 21, 2022. Established in 1949 by President Harry Truman and celebrated on the third Saturday in May, it was created as a single holiday to thank members of the Armed Forces for their bravery and sacrifices in protecting our freedoms. Previously, there were separate days for the Army, Navy, Marine Corps and Air Force. In observance of the day, parades, festivals and other events are held in communities across the country.
— Felicia Reilly
For more, click here.
---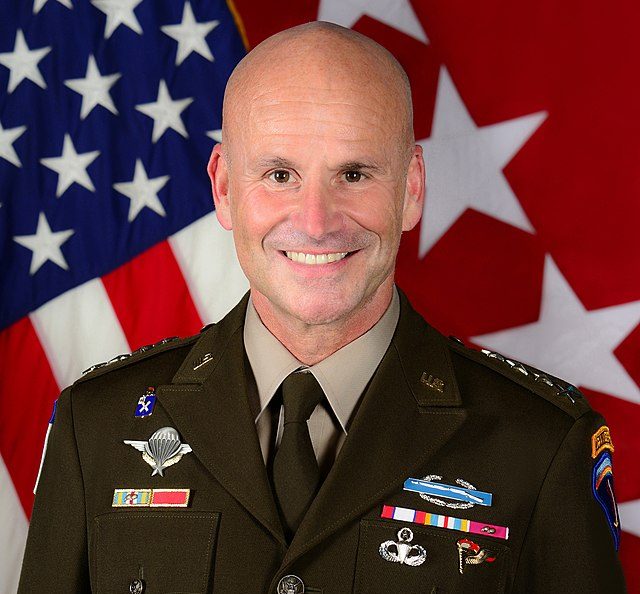 Gen. Cavoli to take command in Europe
President Joe Biden has nominated Army Gen. Christopher G. Cavoli to become the new commander of U.S. European Command and Supreme Allied Commander Europe. At the same time, NATO announced the nomination of Gen. Cavoli as Supreme Allied Commander Europe. If confirmed, he will take charge at a critical juncture as the world grapples with Russia's invasion of Ukraine. Gen. Cavoli currently serves as commander of U.S. Army Europe-Africa, overseeing more than 60,000 soldiers.
For a profile of Gen. Cavoli, click here.
---

Jesse Brown Center goes all out for Veteran moms
More than $12,000 in items for newborns were donated to female Veterans on April 2 at Jesse Brown VA Medical Center in Chicago. Twenty-four expectant mothers and their families received hundreds of dollars in infant necessities in the course of the day.
Upon arrival at the Jesse Brown VA entrance, the Veterans were greeted with balloons, applause and cheers. Soon after, car seats, strollers, infant bathtubs, infant toiletries, handmade bibs and blankets, filled diaper bags, boxes of diapers, bags of children's books, and more were packed into their cars, vans, and trucks.
Anticipating only a few baby items from the event, many of the Veterans were overwhelmed. "I can't believe all of the gifts I am getting," one Veteran said, wiping away the tears. "This will help me so much!"
Staff from Jesse Brown VA's Center for Development and Civic Engagement staff joined forces with volunteers from the VFW Auxiliary Post 2298, the 5th and 19th VFW Auxiliaries, Humana, Operation Sweet Life Inc. and Celebrating All That is Feminine and other groups to make the event possible.
For more on the Jesse Brown VA Medical Center, click here.
https://www.va.gov/chicago-health-care/locations/jesse-brown-department-of-veterans-affairs-medical-center/
---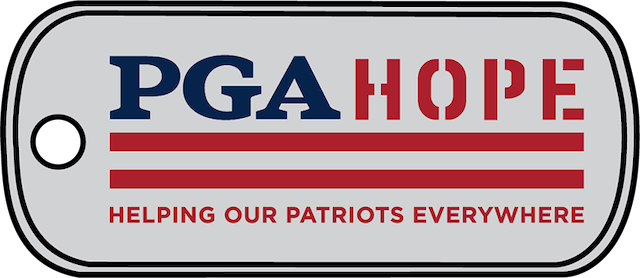 PGA helps Veterans golf their way to well-being
PGA HOPE has lined up a series of clinics to introduces golf to Veterans to enhance their physical, mental, social and emotional well-being. The six-to-eight-week sessions are taught by PGA professionals who are trained in adaptive golf and military cultural competency and are available to Veterans at no charge. For details, contact Jim Nelson at nelson-james@att.net.
---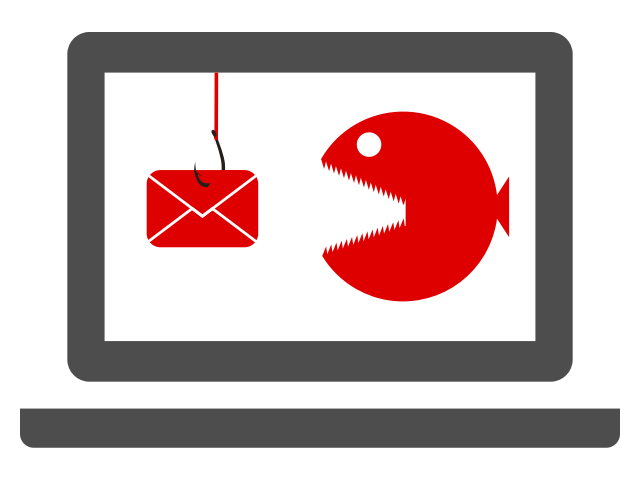 Beware of phishing scams
If you receive a suspicious email from the Department of Veterans Affairs, do not open the email or click on any attachments or links. VA does not send emails asking for personal information, threatening emails, or emails claiming to take adverse actions on claimants or beneficiaries (jail or lawsuits). If you receive any of these emails or are in doubt about any communications appearing to be from VA, call 800-827-1000.
For details, click here.
To view a video on the subject, click here
---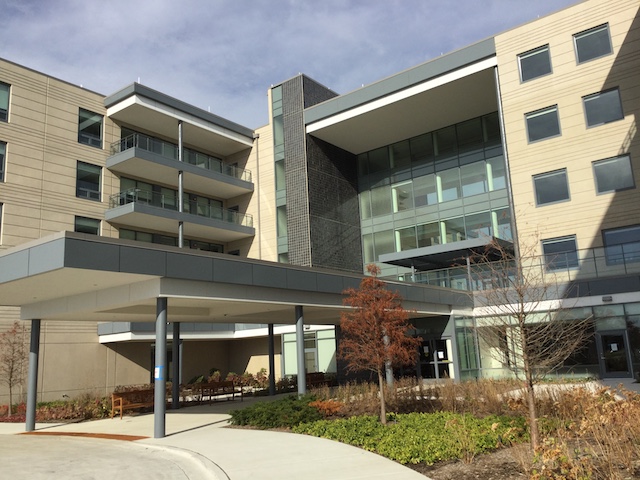 Take a virtual tour of the Chicago Veterans' Home
The Chicago Veterans' Home is open and accepting applications, and a virtual tour is now available. Admission to an Illinois Veterans' Home is based on the eligibility of the Veteran pursuant to a variety of criteria, the ability of the home to provide adequate and appropriate care and services. and the availability of beds in the category required by the Veteran's medical conditions and assessed needs.
To take the virtual tour, click here.
For more, click here.
For a Veterans' Home application, click here.
---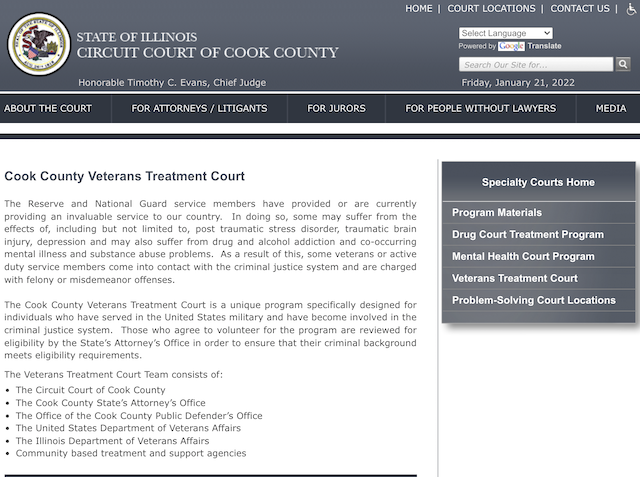 McCormick grant helps veterans help veterans
Starting this year, veterans appearing before judges in Cook County will receive help from fellow veterans at the University of Chicago through the university's Veteran Restorative Justice Project. The project will be funded for the next two years by the McCormick Foundation.
Through the project, qualified veterans who are students at the University of Chicago will provide resources, counseling, support and pro-bono services to veterans involved with the Cook County Veterans Treatment Court.
The VA created the VTC to assists those who have served in the United States military and have found themselves in the criminal justice system. Acknowledging that some veterans may suffer from the effects of post- traumatic stress disorder, traumatic brain injury, depression, drug and alcohol addiction and co-occurring mental illness and substance abuse problems, the court tries to reduce veterans' risk of further involvement in the criminal justice system in the future and to improve their overall quality of life.
Jesse Brown VA Medical Center works with the Veterans Treatment Court to engage Veterans in treatment and rehabilitation programs that facilitate recovery, aid in readjusting to community life, and helps them avoid probation violations and new crimes.
"Our military-affiliated population at University of Chicago is committed to removing barriers for our brothers and sisters. This is but one of several ways in which our students can engage the community at- large, give back, and continue serving," says Dr. Terrell Odom, director of the U of C's Office of Military-Affiliated Communities, which oversees the project. "I thank the Robert R. McCormick Foundation, the Cook County Courts, and the Jesse Brown VA Medical Center for their support on this project."
For an article in the Hyde Park Herald about the program, click here.
For more on the Veterans Treatment Court, click here.
---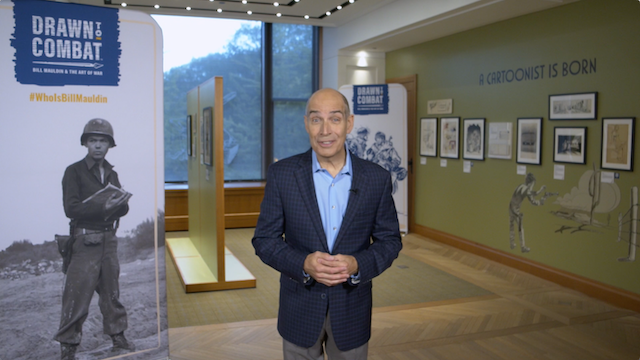 A virtual tour of Mauldin's works
The Pritzker Military Museum & Library is offering an immersive virtual tour experience hosted by WTTW's Geoffrey Baer that explores 100-plus works and documents from famed cartoonist Bill Mauldin's career. Running approximately 25 minutes, "Drawn to Combat: Bill Mauldin & The Art of War" details Mauldin's early years in New Mexico, his training in Chicago, his World War II works and career as an editorial cartoonist for the Chicago Sun-Times as well as other publications after the war. An award-winning political cartoonist who documented and satirized military and political affairs, Mauldin often featured important figures like Robert F. Kennedy, Mayor Daley, Gandhi, Martin Luther King Jr., and several U.S. presidents in addition to his famous WWII characters, Willie and Joe. The cost is $7 for non-members and $5 for members.
To purchase, click here.
---

VA expands presumptive conditions for disability benefits
In May 2021, VA started implementing provisions of the William M. Thornberry National Defense Authorization Act for Fiscal Year 2021 (NDAA), adding bladder cancer, hypothyroidism and Parkinsonism to the list of medical conditions presumptively associated with exposure to Agent Orange. A few months later VA added asthma, rhinitis and sinusitis (to include rhinosinusitis) on a presumptive basis based on particulate matter exposures during military service in Southeast Asia and certain other areas. Any Veteran who was previously denied service-connection for any of these six conditions but had symptoms manifest within 10 years of military service would need to file a supplemental claim.
To access the form, click here.
---

Mind-bending airshows by Italy's top pilots!
Frecce Tricolori is the aerobatic demonstration team of the Italian Air Force. Operating out of Rivolto Air Base, it was created on March 1, 1961, as a permanent group for the training of Air Force pilots in aerobatics. The team flies the Aermacchi MB-339-A/PAN, a two-seat jet trainer capable of 898 km/h at sea level. With 10 aircraft, nine in close formation and a soloist, they are one of the world's largest aerobatics display teams. Their flight schedule, comprising about 20 daring maneuvers in about half an hour, have made them among the most popular aerobatic shows in the world.
To view highlights of their performance in Jesolo, Italy, click here.
To view highlights of their performance in Dubai, United Arab Emirates, click here.
---

VA signs up for new health monitor
The Veterans Health Administration has granted a contract to Massachusetts-based InfoBionic to provide remote cardiac monitoring and diagnosis services to our nation's Veterans. InfoBionic is the developer of the MoMe® Kardia platform, a simple-to-use, easy-to-wear remote cardiac monitoring and diagnostic device. Frost & Sullivan bestowed the 2019 North American Remote Cardiac Monitoring Technology Leadership Award upon InfoBionic. The VA is the largest integrated health care system in the United States, providing care to the nation's military Veterans at 1,293 healthcare facilities, which includes 171 Veterans Affairs medical centers and 1,112 out-patient sites. There are currently more than 9 million veterans enrolled in the VHA healthcare system.
---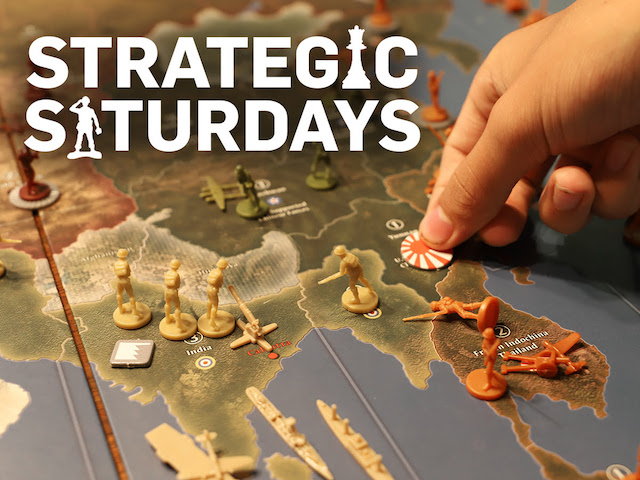 Pritzker Museum hosts weekly war games
Military strategy buffs can play rare and hard-to-find games covering a variety of historical conflicts each Saturday from 10:30 a.m. to 3 p.m. Dubbed Strategic Saturdays, the sessions force players to make tough choices and learn the impact technology has on tactics, while gaining hands-on experience in making decisions constrained by time, terrain, weather, logistics, enemy position, and the limits of command and control. Participation is $5 for members and $10 for non-members.
To register, click here.
---

A new resource for Lake County Veterans
The Veterans Assistance Commission of Lake County has recently implemented a new and improved website. The site is easy to navigate and provides ready access to information about the services provided by the VAC. Also available are all the documents a Veteran or family member needs to get the ball rolling to file for whatever benefits they might be entitled to.
For more, click here.
---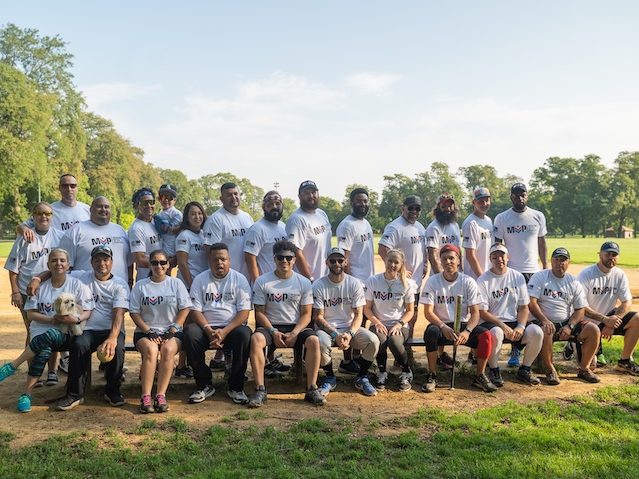 Group makes Veterans, athletes feel like MVPs
August was a busy month for the Chicago Chapter of Merging Vets and Players, a group dedicated to helping Veterans reintegrate into society by teaming them up with former professional athletes and Olympians.
The MVP team participated in a Veterans softball tournament hosted by the Rush Road Home Program and the Chicago Park District, attended a pair of pre-season football games and took part in a Military Day Summer Camp courtesy of the Chicago Bears, discussed bravery with a group of Boy Scouts at the Breakthrough Familyplex in Garfield Park, and took part in the Combined Veterans of Berwyn Luncheon & Expo.
The team meets from 7-9 p.m. every Thursday at POW! Gym Chicago (310 S. Racine Ave.) for an hour-long workout session followed by an hour-long huddle.
For more, click here.
---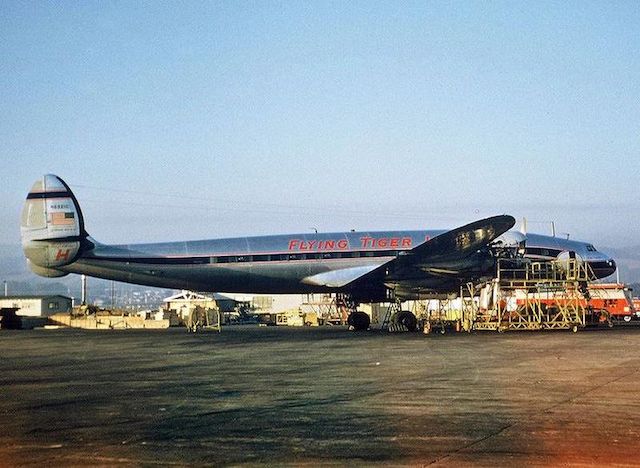 Movement to acknowledge lost military flight gains traction
On March 16, 1962, Flying Tiger Line Flight 739 left California on a secret mission to Vietnam with 94 Army soldiers on board and disappeared without a trace. Almost 60 years later, Wreaths Across America founder Morrill Worcester is battling to ensure that these lost souls receive the recognition they're due. Worcester is proud to report that progress is being made on that front. "Recently we learned that U.S. Senator Gary Peters filed Senate Bill 2571, which would add the names of the crew and passengers of 739 to the Vietnam War Memorial in Washington D.C., something their families have hoped for and worked toward for decades," Worcester reports.
For more about the flight, click here.
---

U of I reaches out to TBI caregivers
Researchers with the Chez Veterans Center at the University of Illinois at Urbana-Champaign are hoping to understand the needs and experiences of caregivers of Veterans with traumatic brain injury for the purpose of recommending new programs and services. The study currently covers spouses, partners and widows of Veterans with TBI, as well as current and past unpaid caregivers.
For details, click here.
---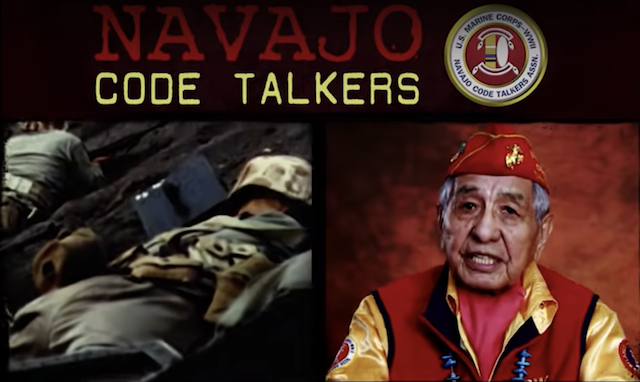 Video explores crucial role of Code Talkers
Native Americans who used their tribal languages to deliver secret messages during World War II were known as code talkers. Their story was brought to the big screen in a big way in the 2002 blockbuster "Windtalkers," starring Nicholas Cage. In 2020, the U.S. Department of Veterans Affairs released a video revealing just how crucial the code talkers were in the Allied assault on Iwo Jima. Be sure to read the highly informative written account that accompanies the video.
For more, click here.
---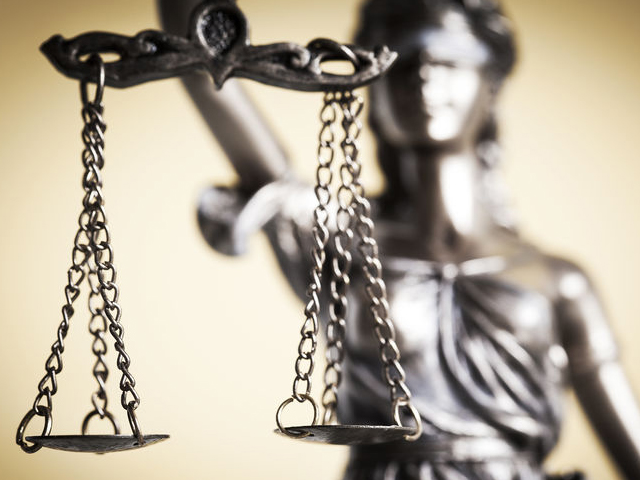 Lake County offers legal aid to Veterans
The Veterans Treatment and Assistance Court is a program that provides Veterans involved in the justice system help and favorable alternatives. Through VTAC the court partners in this collaborative program work to reduce recidivism, enhance public safety and reduce the cost of the criminal justice process, including incarceration, by focusing on the underlying problems that the veteran is encountering with treatment, support and structure. With the help and supervision of the VTAC team, Veterans can resolve issues that contributed to the criminal behavior and prevent a recurrence.
For details, click here.
To find out how you can become a volunteer, click here.
---
South Side club supports Fisher House
In lieu of their annual Memorial Day remembrance, which was canceled due to COVID-19, the Old Neighborhood Italian American Club made a donation to the Fisher House at Edward Hines Jr. VA Hospital. Hines Fisher House provides a home away from home to the family members, caregivers and loved ones of patients receiving medical care. "We're proud to be honoring our Veterans with this contribution for such a worthy cause," says ONIAC member Pete Scalise, who presented Fisher House Manager Holly Wright with the donation.
For more about Fisher House at Hines, click here.
For more about the Old Neighborhood Italian American Club, click here.
---

A treasure trove of military information
Periscope Film has an extensive offering of books, Blu-rays and DVDs about the military and other topics, including space exploration and vehicle and railroad history. They also provide films and stock footage on a range of historical and educational topics. Their YouTube channel allows you to preview and view films about military history as well as training, industrial, educational and nature videos.
— Felicia Reilly
For details, click here.
---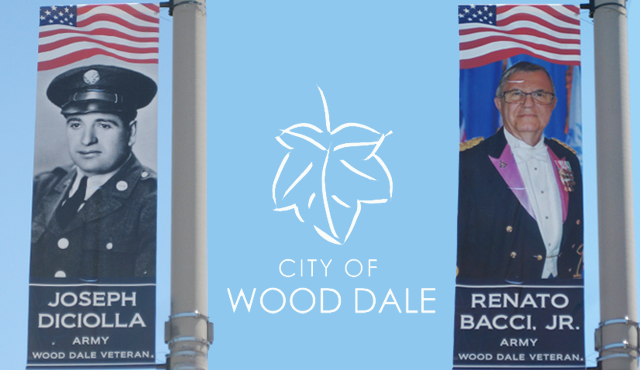 Wood Dale celebrates its Veterans
West suburban Wood Dale has launched a Veteran banner recognition program to honor current and former Wood Dale residents who served in the United States military. The city is gathering high resolution photos and basic information and converting that into banners that now line Irving Park and Wood Dale roads. There is no charge to the Veterans for the program. Banners will be displayed for a year before being retired at a city council meeting. Nearly 40 banners were installed before Memorial Day and an additional group will be installed in advance of Veterans Day. World War II Veteran Joseph DiCiolla and museum President Renato Bacci are among the first group.
For details, click here.
---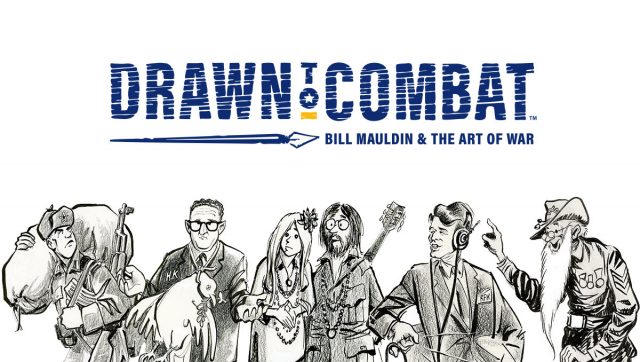 Pritzker Museum showcases WW II cartoonist Mauldin
Opening to the public May 14, "Drawn to Combat: Bill Mauldin & The Art of War" celebrates the career of cartoonist Bill Mauldin, a Veteran and two-time Pulitzer Prize winning artist. Mauldin's cartoons embodied the spirit of the infantryman during World War II before he turned his critical pen to those in the political sphere. While his 50-year career covered a range of subjects — such as civil rights, societal ills, and politics — he is perhaps best known for his work covering military topics, beginning with his characters Willie and Joe during WW II. The exhibit will feature 150 framed cartoons and personal material from Bill Mauldin's career. The Pritzker Military Museum & Library is located at 104 S Michigan Ave, Chicago, IL 60603.
To explore the museum's Mauldin collection, click here.
To find out more about the Pritzker Military Museum & Library, click here.
---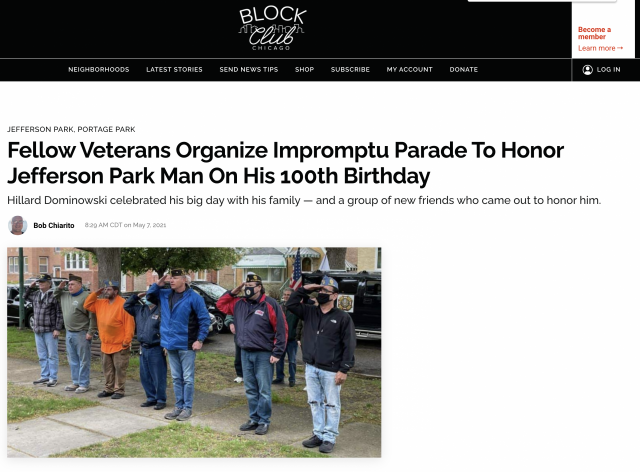 Veterans organize impromptu parade for 100th birthday
IAVM board member Lorenzo Fiorentino was among a group of Veterans who organized a parade in front of the Jefferson Park home of Hillard Dominowski to celebrate the WW II Veteran's 100th birthday. Dominowski grew up in Wicker Park and spent six months in a German prison camp during WW II. "About a dozen veterans drove six vehicles, including a 1950s era Marine Corps vehicle, and drove up and down Dominowski's block bleeping their horns and waving flags before stopping," Chicago Block Club reporter Bob Chiarito reported. "Then the men got in formation, saluted Dominowski and thanked him for his service and wished him a happy birthday before spending time with him and his family." "It was so nice," Lorenzo told Chiarito. "He was asking us questions and we asked him questions. A couple of our Airborne guys asked him where he went for training. He really loved it."
For the rest of the story, click here.
---

VA shines the spotlight on mental health in May
May is Mental Health Awareness Month, and the VA is on a mission to spread the word. While one in five Americans experience mental illness during their lifetime, Veterans often contend with a unique set of challenges. These can include readjustment to civilian life, PTSD and Traumatic Brain Injury (TBI). This past year presented us with tests to our strength and resiliency which resulted in mental health struggles as well.
The good news is that a host of tools and resources to support the mental well-being of Veterans and their families are available through the VA. "And remember, seeking professional help when the going gets tough is a sign of strength," said Megan Mayberry, a clinical psychologist at Hines VA Hospital.
To sign up to be a patient at Hines, click here.
If you're already a patient and you need mental health services, click here.
For tips to improve your mental health, click here.
For general information about VA mental health service, click here.
---

Lost souls of fateful flight honored with monument
Very little is known about what happened to Flying Tiger Line Flight 739, a military mission plane that went missing on March 16, 1962, with 93 U.S. Army Soldiers and 11 crew members on board. Due to the complexities surrounding the mission, the names of all those who have been lost have not yet been added to the Vietnam Veterans Memorial in Washington D.C. On May 15, the families of those lost will gather in Columbia Falls, Maine, to meet each other for the first time for the unveiling of a monument created in memory of these brave men and women.
For more about the ill-fated flight, click here.
For interviews with family members, click here.
To watch a video of the unveiling, click here.
The land where this monument has been erected was donated by Wreaths Across America Founder Morrill Worcester and is located on the balsam tip-land where brush is harvested each year to make Veterans' remembrance wreaths to be placed on the headstones of our nation's heroes.
All Flying Tiger Line Flight 739 families will be invited to take part in the Wreaths Across America Remembrance tree program.
For more about the program, click here.
As part of this program a replica dog tag will be hung on individual trees that are used to make remembrance wreaths for Wreaths Across America Day.
For more about remembrance wreaths, click here.
Wreaths Across America is the non-profit organization best known for placing wreaths on Veteran's headstones at Arlington National Cemetery. However, in 2020, the organization placed more than 1.7 million sponsored Veterans' wreaths at 2,557 participating locations nationwide.
For more about Wreaths Across America, click here.
---

Post-vaccine tips from the Veterans Administration
As of April 8, 2021, 2.3 million Veterans have gotten at least one dose of a COVID-19 vaccine through the Veterans Administration. Here are some post-vaccination tips from the VA:
Keep your vaccination record card as proof of vaccination, but don't share a photo of your card on social media. The card contains personal information, such as your birthdate. Scammers can use this information to try to steal your identity.
For more tips from the FCC on avoiding COVID-19 scams, click here.
Continue to follow health safety guidance. Even after you're fully vaccinated, you'll still need to wear a mask that covers your mouth and nose when you're in public. You'll also need to follow other safety rules like practicing physical distancing. This helps protect others who haven't yet received a vaccine. But you may be able to start doing some things that you stopped doing because of the pandemic.
For more CDC guidelines, click here.
Here are a couple more tips if you received your vaccination outside of VA:
Tell your VA health care team so they can enter this information into your VA medical record. You can send a picture of your vaccination record card to your VA provider through secure messaging.
To send a secure message to your VA provider, click here.
Add your vaccine information to your My HealtheVet health summary for your own records. To add your information, you'll need a Premium My HealtheVet account.
To learn more, click here.
For the latest VA COVID-19 vaccine updates, click here.
---

Highway project threatens Lincoln Cemetery
As currently planned, a massive infrastructure project will significantly impact the Abraham Lincoln National Cemetery near Joliet. The project proposes to elevate Walter Strawn Drive into a highway and bridge that will bring tractor-trailers within sight and sound of the second-largest national cemetery by acreage. Current truckers have not been good neighbors to the cemetery, and the project will increase traffic by an additional 5,000 semi-trucks per day if approved. There are many viable options to the project, and the Illinois Association of County Veterans Assistance Commissions is urging everyone to raise their voices in objection.
To read the association's resolution, click here.
To send a message to Governor Pritzker, click here.
To watch a video and sign a petition, click here.
---

Loop church launches support group
Fr. Ed McKenzie, OFM, a Vietnam Veteran and St. Peter's Church staff member, is developing a non-denominational group of men and women Veterans, who can come together in support of each other and the obstacles Veterans face.  St. Peter's is located at 110 W. Madison St. in Chicago. Program will be conducted virtually at this time. For information, contact Fr. Ed at friared@hotmail.com.
---

Sailors museum honors women in Navy
In honor of Women's History Month in March, the National Museum of the American Sailor celebrated "women of character, courage and commitment" among the Navy's ranks. "While women played a role in the United States Navy since its founding in 1775, it was not until 1908 that they served in an official capacity," the museum reported in its March newsletter. "Today, women serve in every Navy rank from seaman to admiral."
To download the newsletter, click here.
To share your Navy story, click here.
---

Epic WW I monument dedicated April 16
The much-anticipated National World War I Memorial was dedicated on April 16 in Washington D.C. The former Pershing Park just east of the White House has been transformed for the occasion, with the new centerpiece being a stunning monument created by New Jersey sculptor Sabin Howard. Roughly 60 feet long and 10 feet high, "A Soldier's Journey" is among the largest freestanding bronze reliefs in the western hemisphere. The enormous frieze takes the viewer from the home of a father departing for the front, to the traumas of war, and back home again.
To view the ceremony, click here.
For details on the memorial, click here.
For more about the monument, click here.
---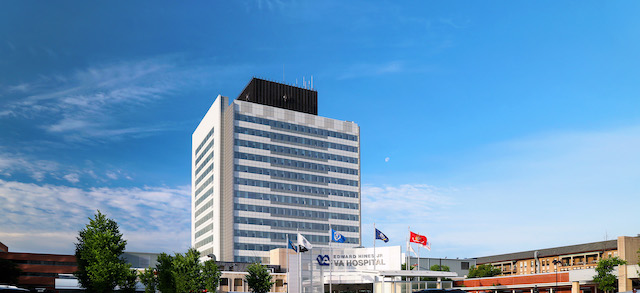 Hines expands access to COVID vaccines
All Veterans, caregivers and spouses, and CHAMPVA beneficiaries can receive the COVID-19 vaccine at Hines VA facilities, based on priority and availability. If Veterans are enrolled in VA healthcare, they can schedule vaccination appointments by calling 708-202-2707 or 708-202-7000. Veterans, spouses, caregivers and CHAMPVA beneficiaries not enrolled in VA health care can request a vaccination appointment online, and a Hines VA representative will call back to schedule a time based on vaccine availability.
To request a vaccination appointment, click here.
For the latest updates on the COVID-19 vaccine, click here.
---

VA expands access to COVID vaccines
Jesse Brown VA Medical Center can now provide COVID-19 vaccines to all Veterans, spouses, widows and caregivers. There are no restrictions on age, health conditions, employment or type of discharge from military service.
Veterans who currently get their health care from the VA can make a vaccine appointment by contacting their care team or calling 312-569-5801. Veterans who do not currently get health care from the VA and their spouses, widows and caregivers must visit the Jesse Brown VA Medical Center or any of the four community-based outpatient clinics to complete a short registration process. For help with the registration process, call 312-569-5801.
Once the registration process is complete, an appointment can be made to get the vaccine. Same-day appointments may be available, depending on the schedule for the day. Vaccine appointments are available Monday thru Saturday from 8 a.m. until 4 p.m., with evening appointments available on Wednesdays. Vaccines are provided at the Jesse Brown COVID vaccine clinic at 2215 W. Harrison Street in Chicago and at the Adam Benjamin, Jr. VA Outpatient Clinic at 9301 Madison Street in Crown Point, Indiana.
For directions to the Jesse Brown vaccine clinic, click here.
---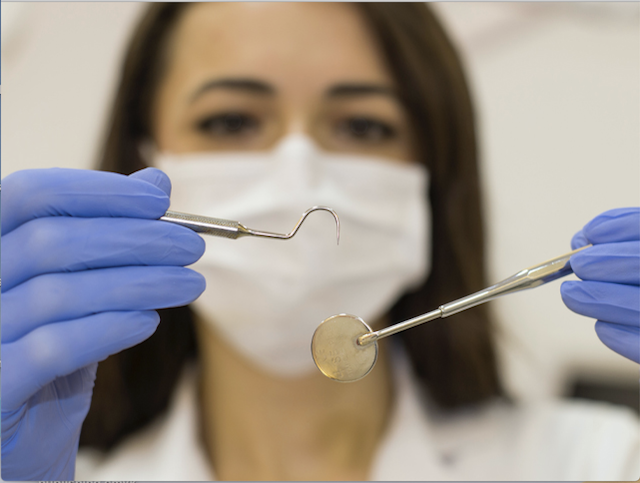 Support a dental bill with teeth!
Congress is currently considering H.R. 914, known as the Dental Care for Veterans Act. The Italian American Veterans Museum encourages you to urge your U.S. representatives to co-sponsor and support this bill.
At present, Veterans can only receive dental care if they are permanently and completely disabled due to a service-connected incident, have a service-related dental condition, or have a service-related medical condition that is affected by their dental condition.
The purpose of H.R.914 is "To amend title 38, United States Code, to require the Secretary of Veterans Affairs to furnish dental care in the same manner as any other medical service, and for other purposes."
The bill replaces H.R.96, which stalled in subcommittee in 2019 and 2020. The current bill was introduced on Feb. 2, 2021, by Rep. Julia Brownley (D-CA), then referred to the House Committee on Veterans' Affairs, where it has attracted 30 co-sponsors. More co-sponsors are crucial for the bill to survive.
To learn more about the bill, click here.
For a list of current co-sponsors, click here.
To find your representative by zip code, click here.
Once you're on your representative's page, click on his or her name to get to his or her website. Once you're there, click on Contact Us and share your support for the bill. Be sure to include the bill number in your communication.
— Felicia Reilly
---

Congress expands Agent Orange coverage
Veterans and their representatives have been advocating for many years to add additional presumptive conditions caused by Agent Orange exposure. As of January 1, 2021, the VA must now grant claims for three new presumptive conditions.
With the passage of H.R. 6395, NDAA 2021, Vietnam Veterans are now eligible to collect compensation for the newly added conditions of Bladder Cancer, Hypothyroidism and Parkinson's-Like symptoms if they were exposed to Agent Orange during their service in Vietnam. And because of the Nehmer decision (38 CFR § 3.816), if a veteran had previously filed for one of these conditions and was denied, they may now be able to get an effective date of when the original claim was filed with the VA. This is great news for over 83,000 veterans suffering from these medical conditions.
But the fight isn't over, since the VA has yet to add Hypertension to the Agent Orange Presumptive List. This impacts over 200,000 additional veterans who may have been affected by Agent Orange.
— Shane McNerney, Lake County Veterans Affairs Commission
For a downloadable PDF about the Lake County Veterans Affairs Commission, click here.
---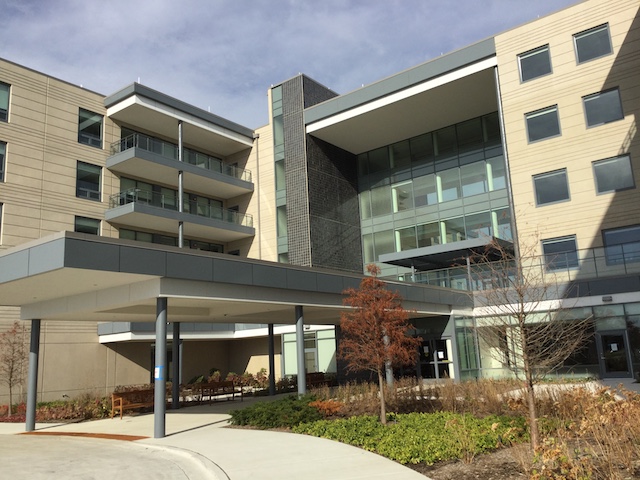 New Veterans' Home to open in Chicago
Applications are being accepted for the soon-to-be-opened Illinois Veterans' Home at Chicago. Located at 4250 N. Oak Park Ave., it's the first residential facility for Veterans in Northern Illinois and the only one in Chicago. All rooms are single occupancy and fully wheelchair accessible. Skilled care is available, including for Alzheimer's and dementia. Support services including laundry, dietary, maintenance and housekeeping are provided. Admission is open to honorably discharged Veterans with at least one day of active duty in the U.S. Armed Forces who meet Illinois residency requirements and who require skilled nursing care.
For details and to apply, call 773-628-5905.
---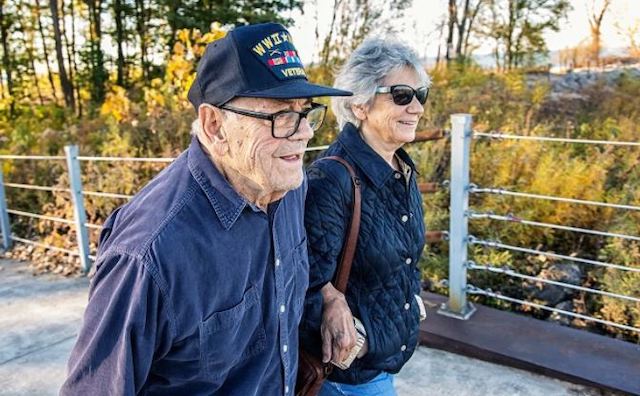 Do Veterans need Medicare?
The world of Veteran's benefits can be confusing, and it can be difficult to know how much coverage you really have. Supplementing your Veteran's healthcare coverage with a Medicare plan may be a good idea, especially because Veteran's Administration healthcare coverage can vary drastically from person to person and over time. The wellness website healthline.com takes an in-depth look at the Medicare plans, TRICARE, and VA Medical Benefits and how they all work together.
For details, click here.
---
One number for all your VA needs
1-800-MyVA411 serves all members of the Veteran community seeking information or assistance. Resources include COVID-19 general information and updates; health care eligibility and enrollment; VA benefits such as disability, compensation and pension, education programs, caregiver support, insurance, home loans, and burial headstones and markers; the nearest VA medical centers, benefits offices, or cemeteries; technical support for navigating VA.gov; and debt and payment options.
To reach a live agent for immediate assistance or connection to the right VA experts, Call 1-800-698-2411 and press 0.
---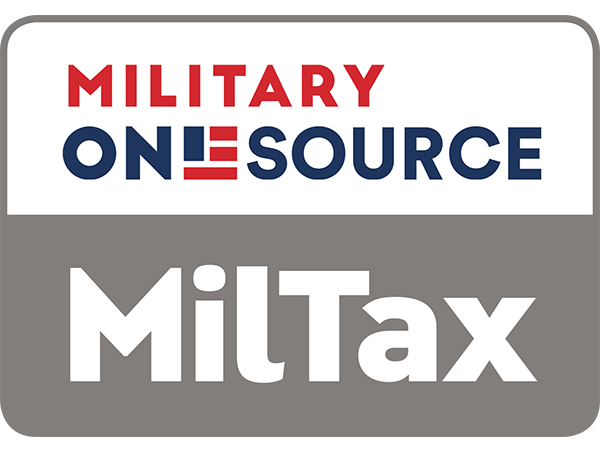 DOD offers free tax services
Military OneSource and the Department of Defense is offering a variety of free tax services to military members and some veterans. MilTax options include tax preparation and e-filing software, as well as personalized support through trained military tax consultants. The self-paced tax software walks you through a series of questions to help you complete and electronically file your federal return and up to three state tax forms.
For details, click here.
For other military-related tax information, click here.
---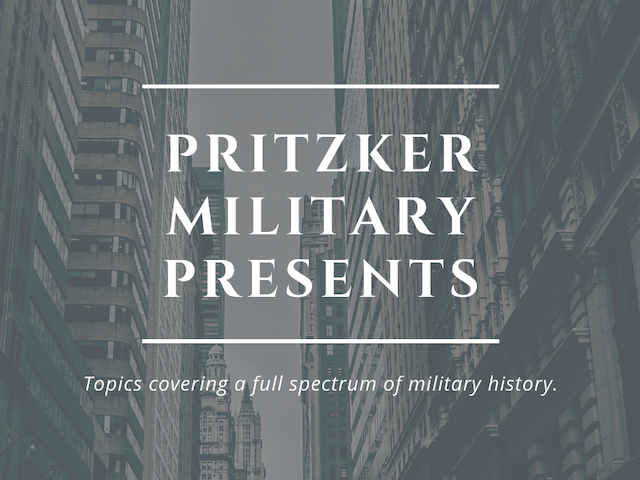 Pritzker dives deep with military experts
A new season of Pritzker Military Presents is now airing. Recorded largely in 2019, episodes explore a variety of topics across different eras. The programs feature top military historians and can be viewed on the museum's website and by tuning into WTTW on Saturday and Sunday mornings through March.
For a complete listing, click here.
---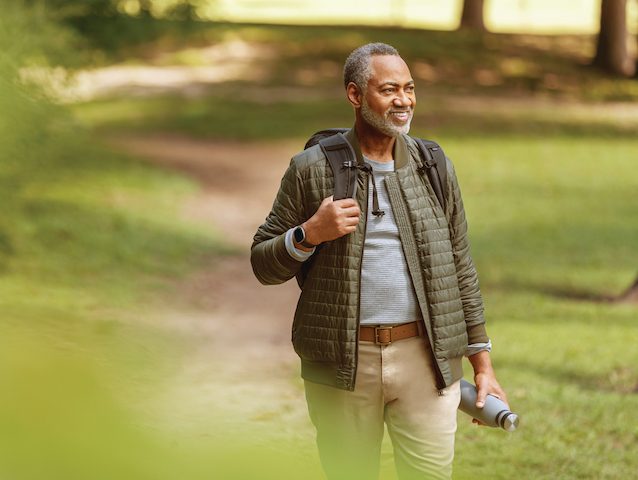 VHA, Fitbit team up to keep Veterans healthy
The Veterans Health Administration has launched a new initiative with Fitbit to help Veterans, caregivers and VA staff maintain health and wellness during the pandemic. The initiative provides current Fitbit users with free access to programs and services aimed at managing stress, improving sleep and increasing physical activity. The VA has contracted with Fitbit to initially provide 10,000 one-year free memberships to Fitbit Premium, which includes access to guided programs, workouts, mindfulness exercises, a wellness report and a health metrics dashboard. Participants will also have access to one-on-one coaching and guidance. The application deadline is Jan. 25.
For details, click here.
---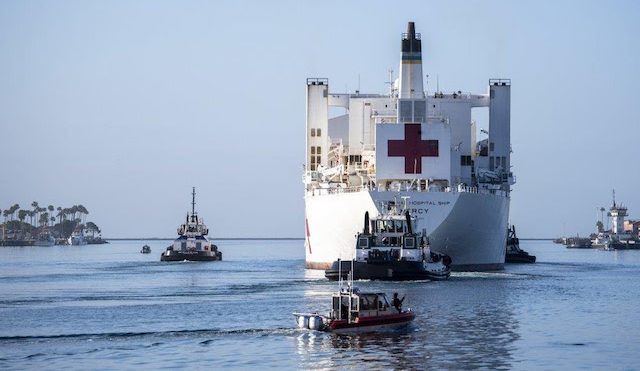 U.S. Navy deploys hope via hospital ships
In addition to defending our country, U.S. Navy Sailors frequently serve in humanitarian missions ranging from hurricane and earthquake relief, rescue at sea, refugee assistance, medical deployments, and more. The Navy was deployed to assist Japan after a 9.0 magnitude earthquake shook the island nation on Sept. 01, 1923, killing thousands of people and washing away entire cities in the ensuing tsunami. In the spring of 2020, the Navy's hospital ships USNS Comfort and Mercy were deployed to New York and California to aid in COVID-19 patient care.
For the rest of the story, click here.
---

Hines gears up to vaccinate Veterans
Hines VA Hospital will be opening a Saturday COVID-19 vaccine clinic starting Jan. 16. The hospital will be calling Veterans in the following categories to set up appointments: Veterans 85+ years old, dialysis patients and chemotherapy patients; organ transplant recipients; homeless veteran program participants; inpatient spinal cord center, community living center and residential care facility residents; and Hines VA employees. Vaccinations will be administered by appointment only. As vaccines become available for more groups of Veterans, VA care teams will reach out to schedule vaccinations. To make an appointment, call 708-202-2707 or 708-202-7000.
For more about VA COVID-19 policies and activities, click here.
For answers to frequently asked questions about COVID-19, click here.
---

VA offers debt relief options and a new online resource
Many Americans are experiencing financial hardships because of the pandemic, and veterans are no exception. The VA Debt Management Center has relief options available to help manage VA benefit debt. Those include establishing or adjusting a repayment plan, requesting a waiver, submitting a compromise offer, and requesting a temporary hardship suspension. A new online tool is available to view debt letters, history and repayment options.
To visit, click here.
---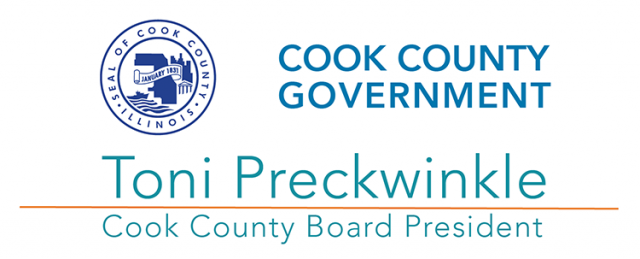 Cook County Launches Veterans Affairs newsletter
The Cook County Department of Veterans Affairs has launched a quarterly newsletter that provides veterans with useful information on a variety of topics. Their inaugural newsletter spotlights a county program aimed at assisting veterans who have become involved in the legal system and another that is helping residents resolve eviction, foreclosure, debt and tax deed issues. The e-blast also announced this year's cost-of-living adjustments to veteran's benefits and plans to reduce Metra fares and extend PACE services.
To sign up for the e-blast, click here.
---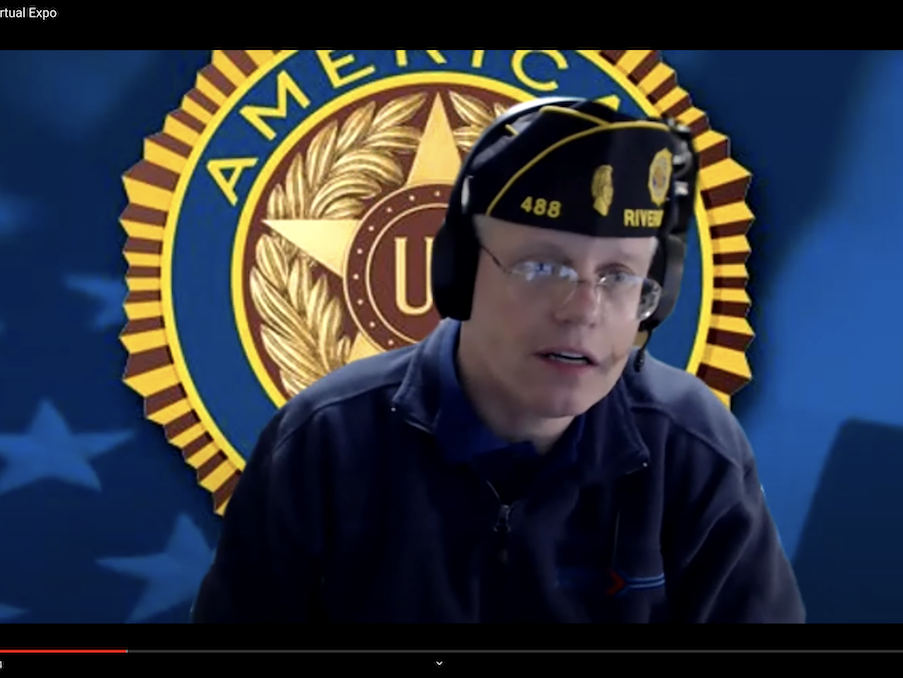 CVB stages top-notch Virtual Expo
The Combined Veterans of Berwyn staged a trailblazing Virtual Expo earlier this month, showcasing more than four dozen government agencies, non-profits and businesses that provide services and information to veterans and others. The expo ran from 10 a.m. to 6 p.m. on Saturday, Sept. 12, with representatives being given 10 minutes to state their case. The event was live-streamed on Facebook and YouTube and archived for future viewing.
To view the entire expo, click here.
Representatives from these organizations made presentations in the course of the day in roughly the following order:
Hines VA Hospital Suicide Prevention
Hines VA Hospital Patient Advocate
Hines Fisher House
Help Heal Veterans
Oak Park Vet Center
Berwyn Public Library
Bodyworks for Vets
Veterans Assistance Commission of Cook County
American Legion Post 488 – Riverside, IL
Midwest Shelter for Homeless Veterans
Home Instead Senior Care
Humana
Illinois AMVETS Post 98
America Cares Too
Italian American Veterans Museum
Mankind Project Chicago
MDS Systems Safety Training
Pace Suburban Bus
JenCare
Pets for Vets Chicagoland
Pritzker Military Museum & Library
Road Home Program at Rush
Soul Harbor Ranch
Volunteers of America of Illinois
Veterans For Unification
Illinois Chess Vets
PAV YMCA
Oak Street Health
HonorFlight Chicago
RTA Chicago
Veterans Smile
Illinois Joining Forces
Illinois National Guard – North Riverside
Illinois State Police
Armed Forces Recruiter – N. Riverside
Chicago Veterans
---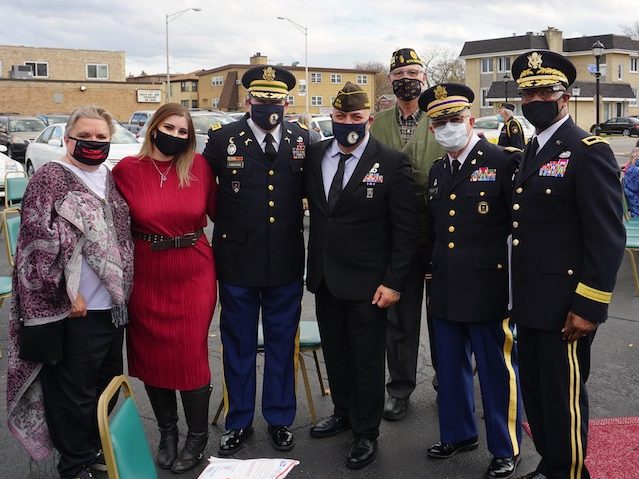 New Veterans Museum opens in River Grove
November 8, 2020, was a very special day in River Grove, Illinois. With the sun shining down on an unseasonably warm afternoon, the American Legion Post 335 and the Veterans of Foreign Wars Post 5979 dedicated the Chicagoland Combined Veterans Museum, Library and Honor Roll. What an amazing way to honor our Veterans.
In 2019, I became the Commander of American Legion Post 335, and the Adjutant for Veterans of Foreign Wars Post 5979, and that's when I put my plan into motion for our museum. My first "recruit" was Richard Wojewnik, a Marine and Gulf War Veteran. We charged on, gathering staunch supporters and fellow post members Shawn Schroeder, Barney Dufner, Salvatore Palazollo, Dave Ruiz, Gary Diamond, Ralph Remakle and Bert Patania. As the ideas developed, the Honor Wall and Library came into focus.
Together, we pitched the idea to fellow members of both posts as well as Mayor David Guerin and Public Works Director Brent Leder, and they enthusiastically came on board.
With Wojo's knack for Facebook, my skill for finding free stuff on craigslist, and the support of the posts, work started in January of this year. One thing led to another, and veterans, private sponsors, politicians and business owners all began to donate.
The museum is a beautiful collection of Veterans memorabilia and exploits and serves to preserve their stories for generations of future Americans. Museum members have been approached by family members who didn't know what to do with these items. They took an oath to always preserve the documents, uniforms, pictures and memories of these brave Veterans.
Our mission is to educate, increase awareness and create a greater appreciation for the dedication and sacrifice of those citizens in the defense of our Nation and liberty. To do this, our collection of military memorabilia highlights the exploits of all Veterans of all branches, eras and wars of the United States military.
As you look at the photos on the piano and curio cabinet, and all those on the Honor Roll, know that the larger photos are service members who paid the ultimate price. That's what we're all about: supporting our fellow Veterans, preserve the memory of those who have gone before us, and inspire future generations.
More than 120 attendees turned out for our grand opening. Music was provided by the 144th Army Band of the Illinois Army National Guard. The National Anthem was sung by Matteo Ribaudo (SP5, US Army).
The Pledge of Allegiance was led by Mr. Bernard Dufner (LCpl, US Marine Corps). The Invocation and Benediction were said by Cdr. Waldemar A. Kilian (US Navy, Ret). Speeches were made by Mayor David Guerin, BG Rodney C. Boyd and Col. Renato Bacci (U.S. Army, Ret). The Civil War encampment was provided by Ray Stripling (US Marine Corps). Our heartfelt thanks to all of the above and the many others who had a part in establishing, dedicating and supporting our Veterans Museum.
The museum is located at 8664 W. Grand Avenue in River Grove. Hours are currently by appointment only. To make a reservation, email me at  lorenzoafiorentino@yahoo.com.
— Major Lorenzo Fiorentino (Ret)
To view the grand opening ceremony, click here.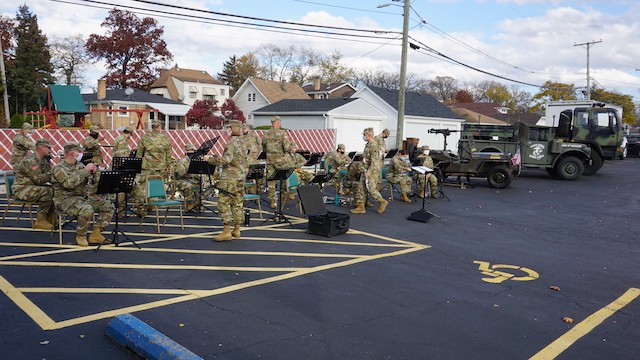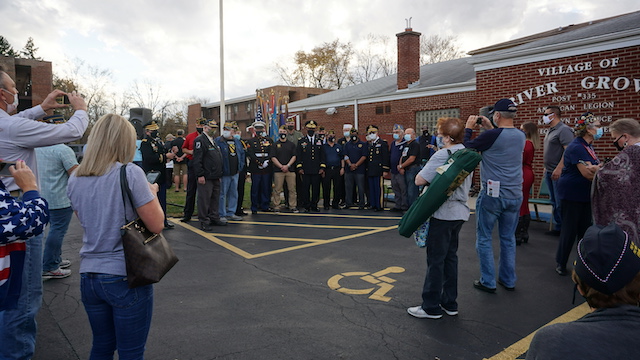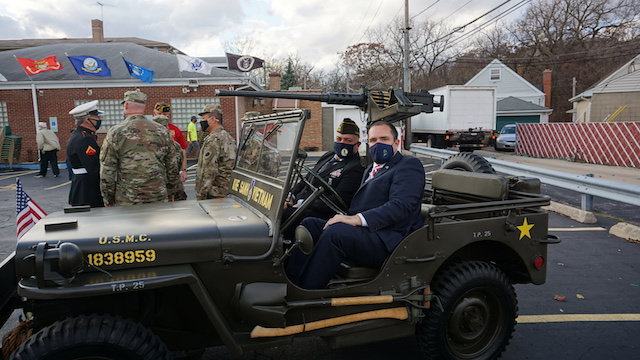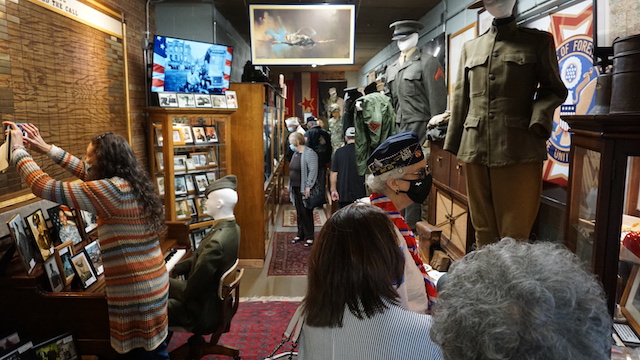 ---
VFW Post needs help with a bold move
Opting to advance rather than retreat during these challenging times, the Niles Memorial Post 3579 of the Veterans of Foreign Wars is readying a new home for occupancy. In existence for more than 85 years, Post 3579 has a proud history of assisting veterans and supporting a variety of causes within the community. "We're looking forward to continuing our good work at our new facility, but we're going to need financial assistance with our remodeling efforts," says Robert Fuggiti, Public Relations Officer and Demolition Supervisor for the post. You can donate to the cause through the post's GoFundMe campaign by clicking here, or by mailing a tax-deductible donation made out to V.F.W. Post 3579 to 6839 N. Milwaukee Ave., Suite 100, Niles IL 60714. You can also pay a visit to the post and make a donation in exchange for a variety of high-quality sinks, tables, cabinets and doors left over from the property's previous use as a medical facility. Call Bob at 847-921-8738 to make an appointment.