News You Can Use
---
---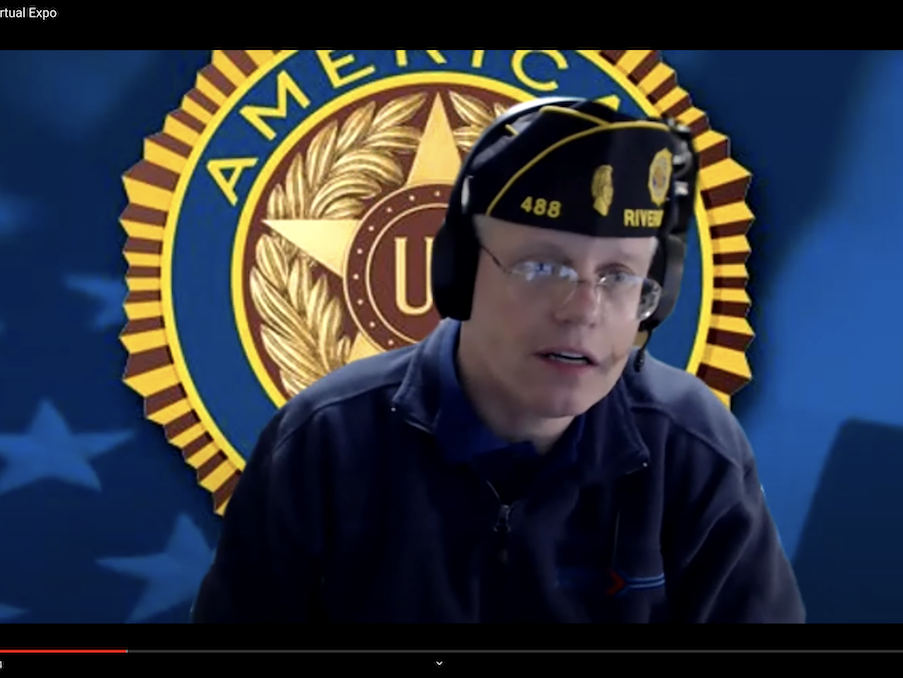 CVB stages top-notch Virtual Expo
The Combined Veterans of Berwyn staged a trailblazing Virtual Expo earlier this month, showcasing more than four dozen government agencies, non-profits and businesses that provide services and information to veterans and others. The expo ran from 10 a.m. to 6 p.m. on Saturday, Sept. 12, with representatives being given 10 minutes to state their case. The event was live-streamed on Facebook and YouTube and archived for future viewing.
To view the entire expo, click here.
Representatives from these organizations made presentations in the course of the day in roughly the following order:
Hines VA Hospital Suicide Prevention
Hines VA Hospital Patient Advocate
Hines Fisher House
Help Heal Veterans
Oak Park Vet Center
Berwyn Public Library
Bodyworks for Vets
Veterans Assistance Commission of Cook County
American Legion Post 488 – Riverside, IL
Midwest Shelter for Homeless Veterans
Home Instead Senior Care
Humana
Illinois AMVETS Post 98
America Cares Too
Italian American Veterans Museum
Mankind Project Chicago
MDS Systems Safety Training
Pace Suburban Bus
JenCare
Pets for Vets Chicagoland
Pritzker Military Museum & Library
Road Home Program at Rush
Soul Harbor Ranch
Volunteers of America of Illinois
Veterans For Unification
Illinois Chess Vets
PAV YMCA
Oak Street Health
HonorFlight Chicago
RTA Chicago
Veterans Smile
Illinois Joining Forces
Illinois National Guard – North Riverside
Illinois State Police
Armed Forces Recruiter – N. Riverside
Chicago Veterans
---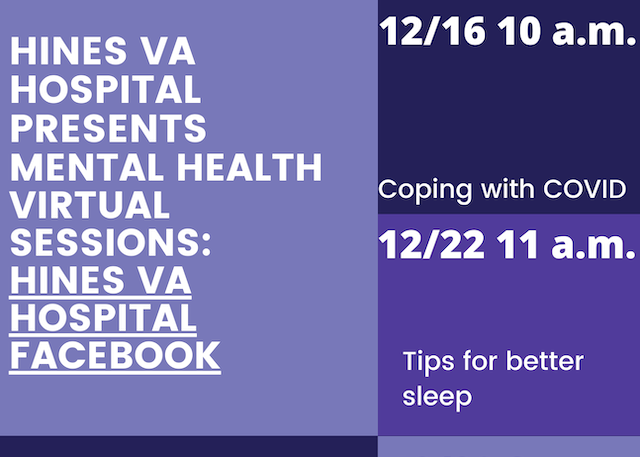 Hines offers tips for beating the holiday blues
Hines VA Hospital is offering brief mental health tips through the month of December to help Veterans manage COVID-19 and holiday-related stress. All a Veteran has to do is connect with the Hines Facebook page at the time and date of the presentation. The videos will be archived for future viewing. In the first 10-15 minutes of each FB Live event, you'll learn helpful tips and resources on a variety of topics, followed by a Q & A session and information about VA mental health services.
Here is the schedule of previous and upcoming sessions:
12/07 @ 2 p.m. — Recovery during the pandemic
12/11 @ 8 a.m. — Binge eating during the holidays
12/16 @ 10 a.m. — Coping with COVID
12/22 @ 11 a.m. — Tips for better sleep
12/29 @ 3 p.m. — #BeThere. Making connections and being kind to yourself
To access past and upcoming sessions, click here.
To find out more about VA mental health services, click here.
To learn about enrollment and eligibility, click here.
---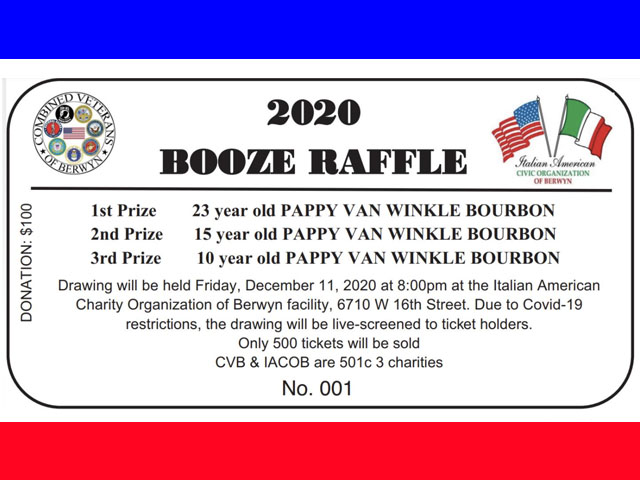 Last call for a CVB raffle ticket!
Tickets for the annual raffle hosted by the Combined Veterans of Berwyn will be drawn at 8 p.m. on Friday, December 11. The first, second and third prizes will be bottles of the world's most exclusive bourbon, with retail values topping at $2,400. The drawing will be live streamed from the CVB's base of operation at the Italian American Civic Organization of Berwyn. Funds raised will fuel the organization's absolutely stellar annual service fair and other worthy veterans causes. Tickets are $100 each, with a maximum of 500 sold. Sales will be cut off a half an hour before the drawing.
To purchase tickets online, click here.
To purchase tickets by phone, call 708-710-7354.
---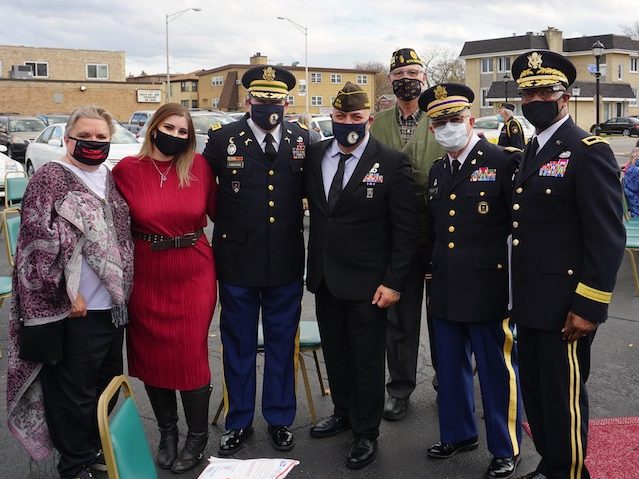 New Veterans Museum opens in River Grove
November 8, 2020, was a very special day in River Grove, Illinois. With the sun shining down on an unseasonably warm afternoon, the American Legion Post 335 and the Veterans of Foreign Wars Post 5979 dedicated the Chicagoland Combined Veterans Museum, Library and Honor Roll. What an amazing way to honor our Veterans.
In 2019, I became the Commander of American Legion Post 335, and the Adjutant for Veterans of Foreign Wars Post 5979, and that's when I put my plan into motion for our museum. My first "recruit" was Richard Wojewnik, a Marine and Gulf War Veteran. We charged on, gathering staunch supporters and fellow post members Shawn Schroeder, Barney Dufner, Salvatore Palazollo, Dave Ruiz, Gary Diamond, Ralph Remakle and Bert Patania. As the ideas developed, the Honor Wall and Library came into focus.
Together, we pitched the idea to fellow members of both posts as well as Mayor David Guerin and Public Works Director Brent Leder, and they enthusiastically came on board.
With Wojo's knack for Facebook, my skill for finding free stuff on craigslist, and the support of the posts, work started in January of this year. One thing led to another, and veterans, private sponsors, politicians and business owners all began to donate.
The museum is a beautiful collection of Veterans memorabilia and exploits and serves to preserve their stories for generations of future Americans. Museum members have been approached by family members who didn't know what to do with these items. They took an oath to always preserve the documents, uniforms, pictures and memories of these brave Veterans.
Our mission is to educate, increase awareness and create a greater appreciation for the dedication and sacrifice of those citizens in the defense of our Nation and liberty. To do this, our collection of military memorabilia highlights the exploits of all Veterans of all branches, eras and wars of the United States military.
As you look at the photos on the piano and curio cabinet, and all those on the Honor Roll, know that the larger photos are service members who paid the ultimate price. That's what we're all about: supporting our fellow Veterans, preserve the memory of those who have gone before us, and inspire future generations.
More than 120 attendees turned out for our grand opening. Music was provided by the 144th Army Band of the Illinois Army National Guard. The National Anthem was sung by Matteo Ribaudo (SP5, US Army).
The Pledge of Allegiance was led by Mr. Bernard Dufner (LCpl, US Marine Corps). The Invocation and Benediction were said by Cdr. Waldemar A. Kilian (US Navy, Ret). Speeches were made by Mayor David Guerin, BG Rodney C. Boyd and Col. Renato Bacci (U.S. Army, Ret). The Civil War encampment was provided by Ray Stripling (US Marine Corps). Our heartfelt thanks to all of the above and the many others who had a part in establishing, dedicating and supporting our Veterans Museum.
The museum is located at 8664 W. Grand Avenue in River Grove. Hours are currently by appointment only. To make a reservation, email me at  lorenzoafiorentino@yahoo.com.
— Major Lorenzo Fiorentino (Ret)
To view the grand opening ceremony, click here.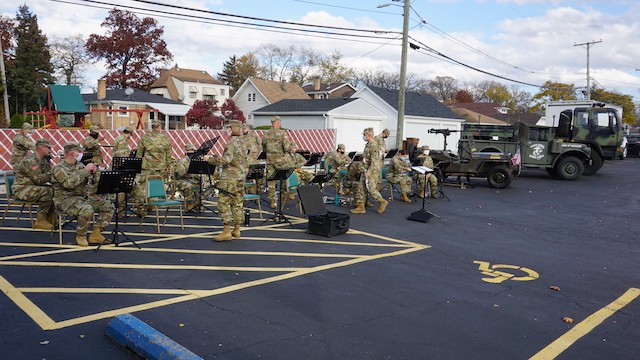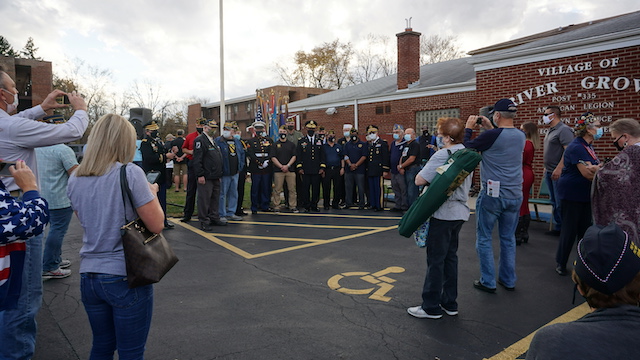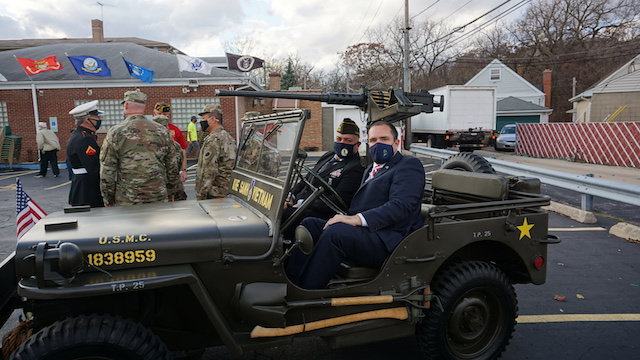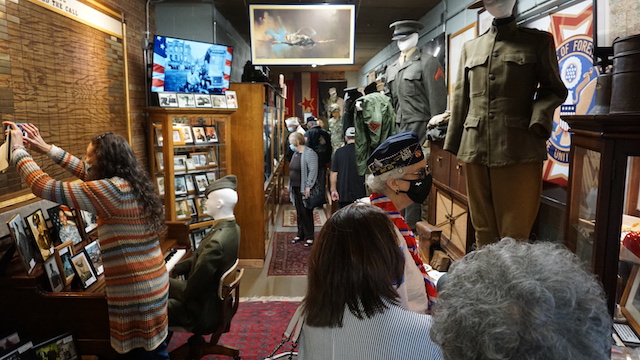 ---
National parks waive fees for veterans, Gold Star families
Starting this month, veterans and Gold Star families will be able to visit national parks and other public lands for free, under a new initiative from the Department of the Interior announced on Wednesday.
Active-duty service members and their families are already granted free access to those sites under existing department rules. The new announcement broadens that benefit to more than 20 million more individuals in recognition of their service and sacrifice on behalf of the country.
In a statement, Interior Secretary David Bernhardt said the move gives all veterans "free access to the iconic and treasured lands they fought to protect." The policy goes into effect starting on Veterans Day, Nov. 11.
Bernhardt and other federal officials made the announcement during a ceremony at the Iowa Gold Star Museum, which focuses on the history of the state's veterans and their families.
"Our veterans and Gold Star Families have made incredible sacrifices to defend our freedoms and our homeland," Sen. Chuck Grassley, R-Iowa, said in a statement. "Ensuring that they are able to enjoy all of the natural wonders of the country that they've served is one small way of saying thank you."
The policy includes admittance to well-known sites like Yellowstone National Park in Wyoming, Mount Rushmore in South Dakota, Grand Canyon National Park in Arizona and Shenandoah National Park in Virginia.
Interior officials did not provide cost estimates for the move, but said that the policy change will affect about 2,000 public locations across the country. Fees for the sites can range from a few dollars per person to nearly $100 for some weekly and annual passes.
For free access to the sites, veterans will have to present a Department of Defense Identification Card, a Veteran Health Identification Card, a government-issued Veteran ID Card or a state-issued U.S. driver's license or identification card confirming an individual's status as a veteran.
Gold Star family members can use similar Defense Department identification cards to verify their status.
— Leo Shane III
This article was reprinted with permission from Military Times. © 2020.
To read the above article on the Military Times website, click here.
To learn more about Military Times, click here.
---
Hines presentation focuses on suicide prevention
The Hines Veteran's Mental Health Council is hosting Ryan Shannon, a Navy Veteran and Director for Hope for the Day's Project R.E.D Team. Ryan will share his own story and highlight Hope for the Day as a proactive suicide prevention organization featuring peer-to-peer programming for members of military/first responder communities as well as their families, and education about Veteran mental health recovery. The presentation will stream live on Zoom at 1 p.m. on Nov. 12.
To pre-register, click here.
To find out more about Hope for the Day, click here.
To find out more about the program's Project Red Team, click here.
---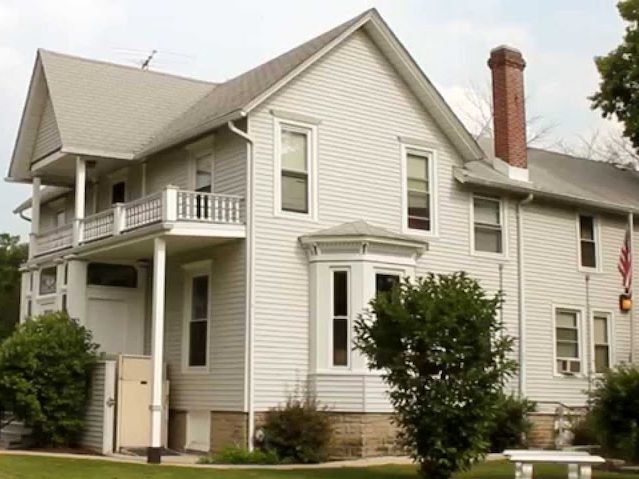 Treatment center offers a way back into sobriety
The Way Back Inn and Grateful House serve adult men and women who are suffering from alcohol, drug and gambling dependence. The overall goal is to help clients achieve continuous sobriety. Every client is treated with dignity and respect.
Their mission is to rebuild lives damaged by addiction in a personalized healing environment in which men and women's lives are transformed and relationships are healed. The recovery program focuses on the integration of the body, mind and spirit.
Their Military Veterans Recovery Program offers the following options:
Outpatient Treatment through both individual, group, family and 12-step sessions.
Residential Care at facilities in Maywood as well as Oak Park, Melrose Park and Forest Park.
DUI Risk Evaluation and Education.
The Way Back Inn and Grateful House is located at 104 Oak St. in Maywood. Call 866-993-6503, email wbi@waybackinn.org or visit www.thewaybackinn.org.
— Joseph E. Troiani, Ph.D., Commander, U.S. Navy (Retired)
---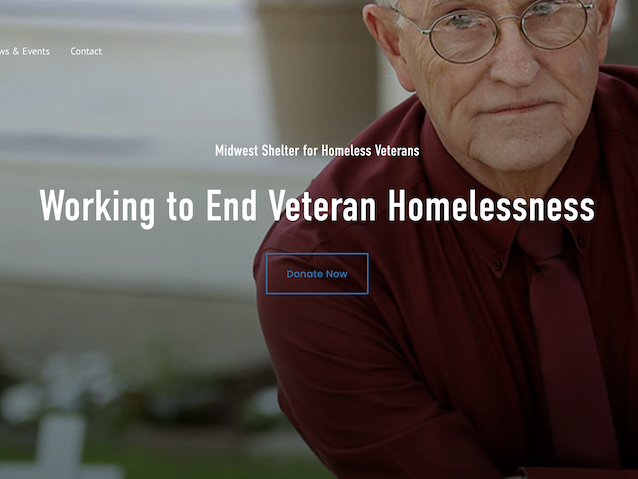 Veterans shelter's commissary goes mobile
The Midwest Shelter for Homeless Veterans is a non-profit agency that provides housing, supportive services and community outreach to help homeless and at-risk veterans and their families achieve self-sufficiency. THE MSHV's Freedom Commissary provides essential items to homeless, at-risk and crisis-level Veterans and their families. The commissary will be hosting a mobile event from 10 a.m. to 2 p.m. on Saturday, Sept. 26, at the American Legion Post 556 at Cantigny Park, 1S151 Winfield Road in Wheaton.
For a downloadable PDF with details about the event, click here.
---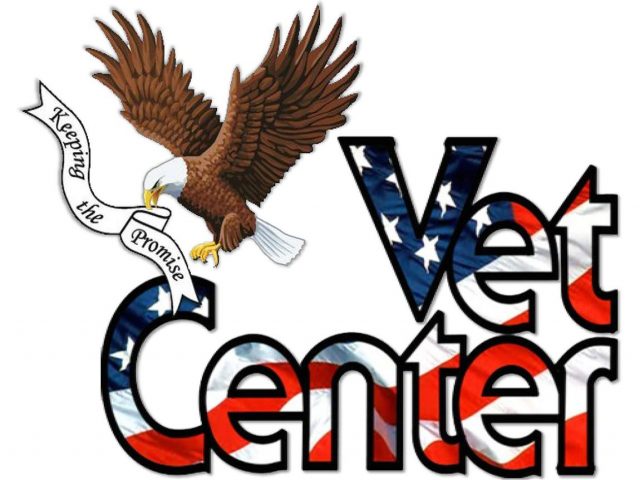 Ports in the storm for our cherished veterans
The United States Department of Veterans Affairs has been running Vet Centers since 1979. These community-based counseling centers provide a wide range of social and psychological services, including professional readjustment counseling to eligible Veterans and active duty service members, including National Guard and Reserve components, and their families. Vet Centers are staffed by counselors and outreach personnel, many of whom are Veterans themselves. They are experienced and prepared to discuss loss, grief, the tragedies of war and transition after trauma. Individual, group, marriage and family counseling are offered in addition to referral and connection to other VA or community benefits and services. The Vet Centers provide free and confidential counseling and services to all Veterans. A Veteran's problem does not need to be service-connected and they may be able to receive care even if they are not eligible for other VA services.
— Joseph E. Troiani, Ph.D., Commander, U.S. Navy (retired)
For more about Vet Centers, click here.
The Vet Centers in the Chicago area are as follows:
Forest Park Vet Center
1515 South Harlem
Forest Park, IL 60130
Phone: 708-457-8805
Chicago Vet Center
3348 W. 87th Street, Suite 2
Chicago, IL 60652-3767
Phone: 773-962-3740
Aurora Vet Center
750 Shoreline Drive, Suite 150
Aurora, IL 60504
Phone: 630-585-1853
Chicago Heights Vet Center
1010 Dixie Hwy, 2nd Floor
Chicago Heights, IL 60411
Phone: 708-754-8885
Evanston Vet Center
1901 Howard St
Evanston, IL 60202
Phone: 847-332-1019
Orland Park Vet Center
8651 W.159th Street, Suite 1
Orland Park, IL 60462
Phone: 708-444-0561
---
VFW Post needs help with a bold move
Opting to advance rather than retreat during these challenging times, the Niles Memorial Post 3579 of the Veterans of Foreign Wars is readying a new home for occupancy. In existence for more than 85 years, Post 3579 has a proud history of assisting veterans and supporting a variety of causes within the community. "We're looking forward to continuing our good work at our new facility, but we're going to need financial assistance with our remodeling efforts," says Robert Fuggiti, Public Relations Officer and Demolition Supervisor for the post. You can donate to the cause through the post's GoFundMe campaign by clicking here, or by mailing a tax-deductible donation made out to V.F.W. Post 3579 to 6839 N. Milwaukee Ave., Suite 100, Niles IL 60714. You can also pay a visit to the post and make a donation in exchange for a variety of high-quality sinks, tables, cabinets and doors left over from the property's previous use as a medical facility. Call Bob at 847-921-8738 to make an appointment.
---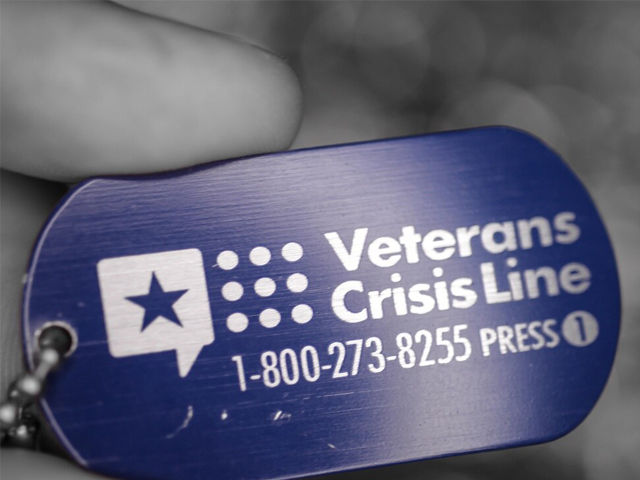 Services for Veterans in Crisis
If a Veteran is experiencing a crisis, they can call the Veteran Crisis Center at 800-273-8255 and press 1. The service is toll-free and operates 24 hours a day. There is also the National Center of Excellence for Veterans and their Families at RUSH. Located at the RUSH Medical Center, their ROAD Home Program provides comprehensive, evidence-based treatment in a safe and supportive environment. These services are provided in Chicago, the western suburbs and downstate Effingham. A three-week National Intensive Outpatient Program is also available for the treatment of post-traumatic stress.  These services are provided regardless of military discharge status or your ability to pay.
For details, call 312-942-8387 (VETS) or click here.
— CDR Joe Troiani, U.S. Navy (retired)
---

Say "No" to prescription copays!
Congress is currently considering House Bill H.R. 3932. The Veterans Preventive Health Coverage Fairness Act would eliminate copayments to the Veterans Administration for medicines relating to preventive health services, in addition to other benefits. The Italian American Veterans Museum encourages you to urge your U.S. representatives to co-sponsor and support this bill.
To read the full text of this bill, click here.
To see if your U.S. Representative is already a co-sponsor of this bill, click here and scroll down to co-sponsors.
To find the name and contact information of your U.S. Representative, click here and enter your ZIP code and address.
---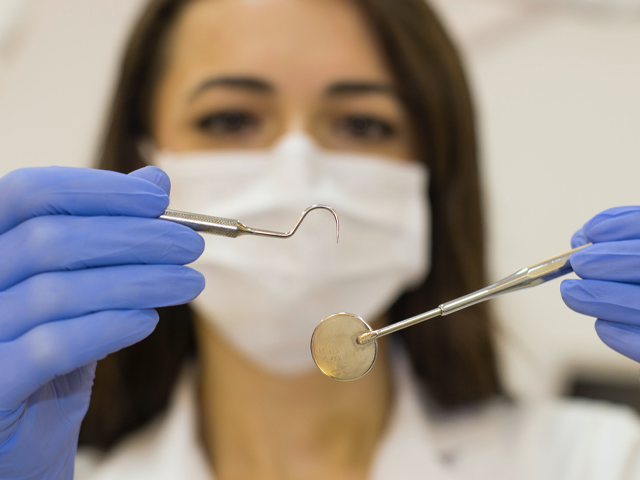 A dental bill with teeth!
Congress is currently considering H.R. 96, which will require the Secretary of Veterans Affairs to furnish dental care in the same manner as any other medical service. The Italian American Veterans Museum encourages you to urge your U.S. representatives to co-sponsor and support this bill.
To read the full text of this bill, click here.
To see if your U.S. Representative is already a co-sponsor of this bill, click here and scroll down to co-sponsors.
To find the name and contact information of your U.S. Representative, click here and enter your ZIP code and address.