Night at the Movies
---
As movie theaters open up across the country, the Italian American Veterans Museum will continue to offer stay-at-home options. Reviews will be written by museum board members and all films will have a military theme. We hope you enjoy our recommendations. (Links that work at the time of posting may no longer work by the time you click on them. Please email us at info@iavmuseum.org if you run into trouble.)
---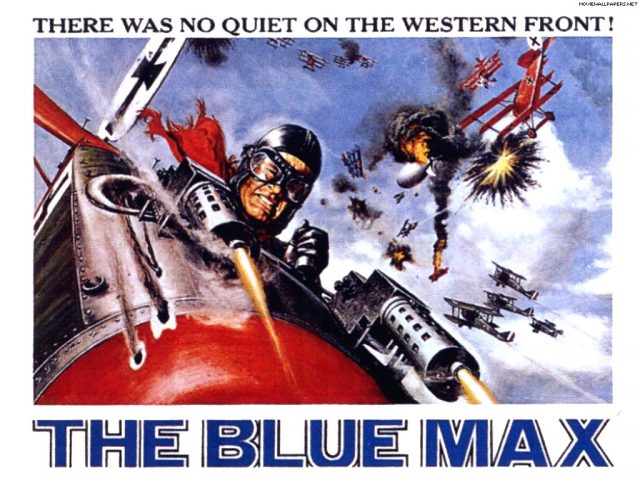 "The Blue Max"
Released in 1966, this WW I adventure was directed by John Gillermin and stars George Peppard, James Mason and Ursula Andress. These three "A" listers alone would have ensured the movie's success, but what made it a cut above the rest was the magnificently directed aerial combat scenes.
Peppard plays German infantry soldier Bruno Stachel, who is mired at the start of the movie in the mud, blood and the massive, impersonal death of static trench warfare on the Western Front. He manages to escape this living hell and wrangle a transfer to the German Air Service, where he becomes a pilot and receives a commission as lieutenant. Overnight, he leaves the filth and stench of the trenches to join a flying squadron billeted in a chalet that houses the aristocracy of the German military, who toast their dead comrades with champagne! It's a rough adjustment for Stachel. When asked why he isn't toasting the death of a squadron mate, he says, "Perhaps it's force of habit. In the trenches, we couldn't even bury the dead; there were too many of them. I've never had the time … to discuss them over a glass of champagne."
With his humble origins as a simple soldier, Stachel is obsessed with proving himself their equal by shooting down enough enemy aircraft to win the coveted Blue Max, Germany's highest decoration for valor. Stachel proves to be a brilliant yet ruthless pilot who will let nobody stand in his way. All the while, he's carrying on a running feud with his commanding officer and having an affair with a general's wife: two moves not considered "career enhancing" for a young lieutenant in an Army!
Hollywood melodrama aside, what truly lifts this movie are the magnificent flight scenes, including a deadly game of aerial "chicken" between Stachel and his chief rival, who has already earned the Blue Max. This incredible scene, where both pilots fly under a bridge, was filmed 55 years ago, in real time, with real pilots flying real aircraft. The flight scenes alone make "The Blue Max" well worth watching, earning it a spot as one of the all-time greats of its genre.
— Steve Corbo
To view the trailer, click here.
To watch the movie for free, click here.
To purchase the movie, click here.
To view Peppard's plane in action today, click here.
---

"Soldier in the Rain"
This 1963 gem had the misfortune of premiering just five days after the assassination of President John F. Kennedy. With America still deeply in mourning, it never received the attention it deserved. Directed by Ralph Nelson and based on a book by Academy Award-winning author William Goldman, it stars Jackie Gleason in a dramatic role as Army Master Sergeant Maxwell Slaughter. The talent-heavy cast includes Steve McQueen as his sidekick Sergeant Eustis Clay; a 20-year-old Tuesday Weld as Gleason's girlfriend, Bobby Jo Pepperdine; character actor Tom Poston; and Adam West, who went on to greater fame as Batman. Also featured is 22-year-old Chris Noel as McQueen's girlfriend.  This was the first of many roles for Noel, but her true claim to fame was as the "Voice of Vietnam," the nickname she acquired because of her Armed Forces Network radio show, which was broadcast to U.S. troops and earned her millions of adoring fans during the war.
The film takes place in peacetime on a Southern Army post in between the Korean and Vietnam wars. The actual filming location was Ft. Ord, California. Slaughter is a career Army sergeant. Bright and articulate, he knows his way around the Army and he knows how to play the game. He is idolized by his sidekick, a not so bright draftee who is about to finish his hitch in the Army and return to civilian life. While Slaughter's main concern centers around his creature comforts, including Butter Brickle ice cream and endlessly working crossword puzzles, Clay is full of get-rich-quick schemes. He is determined to get Slaughter to leave the Army and join him in some sort of business venture, where they'll surely make millions. Part of his plan includes introducing Slaughter, who has found a home in the Army, to the charms of civilian life via the golf course and setting him up with a girl.
Certainly a drama, there are several comedic scenes that come off well, as does the chemistry between Gleason, Weld and McQueen. There is also an exceptionally realistic barroom brawl that sets up the movie's conclusion. This movie is definitely worth watching, as is listening to the music by Henry Mancini. The title track is a classic in its own right.
— Steve Corbo
To purchase the DVD, click here.
To view a clip, click here.
To view another clip, click here.
To listen to the title track, click here.
For a clip of Chris Noel entertaining the troops, click here.
---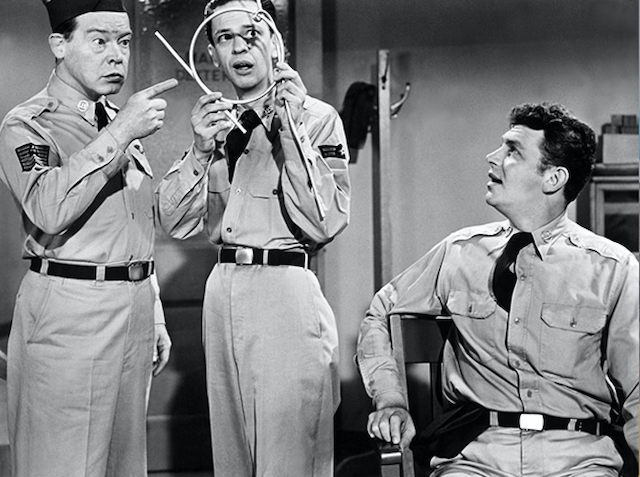 "No Time for Sergeants"
With World War II and the Korean War safely in the past, the period sandwiched between them and the Vietnam War was a time for military comedies. On television there was "The Phil Silvers Show," aka "Sergeant Bilko," and on the big screen there was "No Time for Sergeants."
This 1958 release came with a cast of several young actors who went on to greater fame. They included Andy Griffith in the starring role of country bumpkin Will Stockdale; a pre-Barney Fife Don Knotts; a pre-Johnny Yuma Nick Adams; a pre-Cpl. Max Klinger Jamie Farr; and Raymond Bailey, who would make a name for himself as banker Milburn Drysdale in "The Beverly Hillbillies."
The movie follows the comedic exploits of Stockdale and his compatriots as they face the rigors of Air Force Basic Training. During the induction process, Stockdale completes a medical questionnaire and is asked "Have you ever broken any bones?" To which he replies, "I broke a leg bone once." Then adds, "He still limps a bit, the feller whose leg bone I broke."
Eventually Stockdale gets inducted, classified and endures a stint as "Permanent Latrine Orderly," which he considers a promotion. He graduates from Basic Training along with his sidekick Ben, played by Adams. After some unauthorized hijinks, they both are transferred into the Infantry.
A breezy comedy presented at a time when the American public was ready for a lighthearted look at the military, it was a box office smash. What's most fun about watching this movie in 2021 are the performances by Griffith, Knotts, Adams and Farr: four young, unknown actors who were about to break through to superstardom.
— Steve Corbo
To view the trailer, click here.
(The above link also allows you to rent or buy the video from YouTube.)
For other options to rent or buy, click here.
To view a scene from the movie, click here.
To buy the novel upon which the movie was based, click here.
To view a television production based on the book, click here.
---

"The Messenger"
This 2009 release stars Ben Foster as Staff Sergeant Will Montgomery and Woody Harrelson as Captain Tony Stone, two U.S. Army soldiers detailed with the unenviable task of making in-person notifications to the families of soldiers killed in Iraq. This critically acclaimed movie won several awards and earned Woody Harrelson Academy Award and Golden Globe nominations in the category of Best Supporting Actor. But because of its utterly heartbreaking storyline, a dark subject matter seldom addressed by Hollywood and a release while U.S. troops were still fighting and dying in Iraq and Afghanistan, this movie has not played to a wide audience.
Foster and Harrelson must avoid all physical contact with the next of kin they are charged with notifying and Harrelson instructs Foster, "In case you feel like offering a hug or something, don't." We accompany them as they go from family to family, delivering news nobody wants to receive. We see the emotional toll it takes on the families while we witness Foster and Harrelson fighting to contain their own emotions and maintain their military bearing as the worlds of those around them crumble. We also bear witness as Foster and Harrelson struggle with PTSD, a residual effect of their combat experience that's triggered by their challenging assignment. Veteran character actor Steve Buscemi gives a brief, haunting performance as the father of a young soldier killed in Iraq.
This is not a feel-good movie, but it is worth watching. Thankfully, this is a side of war most of us will only experience vicariously through movies like "The Messenger." For too many American families, though, this is a glimpse at their reality.
— Steve Corbo
To view the trailer, click here.
To view on Hulu, click here.
To rent or buy on Amazon Prime, click here.
To purchase on DVD, click here.
---

"The Desert Fox"
Released in 1951, "The Desert Fox" stars James Mason in the title role of Field Marshal Erwin Rommel. While he fought on the side of Nazi Germany against the British and Americans, Hollywood chose to tell his story only six years after the war ended. Rommel served in the German Army during WW I, winning Germany's highest award for bravery. He remained in the Army between the wars, but it was in WW ll, as commander of Germany's vaunted Afrika Korps, that the Rommel legend blossomed. The movie focuses on this period of his life. An aggressive and fierce commander, he was a master strategist in the tank warfare of the North African battlefield. It was here where he earned the respect of his allied counterparts, who nicknamed him The Desert Fox. He was also promoted to Field Marshal and again decorated with the highest honors Nazi Germany could bestow.
Known for his strict adherence to the rules of warfare, his eventual disgust with Hitler and the Nazi regime led him to play a role in the unsuccessful 1944 assassination attempt on the Fuhrer. For this he paid with his life. So great a national hero was Rommel that Hitler allowed him to commit suicide rather than be tried, convicted of treason, and summarily executed. The Nazi propaganda machine released a statement that he had succumbed to wounds received in battle and he was given an official state funeral. It was only after the War that his efforts against Hitler became known. Of Rommel, Winston Churchill said, "He also deserves our respect because, although a loyal German soldier, he came to hate Hitler and all his works, and took part in the conspiracy to rescue Germany by displacing the maniac and tyrant." Shot in black and white and interspersed with actual combat footage, this film takes an interesting look at the life of one of history's great military commanders.
— Steve Corbo
To view the trailer, click here.
To view the film for free, click here.
To buy the book upon which the movie is based, click here.
---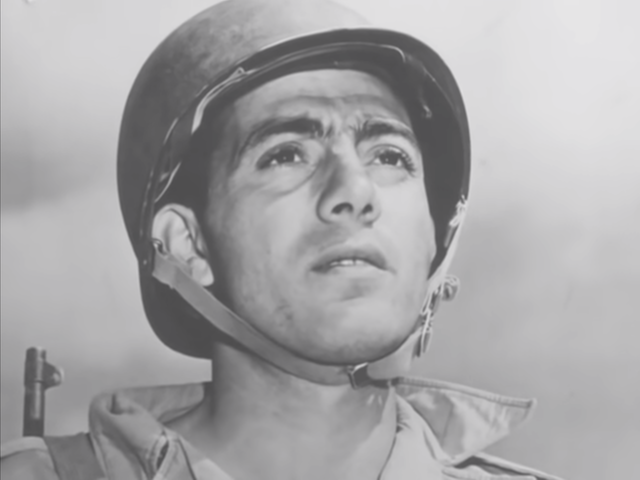 "I'm Staying With My Boys"
U.S. Marine Corps Gunnery Sergeant John Basilone was the only enlisted man in World War II to receive the nation's two highest awards for valor. Credited with almost single-handedly saving the Allied assault on Guadalcanal, he earned the Medal of Honor for his heroics on the island, and he perished while earning the Navy Cross and Purple Heart for his actions on Iwo Jima. Returning home from Guadalcanal to a hero's welcome, he did a brief stint as a war bond spokesman before returning to the front, declaring "I'm staying with my boys."
That inspirational pronouncement is the title of a stirring film about Basilone produced by Jerry Cutter, Edward H. Schaller and Jim Proser. The 45-minute documentary takes you from Basilone's youth in Raritan, New Jersey, to his training at Quantico, Virginia, and his marriage to fellow Marine Lena Riggi, in addition to his war-time heroics. The story is told through historical photos, narration and interviews with his siblings and fellow Marines.
— Felicia Reilly
To view the film free of charge, click here.
To buy the DVD, click here.
To buy the book upon which the film is based, click here.
---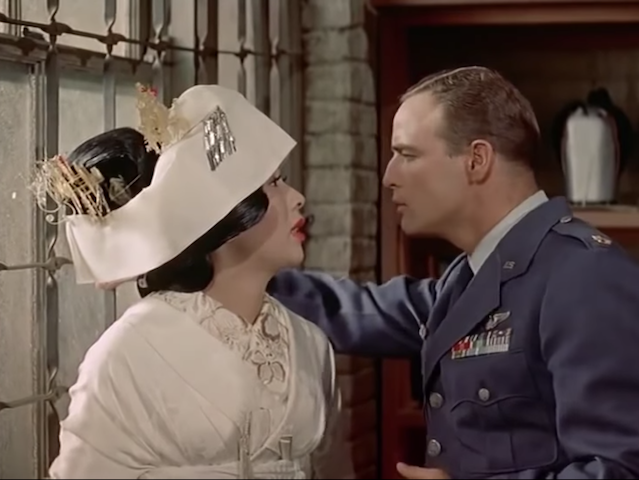 "Sayonara"
Based on the James Michener novel and released in 1957, this critically acclaimed romantic drama won four Academy Awards, including best supporting actor (Red Buttons) and best supporting actress (Miyoshi Umeki). With an all-star cast including Marlon Brando (nominated for best actor) and James Garner, the movie is set in 1951 Japan. It deals with American servicemen forming relationships with and marrying Japanese women.
Subjected to an official policy that not only discouraged but refused to recognize such relationships, U.S. military personnel who married Japanese women were transferred back to the U.S. and not allowed to bring their wives with them. In addition, they faced hostility and discrimination from both Japanese and American societies. The U.S. Armed Forces were officially segregated until 1947. This film looks into the changing dynamics of race relations in post-WW II America.
— Steve Corbo
To view the trailer, click here.
To view the movie for free, click here.
To buy the DVD, click here.
To buy the novel on which the movie is based, click here.
---

"American Son"
The 2008 feature "American Son" stars Nick Cannon as Mike, a 19-year-old who joins the Marines to escape a life of dilapidated bungalows, broken cars, dysfunctional families, a drug-addicted older brother and a group of friends who are going nowhere. With his training completed and his unit set to deploy to Iraq, he is given 96 hours to return home for Thanksgiving to say his goodbyes.
He initially tells nobody he's being sent to Iraq, but when the secret gets out, he must deal with the realities of his imminent deployment along with repercussions among his family, friends and new girlfriend. His mother is furious; his father, a former Marine, berates him; his girlfriend begs him to look for a way out; and his drug-dealing friend is resentful at being left behind in their dead-end hometown. Along the way, he meets a disabled former Marine, wounded in Iraq and suffering from PTSD, who forces him to come to grips with his decision, all the while wearing a T-shirt that reads, "I went to Iraq and all I got was crippled."
This movie is about relationships, accepting responsibility and how the choices we make affect those around us. A timeless film, it could just as easily be set in 1944 or 1968. It is an American story repeated far too often, in far too many families, for far too many years.
— Steve Corbo
To view the trailer, click here.
To view a listing of upcoming screenings on Cinemax and ThrillerMax, click here.
To rent or buy, click here.
---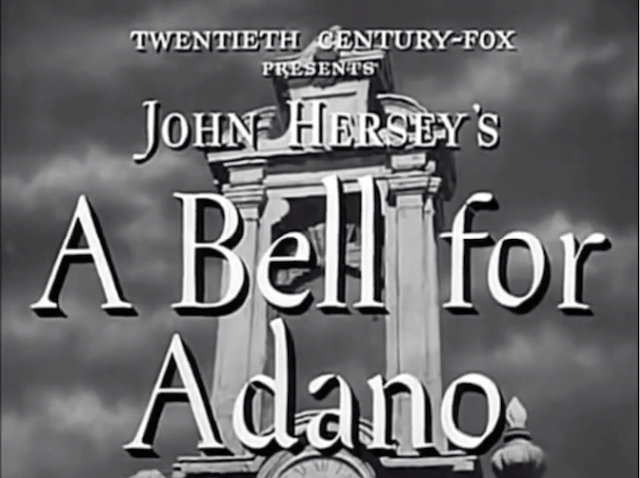 "A Bell for Adano"
This 1945 WWII drama is based on the Pulitzer Prize-winning 1944 novel by John Hersey, which was in turn inspired by the true story of U.S. Army Major Frank E. Toscani. Victor Joppolo, the character based on Toscani, is put in charge of the Italian town of Adano, a fishing village in Sicily. In the midst of running the village, gaining the residents' trust and easing their hardships, including finding enough food to eat, Joppolo discovers their most pressing concern. They yearn to replace the 700-year-old bell the Fascists had taken from their city hall and melted to make ammunition. John Hodiak plays Joppolo and Gene Tierney plays Tina, the fisherman's daughter who befriends him. Watch for Harry Morgan of "M*A*S*H" fame as an American MP. He's credited as Henry Morgan, the name he used early in his career. A stirring musical score by Alfred Newman enlivens a touching story about initially suspicious townspeople who eventually embrace a caring foreign administrator who provided for their needs, no matter how inconsequential they may seem.
— Felicia Reilly
To view A Bell for Adano free of charge, click here. (Must register by entering email address and creating password.)

To buy the DVD, click here.
To buy the book upon which the movie is based, click here.
To view an episode of "To Tell the Truth" featuring Major Toscani, click here.
---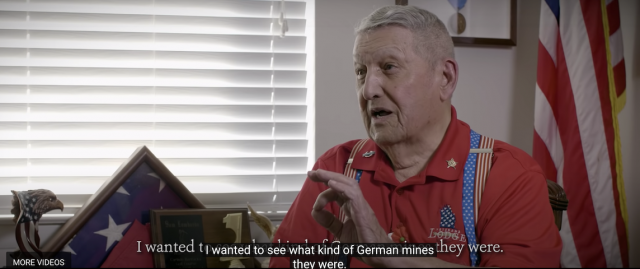 Walking Across a Minefield
This 15-minute documentary packs a real wallop. It tells the stirring tale of Samuel Lombardo, a World War II veteran who grew up in fascist Italy, came to America with his family in search of a better life, and enlisted in the Army to fight for his newfound country's freedom. He fought with honor in the Battle of the Bulge, with his greatest act of heroism coming at the tail end of the fray, with Nazis in retreat. His singular act of bravery earned him a Bronze Star and Silver Star as well as a unique memento now enshrined at the Infantry Museum at Fort Benning, Georgia.
"Walking Across a Minefield" is one of nearly 30 entries in "Memoirs of WW II," a series of short films dedicated to preserving the history of the Second World War and the memory of those who served. Though each entry is roughly 15 minutes long, hours of riveting, deeply personal and excellently crafted military history awaits.
To access Lombardo entry in the series, click here.
To access a trailer and all the clips in the series, click here.
To read Steve Corbo's incisive synopsis of the Battle of the Bulge, click here.
---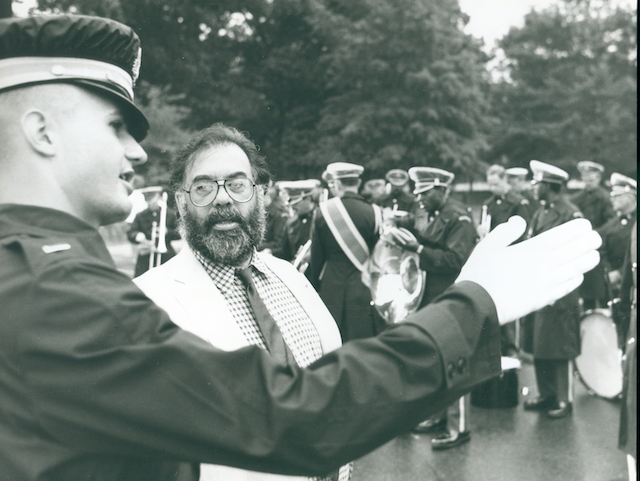 1st Lt. Baggio shows Caan, Coppola the ropes
A few weeks ago, Steve Corbo reviewed the movie "Gardens of Stone," Francis Ford Coppola's somber exploration of the 3rd U.S. Infantry Regiment known as The Old Guard, which stands watch over Arlington National Cemetery.
We were delighted to learn that Retired U.S. Army Colonel Dan Baggio was a 1st Lieutenant and the Executive Officer of Charlie Company (Company C) of the Old Guard in 1986 when the movie was filmed. Hollywood came calling and Baggio was on duty and ready to serve.
Real life soldiers and officers auditioned to intermingle with actors in certain scenes during the movie, and Baggio was among them. Baggio recalls working closely with actor James Caan, whom everyone called "Jimmy." They ended up having to film Caan from the waist up during marching scenes because he never quite got the hang of it. "He was kind of herky jerky," Baggio sympathetically recalls. "I remember him as a really nice guy."
In a rain scene that was cut from the movie, real soldiers stood wet and shivering, while actors were covered with blankets to keep warm between takes. "They were getting the prima donna treatment," Baggio says.
Coppola wanted the movie to be genuine and relied on Baggio and other officers and noncommissioned officers for military advice. "Whatever scenes we were involved in, we'd do on-the-spot recommendations about how it should go," Baggio explains. Soldiers wore authentic Vietnam fatigues, and the interiors of barracks from that era were used in the filming. "The movie showed barracks life, training, etc. and what it was like to be a soldier in the Old Guard," says Baggio. "Some of the scenes outside of military duties tended to be a little bit Hollywood, but as far as the military scenes were concerned, it was spot on."
At the end of the filming, all of the men were given bottles of wine from Francis Ford Coppola's vineyard. "It was a cool experience," says Baggio. "As an Old Guard member, I liked the movie because it reflected what we did and we got to be a real part of it."
— Linda Grisolia
For a full account of Baggio's military history, click here.
Scroll down to read Steve's review of the film.
---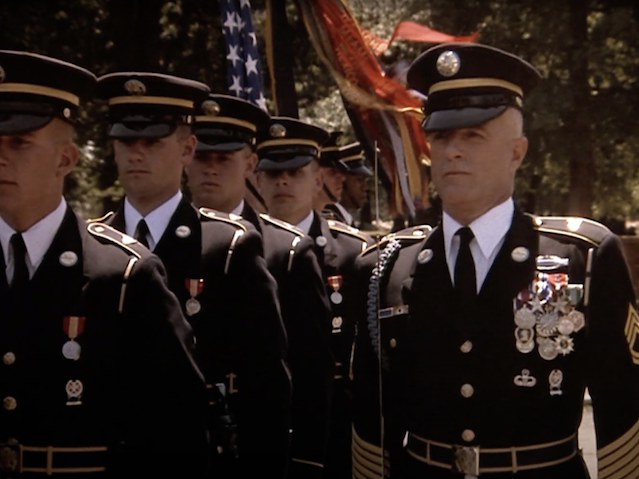 "Gardens of Stone"
Directed by Francis Ford Coppola, this seldom seen 1987 release stars James Earl Jones, James Caan, Anjelica Huston, D.B. Sweeney, Dean Stockwell, Mary Stuart Masterson and Laurence Fishburne. Despite its all-star cast, the film was released on a limited basis and received mixed reviews, though it earned the admiration of Chicago's very own Roger Ebert for its unflinching look at the heartbreak of war.
"Gardens of Stone" refers to Arlington National Cemetery. Jones and Caan play a couple of old sergeants. Both highly decorated combat Veterans, they are the top NCO's in a unit assigned to be Honor Guards at military funerals. It is 1968 and an increasing number of those funerals are for soldiers killed in Vietnam.
Frustrated at playing a "toy soldier," Caan takes a young soldier (D.B. Sweeney) under his wing, determined to pass on to him the survival skills he acquired through combat in two wars. The young soldier is the son of a deceased comrade who Jones and Caan served with previously. They mentor the kid as he excels at Army life and gets accepted into Officer Candidate School.
Commissioned a 2nd Lieutenant in the Infantry, he gets married and volunteers for Vietnam. He is motivated by patriotism and a sense of duty and he wants to be in on the action. He also wants to earn a Combat Infantryman Badge: the hallmark of a fighting soldier. Both his mentors have earned theirs and he earns his … posthumously.
— Steve Corbo
To view the trailer, click here.
To read Ebert's review, click here.
To rent this movie, click here.
To buy the DVD, click here.
To buy the book the movie is based on, click here.
---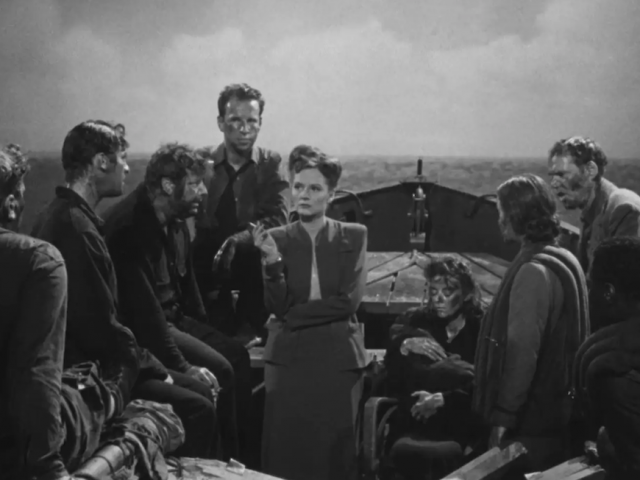 Lifeboat
Based on a John Steinbeck story and directed by Alfred Hitchcock, this 1944 drama was nominated for three Academy Awards. It centers on the occupants of a lifeboat, all of whom survived a German U-boat attack on a passenger ship in which both vessels were destroyed. The film stars Hollywood legend Tallulah Bankhead as Connie Porter, a wealthy journalist, and William Bendix as Gus, an injured sailor. They and the other survivors all have their own distinct personalities and backgrounds. The interaction among the survivors is the focus of the film. A moral dilemma arises when one of survivors rescued from the water turns out to be the captain of the U-boat that sunk the other ship. See if you can spot Hitchcock's trademark cameo appearance!
— Steve Corbo
To view the trailer, click here.
To view the movie free of charge, click here.
To rent the movie, click here.
To buy the DVD, click here.
To view a video about Hitchcock's cameo in the film, click here.
To view a video about the making of the movie, click here.
---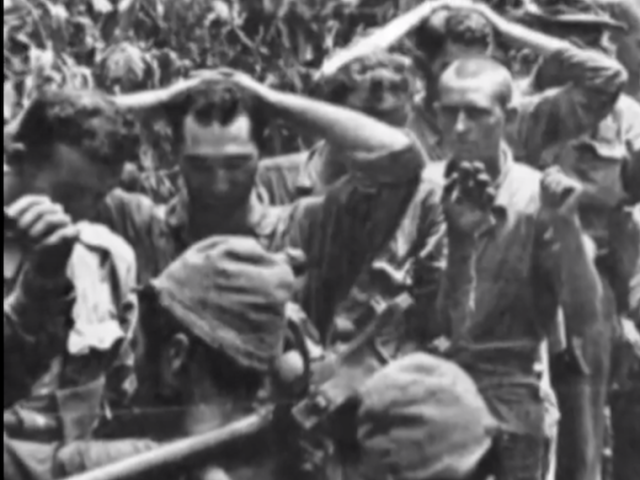 The Harrodsburg Tankers
"The Harrodsburg Tankers" tells the story of a National Guard outfit called to active duty before the United States was at war. In November 1941, they were sent to the Philippines and 18 days after their arrival, the Japanese attacked.  They became part of the Bataan Death March and went on to endure 3-1/2 horrific years as prisoners of the Japanese. Of the 66 members taken into captivity, only 37 survived. Several were interviewed for this hour-long documentary.
— Steve Corbo
To view the documentary for free, click here.
To purchase the book "Death March: The Survivors of Bataan" by Donald Knox, click here.
To purchase the book "Some Survived: An Eyewitness Account of the Bataan Death March and the Men Who Lived Through It" by Manny Lawton, click here.
---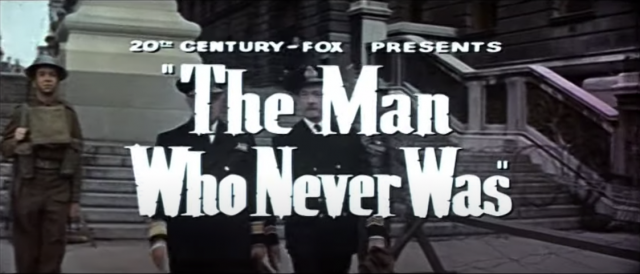 The Man Who Never Was
Based on actual events, this 1956 spy thriller stars Clifton Webb as Lt. Commander Ewen Montagu, author of the book by the same name. It's 1943 and the Allies are about to invade Sicily. British Intelligence develops an ingenious plot to fool the Germans into thinking the invasion will take place elsewhere.
Using a recently deceased corpse, they create a man who never existed, with a briefcase full of official looking documents handcuffed to his wrist. The body of the fictitious "Major Martin" is released from a submarine off the coast of Spain. As planned, the body floats to shore, is recovered by authorities and repatriated to the British, but not before German intelligence agents get a look at the briefcase's contents. The trap has been sprung, and the outcome had a major impact on the war in Europe.
— Steve Corbo
To view the trailer, click here.
To buy the DVD, click here.
To buy the book the movie is based on, click here.
To view a video by the UK National Archives, click here.
To view a video about this true story, click here.
---

5,000 Miles From Home
With movie theaters still shuttered and VJ Day on the near horizon, viewing our award-winning WW II documentary is a great way to commemorate this watershed moment in history.
"5,000 Miles From Home" tells the riveting tale of a generation of Italian kids from the streets of Chicago who proudly answered the call to serve their country during World War II. In-depth interviews with two dozen veterans are interwoven with vintage film footage and rare archival photos as you follow these brave men from their working-class roots to their wartime travails to the very different lives they led when they came back home.
Narrated by Bob Sirott, "5,000 Miles" earned two local Emmys along with six nominations, as well as six national Telly Awards. Our DVD also includes a treasure trove of deleted scenes, featurettes, biographies of the veterans and a brief video tour of our museum.
Purchase your copy by August 10 and you'll receive it in time to watch it on August 15: the 75th anniversary of VJ Day!
To find out more about this remarkable documentary and purchase your copy, click here.
---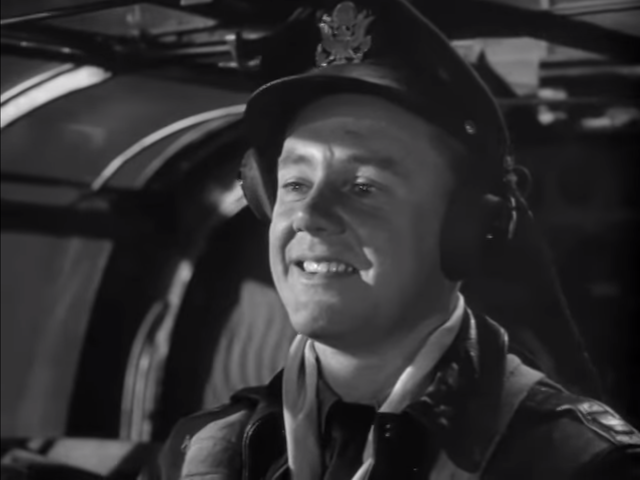 Thirty Seconds Over Tokyo
Based on a book by the same title, this 1944 film follows the unprecedented 1942 bombing of the capital of Japan during WW II. It stars Van Johnson as Lt. Ted Lawson, author of the book and a pilot on the mission, and Spencer Tracy as Lt. Col. Jimmy Doolittle. The film won an Oscar, was nominated for another and is considered one of the best films to come out of WW II.
Shortly after the attack on Pearl Harbor, Doolittle led a squadron of 16 B-25 bombers on their daring mission. They were spotted by the Japanese prior to takeoff from their aircraft carrier. Knowing that Tokyo might be tipped off and that his planes lacked the fuel to return to their carrier or make it to a friendly base, Doolittle launched the attack anyway. After releasing their bombs, they headed for China, flying until they ran out of fuel and hoping for the best.
— Steve Corbo
To view the trailer, click here.
To rent the movie, click here.
To buy the DVD, click here.
To buy the book the movie was based on, click here.
To view archival footage of the actual bombing mission, click here.
---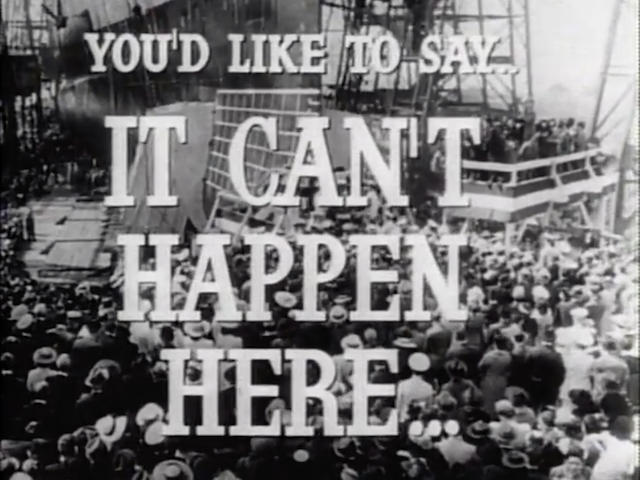 Saboteur
 An Alfred Hitchcock thriller, this 1942 film taps into a very real fear in wartime America: sabotage! Robert Cummings plays Barry Kane, a defense worker in California falsely accused of setting fire to the aircraft plant where he works. He escapes the authorities and sets off on a cross-country journey to track down the real saboteur. In the process he takes a hostage, Patricia Martin, played by Priscilla Lane, and uncovers a Nazi spy ring. While making their way to New York City, Martin begins to trust Kane and soon believes in his innocence. Hot on the trail of the real saboteurs, Kane foils their attempt to blow up a U.S. battleship being launched at the New York Naval Yard. The climactic scene takes place on Liberty Island at the Statue of Liberty, where Kane catches up with the real saboteur and clears his name. Watch closely for director Hitchcock's trademark cameo appearance.
— Steve Corbo
To view the trailer, click here.
To rent the movie, click here.
To buy the DVD, click here.
To view a video about the casting of the movie, click here.
---
Fighting Back: The Rocky Bleier Story
This inspirational 1980 film stars Robert Urich as standout Pittsburgh Steelers running back Rocky Bleier and Art Carney as Steelers owner Art Rooney. Considered too small and slow to play in the NFL, Bleier proved the critics wrong by making the Pittsburgh Steelers roster. While in his rookie season, he was drafted into the Army, served a tour of duty in Vietnam and left the military with a leg so badly damaged in combat that doctors told him he would be lucky to walk again let alone play football at the professional level.
Through sheer force of will, Bleier again proved the critics wrong, battling his way back onto the Steelers roster and helping them win four Super Bowls. Retiring in 1980 after 11 years in the sport, he was the fourth leading rusher in Steelers' history at the time of his retirement. The quality of the video is poor, and you may have to hunt around for the beginning of the film once you click on the link, but your patience will be rewarded with an uplifting tale along with some nice historical footage before and after as icing on the cake. This movie isn't about football and it isn't about the Vietnam War. It is about the indomitable spirit of a true hero!
— Steve Corbo
To view the trailer, click here.
To view the movie free of charge, click here.
To buy the book upon which the movie is based, click here.
To view a video of Bleier talking about the book, click here.
To view a video of Bleier returning to Vietnam 40 years later, click here.
---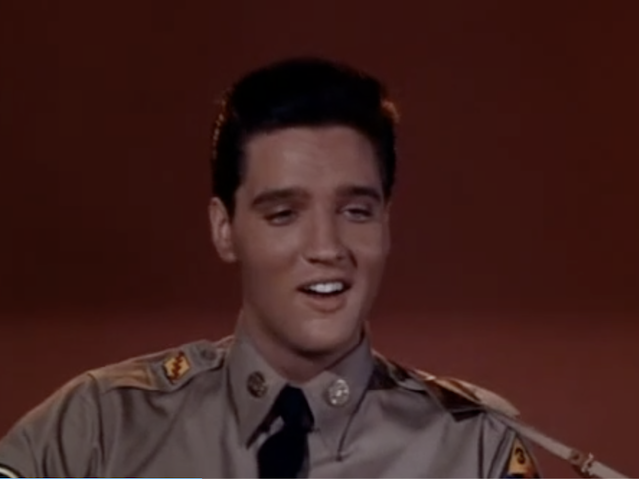 "G.I. Blues"
Drafted in 1958, Elvis Presley had just spent two years in the Army, mostly in Germany with the 3rd Armored Division, when he filmed "G.I. Blues." The musical comedy was his comeback film and the first chance fans had to see him in action in a long time. Presley is cast as a guitar-playing GI named Tulsa MacLean who also serves with the 3rd Armored Division in Germany. Coincidence? Definitely not. Elvis was still a real soldier in a combat unit and the Army wouldn't permit him to leave to shoot the film. As he was getting ready to be discharged, a production crew flew to Germany to shoot on location, with off-duty GIs from Elvis' own division serving as extras. Tulsa gets the girl (Juliet Prowse), of course, and lives happily ever after, and Sgt. Presley was honorably discharged in March 1960. The film was completed in the States and released in November 1960. The soundtrack was turned into an album that was nominated for two Grammys. Elvis was back!
— Steve Corbo
To view the trailer, click here.
The movie can be viewed for free on DailyMotion in two parts.
For Part 1, click here.
For Part 2, click here.
To rent the movie, click here.

To buy the DVD, click here.

To buy a book about Elvis in the U.S Army, click here.

To view a video about the present-day movie locations in Germany, click here.
---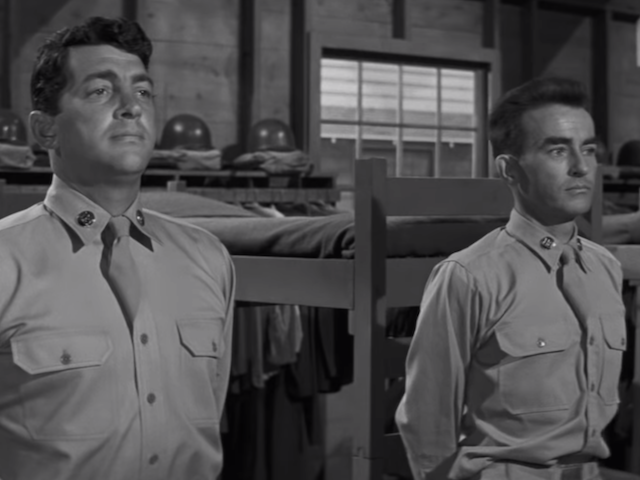 "The Young Lions"
Based on the novel by Irwin Shaw, this 1958 feature was nominated for three Academy Awards and features an all-star cast including Marlon Brando, Montgomery Clift, Dean Martin, Maximilian Schell and Hope Lange.
It begins in pre-war Germany, with Brando playing ski instructor Christian Diestl. We later find ourselves in New York City as Michael Whiteacre, a show biz personality played by Martin, and Noah Ackerman, a Jewish clerk played by Clift, are being drafted into the U.S. Army. The movie follows the path of these young men as they are transformed into soldiers in the heat of battle during WW II. Noah faces bullying and anti-Semitism at the hands of his fellow soldiers and commanding officer. Diestl sees duty in Paris and North Africa as a Nazi soldier, where he is badly wounded. He grows to hate the war but is torn between his conscience and his duty as a German. Meanwhile, feeling guilty about showbiz connections that land him a safe job in England, Whiteacre volunteers for front-line duty in the infantry. All three soldiers meet in the movie's climactic scene.
Coming on the heels of his split with longtime show-biz partner Jerry Lewis, the movie helped Martin launch his solo career, establishing him as a far more versatile actor than a mere straight man for the manic Lewis.
— Steve Corbo
To view the trailer, click here.

To rent the movie, click here.

To buy the DVD, click here.

To buy the book the movie was based on, click here.

To view a video about the movie's world premiere, click here.
---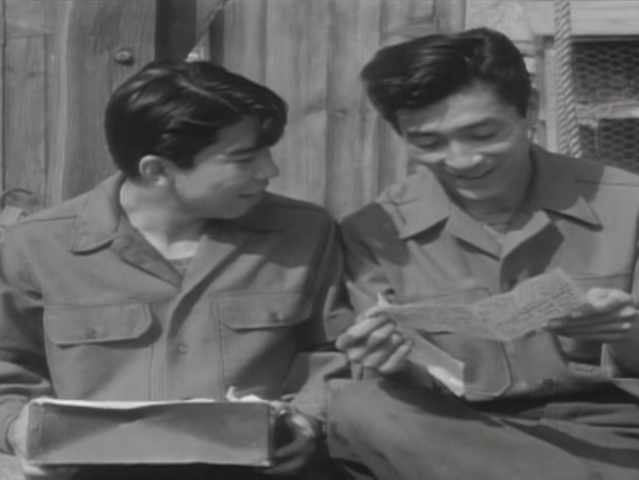 "Go for Broke"
This 1951 classic starring Van Johnson tells the true story of the U.S. Army's 442nd Regimental Combat Team during WW II. They were the most decorated unit of its size in the history of the U.S. Army, a remarkable feat considering the unit was comprised entirely of Japanese Americans, many of whom came directly from the internment camps set up by the U.S. government. The movie follows the unit from its initial training in the United States through combat in Italy and France. Six combat veterans of the 442nd appear in the movie, including Lane Nakano, who had a leading role as Sam. His family took in and raised Guy Gabaldon, the subject of "Hell To Eternity," previously featured in our "Stay At Home Movie Night" series. Also making cameo appearances are John Banner, who later gained fame as Sgt. Schultz in TV's "Hogan's Heroes," and Hugh Beaumont, better known as Ward Cleaver from "Leave it to Beaver." Although not portrayed in the movie, Daniel Inouye also served in the 442nd, sustaining wounds during combat and losing his right arm. He earned the Medal of Honor for his battlefield heroics and later served as a U.S. Senator from Hawaii.
— Steve Corbo
To view the trailer click here.
To view the movie free of charge, click here.
To rent the movie, click here.
To buy the DVD, click here.
To purchase a book about the 442nd, click here.
To view a video about the 442nd, click here.
---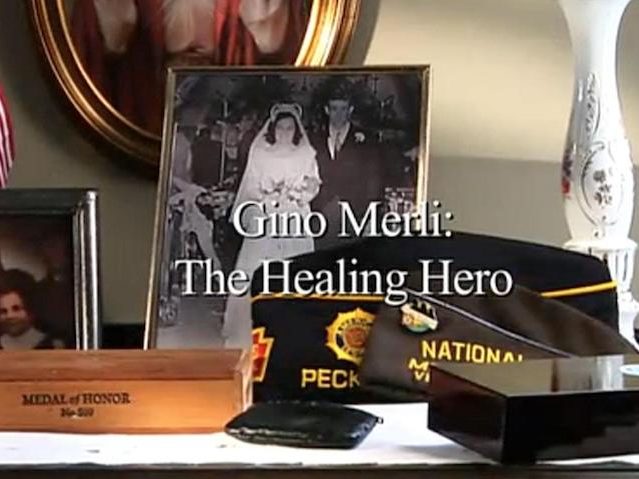 Gino Merli:  The Healing Hero
This PBS docudrama about the WWII experiences of Medal of Honor recipient Gino J. Merli uses actual war footage as a backdrop to Merli's recollections delivered by an actor as a one-man play. On the night of Sept. 4, 1944, Pfc. Gino Merli was manning a machine gun during the Battle of the Bulge when the Nazis attacked in force. The outnumbered U.S. troops began their retreat, but Merli held his position, providing cover fire for his comrades. He sustained bayonet wounds by playing possum again and again, but he continued to rise up and fire at the Germans once they left him for dead. Merli's heroism allowed American forces to regroup for a counteroffensive that resulted in the enemy's surrender. When he was found the next day, covered in blood and surrounded by scores of enemy dead, Merli's only request was to visit a church to pray for the fallen, including the men he had just killed. After returning to civilian life, Merli worked for more than three decades at a Pennsylvania Veterans Affairs Medical Center.
— Felicia Reilly
To view the trailer, click here.
To view the movie free of charge, click here.
To view an interview with Gino Merli, click here.
---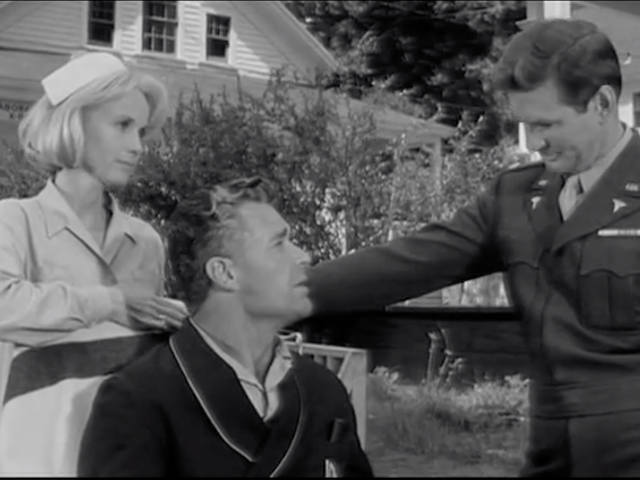 "36 Hours"
Called "an ingenious thriller" by The New Yorker, this 1965 film is based on the premise of an American intelligence officer being kidnapped and drugged by the Nazis in 1944, six days before D-Day. He is spirited to Germany, where he is made to believe he is recovering from amnesia in an American military hospital in 1949, after the war has ended in victory for the Allies. In the process of his "recovery," he unwittingly reveals the plans for and details of the invasion. This seldom-seen classic stars James Garner, Rod Taylor and Eva Marie Saint. In a preview of things to come, John Banner plays an overweight, overage German guard. Later that same year, Banner began starring in his career-defining role as Sgt. Schulz on the TV sitcom "Hogan's Heroes."  "36 Hours" is anything but a "sitcom." This is an intriguing and thought-provoking mystery set during WW II, and it's well worth watching.
— Steve Corbo
To view the trailer, click here.
To view the movie free of charge, click here.
To rent the movie, click here.
To buy the DVD, click here.
To read "Beware of the Dog" by Roald Dahl, the short story upon which the movie is based, click here.
---

"Hell to Eternity"
This isn't the famous, fictional "From Here to Eternity," it's the fascinating, real-life story of WW II Marine Guy Gabaldon. A Mexican-American kid living on the streets of East Los Angeles, Gabaldon was taken in by a Japanese-American family who helped turn his life around. As World War II exploded, the nation turned on its residents of Japanese descent, forcibly relocating 120,000 of them, including Gabaldon's parents, to internment camps. Enlisting in the Marines, Gabaldon took part in one of the epic battles of the war: the invasion of Saipan. In the midst of this killing field, Gabaldon found a surprising way to save lives. Operating alone and behind enemy lines, he used his limited knowledge of Japanese to talk 1,500 of the enemy into peacefully surrendering, earning him the nickname "The Pied Piper of Saipan." He was only 18 years old.
— Steve Corbo
To view the trailer, click here.
To rent the movie, click here.
To buy the DVD, click here.
To read transcript of an oral history interview with Gabaldon, click here.
To view a brief video clip about Gabaldon's exploits, click here.
---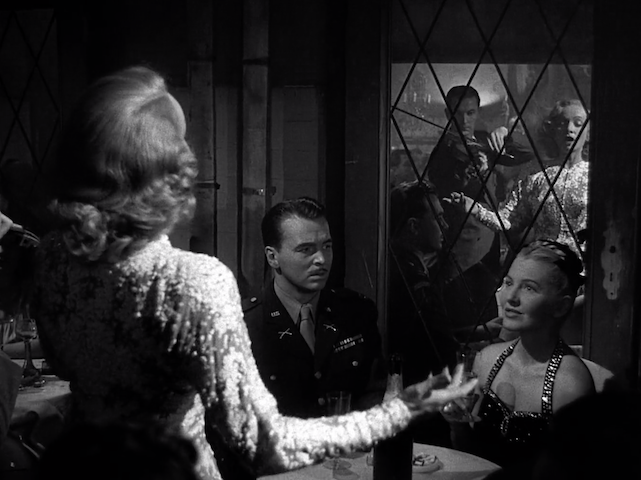 "A Foreign Affair"
This 1948 romantic comedy explores the stark reality of post-WW II Berlin. Directed by Hollywood legend Billy Wilder and starring Marlene Dietrich, John Lund and Jean Arthur, the film revolves around a congressional fact-finding mission to investigate the morale of the 12,000 U.S. troops occupying the city, who are described as "being infected by a kind of moral malaria." A love triangle ensues between Berlin resident Dietrich, Army Captain Lund and Congresswoman Arthur, hence the romantic comedy angle. But below the surface, the movie examines the underbelly of a conquered civilian population under the control of an occupying army, where the only thing that matters is survival. Filming took place on location in Berlin while bodies were still being recovered from the ruins we see on screen. Dietrich, a real-life Berlin native and vocal anti-Nazi who fled Hitler's Germany for the United States, plays the role of a pro-Nazi cabaret singer. We witness a black-market economy where barter reigns and cigarettes are the prevailing form of currency. This dark social backdrop is lightened by the comedic and romantic interplay among the main characters and an improbably happy ending.
— Steve Corbo
To view the trailer, click here.
To buy the DVD, click here.
---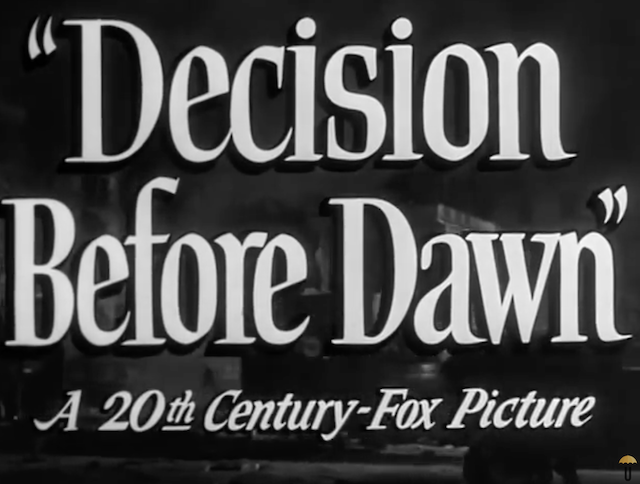 "Decision Before Dawn"
This 1952 movie is realistic, stark and unsentimental, but gripping and absolutely worth watching. It was filmed in the German cities of Wurzburg, Nuremberg and Mannheim, amid actual destruction and bombed-out buildings that remained from World War II. This also resulted in unparalleled accuracy in the uniforms, equipment, weapons and vehicles used, as most, if not all, were original and actual war surplus. It centers around two German POWs who were recruited by American forces to infiltrate a German tank corps and get information on their whereabouts back to the Americans. Though a post-World War II film, it speaks to us now as powerfully as it did to audiences who had lived through the war themselves. Besides the edge-of-your-seat espionage, Decision Before Dawn shows the moral choices the Germans and Americans had and how each responded to those circumstances.
— James Scalzitti, with input from Steve Corbo
To view the trailer, click here.
To view the movie free of charge, click here.
To rent the movie, click here.
To buy the DVD, click here.
To buy the book upon which the movie is based, click here.