Museum Launches Stay-at-Home Movie Night
---
The Italian American Veterans Museum hopes all our supporters and their families are staying healthy during the coronavirus pandemic. Since our social interactions are confined to our homes for the time being, we're launching a Stay-at-Home Movie Night, with a new recommendation every Friday. Reviews will be written by museum board members and all films will have a military theme. We hope you enjoy our recommendations.
---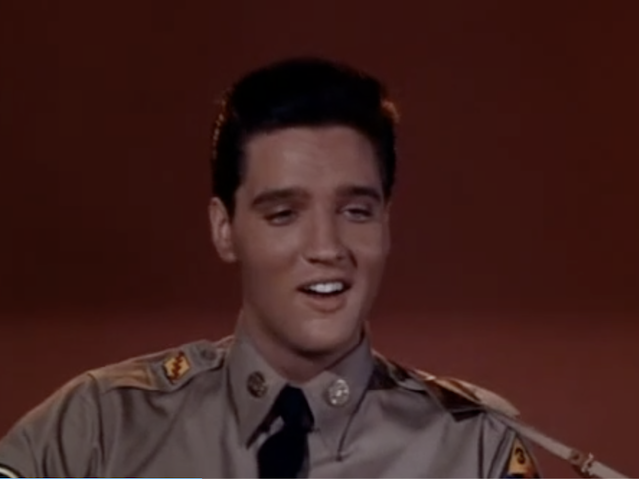 "G.I. Blues"
Drafted in 1958, Elvis Presley had just spent two years in the Army, mostly in Germany with the 3rd Armored Division, when he filmed "G.I. Blues." The musical comedy was his comeback film and the first chance fans had to see him in action in a long time. Presley is cast as a guitar-playing GI named Tulsa MacLean who also serves with the 3rd Armored Division in Germany. Coincidence? Definitely not. Elvis was still a real soldier in a combat unit and the Army wouldn't permit him to leave to shoot the film. As he was getting ready to be discharged, a production crew flew to Germany to shoot on location, with off-duty GIs from Elvis' own division serving as extras. Tulsa gets the girl (Juliet Prowse), of course, and lives happily ever after, and Sgt. Presley was honorably discharged in March 1960. The film was completed in the States and released in November 1960. The soundtrack was turned into an album that was nominated for two Grammys. Elvis was back!
— Steve Corbo
The movie can be viewed for free on DailyMotion in two parts.
For Part 1, click here.
For Part 2, click here.
---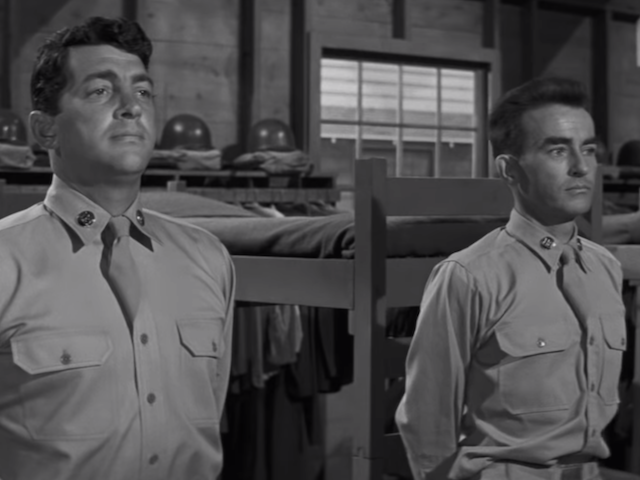 "The Young Lions"
Based on the novel by Irwin Shaw, this 1958 feature was nominated for three Academy Awards and features an all-star cast including Marlon Brando, Montgomery Clift, Dean Martin, Maximilian Schell and Hope Lange.
It begins in pre-war Germany, with Brando playing ski instructor Christian Diestl. We later find ourselves in New York City as Michael Whiteacre, a show biz personality played by Martin, and Noah Ackerman, a Jewish clerk played by Clift, are being drafted into the U.S. Army. The movie follows the path of these young men as they are transformed into soldiers in the heat of battle during WW II. Noah faces bullying and anti-Semitism at the hands of his fellow soldiers and commanding officer. Diestl sees duty in Paris and North Africa as a Nazi soldier, where he is badly wounded. He grows to hate the war but is torn between his conscience and his duty as a German. Meanwhile, feeling guilty about showbiz connections that land him a safe job in England, Whiteacre volunteers for front-line duty in the infantry. All three soldiers meet in the movie's climactic scene.
Coming on the heels of his split with longtime show-biz partner Jerry Lewis, the movie helped Martin launch his solo career, establishing him as a far more versatile actor than a mere straight man for the manic Lewis.
— Steve Corbo
To view free of charge, click here.
---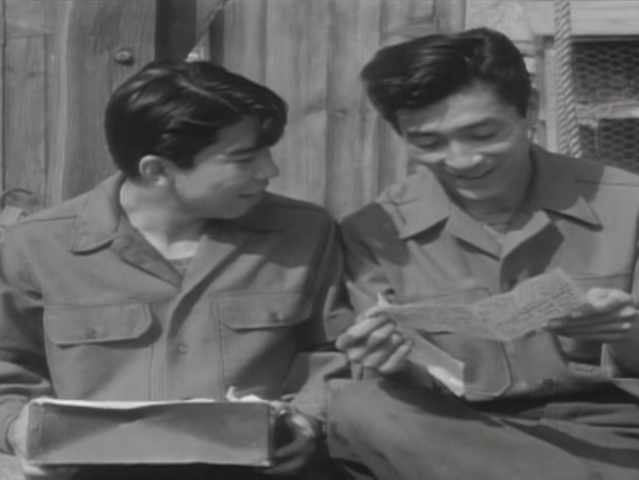 "Go for Broke"
This 1951 classic starring Van Johnson tells the true story of the U.S. Army's 442nd Regimental Combat Team during WW II. They were the most decorated unit of its size in the history of the U.S. Army, a remarkable feat considering the unit was comprised entirely of Japanese Americans, many of whom came directly from the internment camps set up by the U.S. government. The movie follows the unit from its initial training in the United States through combat in Italy and France. Six combat veterans of the 442nd appear in the movie, including Lane Nakano, who had a leading role as Sam. His family took in and raised Guy Gabaldon, the subject of "Hell To Eternity," previously featured in our "Stay At Home Movie Night" series. Also making cameo appearances are John Banner, who later gained fame as Sgt. Schultz in TV's "Hogan's Heroes," and Hugh Beaumont, better known as Ward Cleaver from "Leave it to Beaver." Although not portrayed in the movie, Daniel Inouye also served in the 442nd, sustaining wounds during combat and losing his right arm. He earned the Medal of Honor for his battlefield heroics and later served as a U.S. Senator from Hawaii.
— Steve Corbo
To view the movie for free, click here.
---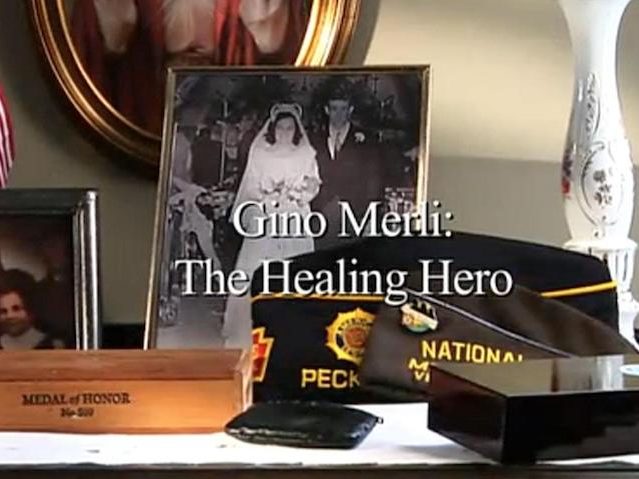 Gino Merli:  The Healing Hero
This PBS docudrama about the WWII experiences of Medal of Honor recipient Gino J. Merli uses actual war footage as a backdrop to Merli's recollections delivered by an actor as a one-man play. On the night of Sept. 4, 1944, Pfc. Gino Merli was manning a machine gun during the Battle of the Bulge when the Nazis attacked in force. The outnumbered U.S. troops began their retreat, but Merli held his position, providing cover fire for his comrades. He sustained bayonet wounds by playing possum again and again, but he continued to rise up and fire at the Germans once they left him for dead. Merli's heroism allowed American forces to regroup for a counteroffensive that resulted in the enemy's surrender. When he was found the next day, covered in blood and surrounded by scores of enemy dead, Merli's only request was to visit a church to pray for the fallen, including the men he had just killed. After returning to civilian life, Merli worked for more than three decades at a Pennsylvania Veterans Affairs Medical Center.
— Felicia Reilly
To view the video free of charge, click here.
---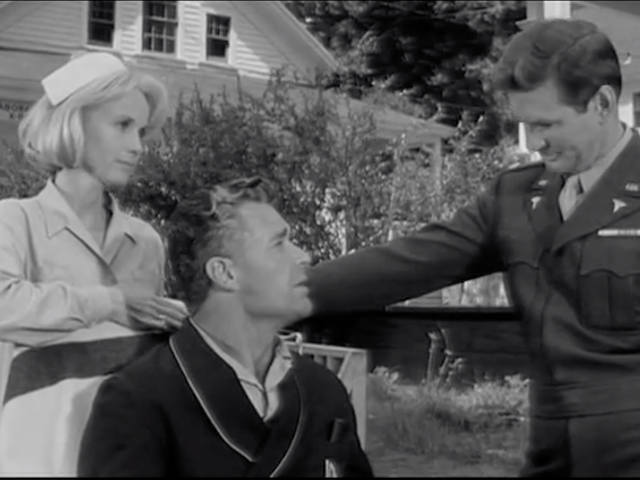 "36 Hours"
Called "an ingenious thriller" by The New Yorker, this 1965 film is based on the premise of an American intelligence officer being kidnapped and drugged by the Nazis in 1944, six days before D-Day. He is spirited to Germany, where he is made to believe he is recovering from amnesia in an American military hospital in 1949, after the war has ended in victory for the Allies. In the process of his "recovery," he unwittingly reveals the plans for and details of the invasion. This seldom-seen classic stars James Garner, Rod Taylor and Eva Marie Saint. In a preview of things to come, John Banner plays an overweight, overage German guard. Later that same year, Banner began starring in his career-defining role as Sgt. Schulz on the TV sitcom "Hogan's Heroes."  "36 Hours" is anything but a "sitcom." This is an intriguing and thought-provoking mystery set during WW II, and it's well worth watching.
— Steve Corbo
To view a trailer for the movie, click here.
To view the movie for free on archive.org, click here.
---

"Hell to Eternity"
This isn't the famous, fictional "From Here to Eternity," it's the fascinating, real-life story of WW II Marine Guy Gabaldon. A Mexican-American kid living on the streets of East Los Angeles, Gabaldon was taken in by a Japanese-American family who helped turn his life around. As World War II exploded, the nation turned on its residents of Japanese descent, forcibly relocating 120,000 of them, including Gabaldon's parents, to internment camps. Enlisting in the Marines, Gabaldon took part in one of the epic battles of the war: the invasion of Saipan. In the midst of this killing field, Gabaldon found a surprising way to save lives. Operating alone and behind enemy lines, he used his limited knowledge of Japanese to talk 1,500 of the enemy into peacefully surrendering, earning him the nickname "The Pied Piper of Saipan." He was only 18 years old.
— Steve Corbo
To buy or rent the movie on Amazon Prime, click here.
To sign up for a free 1-month trial of Amazon Prime, click here.
To view a brief video clip about Gabaldon's exploits, click here.
---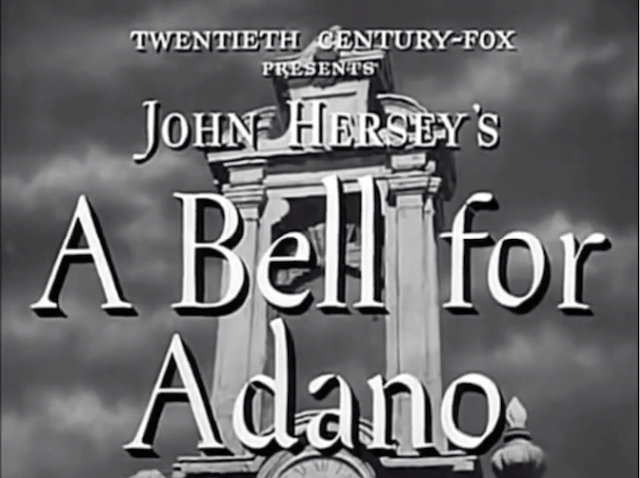 "A Bell for Adano"
This 1945 WWII drama is based on the Pulitzer Prize-winning 1944 novel by John Hersey, which was in turn inspired by the true story of U.S. Army Major Frank E. Toscani. Victor Joppolo, the character based on Toscani, is put in charge of the Italian town of Adano, a fishing village in Sicily. In the midst of running the village, gaining the residents' trust and easing their hardships, including finding enough food to eat, Joppolo discovers their most pressing concern. They yearn to replace the 700-year-old bell the Fascists had taken from their city hall and melted to make ammunition. John Hodiak plays Joppolo and Gene Tierney plays Tina, the fisherman's daughter who befriends him. Watch for Harry Morgan of "M*A*S*H" fame as an American MP. He's credited as Henry Morgan, the name he used early in his career. A stirring musical score by Alfred Newman enlivens a touching story about initially suspicious townspeople who eventually embrace a caring foreign administrator who provided for their needs, no matter how inconsequential they may seem.
— Felicia Reilly
To view the movie free on YouTube, click here.
To purchase on DVD from Arelow, click here.
To view an episode of "To Tell the Truth" featuring Major Toscani, click here.
---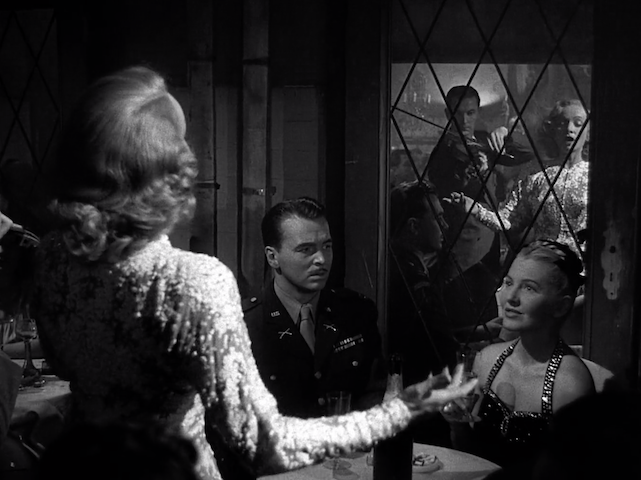 "A Foreign Affair"
This 1948 romantic comedy explores the stark reality of post-WW II Berlin. Directed by Hollywood legend Billy Wilder and starring Marlene Dietrich, John Lund and Jean Arthur, the film revolves around a congressional fact-finding mission to investigate the morale of the 12,000 U.S. troops occupying the city, who are described as "being infected by a kind of moral malaria." A love triangle ensues between Berlin resident Dietrich, Army Captain Lund and Congresswoman Arthur, hence the romantic comedy angle. But below the surface, the movie examines the underbelly of a conquered civilian population under the control of an occupying army, where the only thing that matters is survival. Filming took place on location in Berlin while bodies were still being recovered from the ruins we see on screen. Dietrich, a real-life Berlin native and vocal anti-Nazi who fled Hitler's Germany for the United States, plays the role of a pro-Nazi cabaret singer. We witness a black-market economy where barter reigns and cigarettes are the prevailing form of currency. This dark social backdrop is lightened by the comedic and romantic interplay among the main characters and an improbably happy ending.
— Steve Corbo
To buy a DVD of "A Foreign Affair" on Amazon, click here.
---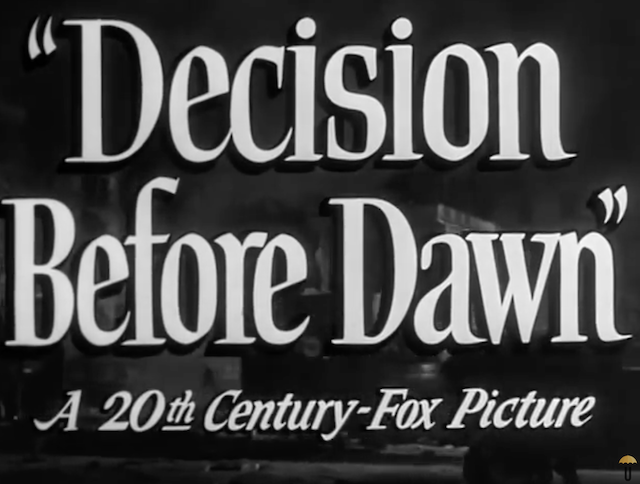 "Decision Before Dawn"
This 1952 movie is realistic, stark and unsentimental, but gripping and absolutely worth watching. It was filmed in the German cities of Wurzburg, Nuremberg and Mannheim, amid actual destruction and bombed-out buildings that remained from World War II. This also resulted in unparalleled accuracy in the uniforms, equipment, weapons and vehicles used, as most, if not all, were original and actual war surplus. It centers around two German POWs who were recruited by American forces to infiltrate a German tank corps and get information on their whereabouts back to the Americans. Though a post-World War II film, it speaks to us now as powerfully as it did to audiences who had lived through the war themselves. Besides the edge-of-your-seat espionage, Decision Before Dawn shows the moral choices the Germans and Americans had and how each responded to those circumstances.
— James Scalzitti, with input from Steve Corbo
 To rent "Decision Before Dawn" on Amazon Prime, click here.
To view it for free, click here.