The Latest From the Museum
---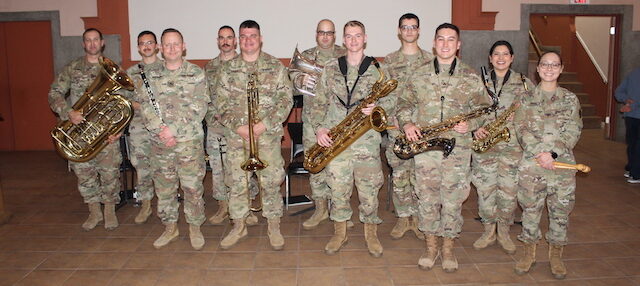 Museum hosts stirring performance by Army band
The Lincoln Land Brass Band performed for an appreciative audience on Oct. 22 in the Ballroom of the Community Center at Casa Italia. Officially known as Illinois Army National Guard's 144th Army Band, the 12-member ensemble served up a stirring mix of patriotic pieces and traditional marches. The concert was capped off by a medley of official music from every branch of the military, with Veterans from each branch standing when their song was played. Afterward, audience members enjoyed refreshments and checked out the museum.
For a video clip, click here.
For a second video clip, click here.
For a third video clip, click here.
---
Museum hosts a stellar inaugural wine festival
The Italian American Veterans Museum took a leap of faith when it decided to stage its first-ever wine festival, and the outcome was nothing short of spectacular. More than 200 wine lovers converged on the Festival Center at Casa Italia on Sept. 18 for Festival del Vino. The weather was picture perfect and the venue was magically decorated with banners, bunting, grapevines and white garden lattice. More than 50 wines were offered for sampling by five distributors rallied by Binny's Beverage Depot, hearty Italian fare was served by Onesti Entertainment and Angelo Caputo's Fresh Markets mounted an extensive display of winemaking equipment and supplies. DJ Alex filled the air with an enchanting mix of Italian and Italian-American favorites, Binny's Mokena Wine Manager Mich Eickelman shed light on the fascinating world of Italian wines in a well-attended wine appreciation session and a host of volunteers kept the event running smoothly from start to finish.
We'd like to thank the following sponsors, distributors and underwriters for their support, along with our volunteers and everyone who bought tickets and made donations that contributed to the event's success.
Binny's Beverage Depot (Wine Lover's Piazza)
Angelo Caputo's Fresh Markets (Wine Maker's Market)
Onesti Entertainment (Da Vinci Café)
Breakthru Beverage (Distributor)
Burke Beverage (Distributor)
Giambrone Limoncello (Distributor)
Heritage Wine Cellar (Distributor)
Imports Inc. (Distributor)
M&J Asphalt (Wine Glass Underwriter)
Zerillo Realty (White Lattice Underwriter)
ASG Staffing/Azimuth (Decorations Underwriter)
Manor Press (Signage Underwriter)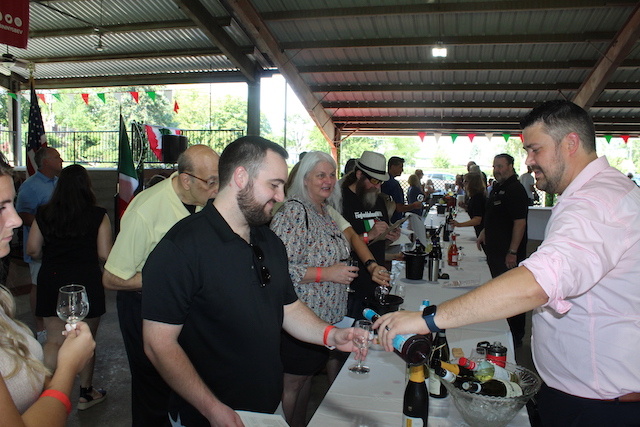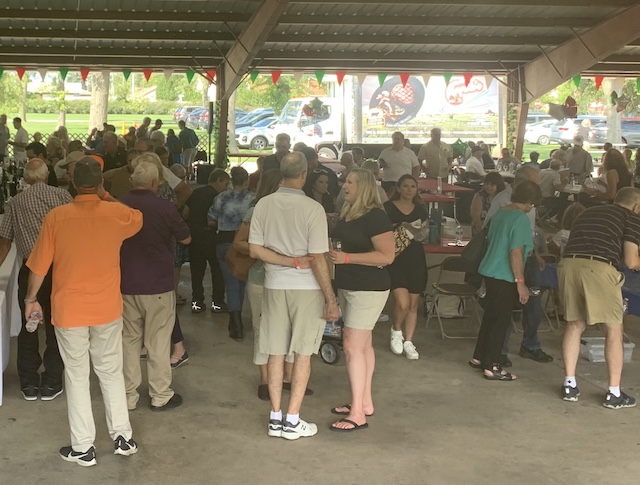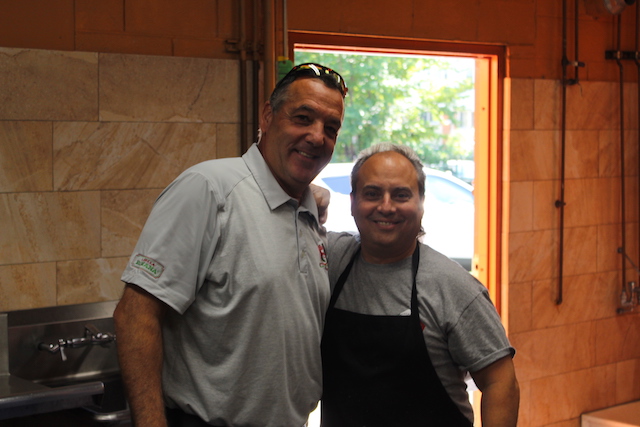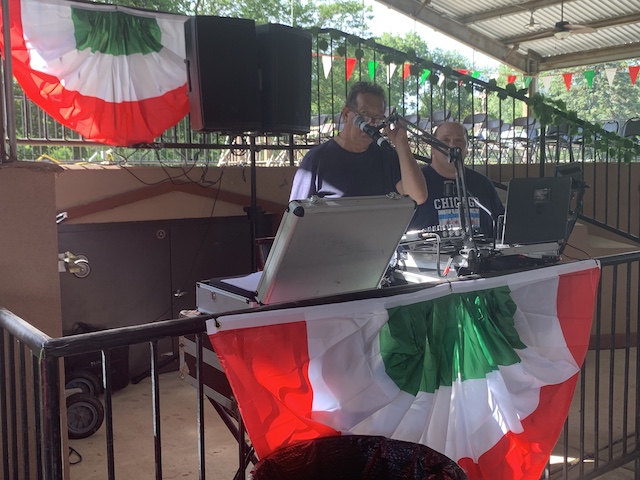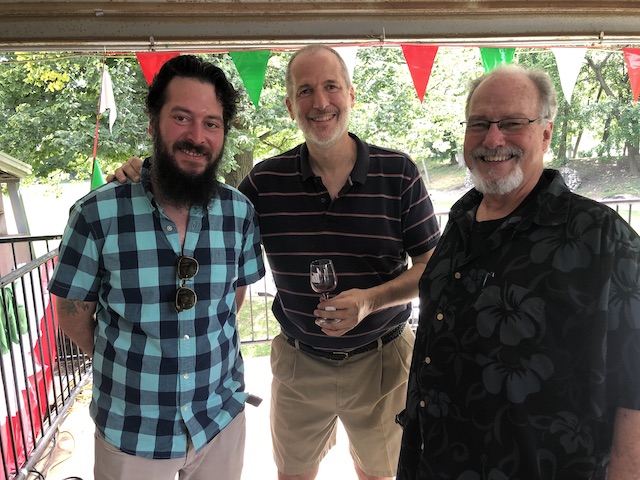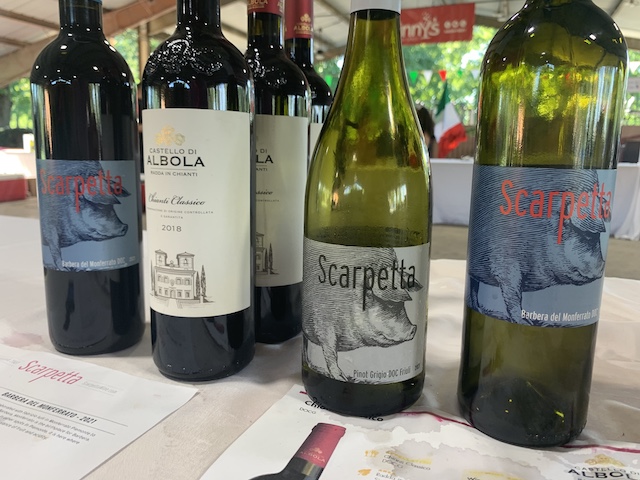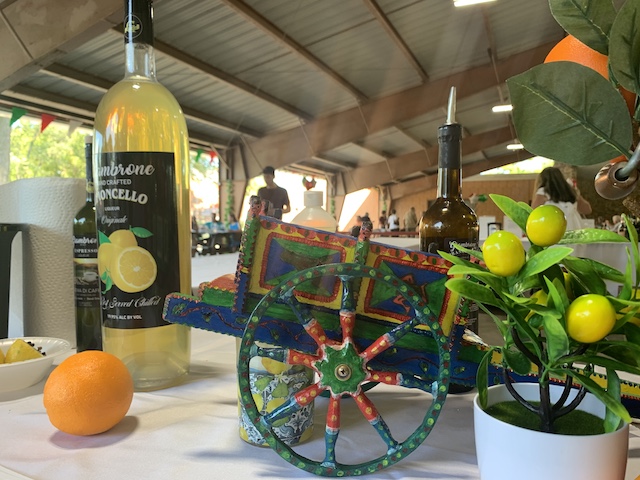 ---

Troiani lifts the veil on Soviet, Chinese threats
Museum First Vice President Joseph Troiani delivered a riveting national security briefing at a recent museum fundraiser. A retired Navy Commander and Associate Professor of Psychology at Adler University in Chicago, Troiani detailed the risks to world peace posed by Russia and China, offering chilling accounts of their expansionist philosophies and tactics. Dubbed "A Night at the Museum," the event was spearheaded by retired Naval NCO Gigi Callaway and hosted by the 1st Division of the American Legion, the Association of the United States Army and the St. Norbert Priory of the Knights Templar. Many thanks to all three organizations for their generosity.
---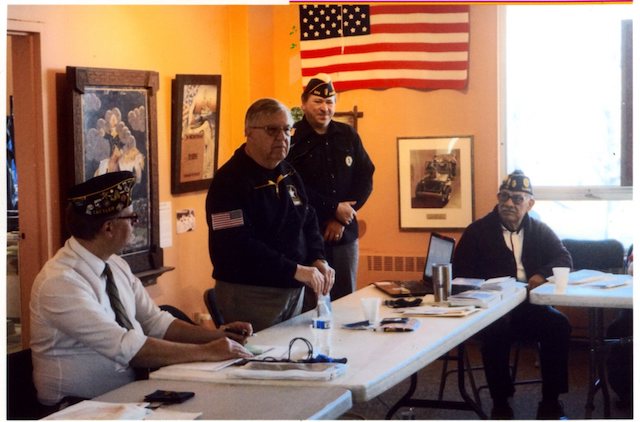 American Legion Division stages outreach session
For the third year running, American Legion's First Division hosted its annual outreach session at the Italian American Veterans Museum. Led by Division Commander Tom Chambers, more than a dozen Post and District Commanders assembled at the museum on March 12 for breakfast and a general meeting, after which they took to the phones to rally involvement from past and at-large members. "The museum is the ideal setting for our outreach session," past  First Division Commander Gigi Callaway says. "There's plenty of room to break bread, meet and make calls, and the museum is always so welcoming and accommodating." Many thanks to the Division and its Post and District Commanders for their generous financial donations to the museum, and to Post and 3rd District Commander Harold Toney for his donation of three bayonets.
---
American Legion District hosts stirring service
Officers of the American Legion Department of Illinois, 9th District, and 9th District Auxiliary, held their Post Everlasting ceremony at Casa Italia on March 23. The ceremony is held annually in remembrance of 9th District Legion Family members who died over the last year.  Representing the 9th District Legion were Commander Greg Jacobs; Sr. Vice Commander Lorenzo Fiorentino; Jr. Adjutant Pete Hirt and Chaplain Dale Tippett. Representing the 9th District Auxiliary were President Nancy Stevens and Chaplain Colinette Marshall. The event was hosted by members of the River Grove American Legion 335 and Veterans of Foreign Wars 5979. The ceremony took place in the lovely little chapel at Casa Italia, the home of the Italian American Veterans Museum. "Our sincere thank you to Casa Italia for allowing us the use of this beautiful setting, to pray for and remember our Legion and Auxiliary members no longer with us," Fiorentino says.
---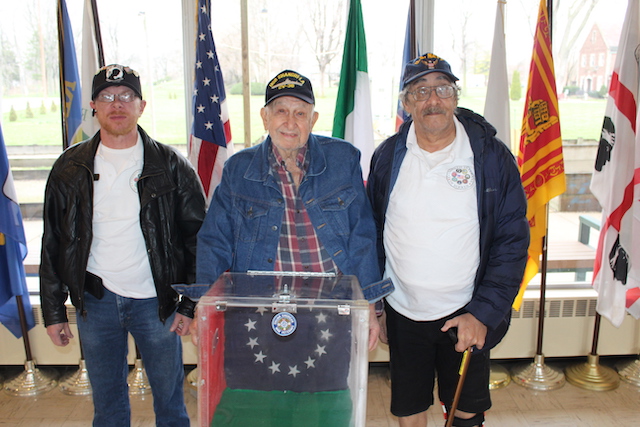 Liture goes to bat for the museum
World War II Navy Veteran Carl Liture may be 92 but there's plenty of fight left in him. When he heard our donation box was a little worse for the wear, he sprang into action, crafting a Plexiglas replacement, decorating it in the colors of America and Italy, and bestowing it upon the museum. Many thanks to Carl as well as Greg Hopper and Tony Ward of the Combined Veterans of Berwyn, who served as Carl's honor guard when he dropped the donation box off at Casa Italia.
---

A sojourn from Iowa yields a memorable visit
The following testimonial was sent to us by Toni Nicoletto of Davenport, Iowa.
"Many of the members of my dad's family served in WWII and I'm always fascinated to learn more about their service. I've bought my dad books on the history of the war and also on Italian immigrants, so when I was looking for things to do for his birthday, a quick Google search brought me to the Italian American Veterans Museum website. We were excited to visit and learn more about the role Italian Americans played in the defense of our country. While planning our trip to the museum, we also enjoyed the videotaped presentations posted on the website.
"The museum's executive vice president, Paul Basile, took time out of his weekend to give us a personal tour. His extensive knowledge of the artifacts in the museum and the incredible stories of heroics made the 2.5-hour trip well worth our time. I'm thankful that Paul and the community continue to support this important endeavor honoring our brave servicemen and women, and especially honoring our heritage of Italian strength and courage."
The museum is open by appointment any Saturday afternoon. To schedule a visit, call 708-338-0690.
---

Helping to rebuild war-torn Bosnia
An appreciative audience of more than 30 was transfixed by IAVM President Renato Bacci's Nov. 14 presentation about his tour of duty in Bosnia. After offering a panoramic view of his family's military history and the role of Civil Affairs through the decades, Bacci brought the plight of post-war Bosnia vividly to life with detailed descriptions and revealing photographs. He then showed how the country was rebuilt and its torn social fabric reknit thanks to the dedication and expertise of the multinational team that he worked with and helped to direct.
---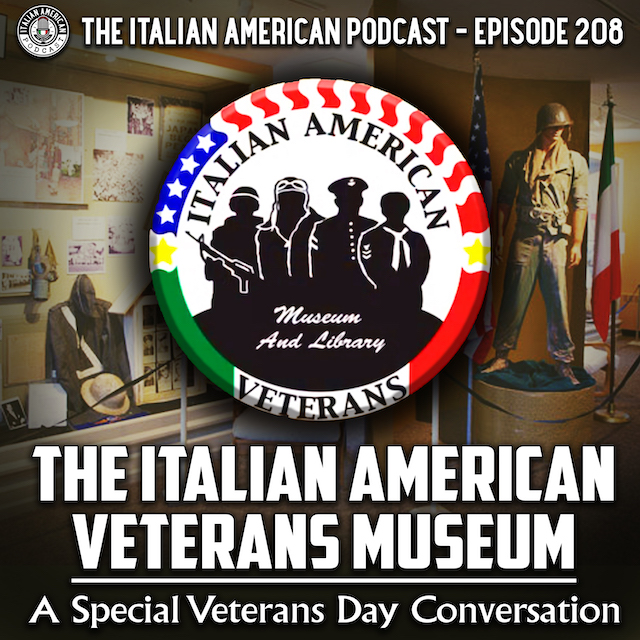 Bacci offers insights, shares memories on podcast
The Italian American Podcast invited IAVM President Renato Bacci as their guest on a Nov. 9 episode dedicated to Veterans Day. Bacci spoke about the contributions of Italian Americans to our nation's military history; shed light on the museum's mission, exhibits and activities; and shared memories of his own military experiences, including the difference between the meals served by the U.S. and Italian Armed Forces.
To listen, click here.
---

Fiorentino showcases forgotten military monuments
Retired Army Major Lorenzo Fiorentino wowed an appreciative crowd with his knowledge of Illinois military monuments at an Aug. 22 presentation at the Italian American Veterans Museum. An author of a book on the subject, Fiorentino departed from the text to share several stories not covered in the pages of his well-researched and richly illustrated volume. Audience members were treated to tales of Otis Beverly Duncan, the highest-ranking African American in the American Expeditionary Forces at the end of World War I; Peoria's Civil War monument, which disappeared for nearly half a century; and much more.=
To purchase an autographed copy of Lorenzo's book, click here.
---

War stories from beyond the grave
Joe Fabiani saw his share of action as a light weapons squad leader with the 2nd Division, 23rd Infantry, East Company, during the Korean War, revealing those sometimes harrowing experiences as part of the Melrose Park Library's Veterans History Project several years back. Five years after his passing, his niece Sandra Donovan donated a recording of that interview to the museum along with a stack of snapshots that capture everything from boot camp to the battlefield. Joe's oral history will be transformed into a profile that will be posted on the museum website in the coming months.
---

Establishing a beachhead in the Midwest
Officially chartered on Dec. 3, 1952, the Filippo Mazzei Post 1 of the Italian American War Veterans emerged as a thriving and influential Midwest outpost for the venerable national organization, which was formed two decades earlier. Evidence of that vitality can be found in the 1967-68 directory recently donated by Jim Pulia. Jim's dad, Edward, was among the 320-plus members listed in the directory, along with nearly 60 members of the post's women's auxiliary. National and post membership cards round out Jim's donation.
---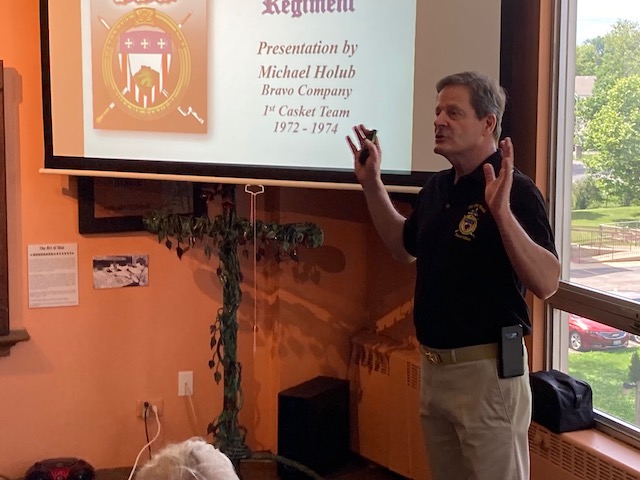 Holub spotlights elite Army regiment
Army veteran Michael Holub offered a rousing introduction to one of the Army's most elite regiments at a June 27 presentation at the museum. A member of the 3rd U.S. Infantry Regiment during his tour of duty in the 1970s, Holub now spreads the word as a spokesperson for the Old Guard Association. Known as the Old Guard, the regiment is based in the nation's capital and encompasses a variety of highly specialized units, including the Tomb of the Unknown Soldier, Caisson Platoon, Funeral Casket Teams, Commander-in-Chief's Guard, Presidential Salute Battery, Old Guard Military Police Company, Old Guard Fife and Drum Corps, Continental Color Guard, Army Drill Team and Rifle Firing Party. We'll be posting a video of the presentation in the near future.
---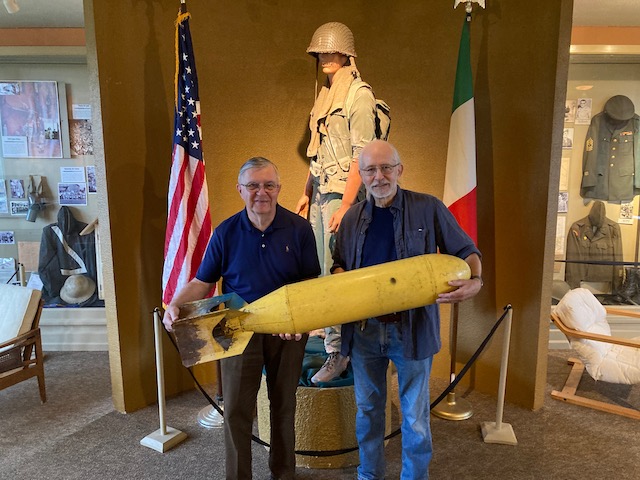 Donor drops a bomb on the museum!
On June 25, Tom Pacyga stopped by the Italian American Veterans Museum to donate a practice bomb that had been used in the training of Navy air crews on Lake Michigan during World War II. Hollow and deceptively light, the bomb had been gathering dust in Pacyga's garage for decades. He was inspired to make the donation after seeing publicity for a 2019 screening at the museum of a documentary about the Navy's training program. Pacyga is shown here presenting the bomb to IAVM President Renato Bacci.
---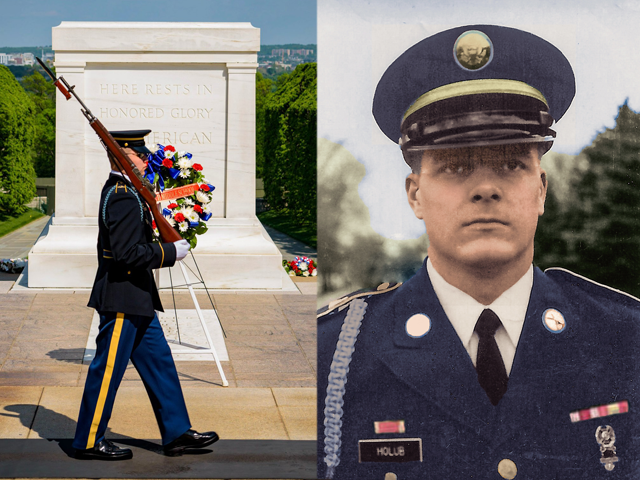 Spend an afternoon with the Old Guard
Army Veteran Michael Holub will offer a revealing look at one of the U.S. military's most elite units at a 3 p.m. presentation on Sunday, June 27, at the Italian American Veterans Museum. Holub will highlight all the duties and Special Units within the 3rd U.S. Infantry Regiment, including its pivotal involvement in the Tomb of the Unknown Soldier.
The Tomb was erected in Arlington Cemetery in 1921 to commemorate deceased service members whose remains haven't been identified. Since 1948, soldiers from the 3rd U.S. Infantry Regiment have been charged with standing watch over this storied shrine, 24 hours a day, 365 days a year. As a member of the fabled Old Guard, Holub upheld that sacred trust throughout his tour of duty from 1972-74. Heartfelt experiences and thought-provoking history are combined in the former Army Specialist's illuminating presentation.
The Italian American Veterans Museum is located on the third floor of the Office Center at Casa Italia, 3800 Division St., Stone Park. The museum will be open at 2 p.m., with light refreshments served. Admission is free, but donations are welcome, and RESERVATIONS ARE A MUST. Attendance is limited to fully-vaccinated individuals. Call 708-338-0690 and leave your name, phone number and the number of people in your party.
For a downloadable PDF, click here.
For directions to the museum, click here.
---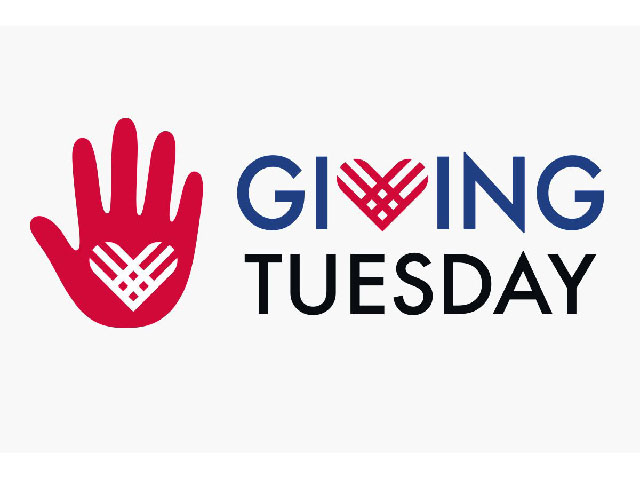 Thank you for your generosity!
Thanks to the kindness of our friends and matching-grant benefactors, the Italian American Veterans Museum was able to raise more than $3,000 in the course of just one day! We're deeply grateful for that support. Those funds will prove crucial during the lean winter months as we gear up for our first-ever Memorial Day appeal. We'd like to acknowledge those benefactors whose matching funds more than doubled the success of our campaign:
Retired surgeon Dr. Paul Rubino
Lieutenant Commander, United States Navy, Vietnam War
In memory of the brave Marines he was honored to serve
Attorney Enrico Mirabelli
Principal, Beermann LLP
In honor of his father, Louis Mirabelli
Private First Class, United States Army, Korean War
Ron Onesti
President, Onesti Entertainment
In memory of his father, Albert Onesti
Lieutenant, United States Army, World War II
Anthony Calderone
Owner, Illinois Alarm Service Inc.
in memory of his grandfather, Antonio Calderone
Private, United States Army, World War I
---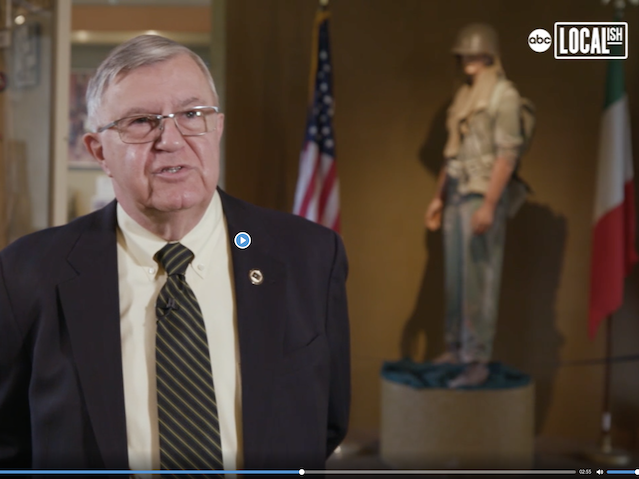 ABC7 showcases museum on screen and online
The Italian American Veterans Museum received 5-star coverage from ABC7 thanks to the advocacy of the JCCIA and the talents and diligence of the station's production crew. JCCIA President Sergio Giangrande pointed ABC7 in our direction and the station sent producer Justyna Syska, videographer Corinthian Burt and stagehand Ryan Lyons out to spend a couple of hours filming the museum and interviewing board President Renato Bacci. Their efforts yielded a 30-second spot that aired throughout October and a longer video that's available for all to see on the station's website.
To view the 30-second clip that aired in October 2020, click here.
To view the longer clip on the station's website, click here.
---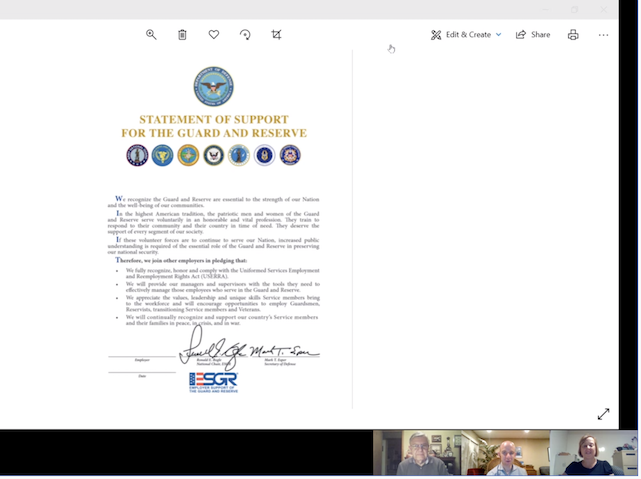 Museum shows its support for the Guard and Reserve
Retired Army Colonel and museum board President Renato Bacci recently represented the Italian American Veterans Museum in a virtual signing of a Statement of Support for the Employer Support of the Guard and Reserve (ESGR). The Statement of Support demonstrates an organization's commitment to those two branches of the military. Illinois ESGR State Chair Laurie Silvey and Employer Outreach Co-Director Scott Klein hosted the ceremony via Zoom at 7 p.m. on Sept. 21. Colonel Bacci has volunteered with ESGR for more than 20 years and served for six years as the Illinois ESGR State Chair.
The Statement of Support Program is the cornerstone of ESGR's effort to gain and maintain employer support for the Guard and Reserve. The intent of the program is to encourage employers to act as advocates for employee participation in the military and to facilitate their integration into civilian life.
The first Statement of Support was signed Dec. 13, 1972, in the Office of the Secretary of Defense by the Chairman of the Board of General Motors. President Nixon was the first president to sign a Statement of Support, and in 2005 every federal Cabinet Secretary and all federal agencies signed a Statement of Support to signify their continuing efforts to be model employers. Since its inception, hundreds of thousands of employers have signed Statements of Support, pledging their support to Guard and Reserve employees.
To view the signing ceremony, click here.
---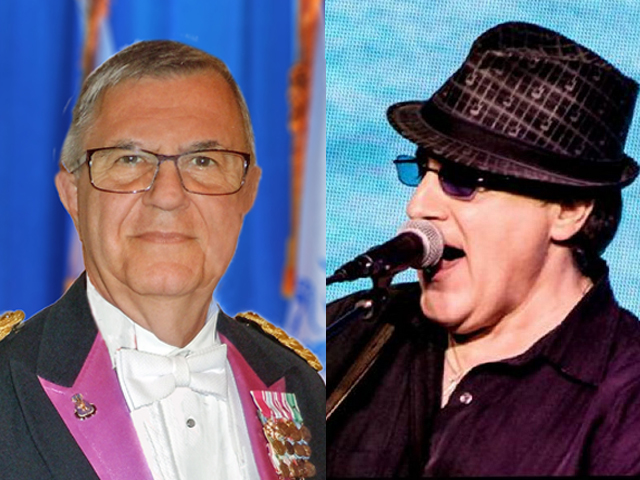 Bacci shares museum story with West-Coast audience
Washington State dynamo Tony La Stella broadcast an interview with museum President Renato Bacci on Nov. 9 on his radio program, West Coast Italian Radio (WCIR). The 13-minute spot appear at the 26-minute mark of the hour-long show. WCIR airs on KKNW-AM, which serves the Puget Sound area, but can be heard live and archived around the world online.
In addition to co-hosting and producing "The Italian Radio Show" on the West Coast Italian Radio Network, La Stella is an international concert and recording artist, restaurateur, president and CEO of The Tacoma Events Commission and executive producer of the "Armed Forces Icon" TV Show.
La Stella was searching for an Italian-American way to honor Veterans Day and Renato was happy to oblige.
To listen in, click here.
To find out more about WCIR, click here.
---
Museum welcomes visitors on Columbus Day
The Italian American Veterans Museum was a socially distanced beehive of activity on Columbus Day, with more than 17 visitors passing through its doors on the afternoon of Oct. 12. Strict protocols were followed, with everybody wearing masks, using hand sanitizer, and occupancy limited to groups of no more than 10 family members and friends at a time. Board member and retired Army Major Lorenzo Fiorentino manned the post throughout the afternoon. Among his quests were the members of the Color Guard who participated in the Proud & Positive Rally at Arrigo Park in Chicago earlier in the day. The Color Guard was provided by the American Legion post 974 of Franklin Park, thanks to the good offices of Post Commander Anthony Siciliano.
To read more about scheduling a visit to the museum, click here.
---
ABC 7 shinex spotlight on museum
The Italian American Veterans Museum received unprecedented media play in October thanks to ABC 7 and the Joint Civic Committee of Italian Americans. JCCIA President Sergio Giangrande recommended the museum for coverage during Italian Heritage Month and the station's programming department sent out producer Justyna Syska, videographer Corinthian Burt and stagehand Ryan Lyons to interview museum President Renato Bacci and record footage. A 30-second spot aired throughout the month and a longer version will eventually be posted on the station's website. Many thanks to ABC 7 and the JCCIA for our moment in the sun!
---
IAVM president takes to the airwaves
IAVM President Renato (Ron) Bacci recently joined Shalom (Scott) Klein on his weekly radio show, "Get Down to Business," to discuss the history and work of the Italian American Veterans Museum. The seven-minute interview was aired at 6:30 p.m. on July 5 on AM 560 (WIND) radio. Shalom is an avid networker and dedicated entrepreneur. On his Sunday evening show, he shares advice, strategies and success stories targeted toward job hunters and businesses. Shalom and Renato are both volunteers with Employer Support of the Guard and Reserve, a Department of Defense program established in 1972 that promotes the employment of members of the National Guard and Reserve.
To listen to the segment, click here.
---

American Legion feels right at home at museum
The American Legion First Division, Department of Illinois, held its Commander's Breakfast at the Italian American Veterans Museum on Feb. 8. On hand to open the museum and welcome the august assemblage was IAVM board member and American Legion Post 335 Commander Lorenzo Fiorentino. First Division Commander Gigi Callaway hosted the meeting, which included Illinois Senior Vice Commander Wayne L. Fischer and Department of Illinois Membership Director Chad Woodburn, as well as several of the Division's District Commanders and Staff. The Division donated $100 to thank the museum for the use of the space, and collected another $100 in donations by passing the hat. Three other meetings scheduled at the museum by veterans groups had to be postponed after the shelter-in-place order was issued. Once the order is lifted, we invite any chartered, non-profit veterans organization to hold their next meeting at our museum so long as no admission fee is charged.
---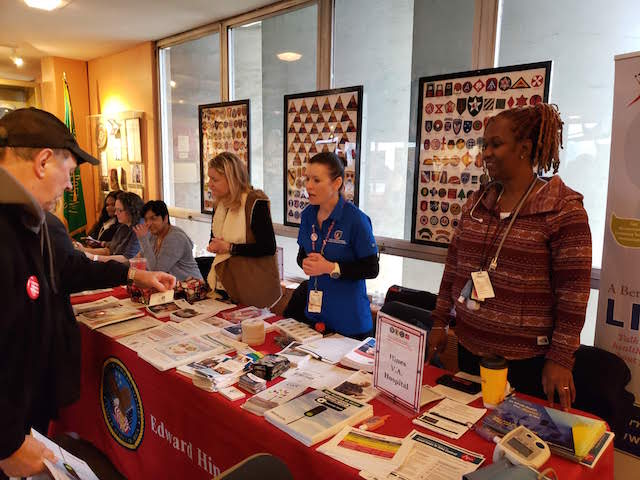 First Veterans Resource Fair a HUGE success!
More than 40 veterans and 30 representatives from nearly 20 government agencies, non-profits and businesses braved threats of a winter storm to attend the Italian American Veterans Museum's first-ever Veterans Resource Fair on Jan. 11. The event was co-hosted by the Cook County Clerk's Office.
The entire third floor of the Casa Italia office building was bustling with activity from 10 a.m. to 2 p.m. as veterans gathered information on an array of services, including ID and discount cards, utility bill assistance, free dental care and legal services, comfort K9s, culinary classes, veterans-only chess tournaments and work as Census takers and election judges.
Recently elected IAVM President Renato Bacci and Cook County Clerk Karen Yarbrough were on hand along with a host of dignitaries from the local, county and state to greet the veterans. Many attendees were first-time visitors and all shared positive comments about the event and the museum.
For more photos, click here.
---
A changing of the guard at the Veterans Museum
The January meeting of the board of directors was a momentous occasion, with museum President Paul Basile and his fellow civilian officers making room for a whole new cadre of leaders with extensive military background. Basile passed the gavel to retired Army Col. Renato Bacci. Joining him at the top are retired Navy Com. Joseph Troiani (first vice president), retired Army Major Lorenzo Fiorentino (second vice president) and Army veteran Mark DiSanto (third vice president). Filling out the ranks are curator Steve Corbo as treasurer, Basile as secretary and Eugene Giudice as parliamentarian. Basile will also serve as executive vice president, continuing his organizational role behind the scenes. The new officers were sworn in by longtime community leader Joanne Spata.
For profiles of all our board members, click here.
---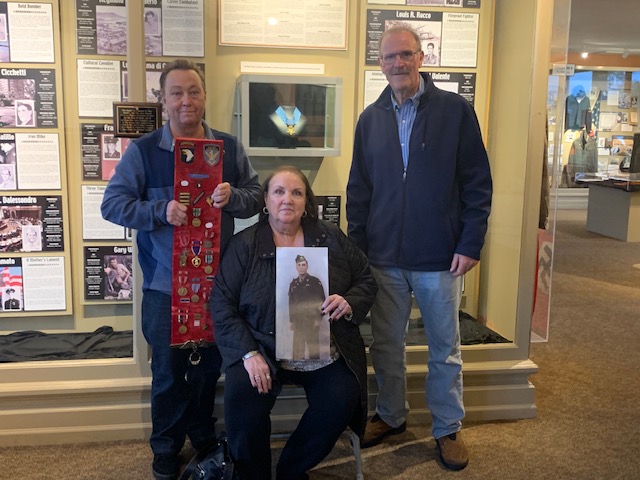 New memorabilia illuminates pivotal point in WW II
Rose Mary and Chuck Kurgis journeyed to the museum from south suburban Crete to donate a remarkable trove of memorabilia from Rose Mary's father, departed World War II hero Louis Venditti. Venditti was a member of the legendary "Band of Brothers," parachuting behind enemy lines in the predawn hours of the D-Day invasion. He earned the Bronze Star, the Purple Heart for wounds received in action, the Belgian Croix de Guerre and the French Legion of Honor. He can be seen in one of the most iconic photos of the war, taken after the liberation of the French town of Saint-Marcouf following two days of fierce fighting. Among the memorabilia donated by the Kurgis family were a rare Belgium high-power 9 mm pistol, clickers used by the paratroopers to identify each other during night combat, and all of Venditti's military decorations. Pictured above are the couple presenting a photo of Venditti along with his military decorations to museum Curator Steve Corbo.
To view the iconic photo and learn more about Venditti's remarkable accomplishments, click here.
---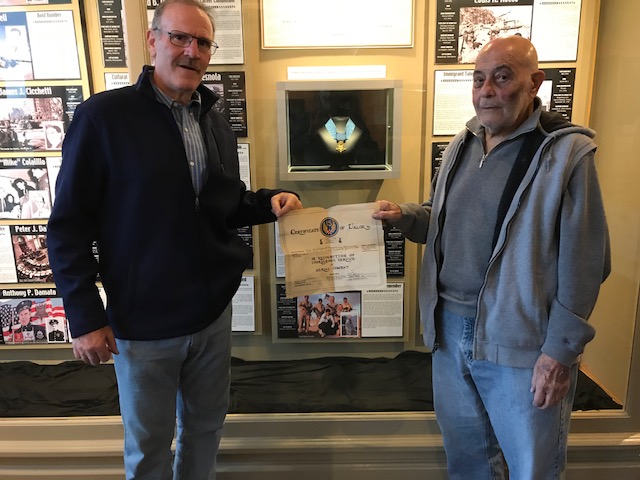 Nephew donates memorabilia from courageous WW II bomber
The Italian American Veterans Museum was honored to accept a donation of memorabilia belonging to departed World War II hero Raymond Ciccone from his nephew, Vietnam veteran Frank Falzone. A staff sergeant in the Army Air Corps, Ciccone was an aerial gunner on a B-24 Liberator heavy bomber. Stationed in Italy and flying with the 455th Bomb Group (Heavy), he flew 35 combat missions over enemy territory, earning four Air Medals for his bravery. Falzone is pictured presenting museum Curator Steve Corbo with his uncle's Certificate of Valor "In Recognition of Courageous Service in Aerial Combat."
---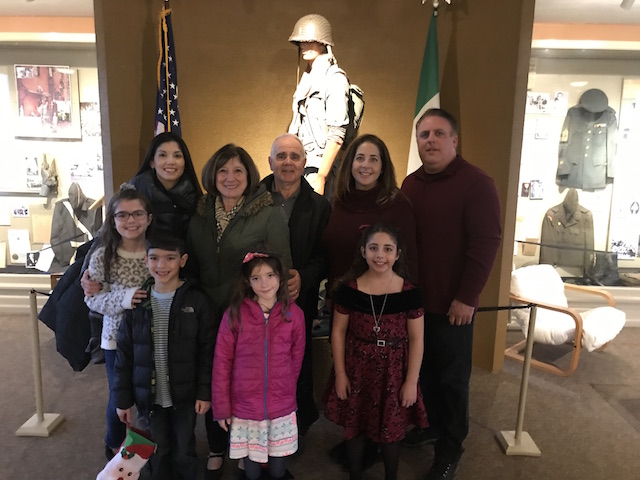 Families pause to honor our veterans during the holidays
Hundreds of children turned out with their parents and grandparents in tow for Casa Italia's Christmas Village, a beloved annual event that features a Mass with Living Nativity, visits with Santa and La Befana, horse-drawn cart rides and traditional Italian treats. More than two dozen attendees stopped by the veterans museum while they were on the grounds. Among them were Frank and Angela Cassata; their daughter AnnaStella Grana and her children Isabella, Jack and Angela (left); and family friends Anna and Dave Olson and their daughter, Daniela (right). "It was wonderful to see and read about our military history," AnnaStella wrote afterward. "As children of immigrants, one thing my parents always taught us was how lucky they were to have come to America and to be thankful and proud to be an American Italian."
For more words of praise for the museum, click here.
---

Sports Hall gives generously in founder's memory
Museum President Paul Basile couldn't believe his ears. National Italian American Sports Hall of Fame Executive Board Member and Legal Counsel Enrico Mirabelli was calling to inform him that the sports hall would be donating $5,000 to the museum! The remarkably generous bequest was given in memory of founder George Randazzo's military service. Paul gathered intel from museum curator Steve Corbo, a longtime friend of Randazzo, sharing the following with the audience at the NIASHF's Nov. 9 gala. "You may not know this, but George served in the First Air Cav during Vietnam. No division of the Army suffered more casualties during the war than that division," Paul said from the podium. "He earned a Purple Heart for wounds sustained during combat, and he fought at La Drang, one of the bloodiest and most decisive battles of the war. It is truly an honor to accept this donation in that memory."
---
Defense Department hails ESGR stalwart Renato Bacci
Colonel Renato Bacci, U.S. Army (Retired), was awarded the Office of the Secretary of Defense Medal for Exceptional Public Service in a ceremony at the Pentagon Office Complex in Washington D.C. on Nov. 15. He was recognized for his service as state chair of the Illinois Committee for Employer Support of the Guard and Reserve from October 2013 to September 2019. The award was presented by ESGR Chairman Ronald E. Bogle (on the left in the photo). A museum board member, Bacci was hailed for his exceptional leadership, dedication and commitment to the mission of the Illinois Committee and for significantly enhancing and sustaining employer support for the men and women serving in the United States Armed Forces Guard and Reserve.
---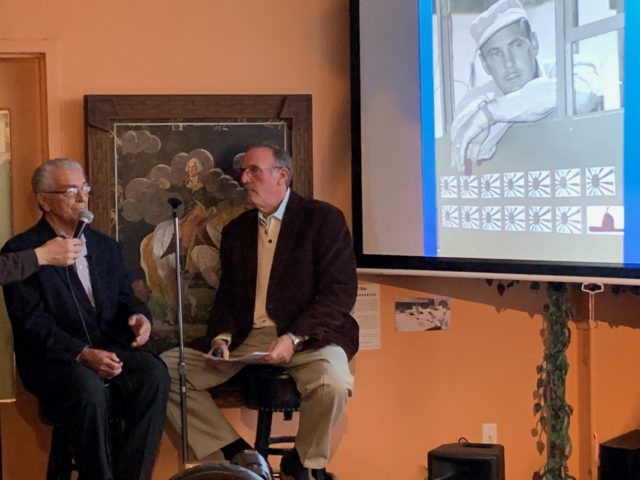 Record crowd attends presentation by WW II vet
A near-capacity crowd turned out on Nov. 10 to hear Ralph Triggiano share his wartime experiences as a recon photographer for the Navy during World War II. Museum curator Steve Corbo did a splendid job of setting the stage, leading Ralph in an hour-long conversation that covered topics ranging from military might and the hazards of war, to life on board and on shore, and Nagasaki from the air and on the ground after the atomic blast. "This really helped me," Ralph shared during a quiet moment after the event. His photographs will be on display at the museum through the end of the March. Please visit us between 1 and 4 any Saturday.
To view a video of the presentation, click here.
---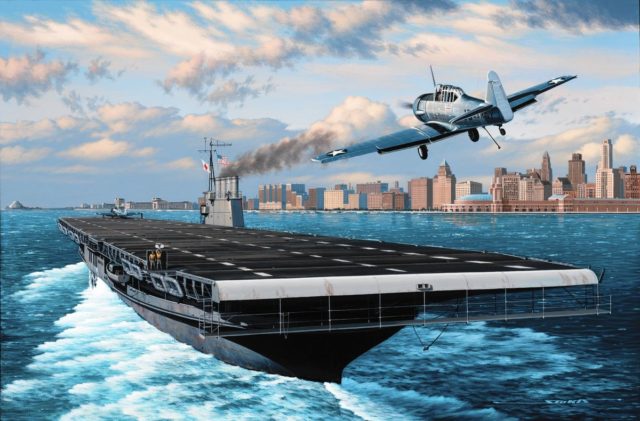 Troiani tells untold tale of warfare on the lakefront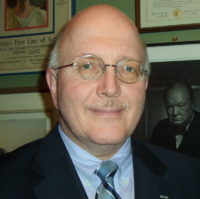 It was all hands on deck when board member Joe Troiani presented an acclaimed PBS documentary at the museum on Dec. 7. "Heroes on Deck: World War II on Lake Michigan" tells the untold tale of a program that trained more than 15,000 carrier pilots off the shores of the Windy City during World War II. The training took place on a pair of coal-fired, side-wheel passenger steamers transformed into "flattops," with scores of trainees overshooting their mark and sending their planes to the bottom of the lake. The documentary charts the recent recovery of those rare war birds and the ingenious training program that changed the course of the war in the Pacific. A retired Navy commander, Troiani set the stage for the screening with a lively AV presentation that touched on the program and tracked the success of these brave pilots after their training was complete.
---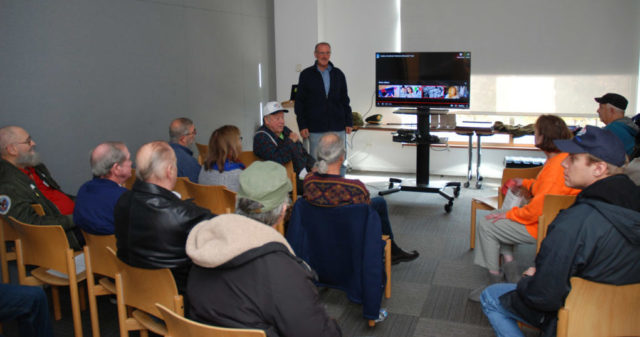 Corbo wows the crowd at recent veterans meeting
Museum curator Steve Corbo was the featured speaker at the quarterly meeting of the Veterans For Unification, held on Nov. 2 at the Oak Park Public Library. After a rousing round of "Taps" by Tom Day, founder of Bugles Across America, Steve addressed the group about the museum's history, mission and exhibits. In addition to viewing a three-minute video tour of the museum, the audience was treated to the museum's new traveling exhibit, assembled by Steve. On display were military artifacts such as helmets, uniforms, medals and patches representing all branches of the service, covering World War II to the present. The exhibit even included a highly prized World War II samurai sword!
---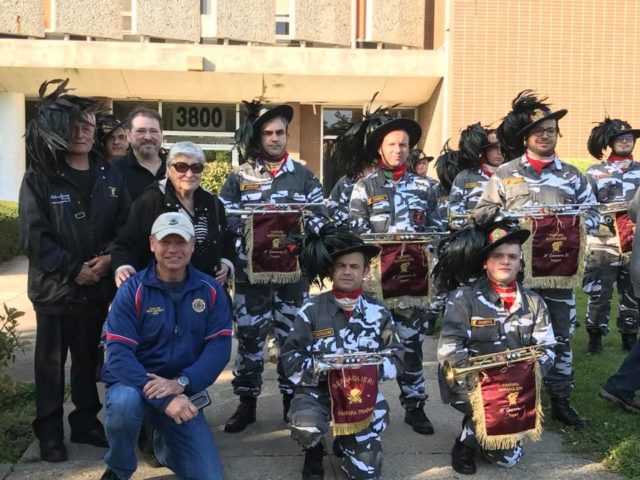 Legendary Italian marching band pays a visit
Board member Lorenzo Fiorentino gave a private tour of the Italian American Veterans Museum to members of the Fanfara dei Bersaglieri while they were in town for the Columbus Day Parade. The Fanfara dei Bersaglieri is an elite Italian military band known for its plumed hats and tradition of running in formation while performing. Fiorentino was honored by the Bersaglieri for combat operations that he conducted with them while he was deployed to Afghanistan.
---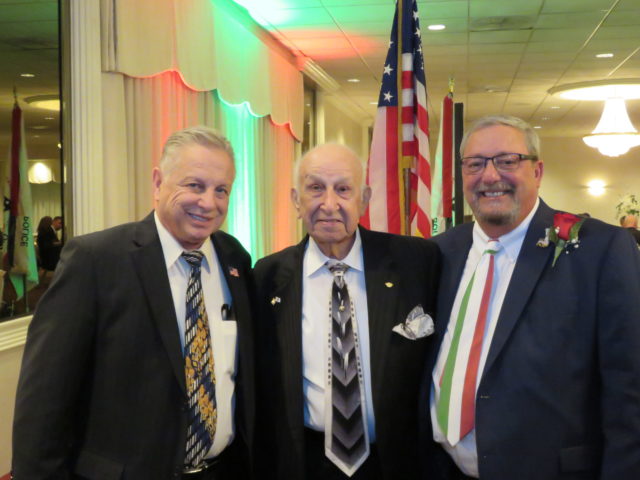 Police Association hails Liture at annual gala
IAVM board member Carl Liture was in good company on Oct. 26 as one of four honorees at the Italian American Police Association's annual gala. He shared the stage with Chicago Alderman Nick Sposato, Illinois State Police District Commander Jason LoCoco and Circuit Court Judge William Raines. A Navy veteran of World War II who witnessed the official surrender of the Empire of Japan, Liture served as a Chicago Police Officer for 30 years. Carl is pictured between IAPA President Tony Langone and immediate past president and IAVM board member Phil Tenerelli
---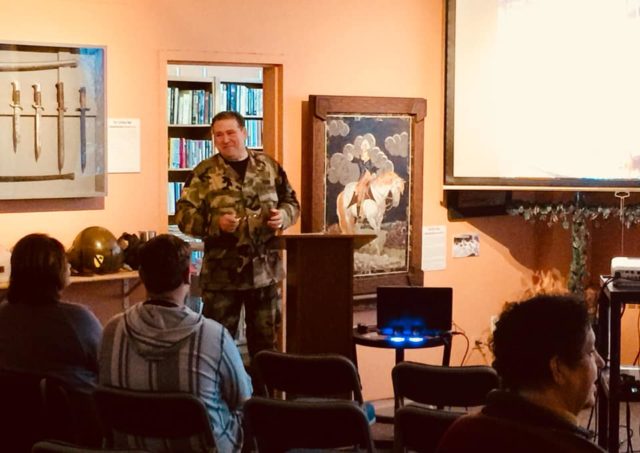 Fiorentino tells a tale of dreams deferred in war-torn Afghanistan
While Army Major Lorenzo Fiorentino was stationed in Kabul, Afghanistan, from March 2004 to March 2005, he noticed that the Afghan people could make just about anything. Within weeks, he organized a bazaar at his military base where local vendors could sell their wares, stimulating the economy and giving the soldiers an opportunity to buy gifts to mail home to loved ones. One day, one of his soldiers introduced him to a widow who pitched him on the idea of organizing fellow Afghan women to create and sell dolls representing the various tribes of Afghanistan. A museum board member, Fiorentino offered a stirring account of the initial success and ultimate demise of his economic development efforts at an April 27, 2019, AV presentation at the museum. On display during the event were artifacts from and maps of Afghanistan along with a colorful array of dolls.