Videos of Recent Events
---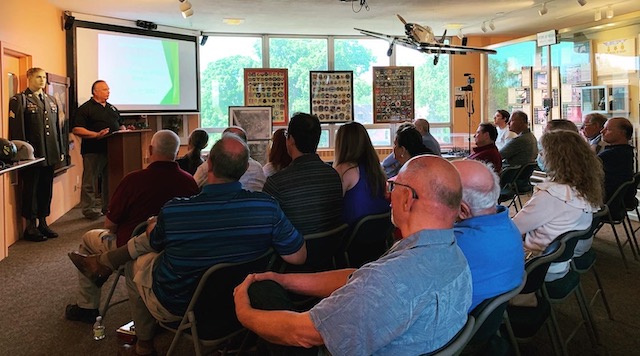 A front-row seat to the toppling of a dictator
A capacity crowd turned out on June 5 to hear Salvatore "Sammy" DiTusa offer a blow-by-blow account of his rigorous training as an Army Ranger and his preparation for and participation in the invasion of Panama. Audience members were riveted as DiTusa shared details of the pre-dawn low altitude parachute drop conducted by the Rangers and several other elite military units as they knocked out radar installations, secured several critical objects and paved the way for the almost 26,000 U.S. troops to follow.
To view the presentation, click here.
---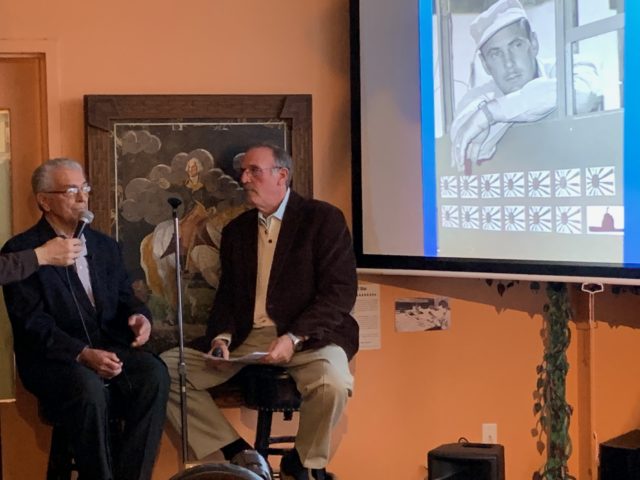 Record crowd attends presentation by WW II vet
A near-capacity crowd turned out on Nov. 10 to hear Ralph Triggiano share his wartime experiences as a recon photographer for the Navy during World War II. Museum curator Steve Corbo did a splendid job of setting the stage, leading Ralph in an hour-long conversation that covered topics ranging from military might and the hazards of war, to life on board and on shore, and Nagasaki from the air and on the ground after the atomic blast. "This really helped me," Ralph shared during a quiet moment after the event. Click below for a video of the presentation.
---

Kabul Dolls: A tale of dreams deferred in war-torn Afghanistan
While Army Major Lorenzo Fiorentino was stationed in Kabul, Afghanistan, from March 2004 to March 2005, he noticed that the Afghan people could make just about anything. Within weeks, he organized a bazaar at his military base where local vendors could sell their wares, stimulating the economy and giving the soldiers an opportunity to buy gifts to mail home to loved ones. One day, one of his soldiers introduced him to a widow who pitched him on the idea of organizing fellow Afghan women to create and sell dolls representing the various tribes of Afghanistan. A museum board member, Fiorentino offered a stirring account of the initial success and ultimate demise of his economic development efforts at an April 27, 2019, AV presentation at the museum. On display during the event were artifacts from and maps of Afghanistan along with a colorful array of dolls. Click below for a video of the presentation.
---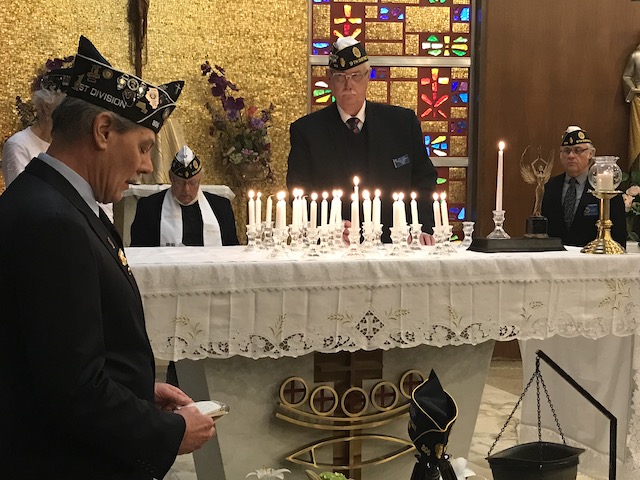 American Legion District hosts memorial service at Casa
Every spring, the American Legion Department of Illinois 9th District and Auxiliary hosts a Post Everlasting service to honor members who have passed away over the last year. Due to the restrictions of the stay-at-home order, the ceremony was closed to members when it was held on April 25 in the Chapel at Casa Italia in Stone Park. Representing the District were Commander Dale Tippett, Senior Vice Commander Greg Jacobs, Junior Vice Commander Lorenzo Fiorentino, Adjutant Pete Hirt and Chaplain Pastor Paul D. Pfeffer. Representing the Auxiliary were President Cathy Zito and Chaplain Colinette Marshall. "Our sincere thanks to Casa Italia for allowing us the use of this beautiful setting, to pray for and remember our Legion and Auxiliary members no longer with us," Commander Tippett said. "The Casa and the Italian American Veterans Museum have always been gracious hosts whenever we've called upon them." For a video of the ceremony, click below.