Air Force vet offers rare insight into combat zone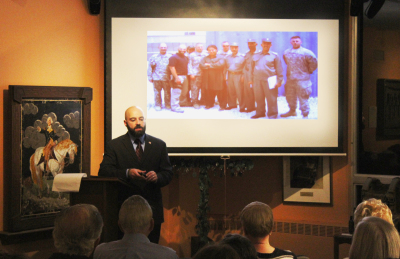 On Monday, Nov. 9, U.S. Air Force veteran William "Billy" Castellano gave a riveting power point presentation of his time in the Middle East to a capacity crowd at the museum.
Billy told his story of how a boy from Galewood knew he wanted to follow in his family's tradition of service to the United States military, joining the Air Force as a young man.
As a member of the U.S. Air Force Security Forces, he was tasked with safeguarding nuclear weapons, codes and components.
Deployed to the Middle East multiple times, he spent a year in Afghanistan as an international police mentor for the U.S. Department of State, serving in combat while embedded with the U.S. Army in the volatile Ghazni province.
As an adviser to the Afghan National Police, he helped establish and oversee effective policing in rural areas of the country where no functional police presence previously existed.
After serving his time, he returned home to continue securing safety as a police officer.
As a police officer, he became a law enforcement instructor and trainer in multiple disciplines including firearms, Active Shooter Response, defensive tactics and use-of-force to name a few.
In 2005, he deployed to New Orleans immediately following hurricane Katrina to support rescue and recovery operations. He is also a graduate of the Department of Homeland Security and ILEAS SWAT course.
After many years on the force, he contracted to work as an international police mentor for the U.S. Department of State.
Billy's presentation offered insight into the "human side" of combat and made us all proud of his contributions to world peace as so many before him have done, and so many after him continue to do.