---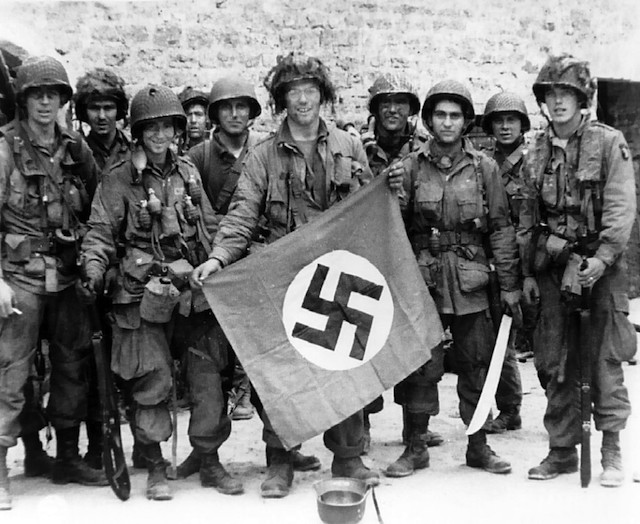 During WW II, Louis Venditti was a member of Headquarters Company, 506th Parachute Infantry Regiment of the 101st Airborne Division. Made famous by the Academy Award-winning movie, "Band of Brothers," Venditti and his fellow company members parachuted behind enemy lines into France in the pre-dawn hours before the D-Day invasion on June 6.
Venditti and his comrades-at-arms paused for an iconic photo in the French town of Saint-Marcouf, which they had just liberated after two days of fierce fighting. Venditti is pictured in the second row, just above the right shoulder of the paratrooper holding the Nazi flag. But Venditti's wartime travails had just begun. He later fought in the Ardennes during the Battle of the Bulge, the Rhineland, and the Central Europe campaigns in the Allied Force's surge toward Berlin.
Venditti earned the Bronze Star, the Purple Heart for wounds received in action and the Belgian Croix de Guerre during his time in service. And in 2009, he was one of 37 veterans awarded the French Legion of Honor, France's highest honor, during a ceremony Normandy commemorating the 65th anniversary of D-Day that was attended by the presidents of both nations.