---
Air Force vet to revisit combat zone on Nov. 9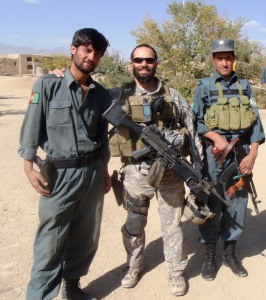 U.S. Air Force veteran William Castellano will discuss his journey from Galewood to Afghanistan and back during a special Veterans Day presentation at 7 p.m. on Nov. 9 at the Italian American Veterans Museum in Stone Park.
The supervisor of protective services for a global company and a suburban police officer, Castellano owns a training company that specializes in firearms and self-protection training and provides Active Shooter Response training to hospitals around the country. He previously served as a law enforcement instructor with the Northeastern Illinois Public Safety Training Academy for their force-on-force curriculum.
Castellano's background in security and law enforcement began as a member of the U.S. Air Force Security Forces tasked with safeguarding nuclear weapons, codes and components.
Deployed to the Middle East multiple times in a force protection role, Castellano spent a year in Afghanistan as an international police mentor for the U.S. Department of State, serving in combat while embedded with the U.S. Army in the volatile Ghazni province. As an adviser to the Afghan National Police, he helped establish and oversee effective policing in rural areas of the country where no functional police presence previously existed.
As a police officer, Castellano became a law enforcement instructor and trainer in multiple disciplines including firearms, Active Shooter Response, defensive tactics and use-of-force to name a few.
In 2005, he deployed to New Orleans immediately following hurricane Katrina to support rescue and recovery operations. Castellano is also a graduate of the Department of Homeland Security and ILEAS SWAT course.
Admission to the Nov. 9 presentation is free. The Italian American Veterans Museum is located on the third floor of the Office Center in Stone Park. For details, call 708-338-0690.