Fra Noi — January 2017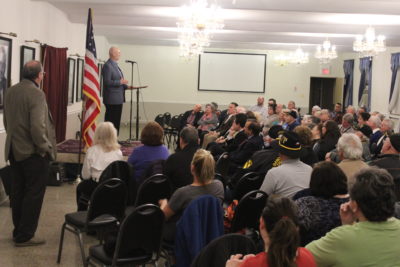 An enthusiastic crowd was held spellbound by Medal of Honor recipient Allen James Lynch during a special presentation hosted by the Italian American Veterans Museum.
More than 100 attendees, many of them veterans, flocked to the Community Center at Casa Italia on Nov. 14 to share an evening with a true American hero.
As an Army sergeant during the Vietnam War, Lynch earned the nation's highest military decoration while saving the lives of three wounded comrades on the field of battle.
The evening was passionately moderated by IAVM Memorabilia Curator Steve Corbo. After calling World War I Veteran Carl Liture to the stage to lead the Pledge of Allegiance, Corbo sang the praises of museum founder Anthony Fornelli, introduced a host of dignitaries and stirringly introduced the featured speaker before inviting him to the stage.
During his formal presentation, Lynch urged the nation to come together after a bitterly divisive national election, noting that he has always respected the post of the presidency, whoever has occupied the office.
In a broad-ranging question-and-answer session, Lynch modestly recounted his heroics, spoke poignantly about survivor's remorse, and offered solace and inspiration to a young veteran who was having difficulty adjusting to civilian life.
"We're so proud that Mr. Lynch accepted our invitation to speak at the Casa," Fornelli says. "It was a privilege to be able to showcase him in that way."