Ascending to the rank of major general, Mike Milano spent the latter part of a stellar 33-year career in the Army overseeing the training and deployment of hundreds of thousands of U.S. soldiers and allied police.
The oldest of four children, James M. "Mike" Milano was born in Detroit to Bartholomew J. Milano and Patricia Ann Donlon. By the time Milano graduated from Holy Cross High School in Delran, New Jersey, the family had moved 10 times, coast to coast. His father was born and raised in Chicago, and his family emigrated from a town near Milan, Italy.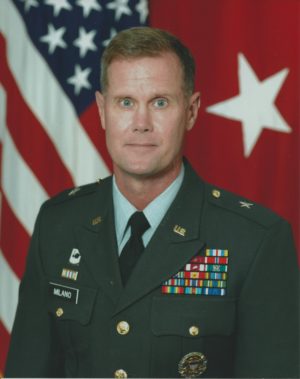 Milano received an appointment to the U.S. Naval Academy in Annapolis and, after several visits, told his father, "I can't do this. It's too much regimentation; it's really not up my alley." He next applied for and received a four-year Army ROTC scholarship and graduated from Lafayette College in Easton, Pennsylvania, with a degree in chemical engineering and the rank of second lieutenant. Milano planned to be an officer in the Chemical Corps during his four years in the Army and then pursue a career as an engineer.
His first assignment was to Fort Hood, Texas, as platoon leader in the Tank Battalion. Milano liked it so much he transferred from the Chemical Corps to the Armor Branch and spent his career in tank, armor and cavalry units. "I ended up spending 33 years in the Army, doing the same thing, living a pretty regimented life that originally I told my father years ago I couldn't do," he says.
The first 21 years, Milano commanded at levels from platoon through Brigade Combat Team in tactical combat units, rose in rank from second lieutenant to full colonel and served at multiple locations in the United States, Korea and Germany. Also during this period, he earned a master's degree in administration and another in strategic operations. Milano was serving with the 11th Armored Cavalry Regiment in Fulda, West Germany, patrolling the interGerman border, when the Berlin Wall came down in November 1989. "That was quite a momentous event," he recalls.
Milano's career progressed to the strategic level with service in the Pentagon from 2002-04. The first year, he served as director of strategy in the Strategic Plans and Policy Department of the Joint Chiefs of Staff, responsible for helping to write the National Military Strategy and other documents. The second year, he was executive assistant to Joint Chiefs of Staff Vice Chairman Gen. Peter Pace, a fellow Italian American. Milano's duties included helping to manage all aspects of Gen. Pace's vast responsibilities, primarily providing the best military advice to the president and secretary of defense. "It was a great job," says Milano.
Promoted to brigadier general (one star) in 2004, Milano deployed to Kuwait, where he was responsible for Reception, Staging, Onward Movement and Integration, or RSOI. Tens of thousands of combat troops from the U.S. and Allied countries were received into the Iraqi theater, matched up with necessary equipment and trained in accordance to what they needed to know from a security standpoint. After that, they moved forward into Iraq from Kuwait and integrated into the theater. Once the soldiers completed their tour of duty, they returned to Kuwait, turned in their equipment and prepared for redeployment to their home station. Milano oversaw it all, from troops entering and returning from Iraq to the equipment that was rotated among the units. Tight control with Army Forces Central Command was vital. "It was a very challenging job," he says. "You could just imagine the magnitude of it and the scope of responsibilities."
After one year in Kuwait, Milano returned to the Pentagon as director of training for the Department of the Army, responsible for executing a $14 billion training budget. He next headed to Fort Carson, Colorado, as both the senior division commander and deputy commanding general of the 4th Infantry Division. Milano prepared not just the 4th Infantry at Ft. Carson but also every other unit that was deploying to Iraq from that base. "I had to certify that anybody going to Iraq from Ft. Carson was trained and ready," says Milano.
The 4th Infantry Division deployed to Iraq in November 2007, and Milano spent 20 months there during which he was promoted to major general (two star). He partnered with those in Bagdad to use the resources the U.S. was providing. "We were committed to not only helping to combat the insurgency, and training the Iraqi police and military to fight the insurgency that was going on there, but also helping them develop the essential services they needed to serve their people." says Milano. He was responsible for aiding the Iraqi Minister of Interior in training 600,000 Iraqi police by developing a strategy and building training centers. "It was probably the toughest job I had in my entire career," Milano says.
The Army base was well-protected, but there was a significant rocket mortar threat all the time. "As you lay down for a few hours sleep in the little tin can that we slept in, you always wonder if something comes in, is it going to land on my little space here or not," says Milano. Off base, two members of his personal security detail were wounded by an improvised exploding device, one mortally, the other blinded for life.
In Mosul, during a tactical movement, the vehicle traveling in front of him, carrying his three-star boss, was hit directly by a car bomb. Luckily, there were no fatalities. Everybody staggered out, some with concussions. "My first thought was, what can I do to help? It's a hard feeling to describe," Milano says. "In a way you're grateful, and on the other hand, it's wow, man, that was close!"
Milano returned to the states and assumed command of Fort Knox, Kentucky, which included the Army's Armor and Cavalry Center. He then moved to Fort Jackson, South Carolina, and assumed command of the Army's largest basic combat training installation, where the mission was to instruct newly enlisted soldiers.
In 2012, Milano retired from the Army and now serves as a senior director for distribution with Target Corporation in DeKalb. He and his wife, Kim, a registered pediatric dietician and doctoral candidate, have two sons, Nick and Tony. He also has a son, Jim. During his 33-year career, Milano moved 21 times and often spent time away from his wife and sons. "Any spouse in the U.S. Army, or any other service, is as much a part of an officer's success as that officer is," says Milano. "My wife sacrificed significantly on my behalf to help me be successful, and it's a debt that I can never repay, quite honestly.
"The greatest privilege anyone can ever have is leading soldiers, and I got to do that for 33 years. I never took it for granted. I realize it was an honor and a privilege that not many people get, and I have nothing but great things to say about my career," Milano says. "Was it tough? Absolutely! Did I have to sacrifice? Absolutely! Did my family have to sacrifice? Yes! But I'm proud of what I was fortunate enough to be able to do."
Reprinted with permission from Fra Noi. (Copyright 2020) To learn more, click here.