---
The Italian American Veterans Museum sheds a human light on major military conflicts by focusing on the brave men and women who served in defense of their country. Here are just a few of the stories spotlighted in our main exhibits:
Let Freedom Ring
Musical Import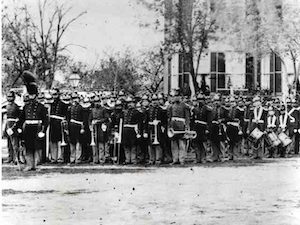 The United States Marine Band is the quintessential American ensemble, with its stirring compositions, crisp musicianship, and indelible link to "March King" John Philip Sousa. But did you know that the first Marine Band was staffed in part by Sicilian musicians coaxed across the Atlantic by President Jefferson?
The following details are available on the website of the U.S. Marines:
In 1803, President Thomas Jefferson suggested to then-Commandant of the Marine Corps William Ward Burrows that Italian musicians be enlisted in the Marine Corps and added to the current Marine Band. Commandant Burrows sent Captain John Hall to southern Italy where American ships were stationed during the war with Tripoli. After arriving in Sicily, Captain Hall eventually enlisted Gaetano Carusi, a local band leader, and 15 other musicians in Feb. 1805. Twelve-year old Venerando Pulizzi was among this group and likely a music student of Carusi.
For the rest of the story, click here.
A Nation Divided
Garibaldi's American connection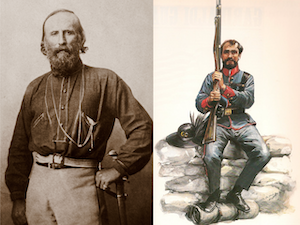 Giuseppe Garibaldi, the legendary leader of the Italian unification movement known as the Risorgimento, was a staunch supporter of the Union during the Civil War. At the beginning of the war, President Lincoln offered Garibaldi command of a division, but duty called back in Italy. He later wrote to the beleaguered president, "If wars should, by evil chance, continue in your country, I will overcome all obstacles which hold me back, and I will hasten to come to the defense of that people which is so dear to me."
Although Garibaldi was never able to cross the Atlantic and fight on behalf of the Union, his name became a battle cry of the Garibaldi Guard, a regiment of volunteers also known as the 39th New York Infantry. A polyglot group of 830 soldiers, including Germans, Hungarians, Swiss, French, Spanish, Portuguese and 50 Italians, the Garibaldi Guard was one of the most picaresque units in the Union Army. In their distinctive blue and red uniforms with feathered caps, they served with honor in several battles, from the First Bull Run to Appomattox, sustaining heavy casualties.
Hometown Heroes
Modern Gladiator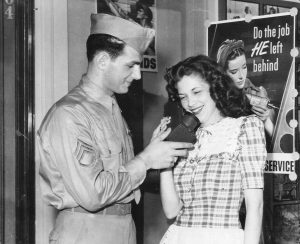 James Orlando "Lon" Fornelli was a frequent volunteer at the Italian Cultural Center and a legendary dancer and singer. It wasn't until his family read about him in "Shots Fired in Anger" by Lt. Col. John George that they learned "the rest of the story." As it turns out, during World War II, Sergeant James Fornelli was one of the heroes of Guadalcanal. When his platoon came under repeated sniper attacks, he went out into the jungle alone, exposing himself to enemy fire to identify the location of the snipers, then eliminating the threat. All told, Fornelli felled 13 snipers. Lt. Col. George described him as "a throwback to the best of his ancient Roman ancestors." Like other highly decorated heroes of World War II, he toured the country selling war bonds after he completed his tour of duty in the Pacific. His son Jerry describes him as a man whose strength of character was matched by his humility. "My dad wasn't the kind of guy who talked about his war experiences," Fornelli says. "But he was a hero to all of us."
High Noon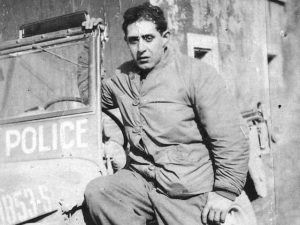 It was like a scene from a Gary Cooper Western. John Del Medico and one other Army MP moved cautiously into a French town that had been captured from the Nazis but which wasn't yet flying the white flag. Suddenly, three German soldiers ran across the street toward a house and Del Medico and his partner shot at them. Del Medico grabbed one, held a gun to his head and, through him, convinced his entire troop to surrender. Civilians of the village watched as white flags appeared and the German soldiers came out of the building, one by one, and threw their firearms in a pile on the ground. All told, Del Medico and his partner captured 126 Nazis that day, and freed 800 Russian POWs.
For more on John's military career, click here.
Bruno the Brave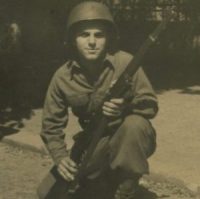 Bursting through the door, he found 12 German soldiers standing at the bar. He stuck his rifle into the back of the first soldier he saw, who happened to be a lieutenant, and said in German, "Hands up! The war's over for you." The Nazi officer replied, "You're a brave soldier," surrendered his weapons, and ordered his men to do the same. In all, he took 12 Nazis prisoner single-handedly that night, the other men in his squad having been unaware that he had entered the tavern. Back at headquarters, he was asked, "Who the hell do you think you are, Sgt. York?"
For more on Bruno's military career, click here.
Angel in the air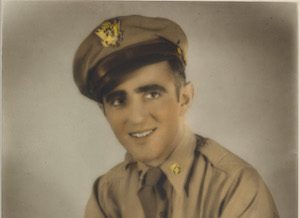 "I pray that some day in the future I may read these words I have written in the peace and comfort of our home, all safe and sound," wrote Vincent Allegrini in the final entry of his diary before shipping out. The Army Air Corps Captain not only made it home, he made sure hundreds of other soldiers did as well. During the battle for Morotai, his division was pinned down in the jungle and quickly running out of food and ammunition. Risking life and limb, Allegrini endured enemy fire while flying low over mountainous terrain to oversee an airdrop of supplies to his division. Ninety-five percent of the supplies reached their destination. He repeated the feat on land during the crucial Philippines campaign.
For more on Vincent's military history, click, here.
Band of Brothers
Dubbed the "Fighting Allegretti Brothers" by the Chicago Sun, few groups of siblings have served their country so fully and faithfully. All told, nine sons of Leonard and Rose Allegretti of 1916 Race Ave. in Chicago served over a span of nearly three decades.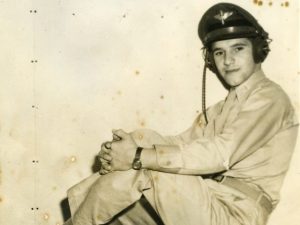 The most decorated among them was Captain Edward Allegretti, a bombardier for the Army Air Forces who earned a Distinguished Flying Cross and an Air Medal with four Oak Leave Clusters while flying 35 missions over Germany. "Encountered heavy flak over Calais," he matter-of-factly reported in his flight journal. "A piece of flak hit one foot from my head."
Captain Thomas Allegretti served in Army intelligence in Paris during the same war, and as a war crimes lawyer and military governor in Germany after the Nazi surrender.
Three Allegretti brothers served in medical capacities during the Second World War: Lieutenant Michael as a squadron surgeon on a destroyer escort in the Atlantic, Lieutenant Leonard as a Navy dental officer attached to the 4th Marine Division in the Pacific, and Lieutenant Colonel Anthony as chief of staff at the Veterans Hospital in Cheyenne, Wyoming.
As an Army mechanic working on B-24s, Pfc. Jerry would scratch his nickname, Huck, on the bombsight of each plane he worked on, hoping his brother Eddie would see it.  And at the tender age of 41, Pfc. James served for nine months as an Army rifleman.
The two eldest Allegrettis served before and during World War I: John on the Mexican border and Rocco in Hawaii and the Philippines.
World War II Homefront
Cloud of suspicion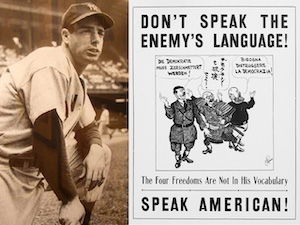 In 1942, a panic gripped America and hundreds of thousands of Japanese Americans and thousands of Italians living on the coasts were either relocated or incarcerated in remote internment centers. Throughout the nation, 600,000 Italians who were not yet citizens of America were required to register as enemy aliens, and their liberties were often severely restricted. While Joe DiMaggio was tearing up baseball diamonds across America, his parents were placed on travel restrictions. And renowned tenor Ezio Pinza was held on Ellis Island for three months based on FBI allegations that he was transmitting secret messages to enemy agents by altering his voice during performances. In Chicago, federal agents raided the Italian American Chamber of Commerce office, seizing files and equipment and interrogating the group's leaders.
Honoring the Fallen
No news was more devastating to a family than word that their boy had been killed in action. Gold stars were hung in the windows and worn on the collars of parents whose son had given his life for his country. Memorial boxes in fenced gardens with flag poles sprang up across the Chicago area. They contained the names of the fallen, plus photos brought from home or clipped from the local newspaper. The Gold Star moms of Chicago Heights and other communities would gather for group pictures during memorial ceremonies that involved prayers and flag raisings.
World War II Battle Front
Friend and future saint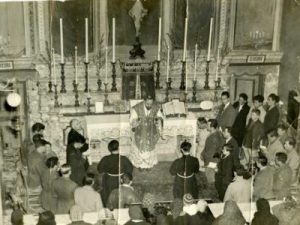 Mario Avignone served as a sergeant in the Army, shipping out on Christmas Eve 1943, singing "Silent Night" with hundreds of other teary eyed soldiers as they sailed off to Naples. He was stationed near San Giovanni Rotondo, the home of Padre Pio. Born with the stigmata of Christ, the future saint befriended Avignone and two of his comrades-at-arms. Returning from the war with a bit of the linen that bound one of the holy man's hands, Avignone attributes a pair of miracles to this precious relic.
For more on Mario's military career and remarkable relationship with Padre Pio, click here.
"Don't be afraid to die!"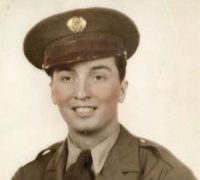 Albert Onesti served as a sergeant in the Army, spending his 19th birthday in a foxhole near Anzio as mortar shells fell like rain around him. He saw action in southern France as well as Italy, leading his squad into battle over and over again. At one point, his family received a telegram informing them that he was missing in action. They waited on pins and needles for a week before they found out that he was alive and well.
For more on Albert's military career, click here.
To hell and back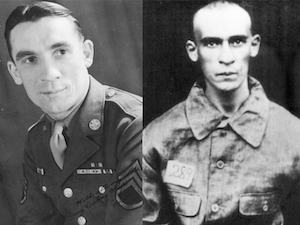 When Mario "Motts" Tonelli entered the Armed Forces in World War II, he was a strapping young fullback for the Chicago Cardinals, having completed a standout career with the Fighting Irish of Notre Dame. Four years later, when he returned from what was supposed to be a one-year tour of duty, he was emaciated beyond recognition, having survived one of the worst atrocities ever visited upon American troops.
Tonelli and more than 70,000 other starving and fever-ridden Filipino and American soldiers were forced to slog 70 miles through dense jungle and stifling heat by Japanese captors who killed any prisoner who lagged behind or paused to help a fallen comrade. By the time the infamous Bataan Death March was over, more than 10,000 had perished and the remainder were subjected to inhuman conditions and inconceivable brutality in prison camps until the end of the war.
Tonelli survived the ordeal thanks to a combination of physical and mental toughness that was rooted in his Italian upbringing. "I used to hear dago, wop, greaseball all the time, but my father told me to never mind it," he recalled. "Maybe that helped when the guards insulted us virtually every minute. I remembered my father always telling me that we had to do better because we were Italian."
Leading the Charge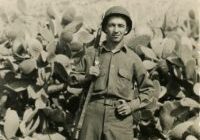 Army Sergeant John Maoloni dodged rifle, machine-gun, mortar and cannon fire as part of the recon group for the 89th Cavalry Division. As the division battled its way north from Africa, through Sicily and Italy and into France and Germany, Maoloni's squadron led the way, scouting out enemy positions and identifying the best routes toward their final destination of Leipzig. His mastery of the Italian language helped mightily as the division worked its way up the boot.
Korean War
The Forgotten War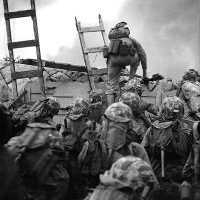 The veterans of the war in Korea often call it "The Forgotten War." It was staged with little fanfare and for the longest time the government refused to even call it a war. They called it a United Nations Police Action, but it required the service of 1.7 million Americans between 1950 and 1953, claiming the lives of nearly 37,000 of them.
What we like about this exhibit is the glimpse that it offers of the many different jobs that make up a war effort. We're not just talking about soldiers on the battlefield and generals in their offices, and we're not just talking about the country in which the war is taking place. For example:
Rich Morbidoni was a hospital corpsman who took X-rays and handled medical records. For example:
Joe DiFranco was an anti-aircraft artillery instructor in Texas.
Italo Bove was an infantryman who saw action in Korea and served as a cook afterward.
Ralph Imbrogno was a combat engineer who built roads, bridges and drainage systems in Korea.
And Ralph Imbrogno was a corporal in the Army during the Korean War.
Geno Renda drove a supply truck in Germany.
Holding Hill 812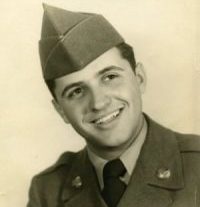 They called him Johnny Bella because of his good looks and his gift for making people laugh. When John Puccini and several of his pals shipped off to serve in the Korean War, his true love, Violet, was left to worry if the light had gone out of her life forever. On one particular gut-wrenching night of combat, she had cause for concern.
While serving as a watchman atop Hill 812 on September 21, 1952, Army Private First Class Puccini and his five comrades hunkered down as the enemy overran their unit's position during an evening raid, leaving the Observation Post crew isolated in their bunker. Thrusting their weapons through cracks in the bunker and firing, the enemy seriously wounded two.
Barricading the door and battling back, the crew stuck to their posts until friendly forces recaptured the hill the next day. Dodging enemy fire, Puccini and his comrades raced up and down the hill to rescue the wounded. On the way down with the second casualty, a mortar round exploded nearby, wounding two more, but Puccini and the others soldiered on, earning Bronze Stars in the process.
Violet welcomed her Johnny Bella home with open arms, and most of his pre-war pals made it back safely, too.
Vietnam War
Hell on Earth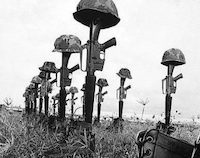 The Vietnam War was different from any other war America had previously fought. A literal hell on earth, there were no front lines and it lasted longer than any other military conflict before it. It was fought in the jungle, where you had to constantly battle nature along with the enemy. And never before in our country's history did the American people treat our veterans so shamefully when they came home. It's no wonder that so many of our soldiers walked away as soon as they could, left everything behind, and never looked back. It's no wonder that so many of our soldiers walked away as soon as they could, left everything behind, and never looked back. Still, we have several riveting stories to tell from that terrible conflict.
Deep In-Country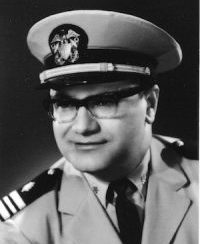 The gunshot victims at Cook County Hospital couldn't possibly have prepared Dr. Paul Rubino for the casualties that came in that December night near Da Nang. Thirty-eight Marines in a truck had hit a mine that blew them 20 feet in the air before crashing to the ground and exploding into flames.
The severely wounded were brought in by helicopter — arms and legs shattered, spines crushed, chests caved in, intestines shredded — indescribable. The docs went to work in teams of two or three, in six ORs with two or three litters each, taking the worst first. They toiled non-stop for four days, stabilizing the soldiers for transfer to the U.S.S. Sanctuary.
After that, everything else seemed routine. An endless stream of casualties arrived by Medevac and were dosed with antibiotics and pain meds, stabilized as much as possible, and moved on. Off duty, an MP guard drove Lieutenant Commander Rubino to the provincial hospital in town to help train surgeons there and operate on civilian patients. Nobody knew which ones were Viet Cong — pain knows no politics.
By late spring, when he rotated back to Great Lakes Naval Hospital, protest groups and the media had thoroughly vilified the American military in Vietnam, but Dr. Rubino will never forget the courage of the Marines and their medics.
For more on Paul's military career, click here.
The Last Full Measure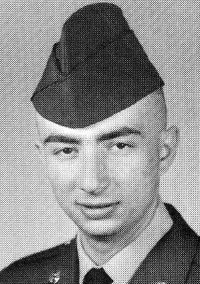 In the early morning hours of May 27, 1968, Private Larry Caravetta's Army battalion came under intense rocket and mortar fire from a large North Vietnamese force. A cannoneer for the battalion, Caravetta was an inspiration to his comrades as he expertly shifted ammunition, prepared powder charges, and exposed himself to direct enemy fire to take out a recoilless rifle unit. Caravetta was mortally wounded later in the engagement, earning a Bronze Star with a "V" for Valor for his bravery along with a Purple Heart and Good Conduct Medal. Per tradition, the family was given one of the spent shells from the "three volleys of fire" at his burial in Arlington National Cemetery. "That's what really got to me," his brother Rick says. "I can't even watch a 21-gun salute on television anymore, it just breaks me up."