As NCO on an artillery base camp in the central highlands of Vietnam, CJ Martello was responsible for keeping his squad on task and safe in the face of frequent enemy attacks.
Costante James "CJ" Martello was born in Chicago's Roseland Community Hospital. He was one of 12 children born to Angelina and August Martello, four of whom passed away before Martello's birth.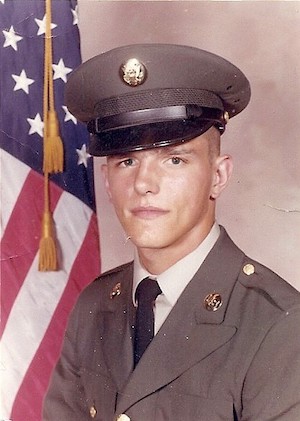 His parents were from the Veneto region of Italy and immigrated to Chicago to be near relatives and paesani. Martello grew up in the tightly knit Italian community of Roseland, where his father made salami in the basement and a neighbor made wine to be shared by all. Every Sunday, the family gathered together for his mother's home cooked meals. Polenta was a favorite and a traditional meal from Northern Italy. "It was the poor man's food," says Martello.
He attended St. Anthony Grade School and was a member of the last graduating class before a new church was dedicated in 1961. One of many Catholic churches in the neighborhood at that time, St. Anthony's is now the only Catholic Church in Roseland. Martello studied at Sacred Heart Seminary for a year and a half before transferring to St. Willibrord Catholic High School. The former seminary is now known as our beloved Casa Italia.
Martello was a college student when he was drafted into the Army in July 1966. He reported to the induction center fully expecting to go home because he had severely broken his arm as a child and none of his brothers had served. "I had to call my mom and she was crying," says Martello. He was the "golden child" of the family and his mother was completely distressed. "It was a big shock," says Martello.
He completed basic training at Fort Knox, Ky., and advanced training at Fort Bragg, N.C., and was assigned to the 1st Battalion, 92nd Artillery. Just before shipping off to Vietnam in January 1967, Martello went home on leave to visit with his family and girlfriend.
He returned to Fort Bragg and, wanting to talk with his girlfriend one last time, went walking in the snowy weather in search of a telephone when he was hit by a jeep. Martello flew over the hood, cracked the windshield with his head and rolled onto the icy watery curb. The soldiers in the jeep picked him up and drove him to the hospital where he spent the night. He suffered leg, wrist and head injuries, but fortunately no broken bones. In the meantime, his outfit could not find him and thought he had gone AWOL because they were deploying to Vietnam the next day. "They were just about to call my mom," says Martello. "She would have gone crazy!"
Martello shipped out on the USNS Gordon for the 28-day voyage. "Nobody knew what was going on," he says, "but we were all in the same boat." Because his head, leg and wrist were wrapped in bandages, Martello did not have any job duty on the ship. One of his buddies who worked in Human Resources bought boxes of candy bars for $1 from the ship's store and gave them to Martello, who sold the bars for $2 each and split the money with him. "It was like Sgt. Bilko," Martello chuckles.
He was stationed in Pleiku in the central highlands with two other artillery outfits. "We called it Artillery Hell," says Martello. The base camp provided support to the Howitzer cannons out in the field and supplied ammo and provisions to troops near the front line.
Twenty soldiers shared a tent and though the camp was surrounded by barbed wire and bunkers were built for guard duty, there were no sandbags, no fortification. "We were led to believe we were safe," he says.
Three months later, during a night attack, rockets flew in and hit the ground, blowing shrapnel into the tents. Martello remembers thinking, "What the hell's happening?" Many soldiers were injured, including the company clerk, and Martello advanced from motor pool clerk to replace him. After the first attack, the tents were fortified with sandbags stacked 4 feet high and "hooches" (huts made of wood on a cement platform) were built for added protection. The camp was under night attack three more times, including during the major Viet Cong Tet Offensive.
Martello was promoted to NCO in charge of a squad of men. "You gotta make sure they're in the bunker, safe," he says. Under attack, the soldiers ran from the tents to the tactical operations center and bunkers, hiding in trenches along the way. "You could hear the rockets flying and hit the ground and stones flying and hitting the tin roofs of the hooches," says Martello. "You gotta find shelter."
During one attack, a soldier was unlocking his duffle bag for an ammo clip when Martello grabbed him and said, "Get outta here, get to a bunker." As he pushed the soldier toward safety, Martello ripped his finger open on a nail. He was offered the opportunity to receive a purple heart but he refused. "It's not like I got a limb shot off or something like that," says Martello. "Other guys deserved it more than I did."
One day, the captain called him into the office and asked, "Martello, do you write to your mother? Sit down and write a letter to your mother. Now!" His parents had gone to the Red Cross on his 21st birthday because they had not heard from him. The captain played a recording of his mother crying and speaking in Italian, "Jimmy I don't know what's going on with you, whether you're dead or alive! Write me! Write me!" Martello still has the recording, the only one of his mother's voice.
Specialist E5 Martello served in Vietnam for 13 months and returned to California to complete his military service. He returned home to Chicago and was employed as assistant manager at Sauer's Restaurant and then had a career in graphic arts. Martello writes the column "Petals from Roseland" for Fra Noi and lives in the Pullman area of Chicago where, he is the copy editor for The Pullman Flyer. His son, James, is a commander in the U.S. Navy stationed in Naples, Italy, and his daughter, Jamie, lives in Chicago's Edison Park neighborhood and teaches at Evanston Township High School.
"Everyone who served in Vietnam and those that serve in the military during combat times have to come to a point where they make a determination. Each one makes his or her decision of how they are going to make it through their battle assignment," says Martello. "Unfortunately for some, they become obsessed with the fear of death. For others, though, they wisely turn their fate over to God or whatever higher power they recognize to protect them and see them through their perilous assignment and return them safely to their loved ones. This, I believe, has always been the soldier's secret of coping — turning over their well-being to a higher power so that each moment isn't overwhelming and they can take solace and comfort as they wend their way through the wiles of war."
Reprinted with permission from Fra Noi. (Copyright 2020) To learn more, click here.