Part of the Occupation Force in Japan after the war, Richard Colucci pivoted from his training in chemical warfare and as a paratrooper to help rebuild the shattered nation by finding jobs for its citizens.
Richard Colucci was born in Chicago in November 1927 to Dominic and Marie Bongeorno Colucci. He grew up in the Taylor Street Little Italy neighborhood, moving a couple of times. "I think there was a leash on people. They weren't allowed to go out," Colucci chuckles. His maternal grandparents emigrated from Calabria and his paternal grandparents from Naples. All of his extended family lived in Little Italy.
Colucci's grandmothers prepared delicious Italian meals and cookies. "I have very fond memories of both grandmas," he says. The family experienced some tough times during the Depression. "It was difficult but also beautiful," says Colucci. "I was around a lot of cousins and aunts and uncles."
Colucci graduated from John McLaren Grammar School and attended Crane Technical School before transferring to McKinley High School. He preferred the liberal arts classes at McKinley to the technical ones at Crane. At McKinley, he appeared on stage, singing and acting. "I got to sing a lot," Colucci says. "I was a real ham."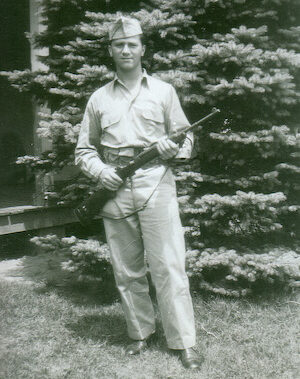 He graduated high school in 1945 and was drafted into the Army in 1946. "I was happy to go," Colucci says. Five of his uncles served during World War II, and one was killed in action. "I had followed the war in the papers religiously," he says. "I was gung-ho for putting in some time that I could help."
Colucci completed basic training at Edgewood Arsenal, Maryland, and chemical warfare school, also in Maryland. He learned how to identify, handle and dress for poison gas. Colucci was surprised to be chosen for chemical warfare. "But, of course, it was peacetime so I didn't have that fear that something would happen while I was doing that," he says. "It's a big relief to know that you are not at war at that time."
After a brief leave, Colucci boarded a Liberty Ship in Seattle and headed into the Pacific. "I was seasick like mad," he says. "I couldn't eat." Colucci was miserable on the crowded ship but perked up when he spotted a childhood classmate, Danny Nester, now a military policeman, onboard. The two attended grammar school together, and meeting again was a morale booster. Plus, Nester clandestinely provided Colucci with food he could keep down.
Twelve days later, the ship docked in Yokohama. "When I got to Japan, all that training that I had, basic training and chemical warfare, was not needed," Colucci says. "They were asking for volunteers for the Airborne." Enticed by the increase in monthly pay from $50 to $75, Colucci volunteered. He completed paratrooper training in Sendai, learning how to fold a parachute and jump out of a plane. At the end of the session, only 88 of nearly 500 soldiers earned their wings. Colucci was proud to be among them. "It was, 'Can I do this? Am I qualified?'" he says. "I think most of us felt that way."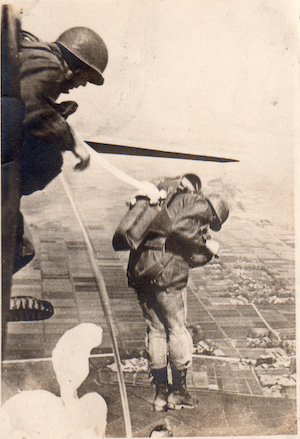 Colucci was assigned to the 11th Army Airborne Division and shipped to Sapporo, on the island of Hokkaido, as part of the Occupation Force after the war. He was living in a former department store with the other members of Headquarters Company. Each floor of the building housed a different company. Colucci worked about a block and a half away in a bank building where Headquarters Company presided.
General Joseph May Swing, the commanding general, had his office on the floor above Colucci and the major he worked for. The primary concern of the company at that time was to help restructure and rebuild the collapsed Japanese economy after the devastation of the war. Colucci worked with an interpreter. "We made sure that the Japanese were hired to do the things that they could do so they could be self-functioning," he says. "I was told to get it done, so I would find the people to get it done. Whether it was our GIs or the Japanese people, that's what we did."
Colucci worked closely with Japanese civilians, meeting people while conducting business, purchasing supplies, etc. Colucci said he encountered no resistance or resentment. "They were very, very thankful that they were employed by us and not treated as slaves," Colucci says.
After hours, the soldiers relaxed on the rooftop of their living quarters, which they called "angel's haven." They listened to a jukebox, and since there were no girls around, they laughingly danced with one another. Colucci remembers attending a local stage show with Japanese musicians playing American music. "One of the songs they played was 'Cement Mixer, Putty, Putty,'" he chuckles. "We all got a kick out of that. It was eye-opening for us; it was eye-opening for the Japanese."
The day after Christmas, Colucci broke his leg while tobogganing in the mountains. He was put into a cast from hip to toes and transferred to a hospital in Tokyo, where he awaited transport back home. Coincidentally, Danny Nester was also in the hospital with a broken leg.
Colucci was scheduled to board a ship for his return to the States, but he told the officer how sick he was on the trip to Japan. "If you send me back that way, my death is going to be on your conscience," Colucci says. "He got me passage on a plane."
Colucci recuperated in Percy Jones Hospital in Battle Creek, Michigan, where he encountered soldiers suffering with horrific injuries from World War II. "There were so many GIs. Oh my God, I can't recall without choking up," he says. "How many of those poor guys who suffered so terribly, and me with my broken leg. How I felt was like nothing compared to what I saw."
He was hospitalized for almost a year, spending two months of that time at the Kellogg Estate on Gull Lake in Hickory Corners, Michigan, with other recuperating soldiers. They were entertained by singers and dance bands, and during one visit, Colucci participated in and won a singing contest.
Pfc. Colucci was discharged in December 1947, returned to Chicago and enjoyed a successful career in furniture sales and management. Colucci married Sylvia Cacozza in June 1981. Together, they have five children and five grandchildren.
He reflects on his time in the Army, which he described as an "eye-opening adventure" for a young man from a close-knit neighborhood. "Everything I did was close to home. Never ventured very far," Colucci recalls. "Traveling, meeting up with other people, learning so much about other people and where they came from — that was big."
Upon returning, he told his father, "The only difference I found between them and us was (in our physical appearance). They wanted the same thing that we wanted."
Reprinted with permission from Fra Noi. (Copyright 2023) To learn more, click here.