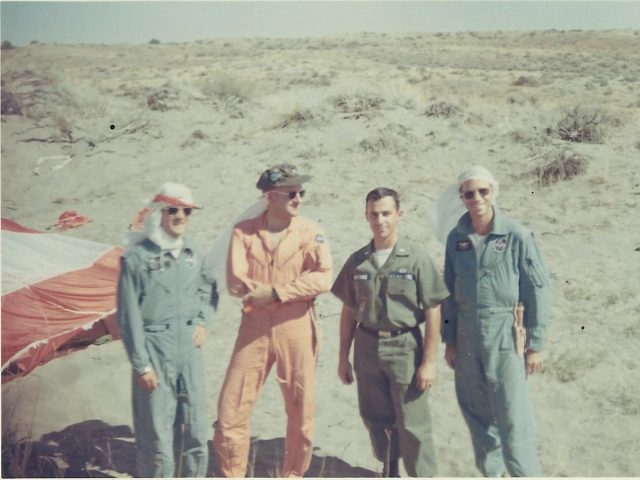 As a Survival, Evasion, Resistance and Escape instructor, Ron Centanni trained everyone from foot soldiers headed for Vietnam to astronauts headed for space.
The oldest of two sons, Ron Centanni was born in Chicago to Paul and Ida (DeMuro). The family lived on the 3400 block of Flournoy Street in a two-flat owned by Centanni's paternal grandparents until they moved to Villa Park when Centanni was 4 years old. His father's family emigrated from Sicily and his mother's from Bari.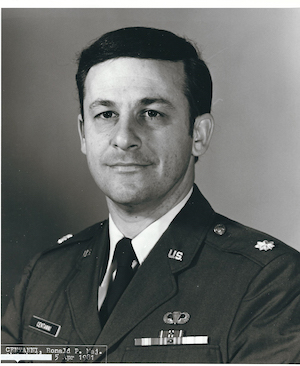 Christmas Eve was celebrated at his maternal grandparents' home. "It was always a tradition on Christmas Eve. We'd go there for dinner with all the relatives, the aunts, uncles, cousins," Centanni fondly recalls. "The big feast, that was a highlight." His mother made a ricotta pie known as calzone for Easter and ravioli and Italian cookies for Christmas. A favorite cookie was cuccidati, a tradition now kept by his sister-in-law. "To this day, my brother and his family and I make ravioli every Christmas," Centanni says.
Centanni attended Ardmore Grade School and graduated from Willowbrook High School in 1960. As a student at Southern Illinois University, he participated in the Reserve Officers' Training Corps. During the Vietnam era, it was mandatory for all male students to be in the ROTC during their first two years at SIU. Rather than take a chance with the draft, Centanni decided to continue the program all four years and graduate as a commissioned officer. He chose the Air Force for two reasons. He was influenced by an older cousin who had joined, and "I liked airplanes," says Centanni. "The other big thing was at SIU, they had Air Force ROTC, so that kind of sealed it for me there."
Centanni graduated with a bachelor's degree in English education and a commission as a second lieutenant. He continued his studies at SIU, earned a master's degree in counseling and educational psychology, and in June 1967, received his first active duty assignment at Fairchild Air Force Base in Spokane, Washington. For three years, Centanni was in charge of a group of survival instructors as part of the 3636th Combat Crew Training Group, Air Force Survival School. The program is called Survival, Evasion, Resistance, and Escape (SERE), and Centanni completed the course when he first arrived at Fairchild. He also participated in two additional survival courses. The first took place in Alaska, where he learned basic survival skills in minus 20 degree weather. The second course was in Panama, where he learned necessary skills to survive in jungles. "It was very enlightening to see what it would take," says Centanni. "It made me a little more knowledgeable about what my instructors were teaching."
Additionally, Centanni spent two weeks at Ft. Benning, Georgia, where he trained to parachute out of an airplane. "I had one close call when my parachute didn't open at first," says Centanni, "but they taught us what to do and thankfully I maneuvered out of it and got the parachute open before I landed."
There were four groups (flights) of instructors, and Centanni was in charge of one flight of 20 to 30 instructors, each one responsible for seven or eight people. Most who came through the program were airmen on their way to Vietnam. "You kind of knew what they were going into, and you probably didn't want to dwell on it a whole lot," says Centanni.
The main purpose of SERE was to teach air crew members how to survive if their plane was shot down. The course included five days of field training in the national forest, where they learned wilderness survival skills such as building a shelter, hunting for food and navigating, in addition to parachute landing and prisoner-of-war training. "The biggest thing was how to evade," says Centanni. When out in the field, some of the instructors dressed as aggressors and the students learned how to elude them. Also important was the code of conduct if they were captured. "We had to teach them what they can say, what they cannot say, what they can do, what they cannot do," Centanni says.
In two- or three-person teams, the students navigated from Point A to Point B to Point C using only a map and compass. Centanni and his sergeants and instructors monitored them every minute of every day. "We were out in the field pretty much on duty 24/7 for the five days," he says. "As officer in charge, I had to make sure everything was being done the way it was supposed to be done. I couldn't have asked for a better first assignment in the Air Force."
Centanni had the opportunity to help supervise survival training for Apollo astronauts in case their spacecraft went down. As assistant officer in charge, he helped make sure they learned desert survival in southern Washington. "To hear about the guys you trained going up in the spacecraft, that was kind of neat," Centanni says.
His next assignment was in Turkey, helping the Turkish Air Force with its NATO mission and working closely with their pilots. Working as an officer in charge of command and control and as a detachment commander, Centanni communicated with the U.S. Air Force Headquarters in Europe, took procedural orders from them and relayed that information to the Turkish Air Force. "We were the liaison between NATO and the Turkish Air Force."
After four years of active duty, Centanni returned home and joined the O'Hare Air Reserves stationed at the airport. Officers were needed to work for the Air Force Academy, and Centanni was interested because of his background in education. He applied and was accepted as a liaison officer, a position he held for his entire 16-year career in the reserves.
Centanni was assigned to 10 high schools in the south suburbs. He periodically visited the schools, spoke to students about the Air Force Academy and gave them information on requirements and how to apply. "Our biggest job was to evaluate the students who got nominated," he says. "We had to interview them and their families and send reports to the academy about what they were like so that the academy would have an idea of what they were getting into." Major Centanni retired from the Air Force in 1988 after a 20-year career.
Centanni worked in the education field for 39 years. He started out as a high school English teacher and retired from Marian Catholic High School as a guidance counselor and director of guidance.
A resident of Tinley Park, Centanni has been very involved in his community for more than 40 years. He currently hosts a monthly cable television program called "Discover Tinley." Centanni is also a member of the Sovereign Military Order of the Knights of Jerusalem, a philanthropic organization.
Reflecting on his Air Force career, Centanni says, "I loved it. You do things, experience things, that very few other people have the chance to do in life. I was very fortunate I liked what I was doing and it was an excellent experience. Just being in the military — I like the camaraderie and the general feeling of everybody in one big family."
Reprinted with permission from Fra Noi. (Copyright 2020) To learn more, click here.
Linda Grisolia is a longtime Fra Noi correspondent, having contributed Onori and War Stories features over the years. She is a proud founding member of the Italian American Veterans Museum at Casa Italia and is a member of the board of directors. Many of the Italian-American veterans she interviewed for the Fra Noi were featured in the documentary, "5000 Miles from Home", which aired on Channel 11. As a child, she remembers paging through her grandpa's Fra Noi newspaper, fascinated with the Italian words, never dreaming that one day she would be a correspondent for that wonderful publication.