World War II Documentary
---
Witness History Being Made
Learn the untold story of how World War II transformed Chicago's Italian community. Purchase a DVD of our Emmy Award-winning documentary, "5,000 MILES FROM HOME."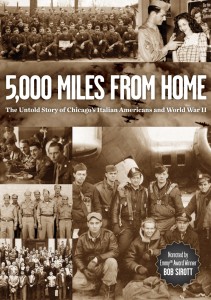 They grew up in the neighborhoods of Chicago, speaking Italian at home, learning English at school and hanging out with friends of all backgrounds. Then the war came along and turned their world upside down. "5,000 Miles From Home" tells the riveting tale of how an entire generation of Italian boys became American men in the crucible of World War II. When you trade pasta and stickball for k-rations and a M1 rifle, something's got to give.
Click here to learn more about our documentary.
Click here to purchase a DVD online.
Or click here to download a PDF that you can print and fill out, or email to friends.