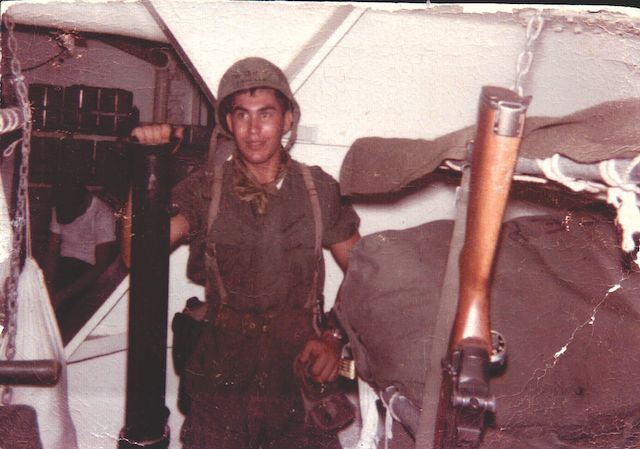 Persuaded by a smooth-talking recruiter to join the Marines during the height of the Vietnam War, Giovanni Insolia survived an endless round of helicopter assaults and enemy ambushes as a member of the ill-fated Foxtrot Company.
Giovanni Insolia grew up in Solarino, a small Sicilian town in the province of Siracusa. One of six children born to Paolo and Sebastiana Teodoro Insolia, he was surrounded by extended family throughout his childhood.
Insolia's father made very little money as the town barber, in most cases receiving goods like wheat in exchange for his services. When his family emigrated to Chicago under the sponsorship of an uncle, Insolia wasn't thrilled about leaving. "When you're a teenager, it's really a shocker," he recalls.
In January 1961, Insolia boarded the Leonardo da Vinci with his parents, brother, and sister and crossed the Atlantic. "I had no idea what I was going to encounter," he says. "We didn't speak one word of English, none of us."
Insolia lived near Fullerton and Austin, attending seventh and eighth grade at Burbank Grade School and freshman year at Steinmetz High School before taking a job at Zenith as an expeditor. "I didn't finish high school because I had to work," he explains.
When he was 17, Insolia registered for the draft. A smooth-talking Marine recruiter struck up a conversation with him. Enticed by discussions of guard duty at the Naples Embassy and weekends off to visit family and friends, Insolia asked: "Where do I sign?"
Insolia turned 18 on July 23, 1964, and left for boot camp at MCRD San Diego in August. Next came combat infantry training at Camp Pendleton, followed by more rigorous training at Camp San Mateo. He was assigned as a gunner with Foxtrot Company, 2nd Battalion, 1st Marines, 1st Marine Division.
In August 1965, the battalion shipped out, spending a week in Okinawa to acclimate to the tropical heat before sailing to the Philippines for a grueling stretch of survival and combat training at Subic Bay. "We departed as the newly formed Special Landing Force and Battalion Landing Team," Insolia says.
The battalion boarded the aircraft carrier USS Valley Forge and prepared for helicopter assaults into South Vietnam. He fought in one engagement after another, most of the time operating a rocket launcher. "Some operations were worse, but then you become callous to the death around you," he says.
He vividly recalls one particular mission: Operation Harvest Moon. "We all got ready for battle at 5 a.m., and we all felt the premonition of a bad one," he says. Insolia was in the first wave of helicopters. As they approached the landing zone, a narrow rice paddy, the North Vietnamese began shooting from the tree line. "I'm talking about rockets, mortars, machine guns," Insolia says. "Jump! Jump! Jump!" the pilot yelled. "We were sitting ducks," Insolia says. "We got it from all sides." His buddy just ahead of him got hit in the helmet with a mortar fragment. "He disintegrated right in front of my eyes," he says. "Totally disintegrated."
In the chaos that followed, the rice paddy irrigation trenches offered the only hope of cover. Insolia's captain spread the word to concentrate fire on the tree line. Insolia and his buddy Koehler were ready to dive into the trench when Insolia felt a burning sensation in his upper right arm. "I think I've been shot!" he shouted, and Koehler dragged him through the muddy paddy into the trench. As they looked back, there was a huge hole where the two of them had been standing minutes earlier. "You talk about divine intervention," Insolia says. "The mortar would have hit both of us."
Ambushed and trapped, the men of Foxtrot Company were left to fend for themselves. As darkness fell, they formed a defensive perimeter around the wounded. Those with "minor" wounds lay next to the more severely injured to give them comfort. "We laid there the whole frickin' night," Insolia says. He tearfully recalls his team corporal dying next to him with no help in sight. Finally, at around 4 a.m., choppers from Company E, 2nd Battalion, 7th Marines swooped in and spirited them to the hospital ship. In all, 18 Marines were killed and 53 wounded during the assault and rescue.
Insolia recovered at a naval hospital in Japan and returned to his dwindling company, which was no longer based on the naval carrier but at Phu Bai Combat Base in central Vietnam. Operation New York, a search-and-destroy mission, was worse than Harvest Moon. With Foxtrot taking the lead, the Second Battalion was passing through a cemetery when the Viet Cong were suddenly shooting from the trees. Under fire, Insolia ran to tell the others to attack, but to no avail. Foxtrot Company was decimated, and Insolia was assigned to Golf Company.
While on patrol with his new company, he was once again ambushed. Insolia passed out from heatstroke and came to surrounded by soldiers burning leeches off his body with cigarettes. The medic later explained that he was very concerned about Insolia's high body temperature and, when he spotted a rice paddy from the air, he instructed the pilot to land. Insolia was immediately dumped into the water to cool down. An undetected shrapnel wound in his hand had attracted the leeches. He quickly recovered and returned to duty the next day.
Returning from patrol in Phu Bai in August or September 1966, Insolia was medevacked from Da Nang to Great Lakes Naval Station. "Something happened, and I don't know what," Insolia says. When his mother visited him for the first time, he couldn't carry on a conversation with her. "I think I was in shock," he says. "One full year of combat in the jungle with no transition to civilization."
He was treated at Great Lakes for three months and given "medical retirement." His rank was Private First Class. Among his many decorations were two Purple Hearts and two Presidential Unit Citations as well as a Combat Action Ribbon, National Defense Medal, Vietnam Service Medal, Vietnam Campaign Medal, Vietnamese Gallantry Cross with Palm Unit Citation, Vietnamese Civil Action with Palm Unit Citation and Republic of Vietnam Meritorious Unit Citation.
Insolia's transition to civilian life was difficult. "I left my buddies behind," he tries to explain, "my brothers in arms." He eventually enjoyed a successful career working for Alitalia for 23 years before opening his own travel agency.
Insolia is married and has three children and four grandchildren from his first marriage. He suffers from PTSD and has a host of health issues attributed to Agent Orange exposure. It's in his nature to reach out and help others, he explains. "It's an obsession, trying to camouflage what's really going on inside me: what I've done, what I've seen … too many deaths."
Insolia remembered sitting in silence during his many patrols: waiting, listening and looking through the trees for danger. "It's a sense you develop," he says. "There was never any fear, just a high level of alertness."
He is proud to be a Marine, cherishing reunions with Foxtrot survivors during which they remember their battles and drink beer. "You're the very first (civilian) I'm talking to about it," Insolia says. "I appreciate it because something positive is happening anyway."
Reprinted with permission from Fra Noi. (Copyright 2021) To learn more, click here.
Linda Grisolia is a longtime Fra Noi correspondent, having contributed Onori and War Stories features over the years. She is a proud founding member of the Italian American Veterans Museum at Casa Italia and is a member of the board of directors. Many of the Italian-American veterans she interviewed for the Fra Noi were featured in the documentary, "5000 Miles from Home", which aired on Channel 11. As a child, she remembers paging through her grandpa's Fra Noi newspaper, fascinated with the Italian words, never dreaming that one day she would be a correspondent for that wonderful publication.