Ascending to the rank of brigadier general, John Fascia spent the bulk of his illustrious 30-year career in the National Guard keeping the peace during riots and responding to major disasters.
John Fascia was born in Chicago and lived in the Italian neighborhood of Lexington Street and Kedzie Avenue for several years until the family moved near Homan Avenue and Roosevelt Road. His father, Leonard Fascia, immigrated from San Marco la Catola when he was 16 years old, and his mother, Antoinette Riccio, was born in Chicago. He has one sister.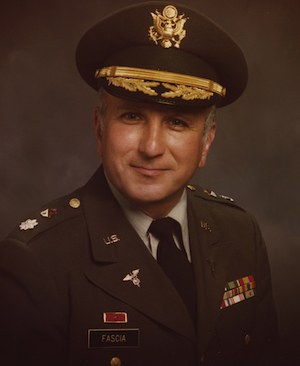 Most of his mother's large family lived within a few blocks. "You never took the car anywhere," Fascia says. "Pa would just grab you and you'd be walking down the street." Both parents loved to cook and had a small garden. "We had vegetarian meals three or four times a week," he says. "They were real meals in themselves."
Fascia attended Lawson Grade School and Austin High School, where he joined the ROTC program. Upon graduating in 1955, he was battalion commander of his school's ROTC. He attended Wright College while he worked various jobs before he was accepted to Officer's Candidate School. Upon completion, Fascia was commissioned as second lieutenant in the Army National Guard as part of the First Battle Group, 131st Infantry Battalion, 33rd Division, 1/131.
He trained on weekends and during the summer, in addition to specialized training as duties were assigned. When not on active duty, Fascia was employed as the regional director with the Illinois Emergency Management Agency. "As a result, I've been involved in things people only see in the movies," Fascia says. He was involved in response and recovery operations for numerous disasters, including the American Airlines DC10 crash at O'Hare Airport, a major crash at Midway Airport, train derailments, hazardous material spills, civil disturbances, as well as flood, tornado and blizzard operations.
In a career that spanned 30 years, Fascia rose in rank from second lieutenant to brigadier general. He had many active duty assignments, including assisting the police with four major riots in Chicago. First Lt. Fascia was the leader of a reconnaissance platoon during the West Side racial unrest in July 1966. Rioters smashed windows, looted stores and set fire to buildings and cars. National Guard units came down the middle of the street, separating taunting protestors while under sniper attack. "On one side they thought you were for the blacks, and on the other side they thought you were for the whites," says Fascia. Both groups hated them. "Our only job was to keep the peace so nobody would kill each other, but the hostility was aimed at the troops themselves," Fascia remembers. "My heart was pounding. You're thinking, 'You gotta do your job,' but you're scared. I could hear my heart through my uniform, ba boom, ba boom, ba boom!"
Next came the civil rights march through the town of Cicero in 1966. Once again, Fascia's platoon came down the street, separating protestors as they stood opposite each other, shouting racial slurs. "Our job was to keep the peace," says Fascia. "It was just to stop them from killing each other."
Fascia was promoted to captain in 1967 and took command of Headquarters and Headquarters Company of the 1/131 Infantry. Shortly after, the entire army reorganized and formed the 33rd Separate Infantry Brigade to replace the 33rd Division. Upon the assassination of Martin Luther King in April 1968, rioting and racial unrest extended from the West Side to the Loop, and Fascia's men were mobilized throughout the area. Due to the reorganization at that time, Fascia was without equipment, resulting in a nighttime run from the Madison Street Armory to the North Avenue Armory. "It was very, very tense," says Fascia. The soldiers loaded their truck with equipment and weapons and took off. "I said, when we leave, we're not stopping. We're not gonna go fast, but we're not stopping for anything."
Angry protestors argued with and approached the National Guardsmen. They burned buildings and shot at policemen and soldiers. "We were there to protect life and property," says Fascia. "The adrenalin was really flowing in those days. You are very nervous, and you have to be very careful because you can't be too bold."
The next riot took place during the Chicago Democratic Convention in August 1968 where tens of thousands of Vietnam War protestors crowded the streets and battled the police. Rubber balls stuck with razor blades were flung at the police. Plastic bags filled with feces and urine were thrown at the police and soldiers. "It was really, really bad," says Fascia, "very, very messy." The Guardsmen used riot control formations to peel rioters off walls and to separate them. Tear gas was used to disperse the crowds.
Reflecting on the riots, Fascia says, "I didn't like it. I thought it was horrible … you have to understand something. This is the West Side, they were burning their own buildings down; they were killing their own people."
Fascia was promoted to major in 1974 and lieutenant colonel in 1980. He was security, plans and operations officer for the Troop Command Brigade when he took command of the 108th Medical Battalion. When he arrived, the battalion was the worst one in the brigade. Two years later, it was No. 1 in Illinois. "As the command, it was very diversified," he says. Soldiers were trained and dispatched on temporary duty to different places to set up medical facilities. "My guys were really good. They were good medics," says Fascia. One assignment was to Ft. Bliss, Texas, where his men took over the hospital and dispensary. "It wasn't something I expected to do, but it was very interesting from a different concept, not a combat concept."
In 1984, Fascia deployed to Kaiserslautern, Germany, and commanded one of the hottest units of the entire U.S. Army, the 44th RAOC, Rear Area Operations Command. With the ongoing Cold War, Fascia was responsible for defending Germany's rear lines working directly with the German Territorial Army, GTA, and the entire army of Luxembourg.
Duties included stopping Russian Special Forces from infiltrating, tracking all U.S. troops as they arrived in Germany and informing the generals as to their locations, and protecting the war reserve equipment as well as the equipment for two divisions. "Whatever areas that the GTA were with, my guys were with them," Fascia says. "They considered them as part of their headquarters even though they were American soldiers."
Fascia currently serves as president of Phoenix International, Ltd., which makes an all-purpose absorbent for safe clean-up of spills. He participates in numerous professional and civic activities, including Employers Support of the Guard and Reserve.
Summing up his National Guard career, he says, "I learned a lot and met a lot of wonderful people. I've seen a lot of terrible destruction, which gets you mad when the reporters come in and blame the troops for what some of the people are doing. Overall, it was a very exciting time."
Reprinted with permission from Fra Noi. (Copyright 2020) To learn more, click here.
Linda Grisolia is a longtime Fra Noi correspondent, having contributed Onori and War Stories features over the years. She is a proud founding member of the Italian American Veterans Museum at Casa Italia and is a member of the board of directors. Many of the Italian-American veterans she interviewed for the Fra Noi were featured in the documentary, "5000 Miles from Home", which aired on Channel 11. As a child, she remembers paging through her grandpa's Fra Noi newspaper, fascinated with the Italian words, never dreaming that one day she would be a correspondent for that wonderful publication.