Assigned to Plane Captain School after boot camp during the Korean War, his dream of entering the medical field came true when he transferred to Hospital Corps School.
The oldest of two children, Richard Morbidoni was born at Norwegian American Hospital in Chicago. His parents, Alfredo Flora (Ricci), were both born in Castelfidardo, Italy, the accordion capital of the world. Alfredo came to Chicago when he was 17 years old to work in his uncle's accordion factory. Flora immigrated with her mother and siblings when she was a toddler, taking a train from New York to San Francisco where her father was working. Morbidoni's grandmother didn't speak English and made the long voyage alone with three children under the age of 5. "You talk about pioneers and heroes, those were the pioneers and heroes," Morbidoni says. "My grandmother was really a super, super person."
Morbidoni grew up in the Logan Square neighborhood and attended St. John Birchman Grade School and Tuley High School, graduating in June 1952. He remembers Sunday gatherings with his aunts, uncle and cousins. "My mom was the best cook and baker," Morbidoni recalls. "My sister and I always called her the Queen of the Raviolis; nobody made them as good as she did."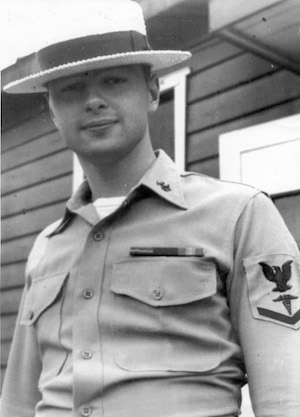 With a 1A draft status and knowing he could be called up at any time, Morbidoni joined the Navy, leaving for boot camp at the United States Naval Training Center in Great Lakes, Ill., on Sept. 4, 1952.
It was the first time he was away from home. "I thought I might be homesick," Morbidoni says, "but I felt fine." After four weeks, his parents were allowed to visit and came every Sunday.
Morbidoni was interested in becoming an aviation photographer, but because there were no openings at the school, he transferred to the Naval Air Station in Pensacola, Fla., for Plane Captain School after graduating from boot camp. He was responsible for two planes, keeping them fueled, cleaned and ready to go. He would have the plane up and running before the pilot instructor and student came and then went through the checklist with them, signing off on it. Once the plane was in the air, Morbidoni had free time and became bored with this type of work. As a kid, he wanted to be a doctor, pharmacist or a dentist. "I always had a thing about the medical field," he says.
When he learned of an opening as a striker for on-the-job training in sickbay, he interviewed and was accepted. He worked in the treatment room for three months, learning the basics of patient care, including giving shots.
Next came 20 weeks of intensive training at Hospital Corps School in Portsmouth, Va. A Navy corpsman cares for the sick and the injured. Morbidoni studied anatomy, physiology, pharmacology and lab work every day. "I loved it; that's what I always wanted to do," Morbidoni says. At night, he did chores and studied. Rules were strict, with lights out at 9 p.m. because the day began at 5:30 a.m. "We went to the head (bathroom), sat on the floor with our coffee and studied until 11 or so," Morbidoni recalls.
He was assigned to the contagious ward at the naval hospital in Charleston, S.C., for a short time and then transferred to the "dirty surgery" ward. Patients were treated for such ailments as pilonidal cysts, hemorrhoids and vein strippings. "Well, I loved it," Morbidoni says. "You really had to know what you were doing. This is where I learned to be a corpsman."
After six months, Morbidoni was assigned to serve as the master-at-arms in charge of security at the Corps quarters where he lived. He periodically checked the grounds and buildings to make sure lights and plumbing were all in tip-top shape, and kept records in the logbook. "At first I kind of enjoyed it because it was a little less intense," Morbidoni says. "After a while, I wanted to go back to corpsman work."
In October 1954, he was transferred to Camp Pendleton, Calif. "I thought, for sure I was going over to Korea," Morbidoni says. Instead, he attended Marine classes with other corpsmen for four weeks, learning how to live and practice medicine out in the field. Next he trained on the obstacle course and the infiltration course. Cold-weather training took place at Pickle Meadows, Nev. "That had to be the worst week of my life," recalls Morbidoni. Finally, after more drills, exercises and class work, Morbidoni shipped out on the General AW Brewster, a troop ship. Recalling the crowded, horrible conditions on the ship, he says, "I wasn't really happy about it."
The ship entered the port in Kobe, Japan, on Feb. 14, 1955, after 17 days at sea. Morbidoni was on deck as the sun rose. "I remember thinking, 'The Land of the Rising Sun' and here I am experiencing the rising sun."
Morbidoni was stationed at Camp Fuji, attached to the Third Marine Division in the C Med outfit. Initially he worked in supply and records and then became an X-ray technician. "I liked that because I was taking care of patients," Morbidoni says.
Occasionally, Morbidoni's outfit left camp. "We would do whatever we had to do and then come back," Morbidoni says. LSTs (Landing Ship Tanks) took them to such places as Chigasaki Beach, Iwo Jima, and Inchon, Korea. They carried the casualties on cots from the LSTs to the hospital ship.
During one of these landings, Morbidoni's foot slipped on the wet rope ladder while climbing down to the landing boat in the rolling sea. His buddy, Felix Valdez, lifted his legs back onto the ladder rung. His quick actions saved Morbidoni from being crushed to death between the two ships.
Morbidoni was the lead petty officer one night when he made the call for a chopper, saying "I have a guy that if he doesn't get to the hospital soon, he's gone." He loaded the patient into the ambulance and headed to the landing area where vehicles waited to shine their lights to guide the chopper in. Morbidoni rode along with the patient as they flew through the mountains, with its lights off to escape enemy detection. He got the patient safely to Yokosuka Naval Hospital and then had to find his own way back to camp. "I felt good, that was my job," Morbidoni says. "I just was doing what I was supposed to be doing."
After 18 months in Japan, Morbidoni departed for the states on Aug. 1, 1956, and was discharged on Aug. 23, returning to his family in Chicago. His rank was 2nd class petty officer.
Morbidoni served in both the U.S. Navy and U.S. Army Reserves from 1976 to 1987 and remains active in numerous veterans as well as Italian-American organizations. He had a dental supply business for 30 years and was employed as superintendent of the Veterans Assistance Commission of Cook County for two terms.
Morbidoni loved his time in the Navy and remains in touch with several of his fellow corpsmen. "The military is a brotherhood that nobody understands unless they've been in it," he explains. "It's something special."
Reprinted with permission from Fra Noi. (Copyright 2021) To learn more, click here.