A Navy corpsman during the Vietnam War, Sam Scardino was so severely wounded in a landmine explosion that doctors initially thought he had perished in the blast.
The second of five children, Samuel Scardino was born in Chicago to Samuel and Doris (Marquardt) Scardino. The family lived in the Italian neighborhood of California and Arthington avenues, near his grandparents, Vincenzo and Filomena, who emigrated from Campobello di Mazara, Sicily. With grandparents, aunts, uncles and cousins right down the street, the family always gathered at someone's house. "No matter what you did, on Sunday after church you had to go to dinner," says Scardino. His mother, though of German descent, cooked Italian food and made everything from scratch.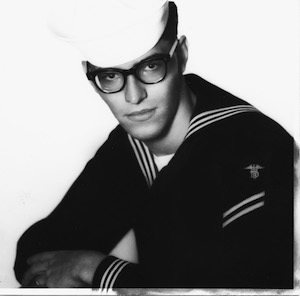 Scardino attended St. Frances Xavier Cabrini Grade School and Austin High School. It was a bit of a culture shock when the family moved to the Austin area, heavily populated with Swedish people. "It was kind of odd when they saw us growing fig plants and grape vines," he says.
After falling in with the "wrong crowd," it was decided the 18-year-old would enter the military, and he enlisted in the Navy in 1964. In addition to learning basic skills at the Naval Training Center in San Diego, Scardino attended school to become a dental technician. He then transferred to Camp Pendleton and trained as a combat corpsman on the Marine base. Scardino logged in new recruits, evaluated them for treatment, took x-rays, cleaned teeth and assisted the doctor with fillings, periodontics and oral surgery. "You learn an awful lot," he says, "prosthetics and all that kind of stuff."
Scardino received orders for Vietnam and married his wife, Carol Kanka, before deploying. He flew first class on Continental Airlines to Guam for a 30-day orientation period. "There we partied hearty because we knew we were going to 'Nam," he says.
He was attached to the 1st Tank Battalion, 1st Marine Division, Mainside in Vietnam and then transferred into the war zone to Marble Mountain, DaNang, as a corpsman and emergency dental tech during the Tet Offensive. "Because I could do hospital and dental," says Scardino, "I got to go places that most guys didn't get to go."
Once a week, Scardino provided care to the Vietnamese people, performing extractions and temporary fillings and administering first aid and injections, and also providing care to monks in their temples. He traveled to the villages in a jeep, with a doctor, accompanied by Marines for protection. Twice a month, he visited a leper colony, always taking precautions against the infectious disease. "You just went in there and did what you had to do," says Scardino, "especially when it was little kids."
"When you're a corpsman, they treat you like gold," says Scardino. "They keep you protected all the time." On the battlefield he focused on one thing, helping the fallen soldiers. "Yeah, there was stuff going on, but all you heard was 'doc.' You knew somebody was calling for something so you immediately took off," says Scardino. "You tried to get to him as best as you could and not get shot while you were doing it. You don't really think about your life; you're thinking about their life."
He quickly assessed the casualties and administered care in order of severity, all the while talking softly to calm them, reassurances like "Take it easy now … I'll come to you in a moment, guy," or "Don't worry, you're good." He stabilized and patched them up, and the severely injured were medevaced back to base or to the Saigon hospital. Scardino stayed with his patients until they were safely on board the chopper. "I always prayed that I saved boys that I took care of and I still get all messed when I talk about it. I actually had one boy die in my arms," he says.
In one incident, three soldiers drowned inside a submerged tank and it was days before their decomposing bodies were brought back to base. Their flesh was coming off in Scardino's hands as he processed them. "I am so screwed up over that. I had to identify them, and the only way I could identify them was by their teeth. These were the same boys, the day before we were drinking together like a bunch of asinines in the club together, fighting, joking, hand banging … and there they were," says Scardino. "I'm very mixed up on that."
On a trip to the leper colony, Scardino was riding in the lead Amtrak (amphibious warfare vehicle) when it hit a landmine. "My immediate reaction was to take care of the boys," he says. One was killed instantly, and Scardino tried to help as many as he could. All of a sudden, he knew something was wrong and he collapsed. "I didn't know I was injured at all. When I woke up I was in the death ward; they thought I had died." He suffered a head injury in the explosion and was in a coma. Scardino explains that his body just shut down. He lay there unable to move or speak, but he could hear voices and see light as soldiers came in and out of the room. Trapped inside his body, he ached to cry out, "I'm alive! I'm here! Please! I'm okay, I'm okay! Please!"
Scardino lay there for anywhere between 24 to 72 hours until someone came in checking for personal effects and exclaimed, "This guy isn't totally ice cold. He's still flexible a little bit." They lay him outside in the sunshine to warm him gradually rather than putting him into a heating unit. "I slowly warmed up, back to reality somewhat, and even after that I was still very confused," he says. The medics didn't know what kind of injury Scardino had suffered because he was covered with blood from treating the soldiers. "So they went ahead and they took care of me as best they could," he says. Instead of being medevaced out, Scardino remained at Marble Mountain for weeks after his accident until he was finally flown to Bethesda Naval Hospital. They needed someone with his skills as a corpsman and dental tech. Under medication, Scardino assisted the doctor. "I did very minimal," he says.
Scardino was discharged from active duty in 1968 with the rank of Dental Tech 3 and received a Bronze Star and the Purple Heart. He remained at Bethesda for 12 months until returning to Chicago in 1969. At the time of his release, Scardino suffered with "identifying with the real world" and equilibrium problems. "I knew I had to get a job, start working, so I really didn't have time to focus on me. I was more focused on my family," he says. Scardino pushed himself to find a job and had a career in the dental supply business. He suffers from Post Traumatic Stress Syndrome, has suicidal tendencies and the effects of his head injury are ongoing.
"With the two of them, my old-fashioned Italian family and the military … I was able to go ahead and survive in this world," Scardino says. "I have repercussions, but I don't dwell on them. If I did, I'd be living on the street. Some boys just never came out of it."
Reprinted with permission from Fra Noi. (Copyright 2020) To learn more, click here.