In the course of an exemplary 22-year career in the Army, Enrico Clausi has advanced from Second Lieutenant to Lieutenant Colonel while tackling everything from training soldiers and officers to mobilizing troops and equipment.
Enrico A. Clausi was born in Chicago and grew up in the Italian neighborhood of Homan and Chicago avenues. "Even the garbage cans were painted red, white and green," says Clausi. His father, Enrico, emigrated from Cosenza, Calabria, as a young boy. His mother, Antoinette Messi, was born in Chicago. He has one older sister.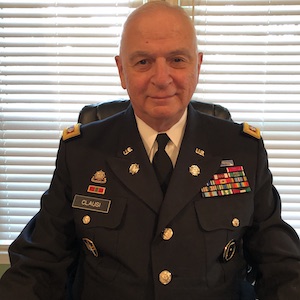 Clausi grew up surrounded with music. His father was a professional opera singer and when he retired, sang at Italian festivals throughout Chicago. Clausi's father taught him about traditions in Italy, and "he also talked to me about some of the distinguished people who were Italian heroes," Clausi says.
He graduated from St. Mark Grade School and went on to De LaSalle High School, graduating in 1966. Clausi studied at Loyola University, where he also participated in the Reserve Officers' Training Corps. He graduated with a bachelor's degree in political science and a commission of second lieutenant.
At the age of 8, Clausi knew he wanted to be in the Army, his interest piqued by watching programs on WGN-TV and by meeting soldiers. The Memorial Day Parade especially influenced him. "Looking at all the people who served, and being part of something that is greater than I am but contributing, I think was really what made me decide that's where I wanted to go," Clausi says.
During his 22-year career in the U.S. Army, Clausi advanced from Second Lieutenant in Infantry to Lieutenant Colonel in Transportation, serving stateside posts as well as overseas.
He began with infantry officer training at Fort Benning, Georgia, followed by Civil Affairs Officer training at Fort Gordon, Georgia. Clausi explains the Army is more than just entering combat. The Civil Affairs program deals with helping rebuild areas destroyed by combat. "It gave me a really good understanding of the overall picture of what the impact of what our fighting does to the civilian side because Civil Affairs was helping those civilians," he says.
Second Lt. Clausi reported to his first duty at Fort A.P. Hill, Virginia, where he was assigned as the Executive Officer of the Headquarters Company for the Army Garrison, a position normally held by a senior first lieutenant. This was his first experience with soldiers, many of whom had fought in Vietnam and were having adjustment problems. He learned to deal with these soldiers as well as the logistical and training requirements to maintain a company, valuable experience in his next assignment.
Now a First Lieutenant, Clausi deployed to Korea for 13 months as Company Commander in Headquarters Company with 240 American soldiers and 147 Korean troops assigned to him. As a young Company Commander he learned that along with being able to do your military mission, it is also important to take care of your soldiers. Many were only 18 years old, away from home, dealing with the isolation. Others, just back from Vietnam where they fought for their lives, had trouble adjusting to daily garrison duties. Many experienced emotional and/or drug issues and the goal was turn them into productive soldiers, in turn helping them to go on to a better life. "We were just trying to get them to fit back into the American Army, which was in bad shape after 'Nam because of a lot of different things," Clausi says. "We were basically rebuilding an Army. They can teach you all they want in your pre-commissioning days. They tell you what the perfect Army is and then you step out there and see this is the real Army now."
First Lt. Clausi returned to the United States assigned to Fort Ord, California, as Battalions Operations Officer. He later became the Commander of Headquarters Company and was promoted to Captain. Gen. Hal Moore, the post commander, held special sessions of officer development. "What we learned from him about leading and leading into combat missions was a tremendous experience because we had those types of giants back then to mentor us," says Clausi.
The Army was moving from the draft to an all-volunteer force, and they had to make it work. "In a mission, as I was taught, fix it and make it happen," Clausi says. "This is when the Army began transitioning to a really positive force, a place where you wanted to spend a career, and it also became more family-oriented."
Capt. Clausi completed an advanced course in Transportation at Fort Eustis, Virginia, learning to move troops and equipment by road, rail and air, which prepared him for a three-year tour in Germany in 1976. He was stationed in Bamberg, part of the 1st Armored Division, as Director of Logistics. In 1976 the Cold War was ongoing, and Germany was divided into East and West. "We were always training, but the goal was not to have to fight," says Clausi.
His unit was responsible for supplies, uniforms and equipment for the soldiers as well as the Post Exchange and the Commissary. "The big thing was to make sure we were able to execute our war plan for Europe," he says. Clausi daily visited his areas and visited with his soldiers as well. "That's what it was all about, getting out to see if things were working, and if they weren't working," he says, "you had to fix them."
Clausi met his wife, Mary, on the base where she taught at the Department of Defense schools. They married at the Post Chapel and traveled all over Europe when they had the opportunity.
Back in the States, he was stationed at Redstone Arsenal in Alabama as the Mobilization Readiness Officer for Tennessee, Mississippi and Alabama, working with the Army National Guard and the Army National Reserve. "The mission was to make sure they were prepared to mobilize and go to their active duty stations to train up and be able to deploy." With an all-volunteer Army, more forces were needed, and the Guard and Reserves were put into all the contingency plans. "So that's when the Army realized we have to train these people," says Clausi.
Traveling on weekends to the various home stations, arsenals or reserve stations, Clausi made sure the troops were receiving every type of training. He, along with specialist teams, deployed with the soldiers for their annual two-week training at Camp Shelby in Hattiesburg, Mississippi, where they did all the training they could not do at their home stations. "We were mainly making sure that troops were prepared and ready for active duty at any time," says Clausi. He was promoted to the rank of Major while at Redstone.
Maj. Clausi deployed to Germany for his second three-year tour. He was stationed in Northern Germany and trained with the British, Dutch, Danes, Belgians and Germans. As Division Transportation Officer, Maj. Clausi implemented and directed the movement of the heavy armor units, including the new M1 Abrams tanks, to Grafenwoehr and Hohenfels in the south of Germany as there was no gunnery range in the north. Rail cars were requested and convoy clearances were obtained to move all the equipment and troops. Once the units were all together, they trained for 30 days, then loaded up and reversed the entire process to head back north. "That was real world because in war time we would have had to do that," Clausi says.
Back in the States, Maj. Clausi was assigned to Fort Hood, Texas, as Division Transportation Officer for the 2nd Armored Division. He spent much time "moving into the field," which means going to areas to maneuver with tanks and trucks and to ranges for gunnery units. He deployed to the National Training Center in the desert at Ft. Irwin, California, in order to put full units on the ground. "You can't take 10,000 vehicles and soldiers and put them on the ground in central Texas," Clausi says.
Training included actual fighting against an enemy. A unit called Opposing Force (OpForce) dressed and acted as Soviet soldiers. The whole battlefield was wired to keep track of the fighting. "It was real world, and it came in handy," Clausi says. "The biggest thing was maneuvering in a desert environment." Every unit headed to Desert Storm trained there and became qualified before they deployed.
Promoted to Lieutenant Colonel, Clausi was assigned to the 13th Corps Support Command, where his primary task was deploying individual units to Saudi Arabia, once again implementing and directing the movement of troops and equipment. C130 and C-5 planes and ships were loaded; ships were even borrowed from the Russians. Once the units deployed, Lt. Col. Clausi went to Desert Storm as the Chief of Staff for Transportation, 2nd Corps Support Command. Preparations were made for the actual attack, with an estimate of 10 days to take the objective; instead it took only 10 hours, saving countless lives. Clausi explains that because of commanders like Gen. Norman Schwarzkopf, it was a textbook operation. "These were all young officers in Vietnam where they saw mistakes that were made," he says. "They made sure that we did not make the same mistakes."
The impact of this early success brought several thousand prisoners of war who had to be moved. Camps were established, impromptu airfields were set up, and C130 planes picked up and delivered prisoners to trucks that would take them to camps. Any trucks that went forward came back with prisoners, and the Army logistical helicopters carried prisoners back as well.
He then redeployed back to Fort Hood as the Assistant Chief of Staff of Material, his last duty position before retiring after 22 years of active duty.
Clausi settled in Tennessee and spent the next 20 years teaching Army Junior ROTC, retiring as Assistant Director of Army Instruction for Memphis City Schools. Still involved with the program, he works with students to get Army scholarships. He is most proud to be an Admissions Officer for the U.S. Military Academy at West Point in the Memphis area, helping young people get to West Point. "These are the things, making these young people know that they do have a future regardless."
Clausi and his wife have one daughter and three grandsons. He was a member of the Wolf River Pipes and Drums and now the Phoenix Pipe Band as well as a member of the Sovereign Military Order of the Knights Templar of Jerusalem.
"Duty! Honor! Country!" three words Clausi uses to sum up his military career. "It's been my privilege to serve, and I don't think anything else would have given me so much satisfaction," he says.
Reprinted with permission from Fra Noi. (Copyright 2020) To learn more, click here.