A member of the Air Force and Air National Guard for 40 years, Victor Guerrieri was responsible for all communications on base and in the field of battle during a nine-month deployment to Iraq in 2010.
The second of six children, Victor Guerrieri was born in Chicago to Carmen and Rita (Mariano.) The family lived in his maternal grandparents' building near Marmora and Higgins avenues before moving to the area around Foster and Cumberland avenues, where Guerrieri grew up. His parents were born in Chicago, and his grandparents emigrated from Bari.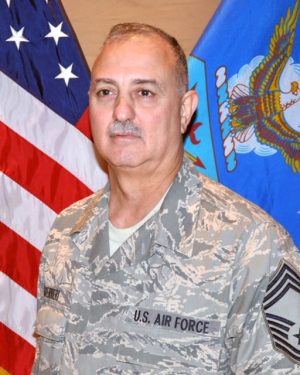 Maternal aunts, uncles and cousins all lived close, and every Sunday the family gathered at his grandparents' home. "Grandma made the meatballs, neck bones, the whole traditional Italian meal," he says. "Even when we were young, we would always get a taste of grandpa's homemade wine."
A favorite pastime of Guerrieri's was spending time with his grandfathers, who taught him about Italian traditions. They spoke broken English and were very proud that they came to the United States. "I wish I would have been able to learn Italian with them," he says. They told him, "You're in America, you speak English."
Guerrieri attended St. Eugene Grade School and, after graduating from Holy Cross High School in June 1971, he joined the Air Force. As a child he loved listening to his uncles' World War II stories. Also, "my paternal grandfather was in the Italian Army (WWI) and was one of my biggest influences in joining the military," Guerrieri says. "It was just something that always fascinated me and I wanted to do." His mother was skeptical but very supportive. "My dad was very proud of the fact that I joined the military," he says.
Guerrieri completed basic training at Lackland Air Force Base in San Antonio, Texas, and technical training at Chanute Air Force Base in Rantoul, Illinois. He was stationed at Pope Air Force Base in North Carolina, where he worked on the flight line as an aerospace ground equipment repairman. He serviced the generators, air conditioning and hydraulic systems of the aircraft on the ground.
Along with being in the military, Guerrieri also dreamed of becoming a Chicago police officer. In 1975, he took the entrance exam and upon his acceptance, left active duty with the Air Force, after serving nearly four years, and joined the National Guard at O'Hare. His rank was Airman First Class.
Guerrieri was sworn in as a Chicago police officer in 1977 and was assigned to the 20th District, at Foster and Damen avenues, as a patrol officer. His part-time job was with the Air National Guard. One weekend a month, Guerrieri participated in military drills and maneuvers. Every year, he took military leave from the police department for annual training. Most deployments were two weeks, with some lasting four and occasionally six weeks. During these sessions, Guerrieri did training exercises and at times attended classes. "In order to stay in the military and be promoted, you had to fulfill not only your career requirements, but you also had to have your educational qualifications fulfilled," Guerrieri says.
He deployed to various locations throughout the country and also overseas. "We would do military exercises, training, simulating things that we would do if there was actually a war," he explains. Guerrieri went to Italy several times as well as Germany, Honduras, Bolivia and Iceland. "I traveled places that I never would have seen if I hadn't joined the military," he says.
Guerrieri was attached to the 264th Combat Communications Squadron, which supported ground-to-air communications, telephones and, in later years, computers. "We would set up an internet network in the field, wirelessly, throughout the theater of operations for wherever we were stationed," he says.
While at the NATO base in Naples, Guerrieri told the Italian soldiers that his mother's cousin was a general in the Italian Army. "They treated me like I was a king," he says. They took Guerrieri and his friends to their favorite bars and restaurants. "When they found out who my cousin was, they couldn't do enough to make sure that I put in a good word," says Guerrieri.
He never did get to meet his cousin, who was stationed elsewhere. However, he and his buddies visited his mother's relatives in Bari. "They fed us like we couldn't believe; we couldn't eat enough," Guerrieri says.
In 2010, Guerrieri's National Guard unit was activated and deployed to Iraq for nine months. He was stationed at Sather Air Base at the Baghdad Airport. He had been promoted to Chief Master Sergeant with Combat Communications and became the Flight Chief for the squadrons.
Guerrieri's unit was responsible for all the communications on base and in the theater, a particular geographic area in Iraq. This included air-to-ground, computer networking and telephones, both secured and unsecured. Secured messages were confidential and encrypted so they could not be intercepted.
Equipment and computers were continuously checked to ensure that all systems were up and running. If there was a breakdown, Guerrieri sent someone to fix it. "The biggest problem over in Iraq was the heat and the dust," he says. "Our equipment would break down because of overheating." Air conditioning systems were essential to prevent that. "We had to do a lot of maintenance," Guerrieri says. "It was a huge responsibility."
The base endured several rocket attacks. "What they were trying to do was destroy some of the runways to disrupt our air operations," Guerrieri says. The security system set off sirens, the base went on lockdown and the men and women took cover in bomb shelters until the all-clear sounded. "Adrenalin is running pretty high. To talk about it to people who never went through it, you couldn't really explain how you felt unless you actually lived through it," says Guerrieri.
The U.S. Air Force was training the Iraqi Air Force at the time and they, along with their families, lived on base. Guerrieri's unit helped develop their communications systems. "Actually, their families had to live within the security perimeter because their families would have been killed by the Taliban or other agencies that back then were still fighting the U.S.," he says.
Chief Master Sgt. Guerrieri retired from the Air National Guard in 2012, after serving for 41 years total military service. He and his wife, Marie (Bednarek), have three children and one grandchild. Guerrieri fulfilled his childhood dream of being in the military and received 110 percent support from his family, especially his wife. "She had the hard job of all the responsibilities at home that she took on while I was gone," he says.
Guerrieri retired from the police department in 2014 as a lieutenant and commanding officer of the Canine Unit. He is currently employed as the director of security for Wright College.
Proud to have served his country, Guerrieri says, "Being Italian, my Italian heritage, going back to Italy in a military status made me very proud, not only about being an American, but about being an Italian American."
Reprinted with permission from Fra Noi. (Copyright 2020) To learn more, click here.