Fueled by a lifelong passion for education, Ralph L. DeFalco III enjoyed a stellar 25-year career in Naval Intelligence that took him from the Midwest to the Middle East and our nation's capital.
The eldest of five children, Ralph L. DeFalco III was born in Connecticut to Mary Ann Mueller and Ralph L. DeFalco Jr. The family moved to Chicago when DeFalco was an infant, returned to the East Coast and eventually settled in Oak Lawn, Illinois. DeFalco's paternal grandparents emigrated from the Abruzzi and Napoli regions in Italy, and his maternal grandparents were born in Germany.
As first-generation Americans, his parents grew up in households where their parents learned and mastered English as a second language and were very proud of it. Family holidays were often a blend of cultures. "It was not unusual to have pasta and turkey for the holidays," DeFalco says. "I think it's fair to say that we assimilated very, very quickly as a family."
He graduated from St. Catherine's of Alexandria Grammar School and Brother Rice High School. "My mother and father were adamant about the importance of education," says DeFalco. "I don't know how they did it. It was very expensive, but they sent all five of their children to parochial grammar school and high school."
DeFalco earned a bachelor of science degree in journalism from Northern Illinois University in 1975. Ten years later, while employed in marketing, he received a master's in communications from Governors State University. Influenced by a good friend, DeFalco joined the U.S. Navy Reserve in 1988 through a special program designed to recruit and train Reserve Intelligence Officers. He received a direct commission as an officer and entered the Navy as an Ensign.
He reported to Glenview Naval Air Station (NAS) one weekend a month and two weeks a year in the beginning. DeFalco took classes while training as an intelligence officer and learned a variety of skills, including imagery interpretation, intelligence analysis, writing and briefing.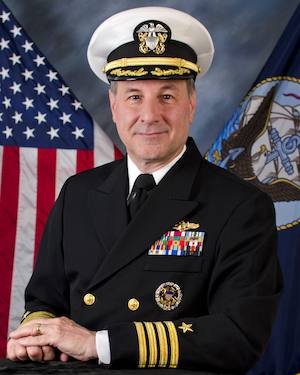 Promoted to Lieutenant, DeFalco was the Air Intelligence Officer for Glenview NAS-based VP-60, a P-3 squadron. The large four-engine aircrafts were used for long-range maritime patrol and especially for anti-submarine warfare. At the time, Soviet submarines operating in the Atlantic Ocean and the northern Pacific Ocean posed a significant military threat to the United States. "My work with the squadron was to help crews understand the nature of that threat and the types of activity that they might likely see in their operational patrol areas," DeFalco says.
His initial six-year service obligation ended while he was still working with the squadron, but DeFalco opted to continue his career in the Navy Reserve. After completing that assignment, he rotated back to a unit supporting the Office of Naval Intelligence (ONI) from Glenview NAS.
This was the beginning of a successful 25-year career as a Naval Intelligence Officer. During that time, DeFalco taught at Ft. Sheridan, the U.S. Naval War College and the National Intelligence University in Washington, D.C. He served in numerous positions in the Naval Intelligence community and completed five tours of duty during more than seven years of active service.
DeFalco was recalled to active duty during the first Gulf War, serving at ONI Headquarters in Washington, D.C. Duties included classified special projects in support of Operation Desert Shield/Desert Storm. On the first night of the war's air campaign, the allies planned to knock out Iraqi command and control facilities. Nighttime air attacks targeted Baghdad's power stations to destroy the electrical grid providing energy for everything from radars to fire control to communications. "It was a challenge because we needed to minimize civilian casualties and still achieve the military objective," DeFalco says. Staff was watching CNN live as the raids occurred, and suddenly all the lights went out behind the broadcaster. "We realized that we had been hugely successful! That was quite a memorable moment," he says. "I must say it was the only time in my career I ever heard a group of intelligence professionals cheer."
Promoted to Lieutenant Commander, DeFalco participated in a congressionally mandated study project, the Joint Reserve Intelligence Center program (JRIC) at Ft. Sheridan. The Reserves were in transition because they had proven to be very useful during the first Gulf War, and there was a drive to integrate the Reserve and National Guard more completely as part of the total military force. DeFalco served as the training officer for that first JRIC. "I went on active duty and began the work of preparing other intelligence officers and enlisted personnel from all services to operate in the joint environment," DeFalco says. "And this is the same time in which we began to have significant success using a classified internet." He organized analytical training sessions and classes on the use of very sophisticated computer systems.
"We had imagery exploitation, geopolitical analysis, order of battle intelligence, military capabilities studies, and then as the world turned, we provided intelligence support for the war on terror," DeFalco says. Secret and top-secret information analyzed at Ft. Sheridan supported U.S.-led missions throughout the world. "In the case of Ft. Sheridan, we were aligned with the Joint Analysis Center in Europe, and we supported the mission and operations of the U.S. European Command," DeFalco says. "It was groundbreaking."
On 9/11, DeFalco was teaching at Ft. Sheridan and watched as the second plane crashed into the towers. "That was a watershed moment for reserve forces, especially for reserve intelligence," he says. They immediately understood that a weekend a month and two weeks a year would no longer be standard operating procedure. "We were now going to be wholly integrated as part of the total force," DeFalco says. "Over the years, many of us were recalled to active duty and also deployed overseas as reservists."
In 2003, after promotion to the rank of Commander, DeFalco went on active duty at the Pentagon and worked as a staff officer for the Under Secretary of Defense for Manpower and Reserve Affairs for Employer Support of the Guard and Reserve. His next duty assignment was also at the Pentagon, where he worked on the Staff of the Director of Naval Intelligence. "My role there was to support total force integration and planning for Navy Intelligence," DeFalco says.
When his military orders ended, he was recruited by an Admiral to join the staff of the Navy's Civilian Intelligence Program, working out of an office in the Pentagon. "That's when my active-duty career opened up a civilian career for me," DeFalco says. "I was on the staff of the Director of Naval Intelligence for the next 18 years." Until this time, DeFalco had been working in marketing. Though working full-time as an employee of the Navy, he was still a reserve officer. DeFalco was recalled to active duty in Afghanistan in 2007.
Based in Kabul, DeFalco worked as part of the International Security Assistance Force (ISAF) for Afghanistan, a NATO mission. It was the first time DeFalco had been in a joint war-fighting command overseas serving alongside foreign military personnel. Information came in from a variety of sources, and it needed to be integrated into daily intelligence products. The work DeFalco had done for years using concepts that had been proven, refined and used during peacetime were now being tested in real wartime. "It was a challenging, demanding and exciting opportunity because, on a day-to-day basis, the intelligence analysts at the Joint Intelligence Center of the ISAF were directly supporting combat troops on the ground 24/7," DeFalco says.
"Our mission was to use our intelligence capabilities to inform combat commanders conducting operations against the Taliban," DeFalco says. "It's remarkable how successful we really were in integrating the reserve component with the active force and in making ourselves truly operational support." Today, there are more than 20 JRICs around the country. "It all started with that experiment back at Ft. Sheridan," says DeFalco.
DeFalco retired from the U.S. Navy Reserves as Captain in 2013. His last assignment was as Deputy Director of Intelligence at the National Joint Operations and Intelligence Center in the Pentagon. "This is the place where all the information comes in to inform both the President and the Chairman of [the] Joint Chiefs of Staff," DeFalco says. "It was a challenging and very, very interesting experience to be at that level and to see the decision-making that was done at that time."
DeFalco was among the first group of Navy Reserve professionals to qualify as an Information Dominance Warfare Officer and to earn the right to wear that Navy warfare breast insignia.
He retired from his civil career on the Navy Intelligence staff in March 2021. DeFalco and his wife, Marcia Glesener DeFalco, live in Florida. These days, he is writing for Law & Liberty, a website sponsored by the Liberty Foundation, and working on a book for which he hopes to find a publisher. The working title is "Menace: China's Threat to World Peace," and the book builds on his studies and published papers over the past three decades.
Education — as well as writing, speaking and teaching — were constant themes throughout DeFalco's life and career. With the help of the Navy, he earned a diploma from the Naval War College and a master's degree in strategic intelligence from the National Intelligence University. Later, as a civilian, he earned a doctorate of liberal studies at Georgetown University. "My education was the impetus behind my career, my success in the military and as a senior intelligence professional," he says. "My family was the inspiration for that."
He sums up his Navy career by saying, "It was the most rewarding and fulfilling experience of a lifetime. It was demanding, fast-paced, very challenging, and I am grateful for having had that opportunity."
Reprinted with permission from Fra Noi. (Copyright 2021) To learn more, click here.