A popular singer, comedian, impressionist and songwriter, Frank Pisani took his act to the next level while serving in the Army Reserves.
One of four children, Frank Pisani was born in Chicago to Francesco and Lucia DeCarolis Pisani. His parents emigrated from the province of Potenza in Italy and settled in the Grand and Western neighborhood known as "The Patch."
Pisani's father, a barber, gradually brought his brothers over from Italy. His mother, a seamstress, prepared delicious meals, including homemade bread and pasta. "Everything my mother made was really great," Pisani says, "but I was always looking for American bread, American bread. I didn't appreciate my mother until I got older." She dropped her son off at nursery school on her way to work, walking instead of riding the trolley. "We'd save four cents," Pisani says. "We'd go off to the bakery, and she'd buy me a donut."
Pisani graduated from Holy Rosary Grade School and St. Mel High School. He went on to DePaul University while working as an usher at WGN studio. The show "Bandstand Matinee," hosted by Jim Lounsbury, was a hit among teens, and Pisani sang to them as they waited in line to enter the studio. A group of these teens asked the host if Pisani could perform on stage, and they allowed it. To their delight, he belted out "Shaboom." The producers of the show invited Pisani to make a record, and he recorded "Cry Baby Cry," a song he wrote. While still employed at WGN, Pisani recorded a tune with The Highlights, a group he met at DePaul. Under the Bally Records label, his "City of Angels" reached No. 19 on the Billboard Hot 100 in October 1956.
Pisani graduated from DePaul with a bachelor of arts degree and continued to sing while he was employed as a substitute teacher in Chicago. He earned his certificate and taught full time in grade schools in the Rogers Park area. In 1958, Pisani joined the Army under the six-month program, which meant he had six months of active duty followed by five and a half years in the Ready Reserves instead of the two years of active duty required by the draft at that time.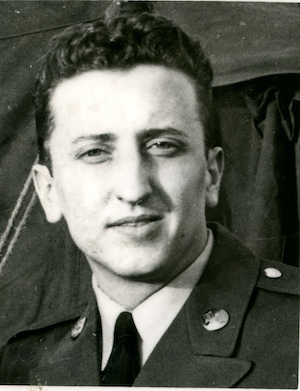 He had basic training at Fort Leonard Wood, Missouri, and was attached to Special Services. "They wanted me to entertain for the officers' club and all that," Pisani says. After basic, he transferred to Fort Gordon, Georgia, and learned Morse code as a radio teletype operator. Pisani completed his six-month active duty requirement and returned to Chicago to teach, sing and entertain, while fulfilling his Reserves requirements.
Four years later, Pisani was called to active duty because of the Berlin Crisis. He was attached to the 32nd Infantry Division from Wisconsin, stationed at Fort Lewis, Washington, near Seattle. "One night, we packed our bags — everything. We were ready to go on the plane, and then they called it off," says Pisani. "That was right at the height of the Berlin Crisis, if my memory serves correctly."
Pisani officially served as the company commander's driver, but his reputation as a singer and entertainer earned him gigs at the officers' clubs and elsewhere on base. He performed with a three-piece band and a master of ceremonies. "At that time, I sang only a couple of songs, and then we'd do a little bit, and that's how I started doing different things," Pisani says. "Later on, you grow by doing a little bit at a time."
He was stationed at Fort Lewis for one year. "It became a blessing for me," Pisani says. One night, he attended the Seattle World's Fair and saw the show "Girls of the Galaxy." As the emcee introduced the girls from the act, Pisani thought to himself, "I could do that." "The ironic part about it is that a week or two later, I was on that stage doing that exact same thing," Pisani says.
He had befriended the saxophone player, and when Pisani returned a week later, he learned that the emcee had been fired. The sax player encouraged Pisani to audition for the job. "I only knew a couple of songs at that time, you know," Pisani says. "I sang 'All of Me' and 'Old Man River.'" Offering him the job, the boss asked how much he wanted. Pisani answered with an "extraordinary price" and was turned down. He walked away thinking, "I gotta be nuts. I'd do this for nothing." He returned and said, "Listen, whatever you want to give me. What's fair is fair." He got the job.
Pisani was granted special permission from the company commander to be released from duty an hour early every day so he could drive to Seattle and do the show. There were no hard feelings from the soldiers when Pisani left early. "My guys were always rooting for me," he says. Before the world's fair opened, Pisani and his buddies frequented a bar in Tacoma. "I used to sing a couple of songs, and the owner would always give us a couple of drinks," he says.
Pisani chose the stage name Johnny Angel as he sang and emceed for the act "Johnny Angel and the Girls of the Galaxy." The group performed six 40-minute shows every evening. With much support from his fellow soldiers, Pisani maintained this rigorous schedule for several weeks until he was discharged from active duty with the rank of Private First Class. "I brought a little fame to my outfit because they wrote me up all over in the papers there as the singing Army guy." He remained in Seattle until the end of the fair. "It was like a strip show, but it was a great experience," Pisani says.
Pisani married JoAnn Blitz in 1976. They have two daughters and four grandchildren. "I couldn't ask for anything better," he says. "I was blessed." A Chicago Public Schools teacher for 10 years, Pisani emerged as a popular singer, comedian, impressionist and songwriter, enjoying a successful career that spanned decades from his first record, "Cry Baby Cry," to the occasional gig he still performs today. Memorable moments include singing on the "Dick Clark Show," portraying Tony Bennett in a movie, sharing the stage with many Hollywood stars and performing the closing act at the Martinique in Drury Lane in 2004.
Reflecting on his time in the Army, Pisani says, "I wish I could have done more, but I justify it by saying, 'Well, you put a show together for the troops,' and that was rewarding. Plus, when I was entertaining the officers' clubs, mess halls, whatever, I think I brought a little joy to some people there," Pisani concludes. "I feel like that was my contribution. That's it."
Reprinted with permission from Fra Noi. (Copyright 2022) To learn more, click here.