Born and raised in Italy, Cosima Risolvo joined the U.S. Army in search of adventure. Her travels took her throughout Europe and included an extended stay in the town of her birth.
One of five children, Cosima Risolvo was born in Taranto, Italy, to Giuseppe and Maria Buda Risolvo. Her maternal grandparents were from Sicily and Bari, and her paternal grandparents were from Taranto. Risolvo lived near grandparents, aunts, uncles and cousins. "We grew up almost as brothers and sisters with my cousins," she says. Gatherings were not limited to the weekends. "Family visits were spontaneous, and serving dinner, snacks and desserts were the norm," Risolvo says. "Not to mention the tazza del caffè — the espresso cup was a must."
Meals were special at the Risolvo home. "My mother is a great cook and makes the best stuffed eggplants, baked artichokes, zucchini parmigiana and tiramisu, just to name a few," Risolvo says. Her father, the family baker, made popular pastries such as cannoli, veneziane and zeppole, as well as everyone's birthday cakes. "Our Christmas traditions, the special ones, are the desserts," she says. Cartellate and sannacchiudere tarantini were two popular treats, and her family continues to make them today.
When Risolvo was 12 years old, the family moved from Taranto to the United States, settling in Elmwood Park, near her mother's extended family. Though she felt very sad about leaving relatives behind, Risolvo was "beyond excited" about the move. "You hear so many things about America," she says. "You just can't believe that it's happening. It was a life-changing experience." Risolvo's family flew with an uncle and his family, 14 of them all together. "It was a caravan," she chuckles.
Without knowing one word of English, Risolvo entered the seventh grade at Elmwood Grade School. She attended regular classes but was taken out of one class per day to work with an English tutor. It was difficult at first, "but everybody was friendly and welcoming," Risolvo says, "especially the teachers."
After graduating from grade school, she attended Elmwood Park High School, where she excelled in art classes all four years. "I was always drawing as a kid," Risolvo says. She graduated in 1986 and joined the U. S. Army in January 1987. "I wanted adventure in life," she says. Her parents, not understanding her desire for new experiences and travel, were afraid for her. "They were sad to see me go," Risolvo says.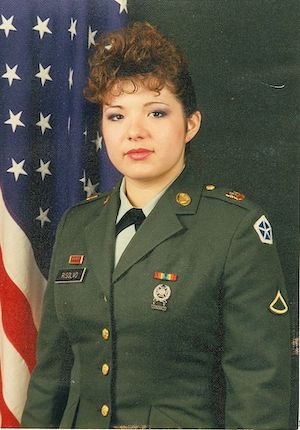 Leaving home for the first time, Risolvo was stationed at Fort Jackson, South Carolina, for basic training. "It was really scary and exciting at the same time," she says. The eight-week course was tough, but Risolvo feels she was not treated any differently as a female soldier. "It's true what they say. They do break you down to build you back up," she says, "but that's all part of strengthening you." Risolvo remained at Fort Jackson for Advanced Individual Training (AIT) in her Military Occupation Specialty. "In the ASVAB (Armed Services Vocational Aptitude Battery) exam, I tested really high in the administrative portion," Risolvo says.
After AIT, she deployed to Frankfurt, Germany, where she was stationed at Kennedy Kaserne with the 5th Corps Battalion as a 71L Administrative Specialist. Risolvo lived and worked in the six-story barracks building until January 1990. When it became known that she was an artist, Risolvo was called upon to paint murals in Kennedy Kaserne, five in hallways and one in the colonel's office. "They asked me to paint specific murals from photos of field exercises, an active shooting range and parachuting soldiers in a plane ready to jump," she says.
A typical day began with physical training at 5:30 a.m., followed by breakfast, cleaning details and preparing for work. Risolvo worked regular hours — 8 a.m.-5 p.m. — in barrack offices. Her duties included office administration, correspondence, mail sorting, typing certificates and compiling spreadsheets. "I did a lot of word processing of standard operating procedures, data entry," Risolvo says. "The one I enjoyed doing the most was being the promotion board recording clerk."
Army personnel up for promotion appeared before a panel of high-ranking non-commissioned officers and answered their many questions. Risolvo recorded and scored their answers according to a matrix.
She took part in war simulation field exercises during the winter. Her duties included radio communications and marking enemy locations, advancements, obstacles and attacks on a map as they were reported. "We set up tents in the woods and simulated war strategies," Risolvo says. "It was really cold, and we ate MREs (Meals Ready-to-Eat). The sleeping tents had a wood-burning stove, and the cot was really uncomfortable. But it was war time, so what could you do?"
A soldier must qualify with her weapon regularly, Risolvo explains. "They take you to the practice range, and then you qualify depending on your accuracy in hitting the target," she says. "I qualified as an expert on the M16A1 rifle. The targets were at different distances, and sometimes we had pop-up targets, which were a fun challenge. Scan your sector!"
Risolvo was one of a few chosen from her company to take part in weapons qualifications with a "sister company" from the German army. The soldiers qualified with five different weapons and an 18-kilometer (11-mile) march. The German company consisted of all male soldiers, as females were not allowed in the German army at that time. "The funny thing was that they were shocked that I was a woman, and I was an expert shooter," Risolvo says. She qualified with their weapons the first time she shot. "They couldn't believe I was that good," Risolvo chuckles.
She had free time in the evenings and on weekends. The base provided recreation rooms with pool tables and ping pong tables, and she frequently ventured into Frankfort. The Army issued 30 days off a year, and Risolvo used that time to quench her thirst for adventure. She traveled to Austria, Belgium, France, the Netherlands and Italy. In Italy, she stayed with family for 25 days. "It was really good to see them again," she says. "I hadn't been there since I was 12, and it brought back my childhood memories."
Risolvo was discharged in January 1990 as an E4 Specialist. She returned home to her parents and attended Southern Illinois University, graduating with a bachelor of fine arts with a double major in painting and drawing. Through the years, Risolvo has worked in graphic design and marketing, and she got married and raised two sons. She began exhibiting her work in 2016 and has been featured in group, juried and solo exhibitions since then. She specializes in figurative drawing and expressionist abstract paintings. Continuing her quest for adventure, she recently moved to Tennessee.
Reflecting on her time in the Army, Risolvo says, "It was challenging and tough, but I'm glad that I made the decision to join because I think it helped me to be the strong woman that I am today. I am proud that I got to serve. I would not change a thing."
Reprinted with permission from Fra Noi. (Copyright 2022) To learn more, click here.