Suffering 75 percent hearing loss as a member and then leader of a mortar squad in the push toward Berlin, Alex Fosco took part in three major battles on the way to victory over the Nazis.
The oldest of five children and only son, Alex Fosco was born on Sept. 19, 1925, in Chicago to Alex and Mary Vespa Fosco. The family lived in the Italian neighborhood at Taylor and Halsted streets. Fosco's father was born in France, but his family was originally from Pizzone, Italy.
Fosco enjoyed spending time with his extended family, especially his maternal grandmother, Angelina Vespa. "She spoke Italian to me, but we were encouraged not to speak it outside of the home because they wanted us to be American," he says.
Fosco was also fortunate to have a close relationship with his uncles Bill and John Vespa, who owned an accordion repair shop. Visits fostered his interest in learning how things work and figuring out how to fix them. "I loved to spend time there after school watching them work," he says. The family celebrated the Feast of the Seven Fishes on Christmas Eve. "I remember my mother soaking baccalà in the bathtub," Fosco says. "She was an excellent cook."
Jane Adams Hull House offered various activities for the children of immigrants living in the area. "My sisters and I spent a lot of time there," Fosco says. He took an interest in the theater group, working behind the scenes as well as on stage. "I was a pirate in 'The Pirates of Penzance,'" he says.
Fosco graduated from Dante Grade School and went on to Crane Tech High School. When he was 16 years old, he left school to find a job. "I needed to help my family," Fosco says. He worked at Cinch Manufacturing as a receiving clerk on the loading dock until he was drafted, like most of the young men in his neighborhood. "Our country needed us," says Fosco.
In January 1944, he reported to Fort Sheridan for processing into the United States Army and then shipped to Camp Breckenridge, Kentucky, for Basic Training. His parents were not happy about their only son being drafted. "My mom was sad, but they understood that I needed to help," Fosco says. He received additional training in heavy mortar operation. "I volunteered for this specialty because I felt it was important," says Fosco.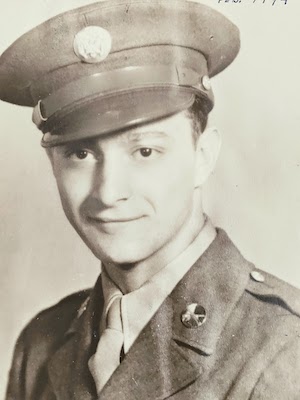 Fosco was assigned to the 75th Division, 290th Infantry Regiment, 1st Battalion, Company D. He was deployed to England in November 1944 and fought in the European Theater, advancing through the countryside with his unit and pushing the Germans back through Belgium and France toward Germany. He started out as a second gunner in the 81 MM Mortar Platoon. "My job was to drop the shells into the mortar," Fosco says.
On Christmas Eve 1944, Fosco fought the Germans in the Battle of the Bulge. Under a heavy barrage of gunfire, he continued loading mortars, but after a volley of shots, the gun misfired, a potentially dangerous situation for the gun crew. Meanwhile, his squad leader was hit by enemy fire and suffered severe injuries to his arms.
In the confusion of battle, Fosco initially thought the mortar had blown up. Recovering his bearings and still under heavy fire, the quick-thinking Fosco first attended to the immediate threat. "I picked up the mortar and defused it," Fosco says. "I did exactly what I was supposed to do to keep it from exploding." Then Fosco turned his attention to his squad leader, grabbing a first aid kit and rushing to his side. "I patched him up the best I could before they took him for help," Fosco says.
In the following weeks, Fosco's unit continued advancing, battle after battle. Casualties were high. He was promoted from private to staff sergeant during his time in combat and acted as squad and section leader. "I supervised 10 men operating two 81 MM heavy mortars," Fosco says. As a forward observer, he searched the area for the enemy and directed members of his team.
When General Patton jumped into the icy river in Luxembourg and swam across as an inspiration to his troops, Fosco witnessed it from a distance. "Patton really was a kind of crazy guy," Fosco says, "but I respected him."
After the war in Europe ended, Fosco remained in Germany as part of the Occupation Army. Patrolling through the countryside and towns, he stopped people he encountered and asked for their papers as part of the process of identifying if they were civilians or possible enemies. "I still remember asking them in German, 'Zeig mir deine papiere,'" Fosco says. Though 1945 was a long time ago, Fosco vividly recalls the local children watching the soldiers eat. "They looked hungry," he says. "I couldn't eat. I gave my food to the kids."
Fosco returned to the United States in July 1945 with orders to train at Fort Lewis, Washington, for the invasion of Japan. While he was home in Chicago, he married his sweetheart, Caroline Marchegianni, on Aug. 5, 1945, the day before the atomic bomb was dropped on Hiroshima. Fosco's orders were then changed, and he transferred to Austin, Texas, to finish out his military service. He was discharged in April 1946 with the rank of technical sergeant.
Fosco received the European Theater Ribbon with three Bronze Battle Stars as well as a Good Conduct Medal. Recently, he was awarded the rank of Chevalier in the Order of the French Legion of Honor.
Upon discharge, Fosco returned to his job at Cinch Manufacturing, which eventually became TRW. He retired as manager of sales service after a 49-year career. Fosco has two children, six grandchildren and six great-grandchildren.
Fosco suffers from 75 percent permanent hearing loss as a result of firing mortars. The teen from a poor family learned how to survive while battling the Germans in harsh winter conditions. "I went there as a boy and grew up fast," Fosco says. "What I remember most is that we made it home."
Reprinted with permission from Fra Noi. (Copyright 2021) To learn more, click here.