Intent on entering the field of health care, Joseph Matty turned to Uncle Sam for help in pursuing his career by joining the Air National Guard.
The oldest of two sons, Joseph Matty was born in Chicago to Ray Matty Sr. and Ann Marie Clark Matty. His paternal great-grandparents emigrated from Palermo, Sicily, and his maternal great-grandparents came from the regions of Calabria and Naples.
Matty grew up in the Marquette Park neighborhood on the South Side of Chicago. His grandparents lived about four blocks away; aunts, uncles and cousins all lived within a mile and a half of each other; and they all enjoyed close relationships. "Family and traditions were very important," Matty says. "It's that tribal mentality, that family mentality that everybody pitches in and helps one another."
He remembers making ravioli with his maternal great-grandmother, little nonni. "Being in the kitchen with little nonni, my grandmother and my mom is still very ingrained in my memory," he says. Matty fondly recalls his paternal great-grandmother. "I remember her smoking over the pot of sauce and always thinking that there might be a little ash in there," he chuckles.
Matty graduated from Queen of the Universe Grade School and Brother Rice High School and planned on becoming the first in his family to attend college. A highly decorated athlete, he received scholarship opportunities but realized the only way he could attend college without adding a lot of debt was with the help of Uncle Sam.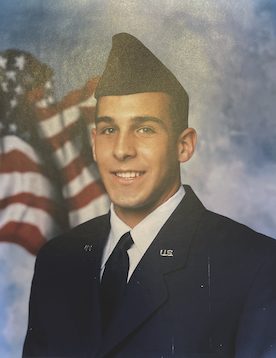 After making the decision to join a branch of the armed services, Matty enlisted in the Air National Guard of the United States Air Force in December 1996. He graduated from Brother Rice in May 1997 and headed to Lackland Air Force Base in San Antonio for basic training that June.
Matty was enrolled in Food Services and Dietetics and, after scoring extremely high on his tests, completed technical school in Alabama before advancing to medical training while stationed in Alabama and Mississippi. "I knew when I got out of college I wanted to get into some aspect of medicine or health care," he says.
Matty explains that his mother was diagnosed with multiple sclerosis when he was in fourth grade, and he spent a lot of time in the presence of medical professionals at Loyola Hospital. His mother's illness greatly influenced his life. "It just always was innate with me, given the care and compassion those physicians and nurses gave my mother and father," Matty says. "So that was something that, growing up, I viewed as an opportunity to have as a career, not just a job."
After completing advanced training, Matty attended Northern Illinois University in DeKalb, Illinois, graduating with a bachelor's degree in health administration. He went on to earn a master's in university finance.
While attending college classes, Matty trained with the Air National Guard for two weekends a month at the Peoria Air National Guard Base. He often stayed an entire week, Friday to Friday, allowing him to take part in additional medical training and work at the base.
In 2000, Matty was called up to active duty and deployed to the Aviano air base in Italy as a senior airman. "We were helping out with training and preparation, specifically for dietetic and mortuary," Matty says. "At the time, dietetic and mortuary were charged with preparing the body if somebody had died, getting them ready to be sent over to Dover Air Force Base." Matty trained other airmen in addition to Army personnel stationed at the base.
After a few weeks in Italy, Matty returned to the States and prepared for deployment to Kuwait, specifically for medical evacuation. Staff Sergeant Matty was stationed at Ali Al Salem air base in Kuwait during the summer of 2001. Attached to the 182nd Support Group, he trained airmen for mission readiness. He was also instrumental in implementing new preventive and safety measures for the group.
The 182nd provided support to the American and British pilots stationed on the base. Any time the pilots were in the air for training maneuvers or reconnaissance missions over Kuwait, C130 cargo planes were on the tarmac ready to go. "Really, we just had to make sure when the pilots were doing their missions that, God forbid anything happened, we would be able to load the C130 and go evacuate anybody who needed evacuation from a medical perspective," Matty says.
When on liberty, he had the opportunity to visit the urban centers in Kuwait, see the Gulf, and experience the culture and what daily life would be like as a Kuwaiti. Matty and his fellow airmen tried to blend in. He chuckles as he says, "I came from the South Side of Chicago. I'm not going to blend in." The locals often took their pictures. "They loved us," he says. "We were informed many times that they were just in awe of Americans. That was a very warm reception we received in 2001." Matty returned to the States in August 2001, just before the world-changing events of 9/11.
Matty was discharged from the Air National Guard in 2002 as a staff sergeant. He was offered the opportunity to become an officer in the Air Force but declined because he was focused on pursuing the goal of becoming a professional in the American health care system.
The Air National Guard gave Matty the chance to study and do medical research while taking courses in the Air Force and in college. Throughout it all, his mother's illness was always on his mind. "All the things I would look into, I always had the thought that, 'I'm not a neurologist, but I can still help somebody,'" he says. Today, Matty is president of a health care foundation in Chicago. "Over the last five years, I've been doing that and doing consulting and advocacy work for nonprofits in health care," he says. Matty works with elected officials to inform them about health care options for their constituents and with health care foundations to help them enhance services for people who need palliative and hospice care as well as children who need pediatric care. "It's always been that vein of service and helping others," Matty says.
Matty is married to Kate Braser Matty, and they have four children. His parents live four blocks away, just like his grandparents did when he was growing up. Family and traditions are still very important to him.
"I think that the time in the Air Force along with my schooling at Brother Rice provided the framework for really building a career and making sure that you always remember it's not always about you," Matty says. "We have a great country, and we have so much to be thankful for. My training helped me see the world in a different light and taught me that we need to make sure we stay humble and grateful for what we have as Americans."
Reprinted with permission from Fra Noi. (Copyright 2021) To learn more, click here.