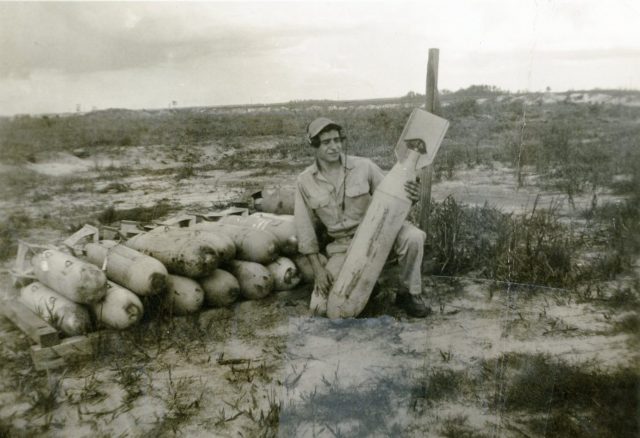 An electronics specialist for the Air Force at the tail end of World War II, Dominick Gobbo also did a 21-month tour of duty as an aircraft operator in Korea.
Editor's Note: Ralph passed away March 2017. This article was published in the April 2016 issue of Fra Noi and is being republished here in his memory.

The youngest of five children born to Sicilian immigrants, Dominick Gobbo was born on the kitchen table in his family's home at 1147 Townsend St. in Chicago. His parents, Vito and Victoria (LaPorta) Gobbo, wanted to raise their kids in a better neighborhood, so when Gobbo was 3 years old, they bought a building on Sheffield and Grace.

Gobbo attended St. Mary of the Lake Grammar School, transferring to St. Vincent DePaul when his family moved. While in seventh grade, he saw a movie with his dad, telling his teacher about it afterward. "Well," Gobbo recalled, "the nun didn't approve of the movie and sent a note home saying it was wrong." Gobbo's dad immediately transferred him to Mulligan Grammar School.

After graduating from Lane Tech High School, Gobbo attended Wright Junior College, registering for the draft on his 18th birthday in December 1943. Given the options of choosing a branch of the military or having the choice made for him, he picked the Air Force. "I didn't want to go in the subs," he explained. "I didn't want to sleep in foxholes. I thought, 'If I die, I'm gonna die in a ball of fire, that's it.'"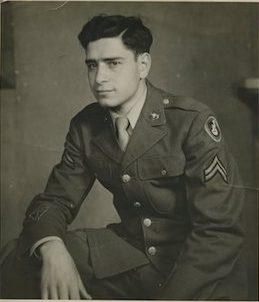 Gobbo reported for induction in February 1944. Thinking he was only going for a physical, he ended up swearing in and immediately boarding the train to Fort Sheridan. "I was surprised," recalls Gobbo, who had assumed that he would have 60 days after reporting to spend with his family. "My mom was waiting for me to come home and eat!"

Gobbo deployed to Keesler Airfield in Biloxi, Miss., for basic training, followed by 26 weeks of radio mechanic training at Truax Field in Madison, Wis. Six weeks of electronic school came next at Chanute Field in downstate Illinois. Gobbo then completed advanced electronic training at Boca Raton Field in Florida. While there, he fabricated classified material known as "windowing." Bombers were equipped with these strands of aluminum foil, which they discharged into the night air over Germany or France. A diversionary tactic, the strands were picked up by enemy radar, giving the illusion of a tremendous air raid.

Gobbo was attached to the Third Air Force, 88th Bombardment Group, 316th Bombardment Squadron, whose main mission was coastal defense. He patrolled along the southern shores of the Atlantic as well as the Gulf of Mexico.

One of his responsibilities was maintaining the IFF, the radio system used to identify friend or foe. Gobbo said that technology was in a constant state of flux during World War II, becoming outdated soon after he studied it. "Nothing was for certain," he explained.

During his free time, Gobbo attended dances. He fondly recalls a buddy of his who always carried a camera. Whenever he saw a pretty girl, he would snap her picture and ask for an address to send the photo. "He never had any film in the camera," Gobbo chuckled.

When the war ended in Europe, Gobbo's unit regrouped for an attack on Japan, which never occurred thanks to the bombing of Hiroshima and Nagasaki. He was discharged in May 1946 at the rank of corporal.

Gobbo returned to Chicago after the war, working for the family business, which supplied other companies with coal, oil and building materials. He planned on working three days a week while attending college, but when Texaco Oil Co. approached them with a contract, three days a week became five.

In March 1950, Gobbo joined the Inactive Reserves. "A friend of mine talked me into it," he explained. "[It was] something to do on weekends." Once a month, he reported to Orchard Air Base, now called O'Hare Airport, for training and maneuvers. Five months later, Gobbo received a telegram from President Harry Truman telling him to report for 21 months of active duty in a "police action" in Korea. "I never thought I'd end up on active duty," Gobbo remembered. "My mother was ready to kill me!"

After deploying to Shaw Field in South Carolina for a crash course in radio operator code and maintenance, Gobbo was assigned as a senior aircraft operator for the recently issued C46 military transport plane. The aircraft was equipped with long-range fuel tanks, enabling it to fly 2,400 miles without stopping. The nonstop flight from South Carolina to Sacramento, Calif., went off without a hitch. Journey legs between California and Japan included Hawaii, Johnson Island and Guam, after which the plane was deemed ready for combat.

Gobbo was stationed in Fukuoka, Japan, about 90 miles from Busan, Korea. Roads were practically nonexistent in Korea and especially impassable at night and in the winter. "Everything had to be brought in by plane," Gobbo noted

. "Every day, whatever they wanted, we brought it round the clock." The C46s hauled paratroopers, gasoline, food, supplies, bombs and petroleum products to the battlefront, returning with POWs and the wounded. "You name it, we did it!" Gobbo exclaimed.

During the battle at Wonsan, the U.S. Navy was firing artillery shells to stop the advance of the North Korean army while Gobbo and his crew flew back and forth, evacuating U.S. troops as quickly as possible. The planes returned filled to capacity, with the wounded lying on stretchers in the aisles.

Artillery explosions roared as the C46s continued the evacuation. "You're so scared you're not scared: It's a horrible feeling," Gobbo recalled. "You don't want to show that you're afraid, lest it become contagious. It's surreal, like it's not happening."

When he wasn't flying, Gobbo lived 12 men to a tent on an airbase in Fukuoka. Conditions were terrible, Gobbo said, but "we got used to it." Every 60 days, he received a care package from home: a whole wheel of provolone that he hung from a string and divvied up with a knife for all to share. The aroma of cheese filled the tent, prompting a master sergeant to complain that the tent smelled like dirty feet. One night, after several drinks, he tried the provolone and fell in love with it.

Gobbo finished his tour in January 1952, returning home to Chicago as a sergeant. He remained in the inactive reserves until 1957. He joined his brother in an asphalt company, later taking over the business until his retirement in 1990. Gobbo met his future wife, Mary Ann, at a Catholic youth dance and they married in 1955. They raised three children in Park Ridge and have many grandchildren. He passed away on March 28, 2017.

There was a vast difference between World War II and the Korean War, according to Gobbo. "In World War II we fought for our freedom," he said. "When I came back [from Korea], nobody knew there was a war on. I was totally disgusted. But I made lifelong friends, which was a wonderful thing."

Reprinted with permission from Fra Noi. (Copyright 2021) To learn more, click here.
Linda Grisolia is a longtime Fra Noi correspondent, having contributed Onori and War Stories features over the years. She is a proud founding member of the Italian American Veterans Museum at Casa Italia and is a member of the board of directors. Many of the Italian-American veterans she interviewed for the Fra Noi were featured in the documentary, "5000 Miles from Home", which aired on Channel 11. As a child, she remembers paging through her grandpa's Fra Noi newspaper, fascinated with the Italian words, never dreaming that one day she would be a correspondent for that wonderful publication.