Part of an elite strike force that led the charge to unseat Panamanian dictator Manuel Noriega, Sammy DiTusa and his battalion left the country 20 days later with a victory in hand.
On Dec. 17, 1989, President George H. Bush gave "Operation Just Cause" the green light, setting in motion the U.S. invasion of Panama. The goal was to capture Panamanian dictator Manuel Noriega and restore democracy to Panama. The invasion was set for the predawn hours of Dec. 20, a scant three days later.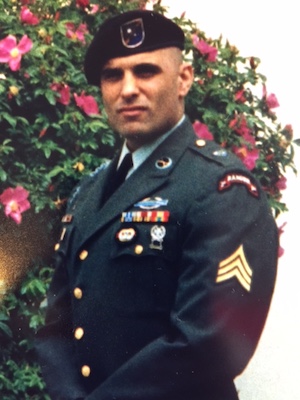 The lead elements of the invasion represented a cross section of the U.S. military's finest. They included Navy SEALs, Marine Force Reconnaissance, Delta Force, Air Force Special Operations, and the U.S Army's elite 75th Ranger Regiment. They were to secure critical objectives such as Noriega's personal boat and aircraft, seize and control Rio Hato Airfield, knock out radar installations and pave the way for the almost 26,000 U.S. troops to follow.
The 2nd Battalion/75th Rangers parachuted into the Panamanian sky at 1 a.m. in the U.S. military's first combat night jump since World War II. Among them was Specialist Salvatore "Sammy" DiTusa from Melrose Park.
The son of first-generation Italian Americans Salvatore Sr. and Catherine DiTusa, young Sammy grew up in a family with a rich military tradition. "My father was the youngest of five brothers. His four older brothers served in WW II, and my father saw combat in the Korean War," DiTusa says. "I grew up listening to their stories and joining the military was something I always wanted to do."
Born at St. Anne's Hospital in Chicago, DiTusa grew up on the West Side of the city until the age of 11, when his family moved to Melrose Park. A graduate of Stevenson Elementary School and Proviso East High School, he was a standout athlete at Proviso East, where he starred on the football, track and hockey teams. He also got pretty good with his dukes, learning to box at LaFollete Park and added several amateur fights at Chicago's fabled Boston Ballroom to his athletic resume.
"When I volunteered for the military I wanted the toughest training available," DiTusa explains. "I enlisted in the Infantry, became a paratrooper and got a chance to try to become an Army Ranger." He entered the Army on Oct. 1, 1987 and was sent to Ft. Benning, Georgia, for basic and airborne training. "I enjoyed the physical aspect of the training and I passed with flying colors," he recalls. "It was the Ranger indoctrination program that truly tested me, both physically and mentally. To this day, completing that program and being awarded the distinctive black Ranger beret remains one of the proudest moments in my life."
After training, DiTusa was assigned to the 2nd Battalion of the 75th Ranger Regiment at Ft. Lewis, Washington. While stationed at Ft. Lewis, DiTusa and his Battalion got the word, and began immediate preparations for combat. On Dec. 19, 1989, DiTusa and his fellow Rangers boarded 13 C-130s and took off from Fort Lewis' Lawson Army Airfield. It was their D-Day!
"We were loaded with equipment, dressed in full combat gear," DiTusa says. "Between my rifle, helmet, my ruck [backpack], parachute and other miscellaneous items, I was carrying about 100 pounds."
The flight from Ft. Lewis took eight hours, and DiTusa had the distinct honor of being on the lead bird, the first plane in, with the battalion commander and sergeant major. He was one of the very first Americans to land in Panama.
"The plan was to parachute in and jump from 500 feet," he says. "As we approached our drop zone, we started taking incoming fire. Our C-130 was riddled with enemy rounds. We could hear them hit and pass through our plane! Taking evasive action to avoid being shot down, our pilot veered down and banked sharply. We jumped immediately at an altitude of 450 feet. Within seconds we were on the ground."
As a result of jumping from such a low altitude, their parachutes barely had time to fully open, and upon landing, many of the Rangers suffered serious injuries from the impact.
"When my parachute opened, the lines tangled and I began to spin out of control," DiTusa says. "Training took over, I kicked my legs and bicycled until my chute stabilized. Just as it did, I hit the ground hard, landing alone in eight feet of elephant grass. I immediately came under enemy fire, so I crawled on my belly, returning fire with my own weapon until I came upon a road. I got my bearings, knew where I was and knew I had to cross that road to hook up with the rest of my platoon. But there was a Panamanian vehicle covering the road. I fired on the vehicle, which momentarily caused them to take cover. That gave me the window I needed to cross that road and meet up with my unit. I had been missing for about an hour; they thought I had been killed."
One of the objectives of the operation was to secure Noriega's Beach House. There, they came across a treasure trove of everything from the best alcohol money could buy to gold, jewels, weapons and anything else imaginable. "We all grabbed souvenirs, but everything we took was taken away from us!" DiTusa recalls. "Teams of U.S. customs agents were flown in to fully search everybody departing Panama. Anything we weren't issued was confiscated."
DiTusa was able to leave the country with one special souvenir. "Noriega had a pool table, and as we were getting ready to leave, my squad members and I each grabbed a ball from Noriega's pool table. I got the 8 ball and I still have it today!"
"Operation Just Cause" officially lasted from Dec. 20, 1989, to Jan. 31, 1990, but DiTusa's unit returned to the U.S. after 20 days of combat. Total U.S. casualties were 23 killed and 325 wounded.
For his service and combat action, DiTusa received the Armed Forces Expeditionary Medal with Arrowhead device for making a combat assault, the Combat Infantry Badge and a coveted Bronze Star to his jump wings, signifying his participation in a combat jump. Since the end of World War II, only a handful of Army paratroopers has been entitled to wear that combat star on their jump wings.
After leaving the Army, DiTusa was offered the chance to serve as a police officer in Seattle. Stationed at Ft. Lewis and living in the Seattle community, it was a natural fit. He stayed 20 years and retired.
He then moved back home to where it all started, living in the Chicago area. He is presently employed by Southwest Airlines and works with kids in a local boxing gym. He recently appeared on national television working in the corner of one of his fighters.
During World War II, more Italian Americans served in the U.S. military than any other ethnic group. Sammy DiTusa kept alive that spirit. He has forged his own history and rightfully takes his place among the ranks of previous generations of Italian Americans who have proudly sacrificed and served our country so well.
Reprinted with permission from Fra Noi. (Copyright 2020) To learn more, click here.