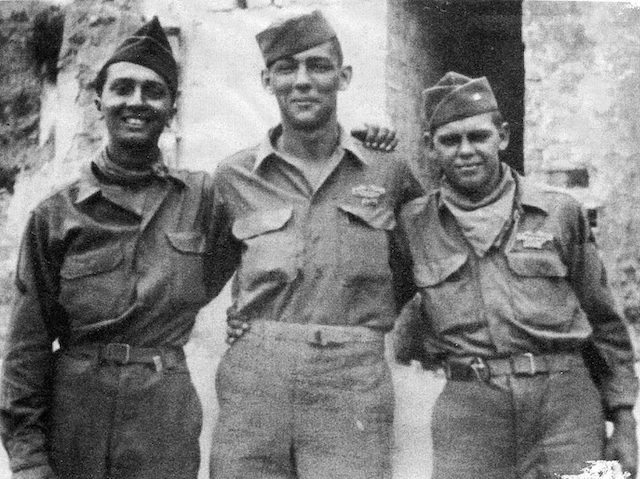 Army Sergeant Albert Onesti stared death in the face time and again, emerged from World War II a better man for it.
Albert Onesti was born and raised in Chicago. He graduated from McKinley High School and was drafted into the Army one month later.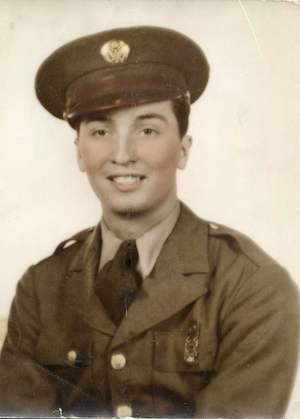 He completed basic training with the infantry and embarked for places unknown. The ship was crowded and the men were "packed like sardines." Thirty days later, after maneuvering a zigzag course to thwart enemy submarines, Onesti arrived in Oran, Africa. He and the rest of the crew were weak from eating the same food: orange marmalade and bread.
Shortly afterward, Onesti arrived in Anzio, Italy. He was young and did not think he was going to war. "We ate delicious homemade bread," he recalls. Onesti traveled deeper into Anzio and when he saw explosions in the distance, he thought, "Oh, they're just trying to scare us." At the frontline, his lieutenant said, "OK, you guys dig in, make your foxhole."
Onesti and Mike Narducci, also from McKinley, dug in and darkness fell. Two hours later mortar shells ripped through the air. Onesti said, "We got so scared! We almost literally crawled into our helmets." The shelling lasted about an hour and Onesti settled down to spend his 19th birthday in a foxhole on the frontline. He told his buddy, "Mike, it's impossible for us to go home."
For months, Onesti and Narducci shared their foxhole and took turns sleeping. One night Onesti awakened to hear, "Al, Al, I'm hit, I'm hit!" He thought he was dreaming and then heard, "Please, help me! help me! Onesti jumped out and found Narducci lying about 15 feet away. He dragged him back to the foxhole amid the shelling and Narducci screamed, "Please, don't let me lose my leg." Onesti, frightened, cried along with him as he patched him up and called the medic. The two of them carried the wounded soldier to the rear and Onesti returned to battle.
After Anzio and Rome, the next battle was the invasion of southern France. Onesti's ship stopped at a safe distance and waited as the battleships bombarded the coast for an hour. Next came the airplanes, hundreds of them, group after group, dropping their bombs. Onesti said it was one of his highlights of the war. "The thrill was that those guys were on our team. It was amazing, four times greater than the Fourth of July."
The soldiers disembarked and moved inland, encountering a farmer who said, "Oh, we didn't expect you guys so soon." They chased after the Germans and ran out of ammunition and food because their supply ship was bombed. Onesti thought, "If they should stop and fire at me, I'm dead."
Onesti was overtaken by depression during his first month in France. He was upset that Narducci had been injured at Anzio and he had lost another buddy. He hardly ate and became so weak that he was barely able to carry his rifle and field gear.
During a three-day rest period, Onesti kept to himself, disappearing into a foxhole to wrestle with his demons. On the last night, he gave himself an "Abraham Lincoln" speech. He said aloud, "You are an American; you have to be proud of it! Our forefathers fought for our freedom, gave their lives: Now it's your turn! Give it all you got! Don't be afraid to die!" With the talk he gave himself, "The next morning, I came out strong and full of fight!"
The next morning, as the soldiers headed back to the front, Onesti "was like Popeye." He was filled with energy. He helped weak soldiers carry their rifles; at one time he had six slung over his shoulder.
He attained the rank of sergeant and led his squad to the front over and over. During a forest battle, Onesti and his men were engaged in heavy gunfire with the Germans and a soldier was hit. Onesti dragged him to safety and patched him up, all the while hearing gunfire. Suddenly, the forest was empty, just Onesti and his wounded man. He found a way out and with the injured soldier leaning on him, climbed a hill to safety where they stayed almost a day before soldiers from their outfit found them.
A telegram was sent to Onesti's family stating that he was missing in action. Not until a week later did they learn that he was alive and well.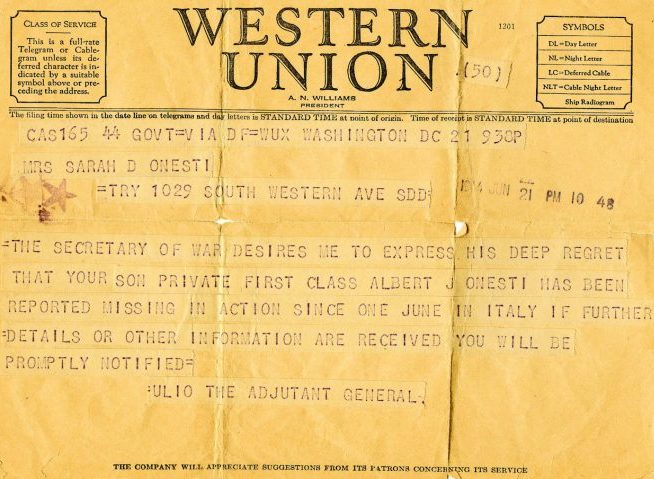 The captain was impressed with Onesti's actions and offered to make him an officer. Onesti turned him down because he thought he would have to join the reserves after the war.
Along with his corporal, Onesti entered rural towns in France and flushed out the enemy. In one farmhouse, the residents silently pointed to the basement. Three German soldiers were hiding there and Onesti took them as prisoners.
Onesti's feet were becoming increasingly sore as the war wore on. He limped and felt like he was walking on stones. The medic discovered he had trench feet and sent Onesti to a hospital in Naples. He was anxious to return to his men and kept asking when that would be. He learned that he was reclassified and could no longer go to the front. He ran down the hall yelling, "I'm gonna live; I'm gonna live."
When Onesti returned to New York on New Year's Eve, 1945, an all-girl band played patriotic songs in the harbor. He said, "I was in awe … I can't explain the feeling I had."
Onesti resides in a suburb of Chicago and is a retired tailor. He and his wife have three children and three grandchildren.
Onesti, recipient of three Battle Stars, reflected on the war and said, "War is no good, but I was very proud to be in the Army … to be an American."
Reprinted with permission from Fra Noi. (Copyright 2020) To learn more, click here.