As a member of the 34th Infantry Division during World War II, he battled his way up the peninsula where his father was born.
One of five children, Ferdinand Prestia was born in 1921 to Peter and Jenny (Tavolina). His father immigrated to Chicago from Marsala, Italy, by himself when he was 17 years old. The family moved several times during Prestia's childhood, always in Italian neighborhoods, before settling in the 3900 block of West Flournoy Street.
Prestia graduated from Sumner Grade School and attended Crane Tech High School. Over the years, his father worked hard to bring his brothers, sisters and parents over from Italy, and Prestia grew up with many relatives close by. "At that time, you had a big family you all get together," he says. "Christmas, my mother would bake everything." He remembers his mother as a good cook. "She used to make breaded veal, out of this world," Prestia says. "That was a favorite, everybody's favorite, I guess."
Baseball was a popular pastime for Prestia, his brothers and friends, and they played whenever they could. During a game, someone called him "Casey at the Bat" and the nickname, Casey, stuck and remained with him through life. "My mother called me that; my father called me that; everybody called me that," says Prestia.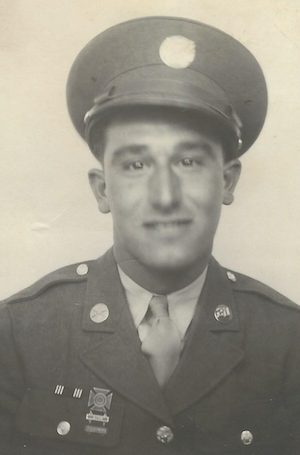 He was working at a tailor shop when he was drafted into the Army in October 1942 and completed basic training at Fort Carson, Colorado. Prestia remained there for a year learning survival and combat skills as an infantry soldier in both the mountains and jungle. "We didn't know where we were going to go," he says.
Prestia was assigned to the 168th Regiment, 34th Infantry Division, and in June 1944 boarded a ship for a 10-day voyage across the Atlantic Ocean. "We were lucky no German boat was allowed to sink us," says Prestia. After a two-week layover in North Africa, he shipped to Naples and remained in Italy until December 1945.
Fluent in Italian, Cpl. Prestia led patrols from Naples through Rome and the northern Apennines, searching for Germans. He carried a Thompson submachine gun and a .45. "Well every nighttime, they wanted somebody to lead a patrol to talk to the Italian people; that was me," he says. "We'd go around to the Italian people and ask them 'Did you see the Germans? Were the Germans here?'" Most of the patrols were at night to avoid being seen by the German soldiers.
Day and night, Prestia and his fellow soldiers were always on the move looking for the enemy, in and out of many towns, taking shelter when and where they could. "Sometimes you slept; sometimes you never slept and sometimes you didn't get anything to eat," he says. After about 30 days on the line, the soldiers were pulled back. "If you're lucky, you get a rest … a shower and something hot to eat," Prestia recalls. In the mountains, they ate K rations. "You got to eat it," he says, "or starve."
Going through the mountains was treacherous, and, "It was cold, plenty cold," says Prestia. One night they came across a bomb-damaged house and the lieutenant told his men to go inside. Prestia noticed a wood-burning stove along the wall. "Boy I wish this thing would throw some heat," he said to the others. "No sooner than I said that a bomb comes through the roof, lands about two inches away from my stomach, never went off," he says, shaking his head in disbelief. The soldier next to him gently picked it up and carefully carried it outside. "There was a whole bunch of us in there. If it went off, I don't know how many would have been killed," Prestia says. "I tell you, I prayed to the Lord. I said, 'Give me another day.' When you go to war, it's day by day. You live today, you don't know if you're going to die tomorrow."
He had many close calls. One night, Prestia took his turn in a foxhole. "All of a sudden someone takes a shot at me, and I could feel that thing a couple inches from my head," he says. "I could feel the breeze alright."
Another night, taking shelter in a dark barn, Prestia lay down to get a few winks, felt someone next to him and said, "Hey, move over!" No response. "I was sleeping next to a dead German!" he says, voice rising with emotion. "I didn't know that. Yeah, I had a lot of fun," Prestia adds sarcastically.
Walking through a town where the Germans had fled, Prestia suddenly heard someone call out behind him, "Comrade!" He quickly turned to find a German soldier surrendering to him. "I didn't know where his gun was. Maybe inside the house where he was hiding," he says. "But he could have shot me."
One night, the soldiers took shelter in an empty cow barn. "We go in, take our stuff off. I don't know how long we stayed, until the lieutenant says 'Saddle up men, we're going out,'" Prestia says. They were about 50 feet away when a bomb flew in and flattened the building. "If we were in there, God knows how many would have got killed."
One of Prestia's cousins was also in Italy, and on a particular night they were both under attack on the mountain. After a gruesome shelling by the Germans, Prestia's unit was pulled off the line. He was handed a note from his cousin that read, "I'm hit! I'm in the hospital." Prestia hitched a ride to the hospital in Naples for a quick visit with his cousin, whose leg was torn up by shrapnel. Unfortunately, the doctors couldn't save his leg. Prestia later spent six weeks in that same hospital when he became ill with hepatitis and jaundice.
Prestia remembers being at the Piazzale Loreto in Milan, where he saw the bodies of Mussolini and his mistress, Claretta Petacci, a horrible sight. "They were on the ground. They tied their feet with rope and upside down they hoisted them," he says.
When the war ended, Prestia became a mess sergeant and cooked for the soldiers but was rotated home before he could receive his sergeant's stripes. Prestia was discharged on Dec. 31, 1945, and returned home to Chicago. He married his wife, Jeroma "Jerri" DiGangi in 1946, and they have two sons and two grandchildren. They were married for 72 years until Jerri recently passed away. Prestia is retired from the car parts business.
"I was lucky in a lot of ways; survived about four times that I should have been dead. You worry about your life everyday, one day to another," Prestia says. "War is hell! I don't want to see anybody go to war."
Reprinted with permission from Fra Noi. (Copyright 2021) To learn more, click here.