Stationed in Germany more than a decade after World War II, Guy Cardarelli witnessed firsthand the lingering devastation wrought by fierce Allied bombing.
Guy Cardarelli and his twin sister, Judy Ann, were born in Chicago in 1935 to Guido and Marie Mele Cardarelli. They lived behind the family grocery store/meat market on 5th Street and Kedzie Avenue. Cardarelli's father immigrated from Morrovalle, Italy, and his mother's family from Castelvetere in Campania. His father passed away shortly before Cardarelli's fourth birthday, and the family moved in with his maternal grandparents and uncle in the North Austin neighborhood.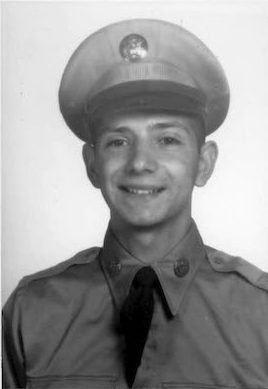 Cardarelli grew up in a very traditional Italian family. "My grandfather was the head of the household," he says. "When he came home and blew his horn, it was time to sit down for supper." Every Sunday, the family gathered for dinner at his grandparents' home, a tradition that continued even as the family grew. "The special Italian dish in our family was ravioli stuffed with ricotta cheese," Cardarelli recalls.
His grandfather's homemade wine was always on the table. "It made no difference whether you were 4 or 40," says Cardarelli. "We grew up with wine as another beverage. If you wanted to have some, that's fine."
Cardarelli graduated from St. Peter Canisius Grade School and Austin High School. He was accepted to St. Joseph College in Indiana but decided instead to work while attending night classes at Wright Junior College. Knowing he would eventually be drafted, Cardarelli went to the Draft Board and said, "Push my number up." Soon after, in August 1954, he was drafted into the Army.
After basic infantry training, Cardarelli was assigned to advanced training as a clerk/typist at Camp Chaffee, Arkansas. Once completed, he became a member of the Quartermaster Corps, which acquires, maintains and distributes supplies. Shortly thereafter, he boarded a troop ship on the East Coast and set off into the stormy North Atlantic in January 1955. "I may have been out of the hold once or twice, but most of the time, you couldn't leave the hold because it was so dangerous," Cardarelli says.
After 10 tumultuous days, he disembarked in Bremerhaven, Germany, as part of the Army's massive postwar presence and boarded a train to Frankfurt where he was assigned to Strassburg Kaserne in Idar-Oberstein. After a short stint in the supply warehouse, he was transferred to the base fire department. One day, Cardarelli was outside the firehouse when a civilian car came speeding up and the fire chief yelled, "Get in. Get in. Get in." They raced over to civilian quarters on base to find smoke billowing out of the maid's lower-level apartment. They broke in, and the mattress was in flames. The fire chief grabbed the woman and took her for medical attention. Cardarelli dragged the mattress outside, tore it apart and watered it down. The fire department showed up soon after and put the fire out.
Cardarelli was complimented for his quick actions. When orders came through for a transfer, the fire chief invited him to stay on as a member of the fire department, but Cardarelli declined. He moved on to the Cambrai Fritsch Kaserne in Darmstadt, Germany, a former Panzer base where the accommodations were "pretty comfortable." The brick building housed 30 soldiers. "I was in the Headquarters Company, so we had even better accommodations," says Cardarelli.
Cardarelli occasionally pulled guard duty while at Cambrai-Fritsch. One day, he and another soldier were at the main gate when a German taxi came through. Cardarelli and his fellow guard immediately stopped the car and told the driver to leave. He refused, got out of the car and began yelling. Cardarelli momentarily turned away and looked back to see the other soldier raise his MI rifle and hit the driver in the head with the rifle butt, knocking him to the ground. "I couldn't believe it," says Cardarelli. He called the corporal of the guard, and the Military Police soon arrived to handle the situation.
Cardarelli also worked with Labor Service crews made up of displaced people from across Europe who were given food, lodging and uniforms, and employed in clean-up efforts. The U.S. Army had confiscated private homes for officers to live in right after the war, and now they were preparing to return the homes to their owners. Cardarelli would head out into the community with the crews to remove furniture and appliances that belonged to the U.S. government. "Something really hit me while we were doing that," Cardarelli says. The items were taken to a mud-floor warehouse and stacked one on top of the other. "They were all getting damaged, and I thought to myself, 'You know, the government is not going to get much use of this stuff,'" says Cardarelli.
The bomb shelters scattered throughout the town also made an impression on Cardarelli. "They had big steel doors," he says. The shelters must have come in handy during the war given the level of devastation in the town. More than a decade after the war had ended, many of the buildings were still in partial ruin because of the bombing, with missing roofs and walls. Cardarelli recalls a particular business, Roma Pizza, that was operating out of one such building. "There was still a great deal of destruction, and it hadn't been repaired yet," Cardarelli says. The autobahn remained largely unused, with a cobblestone street serving as the main thoroughfare between Darmstadt and Frankfurt.
Cardarelli was 5 years old at the start of World War II and vividly remembers ration books, air raids and blackouts. His Uncle Tony earned a Bronze Star while fighting in Italy with the 10th Mountain Division, and he also acted as an interpreter. At 20 years old, Cardarelli was now witnessing the aftereffects of the war that captured his imagination as a child.
Cardarelli's family sent him $100 to visit relatives in Italy, and he happily met aunts, uncles and cousins on both sides of the family. He left Germany for the States in August 1956, serving two years of active duty and one year in the active Reserves. His time in the Reserves was spent in monthly meetings at the National Guard Armory in North Riverside and training at Camp McCoy, Wisconsin. Cardarelli was discharged as a Specialist 3.
With help from the G.I. Bill, Cardarelli earned a bachelor of science in education from Illinois State University and a master's degree in theater arts from Northern Illinois University. He also did grad work at the University of Arizona.
Cardarelli enjoyed three successful careers. He was a high school teacher for 30 years, including two years teaching children of military personnel at Kaiserslautern High School in Germany. He also was a commercial photographer and a licensed talent agent. He has two stepchildren with his wife, Rita, three grandchildren and one great-grandchild.
Reflecting on his Army experience, Cardarelli says, "It really was a great benefit to me, and I do appreciate it." He adds, "I admire the men who went to battle, who were in combat. My uncle, who was my hero, fought in the Second World War, and I knew what he went through."
Reprinted with permission from Fra Noi. (Copyright 2021) To learn more, click here.