Having prepared for 18 months to invade Japan, Bernie Izzo gratefully shifted gears after the dropping of the atomic bomb on Hiroshima and Nagasaki.
Editor's Note: Bernie passed away in August 2016. This article was published in the June 2016 issue of Fra Noi and is being republished here in his memory.
The youngest of four children, Bernard "Bernie" Izzo was born in Rochester, N.Y. His mother came to the United States with her family when she was 5 years old, and his father traveled alone at the age of 12 to join his older brother. Both parents were from Campobasso, Italy.
After working at several odd jobs, his father opened a jewelry store with the help of a friend, but lost it during the Depression. Izzo's mother was a homemaker until the Depression, when she worked as a seamstress to help the family.
Growing up in a tightly knit Italian neighborhood, Izzo attended #5 Grammar School and Jefferson High School. Music was taught daily at all public schools in Rochester thanks to the influence of the local Eastman School of Music, founded by George Eastman of Eastman-Kodak acclaim.
The lessons, along with the influence of his high school music teacher, inspired Izzo to study music at Heidelberg College in Ohio. "I just wanted to be like my high school teacher. He was happy, had two children, every other year he bought a new Pontiac," Bernie says. "I figured, that's the life."
Pearl Harbor was attacked when Izzo was completing his first semester at Heidelberg. He immediately went to enlist, but being only 17 years old, he was sent back home. When he turned 18, he tried to enlist again, but was told, "We don't need you now: We don't have enough uniforms, we don't have enough camps."
His two older brothers were already serving, one in the Navy and the other in the Air Force. Izzo wanted to help his country, too, so he joined the Army Reserves. He completed his second year in college before being called to active duty in 1943.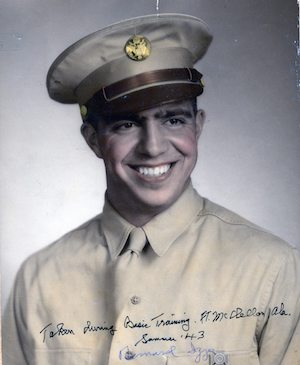 Izzo deployed to Fort McClellan in Alabama for basic training and then to the Citadel Military School in Charleston, S.C., as part of the Army Specialized Training Program. Upon completion, Izzo transferred to Fort Rucker, Ala., and joined up with the 98th Infantry Division as a replacement. Once it was discovered that Izzo was a vocal music major, he sang at chapel services, funerals, officer's parties and midnight Mass on Christmas Eve.
Izzo deployed to Hawaii in April 1944, where the 98th was tasked with defending the islands and preparing for the invasion of Japan, which was scheduled for Nov. 1, 1945. He spent 18 months training as a member of the mortar squad. Operations were continuous from island to island, alternating between jungle and amphibious maneuvers.
The troops were ready, and invasion was imminent. Izzo's division loaded their supplies and vehicles onto ships, and prepared to join up with troops from the Philippines for the assault. "When you're 19 or 20, you don't think anything will happen to you, so we were anxious to get over there and get involved."
But Hiroshima and Nagasaki were bombed within three days of each other in early August 1945, ending the war before the 98th was deployed for active combat. Instead, they landed in Japan on Sept. 27, the first division to arrive, and served in Osaka as part of the occupying force.
"We could not dock!" Izzo remembers. "All the docks in the country were bombed out." The soldiers waded through the water as though they were invading forces and hiked a couple of miles to reach their train.
"In Osaka, half of the city was flat … block after block," Izzo says. Before the war, it had been the second largest manufacturing city in Japan. In certain areas, some blocks were not completely destroyed: Only those buildings identified by Allied intelligence as being sources of war materials were bombed.
As a member of a squad of 10 men and an officer, Izzo participated in the demobilizing of the Japanese armed forces. The mountainous coastal terrain camouflaged caves where the Japanese soldiers hid and camped. Connecting tunnels were filled with supplies, weapons and ammo, enabling the soldiers to survive for months. Izzo's squad made daily patrols into the region, searching for these caves, and flushing out the soldiers.
The Japanese officer in charge would formally surrender his sword to the America officer and his men were automatically discharged, free to go home. "They always surrendered," Izzo remembers. "They wanted to go home as much as we did!" The tunnels were emptied of all supplies and equipment, loaded onto trucks and taken away to be destroyed. Some were dumped into the ocean. These operations went on twice a day for months.
In his off time, Izzo sang whenever he could and was asked to form a glee club, which became quite successful. He began working with an officer who scheduled social events.
Many Japanese choirs and dance groups contacted the Army to perform for the soldiers. Izzo scheduled the events, arranged transportation and took care of the entertainers while they were with the troops.
During this time, the glee club performed in several concerts, and Izzo sang for a radio station in Osaka that was part of the Armed Forces Radio Network. For 10 weeks, he had a Sunday afternoon radio show.
Izzo was discharged in February 1946 as staff sergeant and returned home to Rochester. Back at Heidelberg College, Izzo earned his degree in music on the GI Bill and reconnected with his future wife, Jean, who he met on his first day as a freshman. He received his master's degree from the American Conservatory of Music in Chicago.
He and Jean married in 1949 and settled in Chicago, where he began a very successful career in music. Izzo sang in commercials, clubs and churches, and for radio and TV shows. For 10 years, he traveled the country, spending a week or two at each engagement, singing alone or in duos, quartets or larger groups.
During this period, he and Jean had four children and moved to Elmhurst. Izzo decided to find work closer to home and began teaching in the Music Department at North Central College in Naperville.
He continued to perform in concerts, occasionally traveling, and he sang the National Anthem for the Blackhawks for 15 years. Upon retiring from teaching, Izzo sang with the Chicago Symphony at Ravinia, the Grant Park Symphony and the Lyric Opera Chorus.
Izzo has many photos that he took during his time in Osaka with the Brownie camera that he carried with him. He also has letters that his brothers sent him during the war.
Having recently celebrated the 70th anniversary of his discharge from the Army, Izzo reflects, "I was very lucky. I was very lonesome, homesick, but everybody else was, too!
"I could have kissed Harry Truman's feet because he planned the bomb," he concludes. "It was terrible, but I was just thankful we didn't have to go through the invasion."
Reprinted with permission from Fra Noi. (Copyright 2021) To learn more, click here.