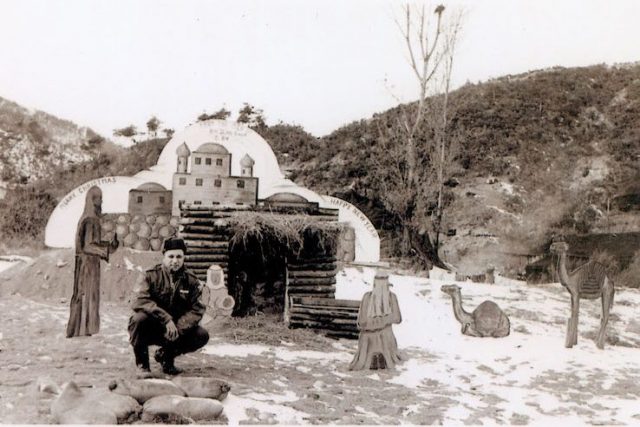 A combat engineer during the Korean War, Dan Teoro helped bring much-needed holiday cheer after the armistice by taking part in the construction of a Nativity scene near the Demilitarized Zone.
Editor's Note: Dan passed away in February 2018. This article was published in the December 2017 issue of Fra Noi and is being republished here in his memory.

Dan Teoro was born in Chicago, grew up on South Ashland Avenue, joined the Boy Scouts, and attended Harper High. Employed as an auto mechanic, he was married for only two months when he was drafted into the Army in October 1952. He completed his training at Ft. Leonard Wood, Mo., and set out to Ft. Lewis, Wash., where he boarded a troop ship headed for Yokohama Bay, Japan.

He was processed at Camp Drake in preparation for combat and the next evening after dinner, all the soldiers were lined up. Names were called off, with Teoro and another recent recruit being the last two called. The sergeant said, "Get your gear and return at 8 a.m., you're going to Korea."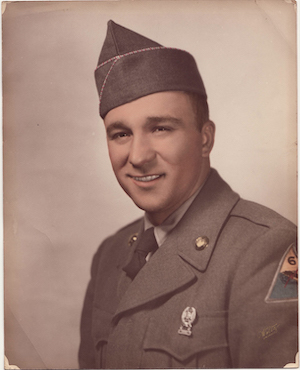 Surprised, Teoro asked the sergeant, "Sir, I just got here yesterday, are you sure it's me? Everybody that I was with is still here." The sergeant asked, "Is your name Dan Teoro?" "Yes," Teoro replied. The sergeant said, "You're going to the Second Infantry Division to Korea, that's all I know."

The soldiers boarded a train to Yokohama Bay where they lined up in a warehouse. "I was number 501 and my buddy was 502," Teoro recalls. "I'll never forget that." The soldiers marched out to the waiting ship. By that time, it was 2 a.m.

Teoro was on the gangplank when a naval officer put his hands out and said, "You two soldiers step back. The ship is completely filled." They were told to go back to the warehouse, find the train and return to Camp Drake.

The gangplank was pulled up and a band played while Teoro and his buddy watched the ship leave. Suddenly, it became very quiet and dark, with just the two soldiers standing there. They disagreed on the route back, but Teoro, with his Boy Scout training, led the way, pointing and saying, "There's the building we want. Follow me."

They found the warehouse with their numbers, 501 and 502, still marked on the floor. They passed through the opposite doors, where the train waited.

Teoro and his buddy were standbys, and helped process the new arrivals until a week later, when they boarded a ship to Pusan, Korea. A train took him north, stopping along the way to drop off troops. A M*A*S*H* unit was set up at one stop and the doctors needed help. Helicopters were bringing the casualties in and wounded and injured soldiers were lying all around on stretchers.

This was the first time Teoro witnessed the ravages of war. The day was cloudy and dreary as he picked up the stretchers and helped load them into a train car with a large Red Cross on the top. "There were guys bleeding and moaning," he says. "It was something to see."

Teoro was a combat engineer with the Second Infantry Division in the Chorwon-Kunmwha sector. Combat engineers were responsible for getting American troops and materials wherever they were needed while thwarting enemy movement whenever possible.

Sgt. Teoro and his company built and maintained roads through rice paddies and mountains. They also built and repaired bridges and installed barbed wire and field fortifications. The engineers persevered through extreme weather conditions, frozen ground and enemy mortar, artillery and sniper fire.

Under fire, the engineers dropped their tools, grabbed their rifles and helped push the enemy back. There were many close calls during artillery attacks because, as Teoro says, "You never knew where it would fall. It was scary."

An artillery round exploded near Teoro and he recalls seeing a burst of color as he dropped to the ground for cover. When the attack stopped, Teoro stood up, his face black with smoke, shaken but not hurt. Teoro says, "The good Lord protected me wherever I was."

The first week he was in Korea, Teoro had orders to build a helicopter pad and his men drove their equipment out and started working. An officer spotted them, drove out with a patrol, and yelled, "What are you doing here? Get your stuff and get out of here! We lost this territory yesterday!"

By this time, the enemy spotted them and started firing. "We got out of there real quick," Teoro says.

Teoro helped build two roads through the mountains. So much dynamite was used to blast through the mountain that one road was called "Demolition Drive." This road brought supplies to the main battle position.

The second road, "Suicide Drive," had many curves and was close to the edge of the mountain. Drivers had to be careful not to drive off the edge. This road brought ammo and supplies to the front line while the wounded were brought down on it. "Everyday, the engineers would dynamite and bulldoze to widen the road so tanks, artillery guns and large trucks could use it," he says.

The Korean Armistice Agreement was signed on July 27, 1953, and it became official the next day, which happened to be Teoro's birthday. To celebrate both occasions, the company cook surprised him with a birthday cake. "I'll never forget that moment," Teoro says.

Afterward, Teoro stayed on in the Chorwon-Kunmwha sector and took part in construction of the Demilitarized Zone. During Operation Pull Back, everything possible was salvaged from the area. Then the engineers began "winterizing" the area, building Quonset huts and laying floors.

The soldiers enjoyed a delicious turkey dinner on Thanksgiving and, lingering over coffee, reminisced about Christmas back home. The idea was floated to build a Nativity scene in front of the company camp and the commanding officers said, "That would be a great idea!"

The next day, the excited soldiers gathered all the necessary materials and construction began. Everyone helped, working together and using their talents. When the Nativity was completed, soldiers took pictures to send home.

On Christmas Eve, Teoro's company gathered in front of the Nativity scene and sang "Silent Night."

"I'll never forget … brave men with tears in their eyes." Teoro recalls. "I found out later that this was the only Nativity scene built in Korea. Every Christmas Eve, I think back to my Christmas in Korea 1953."

Teoro left Korea in March 1954 and was stationed in Ft. Benning, Ga., until he was discharged in October 1954. He returned home to Chicago, attended barber college on the GI Bill, and still has his shop on the South Side of Chicago.

Widowed with three children, Teoro has been heavily involved as a leader of the Boy Scouts for more than 50 years. He returned to Korea twice at the invitation of the Korea-based SMEE Church, once in June 2012 and again in 2013, when he was presented with another birthday cake on the occasion of the 50th anniversary of the truce.

Reflecting on his time as a combat engineer during the Korean Conflict, Teoro says, "I was proud to serve our country and I thank God for bringing me back."
Linda Grisolia is a longtime Fra Noi correspondent, having contributed Onori and War Stories features over the years. She is a proud founding member of the Italian American Veterans Museum at Casa Italia and is a member of the board of directors. Many of the Italian-American veterans she interviewed for the Fra Noi were featured in the documentary, "5000 Miles from Home", which aired on Channel 11. As a child, she remembers paging through her grandpa's Fra Noi newspaper, fascinated with the Italian words, never dreaming that one day she would be a correspondent for that wonderful publication.