A newly minted Marine at the start of the Gulf Wars, Bob Larsen was picked to serve in the courtroom rather than on the battlefield.
Bob Larsen was born in Arlington, Virginia. One of four children born to Robert L. and Joan Campagna Larsen, he also has a brother and sister from his father's second marriage. With roots in the Chicago area, the family returned here when Larsen was 4 years old, settling in the Edison Park neighborhood, then moving to Park Ridge when he was 13.
Larsen's mother prepared traditional Italian pasta dishes, but the family also enjoyed meals from his father's Irish and Norwegian backgrounds. He visited his grandparents and extended family regularly, and he and his siblings were all close.
Larsen attended St. Juliana Grade School, Lincoln Junior High and Maine South High School, where he participated in advanced placement courses. "I did a lot of studying," Larsen admits.
As a child listening to his father talk about his time in the Marine Corps, Larsen became interested in joining one day. "When I was about 10 years old, I told him that I wanted to go to college, get into Notre Dame, get into law school, join the Marine Corps, and then go into the CIA or FBI, and then into politics," he says. "The only thing I haven't done is go into the CIA or the FBI." He graduated from Notre Dame in 1986 with a double major in government and economics, entered law school at Catholic University in Washington, D.C., and joined the Marines in the spring of 1988. After meeting stringent academic and physical requirements, Larsen entered Officer Candidates School (OCS) that summer.
Once OCS began, it was a matter of surviving. "That was a challenge in and of itself," Larsen says. In his class, only about 55 percent of those who began the program actually completed it. "That's what comes from 10 straight weeks of 20-hour days," he says. "It's very grueling both physically and mentally, and it's intended to be." The stress of real combat is recreated as candidates are pushed hard to see if they will fold under pressure or can lead in the most trying of circumstances. "The purpose of the Marine Corps Officer Candidates School is to identify people who can handle extreme mental and physical stress and still make decisions that will save Marines' lives rather than getting them killed," says Larsen. "I feel like the learning experience that I gained from that, the confidence and ability to handle that stress, has served me well throughout my life."
Larsen graduated from OCS as Second Lieutenant and was temporarily released from active duty so he could complete his third year of law school and take the bar exam. Once Larsen passed the bar, he went back on active duty and then attended The Basic School, a six-month training program that the Marines, unlike other branches of the military, require their lawyers to complete. "Part of the reason the Marine Corps does that is they want their JAGs (Judge Adjutant Generals), their lawyers, to understand what it means to be a Marine, to experience, if not actual combat, then what it's like to be in it," Larsen says. "There were times we spent five days straight in the field, 25-mile hikes, all kinds of physical challenges that every officer in the Marine Corps goes through."

Next, he attended Naval Justice School in Newport, Rhode Island, finishing first in his class of 40 Navy and Marine Corps officers. Larsen was then assigned to the Law Center at Quantico, where he handled a variety of legal cases. During this period of time, Operations Desert Shield and Desert Storm were launched, marking the beginning of the Gulf Wars. It was the first extensive combat involving all branches of the military since the Vietnam War. Larsen thought he would surely deploy to Southwest Asia with about half of the Marine Corps, but his services were needed at Headquarters Marine Corps at the Pentagon. As a Civil Law Judge Advocate, Larsen handled a variety of legal issues, including serving as legal counsel to the Conscientious Objector Review Board.
The U.S. military is an all-volunteer force, and those who join have to acknowledge under oath that they are not conscientious objectors. With the nation suddenly shifting from peace to war, servicemen and servicewomen began applying for CO status for political reasons or out of fear of combat. "These can't be accepted as legitimate bases to walk away from their obligation," Larsen says. "They had to submit documentation, and they had to demonstrate that they had a legitimate change of heart and a legitimate change of philosophy that wasn't related to simply not wanting to fight in the war."
Each application was brought before the Conscientious Objector Review Board. Larsen talked through the facts with the board and advised whether or not it was legally obligated to grant the status based upon standards established by Congress, the Office of the President and the Department of Defense.
Training at The Basic School helped prepare Larsen for this duty. "I was able to bring to my job that connection with what it really means to be a Marine. I wasn't just looking at it like some corporate attorney," he says. "It's stressful when a person is told, 'You are going to leave your family, you're going to go 10,000 miles away, you're going to get shot at, you might get shot, you might get killed or see others killed or have to kill someone.'"
Larson says he understood those stresses and took his job very seriously. "I wasn't going to deny status to somebody who genuinely earned it," Larsen says, "but by the same token, I was defending the honor and the principles of the Marine Corps and the requirements of service that these Marines signed up for."
He also handled other issues such as the legality of using the Marine Corps emblem and name in fundraising and promotional situations.
Larsen was discharged from active duty in 1992 with the rank of Captain. Two years later, he was employed at a law firm in Chicago when he heard from Marine Air Control Group 48 based out of Glenview Naval Air Base. They were looking for a Site Judge Advocate.
"They told me, 'We heard a lot about you from different sources, and you're the guy we want,'" Larsen explains. "When presented with the opportunity to go back and serve, I took it."
One weekend a month, Larsen reported to the base. "I would address any kind of legal issues they had: disciplinary issues, fundraising issues, ethical issues," he says. "Anything the commanding officer wanted me to work on, I would do it."
During an annual two-week stretch, Larsen would report to Marine Corps Reserve Headquarters in New Orleans. "I would work on whatever administrative or legal responsibilities the commander of the legal section down at the battalion in New Orleans would assign to me," he says. Accidents or injuries of a significant nature were investigated, and Larsen reviewed the proceedings. "I would make sure that whatever happened wasn't happening on a regular basis and figure out if anybody was criminally at fault," he says.
A Marine can be involuntarily discharged in one of two ways: through a court martial or through an administrative discharge proceeding. The latter can occur if a Marine tests positive on a drug test or is found to have committed a crime in the civilian community. A specific process is then followed, and the Marine has a right to be represented by counsel. "I reviewed the administrative discharge packages to make sure that the Marine's rights had properly been protected before they were administratively discharged," Larsen says.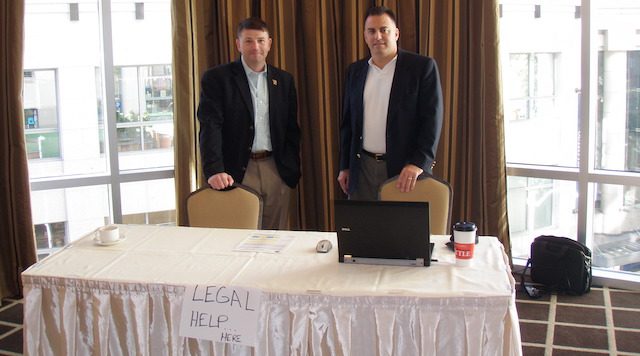 Next, he was assigned out of Marine Corps Reserve Support Command in Kansas City, traveling the country at the head of a section of Marine Judge Advocates. The Judge Advocates taught law of war classes to deploying reservists, helped Marines address financial concerns, and ensured that they all had a will and power of attorney. "We talked to them about financial issues and made sure that, if they were going to go fight a war, they didn't have to worry about what was going on back home with their family, that they had already taken care of that," Larsen says.
Larsen served in the Marine Reserves from 1995-2011, retiring as Lieutenant Colonel. One of his favorite moments on active duty was an assignment as Officer of the Day at Marine headquarters. The assignment requires the officer to spend the night handling any issues and disputes that might arise and touring the Washington monuments with other Marines to make sure all is well. "When we'd return, we would do the sunrise unfurling of the flag and playing of the National Anthem," he remembers. "That was an inspiring and emotional experience."
Larsen is currently a partner in the law firm Cunningham, Meyer & Vedrine, P.C., and he served on the DuPage County Board from 2010-20. He spent the last year as the finance chairman, seeing the county through the financial crisis caused by the pandemic.
Larsen and his wife, Jane Marchese Larsen, enjoy preparing Italian dishes. She makes "fantastic gravy," and he specializes in making limoncello and crescia, a traditional Italian Easter bread. "Jane's family really has allowed me to embrace my inner Italian," he says.
Reflecting on his military career, Larsen says, "I had the privilege of spending 20 years with an amazing group of people, most of whom were better than me. The principles that I learned in the Marine Corps — discipline, honor, focus — I carry with me every single day.
"I love the Marine Corps. I loved being a part of what we were accomplishing in the war. I loved being in charge of defending the ethical standards of the Marine Corps, and mostly I loved the people I worked with … some of the most exceptional people I've ever encountered in my life."
Reprinted with permission from Fra Noi. (Copyright 2021) To learn more, click here.