A member of the legendary Merrill's Marauders, Dominic Baracani battled his way through nearly 1,000 miles of jungle to loosen Japan's hold on Burma during World War II.
Editor's Note: Dominic passed away in August 2019. This article was published in the June 2017 issue of Fra Noi and is being republished here in his memory.
One of six children, Dominic Baracani was born in Mark, Ill., to Adolfo and Ermelinda Baruffi Baracani. Ermelinda grew up near Lizzano in Belvedere, northwest of Florence, and Adolfo came from the Po Valley in Northern Italy. Adolfo was a coal miner and a farmer. When his son Dominic was 4 years old, he took him along every Saturday to sell watermelons. "He always took me because I had long eyelashes so they came out when I was there," Baracani chuckles.
The Baracanis moved to Highwood to be near his mother's family after his father suffered injuries during a mine cave-in. Baracani attended Oak Terrace Grade School and Highland Park High School. An All-County football player, he visited Michigan State on a recruiting trip. "But," he says, "World War II came along."
He remembers sitting in class with his buddies on the morning of Dec. 8, 1941, reading about the Cubs. His teacher came in and said, "Hey you kids gotta stop reading the sports page … look at the front page! You'll all be in the Army pretty soon."
Baracani graduated from high school in 1942 and was drafted into the Army in November of that year. He completed basic training at Camp Wolters, Texas, jungle training at Camp Van Dorn, Miss., and advanced infantry training at Camp Carson, Colo. Baracani and three guys he met at Camp Wolters formed a close friendship and when they heard volunteers were needed for a "dangerous and hazardous mission," the four pals eagerly signed up.
Destination unknown, they and other volunteers boarded the Lurline, a converted troop ship. Disembarking from San Francisco on Sept. 21, 1943, the ship arrived in India on Oct. 29, 1943. Baracani was in the 3rd battalion of the 5307th Composite Unit (Provisional), code named Galahad, famously known as Merrill's Marauders after their commander, Brig. Gen. Frank Merrill.
Their main objective was long-range penetration into Japanese-held Burma. The plan was to throw the enemy's positions into chaos by cutting their communications and supply lines. This would lead the way for General Stilwell's Chinese American Force to reopen the Burma Road, which was closed by Japanese invaders.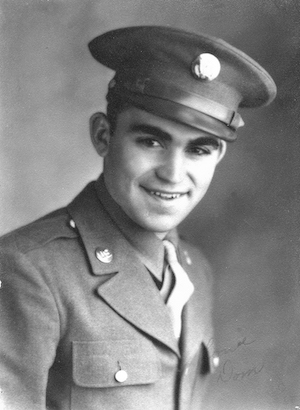 Baracani trained at a British Camp outside of Bombay, then went to Deogarh where he and the other men in the 5307th CUP trained intensively in the art of guerilla warfare. Under the direction of Merrill, the commando unit, consisting of almost 3,000 volunteers, was composed of three battalions, each having two combat teams. Baracani was assigned to one team and his buddies were assigned to another in a different battalion.
The Marauder's "dangerous and hazardous mission" began on Feb. 24, 1944, when they started on their almost 1000-mile march, without artillery support, over the Patkai region of the Himalayas and into the Burmese jungle behind Japanese lines. The enemy was further in. "But, they knew we were there," says Baracani.
The soldiers marched at night, carrying their weapons and supplies on their backs. Pack mules carried equipment and ammo and the Marauders were resupplied by periodic airdrops in the jungle. Baracani recalls using leaves that "glow-in-the-dark insects" sat on to make their way through the jungle. The soldiers attached them to the back of their packs and followed the glow down the trail. Tents were dumped to lighten the load over the mountainous terrain. The soldiers kept the lightweight parachutes from the airdrops and Baracani says, "We put them down as ground cover to sleep on."
He remembers hearing clanging noises while walking the Ledo Road and knew it was soldiers pitching their steel helmets over the edge. They were too hot and heavy for the jungle, but some were kept for cooking over small campfires coaxed out of dried bamboo. "As they tumbled down hitting rocks, they chimed like bells," Baracani says. Once, after an airdrop, Baracani made a pie with flour and canned peaches in a coffee can. He says, "It probably wasn't a very good pie but it tasted good to me."
Behind enemy lines for three months, Merrill's Marauders battled the Japanese as well as typhus, malaria and dysentery. Baracani carried a Browning Automatic Rifle and fought in many minor battles and some major. "We didn't have big guns," he says. "We had mortars." Each column of Marauders attacked different Japanese units. He remembers, "It was hit and run! Hit and run!"
The Marauders were constantly alert as enemy snipers took cover in the dense jungle foliage. Baracani walked ahead of the others when he noticed twigs falling from a tree. He spotted a sniper, took aim and shot, but his gun jammed! The enemy shot back as Baracani quickly hit the ground and slid down. He says, "I felt it was time to leave there!" Another time, Baracani reached for his ammo clip, could not open it, and noticed it was dented from a direct shot. Once Baracani hung his socks to dry on a bush and later found a bullet hole through one of them. He heard shots and figured that a sniper saw movement in the bush and shot. Baracani says, "I felt that I was lucky."
The largest battle that Baracani took part in was at the siege of Nhpum Ga, when one of the battalions fiercely fought for survival while surrounded on a mountaintop by the Japanese for almost two weeks. Baracani and the Marauders in the other two battalions came to their aid, fighting their way up the trail at Nhpum Ga to rescue their malnourished and emaciated comrades-at-arm on Easter Sunday 1944. The stench of decaying bodies permeated the mountaintop, resulting in it being called "Maggot Hill."
Merrill's Marauders covered more jungle terrain on their long-range missions than any other U.S. Army unit during World War II. Behind enemy lines, they succeeded in throwing the enemy positions into chaos. The Marauders captured the airfield at Myitkyina on May 17, 1944. That evening, Baracani was evacuated to a field hospital in India and treated for dysentery and malaria.
Baracani completed his service training troops at Camp Livingston, La., and was discharged in November 1945. He received the Bronze Star and a Presidential Unit Citation. Returning to Highwood, he married Margaret Pasquesi on Feb. 27, 1946. Graduating from Illinois State Normal University with a degree in accounting, he enjoyed a successful career in accounting and tax services, and still does taxes.
Widowed, Baracani has four sons, six grandchildren and three great-grandchildren. He eagerly awaits the Ranger Rendezvous at Ft. Benning in June, which kicks off a 15-month celebration of the 75th anniversary of the modern American Ranger, starting with the establishment of the 1st Ranger Battalion on June 19, 1942, and ending with the creation of Merrill's Marauders on Oct. 3, 1943.
Reflecting on his mission, Baracani says, "I'm proud that I was there, that I served, and I realize that I was fortunate that I came out."
Reprinted with permission from Fra Noi. (Copyright 2021) To learn more, click here.