Renowned for the powerful bond he forged with the Marines under his stewardship, the Rev. Vincent Capodanno earned the Medal of Honor while willingly sacrificing his life during the Vietnam War.
The Rev. Vincent Robert Capodanno was not your typical war hero. He never fired a shot — in fact he never even carried a weapon. However, his undisputed bravery on the battlefield has seldom been matched.
Born on Feb. 13, 1929, into a large Italian-American family on Staten Island, New York, he was raised by immigrant parents Vincent Robert Capodanno, Sr. and Rachel Basile Capodanno. Like many Italian-American families, their Catholic faith was important to the family.
Military service was something from which the family never shied away. Thankful and proud to be Americans, Capodanno's three older brothers willingly served their country during World War II. His brother James served in the U.S. Marine Corps, and his brothers Albert and Philip served in the U.S. Army. This had a profound effect on Vincent, whose desire to be of service to others, at home and abroad, was instilled at a young age.
After finishing college at Fordham University, he joined the Maryknoll Order, known for its missionary work around the globe. Years of study in theology and training in survival skills culminated in his ordination to the priesthood in 1958.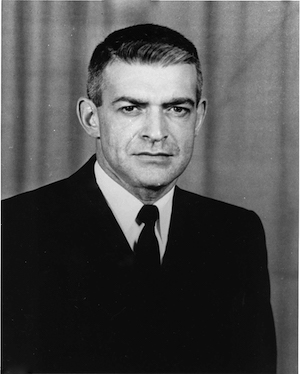 The Rev. Capodanno's entire ministry was in the fields of Asia. His first assignment was Taiwan, where he learned the local Chinese dialect, administered the sacraments and taught religious instruction. Later, he directed a youth hostel, where he mentored and counseled students preparing for their difficult college entrance exams.
His next assignment was Hong Kong. While there, he decided to apply to the Navy Chaplain Corps to minister to Marines serving in Vietnam. Maryknoll granted its permission. After completing Officer Training School, he began ministering to the young enlisted men, known as "Grunts," of the 7th Marines in Vietnam.
Later transferring to a medical unit, he continued his ministry — saying Mass, hearing confessions and distributing St. Christopher medals and other religious articles — but what was most remarkable about him, according the Marines who served with him, was his way of comforting the distressed and providing advice and instruction to those who sought him out. By all reports, he had genuine concern for all, regardless of their religious beliefs or lack thereof. He also helped the local villagers.
He had an approachability and a willingness to stay right with these warriors, these "grunts," and did not take any special comforts or privileges that might have been afforded to him as a chaplain and officer. He diligently carried out his most sacred duty, comforting the injured and dying, and administering the last rites.
When it came time for his tour to end, he volunteered without hesitation for a second tour.
On Sept. 4, 1967, during an especially brutal attack on the 3rd Battalion, 5th Marines, Capodanno pulled men to safety, provided first aid and administered the last rites. Though gravely injured himself, with one hand partially missing and severely injured arms and legs, he continued to dash onto the battlefield to rescue, comfort and minister to his Marines. His final act was running to the aid of an injured corpsman — before being shot 27 times.
The following is the official Citation for his Medal of Honor:
"For conspicuous gallantry and intrepidity at the risk of his life above and beyond the call of duty as Chaplain of the 3d Battalion, in connection with operations against enemy forces. In response to reports that the 2d Platoon of M Company was in danger of being overrun by a massed enemy assaulting force, Lt. Capodanno left the relative safety of the company command post and ran through an open area raked with fire, directly to the beleaguered platoon. Disregarding the intense enemy small-arms, automatic-weapons, and mortar fire, he moved about the battlefield administering last rites to the dying and giving medical aid to the wounded. When an exploding mortar round inflicted painful multiple wounds to his arms and legs, and severed a portion of his right hand, he steadfastly refused all medical aid. Instead, he directed the corpsmen to help their wounded comrades and, with calm vigor, continued to move about the battlefield as he provided encouragement by voice and example to the valiant Marines. Upon encountering a wounded corpsman in the direct line of fire of an enemy machine gunner positioned approximately 15 yards away, Lt. Capodanno rushed a daring attempt to aid and assist the mortally wounded corpsman. At that instant, only inches from his goal, he was struck down by a burst of machine gun fire. By his heroic conduct on the battlefield, and his inspiring example, Lt. Capodanno upheld the finest traditions of the U.S. Naval Service. He gallantly gave his life in the cause of freedom."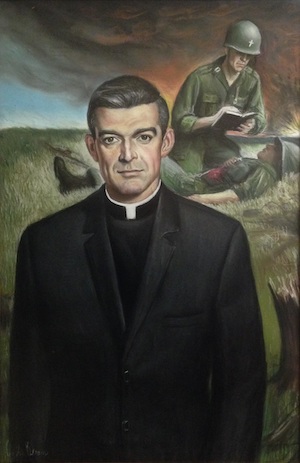 In 1969, the Medal of Honor was awarded posthumously and accepted by the Rev. Capodanno's family. Tributes began to spring up in the form of chapel, military installation and street re-namings as well as monuments, statues and paintings. The U.S. Navy commissioned the frigate USS Capodanno on Nov. 17, 1973.
An annual Memorial Mass is held around Sept. 4 at the Basilica of the National Shrine of the Immaculate Conception in Washington, D.C., presided over by clergy of the Archdiocese for the Military Services USA (http://www.milarch.org).
The Rev. Capodanno may well be on the road to sainthood. Since his death, reports have been made of prayers answered and favors granted through intercessory prayers to the Rev. Capodanno. His life and works are being reviewed by the Congregation for the Causes of Saints at the Vatican, known as a Cause for Canonization. The Church has declared him a "Servant of God."
Numerous books and DVDs have been produced in recent years. "The Grunt Padre," published by CMJ Marian Publishers (https://www.cmjbooks.com) is considered the definitive biography. A documentary about the Rev. Capodanno, "Called and Chosen," produced jointly by the Father Vincent Capodanno Guild and Catholic cable network EWTN, contains interviews with family members and Marines who served with him. It is available through the Father Vincent Capodanno Guild (http://www.capodannoguild.org) and EWTN (https://www.ewtnreligiouscatalogue.com).
For more information about the Rev. Capodanno, or his Cause for Canonization, contact the Father Vincent Capodanno Guild (mpreece@milarch.org; www.capodannoguild.org).
Reprinted with permission from Fra Noi. (Copyright 2021) To learn more, click here.