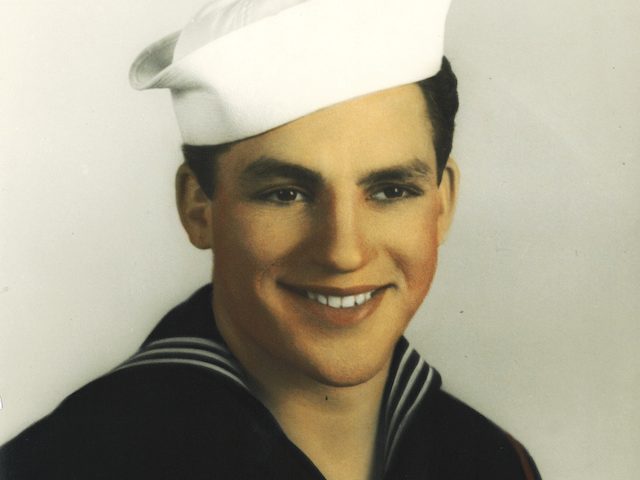 A Navy machinist mate during World War II, Al Cenofante kept everything from landing crafts to full-fledged attack transports running smoothly.
One of four children, Al Centofante was born in Chicago to Angelo and Teresa Panarese Centofante. The family lived at Polk and Campbell streets, with Teresa selling groceries from a small basement store to make extra money during the Depression. She came to America from the area around Naples; Angelo was from Abruzzo.
Centofante grew up in a close-knit neighborhood where the adults all spoke Italian, and the kids played kick the can, hopscotch and hide and seek. His mom was a great cook and made homemade bread. "She would prepare the dough and wrap it up in a cloth, and I would carry it down the street to the bakery," Centofante says. "In the afternoon, we'd go pick up (the baked loaves)." Wine was a family staple, and his father made barrels of it. "We had to help him squeeze and press the grapes and also clean the barrels when the wine was pressed," Centofante recalls.
Centofante attended John Crerar Grade School and Crane Tech High School. After graduating from Crane, he attended Herzl Junior College, completing only one semester before being drafted in May 1943. "The war was on; I had to go," Centofante says. He reported to the Chicago Draft Board only to be sent home because the area quota had been filled. A few weeks later, he was called back by the draft board and put on a North Shore train to Milwaukee, where he was inducted into the U.S. Navy. His parents were sad to see him leave. "Their boy was being taken away from them," Centofante explains. "They didn't like that at all."
He completed basic training and engineering school at the Naval Training Center Great Lakes before traveling to Naval Base San Diego to attend internal combustion engine school. "I suppose from my technical background at Crane, they decided I was well educated for that mechanical part of the Navy," he says.
Centofante was placed in a landing craft unit during a brief stint at the Naval Amphibious Base at Coronado Island, California, before being transferred to the Amphibious Training Base at Morro Bay, farther north on the coast. Soldiers came from their Army bases to Morro Bay, where sailors trained them to disembark from transport ships onto landing crafts. The transport ships were anchored about a half mile from shore, according to Centofante, and Navy personnel ferried the soldiers to the waiting ships. "They were in full uniforms and fully equipped," he says. "They had to go up and down rope ladders, and they're hanging over the side of the ship, which was part of their training."
These maneuvers were essential in preparing the troops for beach invasions and landings, and Machinist Mate 2nd Class Centofante played a crucial role. "With the training they gave me on internal combustion engines, it was my job to make sure that the engines in these landing crafts were functioning properly," he says. Centofante was constantly checking and repairing. He didn't know which invasions the soldiers were training for, but only that these men would soon be fighting for their lives. "I felt pretty important. People depended upon me. I knew it, and I had to do my job correctly to make sure they were safe," he says.
Centofante's younger brother had been drafted into the Army, and before heading off to the Philippines, he was stationed at a base in California. The two brothers enjoyed a short reunion. "We spent two or three hours together. I was the only sailor on an Army base with 10,000 soldiers," Centofante chuckles.
Centofante was stationed at Morro Bay for a year. By that time, the war in Europe had ended, and he was finally assigned to a ship. The USS Barnwell, an attack transport, carried 1,700 troops when fully manned. "Because the servicemen were being discharged, the airlines and trains were loaded, so they used the transport ship that I was on to move these people up and down to various cities along the West Coast," he says.
Centofante was the ship's machinist. In addition to maintaining the internal combustion engines, he ran the machine shop. "We had to repair the parts that broke down aboard ship. When you needed a part, you couldn't go to Ace Hardware or a machine shop to buy it. We had to make it," Centofante explains. "When I say we, I mean me. I was the only machinist aboard the ship."
After completing its mission along the western seaboard, the Barnwell headed for the opposite coast. During a short stay in Panama, Centofante was assigned shore patrol duty. "I walked up and down the streets, in full uniform, carrying a gun and a billy club," he recalls. "My job was to keep the sailors from going into the houses of prostitution."
The Barnwell continued up the East Coast to the Newport News Shipyard in Virginia, where it anchored. There, it was tied up with two other ships and furnished power to them while they were being decommissioned.
Centofante was discharged from Lido, New York, in early 1946. He returned home to his parents and, under the G.I. Bill, graduated as a master machinist from a trade school in Chicago. "The Navy is what changed my career because I was studying to become a mechanical engineer and ended up being a machinist," he says. "I liked it so much I decided I would follow that as a career."
Centofante worked at International Harvester as a tool maker and tool designer until he opened a construction business, Al's Excavating and Grating, in Lombard. He married Josephine Tarsitano in September 1946. They have three children and six grandchildren, and are expecting their 14th great-grandchild. Last year, Centofante was among a group of veterans honored at a Chicago Blackhawks game. "I'm a very fortunate man. I just completed chemotherapy, and I have three great children who take care of me."
Every person serving in the military during World War II played an integral part in winning the war, whether they were on the front lines or supporting those who went off to battle. Centofante's role was to keep the engines running smoothly on naval vessels, large and small. "I was kind of a king aboard that ship," he recalls with pride. "I had a lot of respect. They depended on me."
At 95 years old, Centofante reflects, "I would say if a person wanted to go into the military service and have a lot of fun, besides working hard, he should go into the Navy."
Reprinted with permission from Fra Noi. (Copyright 2021) To learn more, click here.