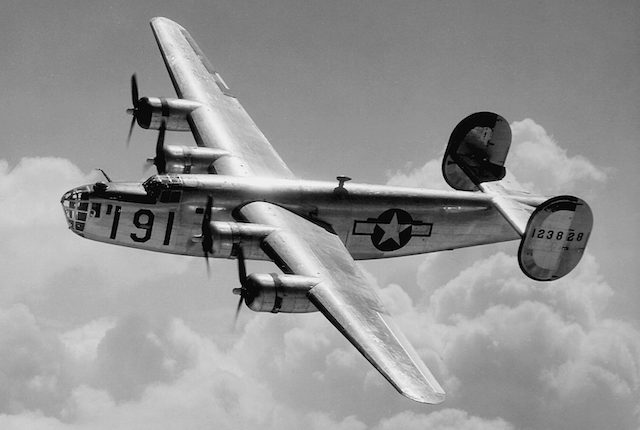 After a stint with the Air Transport Command Band, Arturo Del Monaco flew countless supply missions in the China-Burma-India Theater during World War II.
The second of five sons, Arturo Del Monaco was born at home in an Italian neighborhood on Lake Street in Chicago. When Del Monaco was 4 years old, his father was killed in a hit-and-run car crash. His father had been a member of the Chicago Moose Lodge No. 3, which entitled the five young brothers along with their mother, Mary, to live at Mooseheart, a facility for widows and their children near Batavia. The brothers thrived, attending grade school and high school on the grounds while their mother worked as a seamstress and house mother. Del Monaco cultivated a love for music while there. He played the euphonium and trombone and performed at various venues. Upon graduating from high school, he became a member of the American Federation of Musicians in Chicago.

Del Monaco's older brother, a college music major, heard about auditions for the Air Transport Command Band in Santa Fe, N.M., and thought it would be great for the two of them to be together. Both qualified and became part of the 200-piece ensemble. Only 17 years old, Del Monaco needed his mother's permission to enlist. "Join the Navy," she told him. "You'll always have a clean place to sleep."

He respected his mother's opinion, but he had already taken an oath to the ATC. After basic training at Fort Bliss, Texas, Del Monaco was stationed at Camp Luna, N.M., the staging area for the ATC Band. They performed throughout the 2nd Air Force area, playing swing and classical music. The B24 claimed Del Monaco's attention and before the year was up, he applied for Aviation Cadet training to become a pilot.

He deployed to Keesler Field, Miss., for preflight training and "I washed out," says Del Monaco. He was recommended for B24 bomber school at Curtis Wright in Buffalo, N.Y. Next came crew training as a flight engineer and turret gunner in Clovis, N.M.

Headed for Oran, North Africa, Del Monaco boarded a ship in New York, along with about 5,000 other troops. The carrier was loaded above and below deck with planes. When an armored plate cracked below the water line, causing leakage, the ship made port in Casablanca instead of Oran. Del Monaco ended up in a Replacement Depot with hundreds of Allied troops waiting for reassignment. He flew several trips between Casablanca and Alexandria, Egypt, as air bases were being established along the North African Coast. Orders landed him in Persia before deploying to Tezpur, India, "flying the Hump" to Kunming, China.

Del Monaco became part of a mobile squadron, assigned or attached wherever he was needed at the time, flying on the B24, C46, C47, C54 and the C109 in the combat zone known as the China-Burma-India Theater.

The only way in to China was "flying the Hump" in the uncharted Himalayans, where the soldiers needed oxygen for the high altitude. "Joke was, don't worry about charts, just follow the aluminum trail," says Del Monaco, pertaining to airplanes that crashed. He recalls, "It was very hazardous due to monsoon weather and uncharted navigation."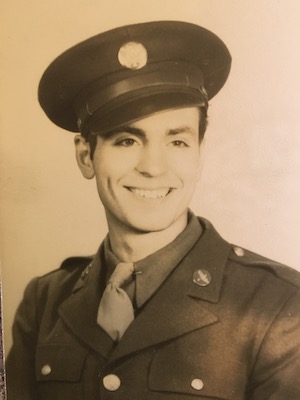 Combat airdrops were made to Merrill's Marauders, under the command of General Stilwell in Burma. The Marauders' job was to fight the Japanese and reopen the Burma Road. Del Monaco's job was to drop combat cargo to support the ground troops in their efforts. Food, shelter, ammo … whatever the troops needed.

Tropical diseases were rampant in India, and Del Monaco contracted malaria and dengue fever. While recovering, he worked with a mapping crew for three months in Calcutta, and then was stationed at an Air Base in Kunming.

As a crewmember on the B24, Del Monaco flew many missions along the east China coast. "We bombed everywhere," says Del Monaco. They destroyed ports and other "targets of opportunity." He remembers being shaken awake by the night officer in charge and being told, "'Wake up, you're going to fly today,' and I just thought, where do I have to be and when!" He adds, "You want to do the job, do it right and you don't want to make any mistakes. It sticks in my mind, as soon as we left the ground, I used to wish that I could just be asleep until it was over."

"The Japanese were always somewhere in the jungle," says Del Monaco, trying to prevent the Americans from landing and taking off from the airstrip. He recalls one particular skirmish. Planes were getting ready for take off when small arms fire was engaged. Del Monaco used an M1 carbine and a side arm. The battle went on for three days before planes could take off again. "I felt I was doing the best I could to save my soul," Del Monaco says. "I had a great awakening to the nearness of life and death."

The Japanese routinely targeted the airstrip with clusters of small anti-personnel bombs. They were designed to be used against troop concentrations and also on airfields. Some were fitted with delay action fuses. They were dropped by the hundreds and many did not detonate. After the air raid, Del Monaco helped clean up the airfield. "That was a continual hazard and after a while we just took it as routine duty," he says. "That was a scary thing that we took care of."

Del Monaco stayed at Kunming until the atomic bomb was dropped. He was discharged in 1946, ranked as flight engineer and earned two Battle Stars. Del Monaco lived with his grandfather in Cicero while attending college and fell in love with the girl next door. They married in 1946. He attended classes at University of Illinois at Navy Pier, Roosevelt University, Illinois Institute of Technology and The Art Institute, and is a retired consulting engineer for Sargent and Lundy. A recent widower, Del Monaco has four children, 10 grandchildren, 11 (soon-to-be 12) great-grandchildren, and one great-great-grandchild.

The five Del Monaco brothers all graduated and served in the military during World War II. Due to the Sullivan Act, they deployed to different combat areas. Del Monaco fondly recalls his years at Mooseheart, saying, "We did enter to learn and leave to serve."

"The happiest day in my life is the day I married Georgien. The second happiest day was when they dropped the Atomic bomb!" Del Monaco concludes. "My family is worth all the trials I had to make and I am happy … happy I did what I did so my family could be happy."

Reprinted with permission from Fra Noi. (Copyright 2021) To learn more, click here.