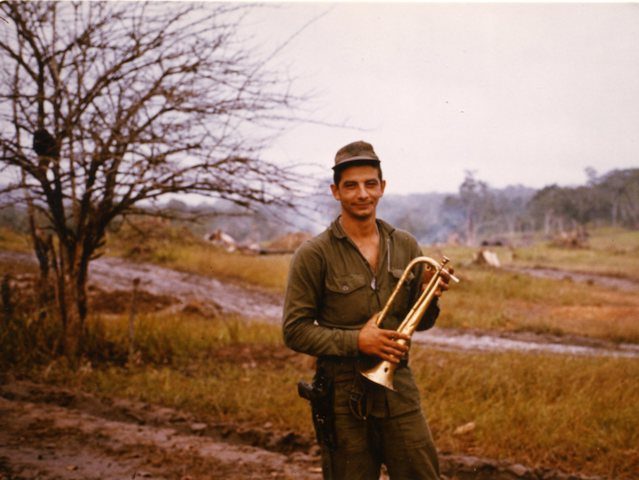 An Army radio telephone operator during the Vietnam War, Sam Fantino emerged from one of the war's bloodiest battles with a battered bugle that has become a part of military history.
The only child of Peter and Sophie Fantino, Sam Fantino was born in Chicago in 1942 and lived in an apartment building in Cabrini Green. His father's family occupied seven of the apartments. "I was free to run up and down. I could eat any place that I felt like," Fantino says. "It was all open doors, a wonderful way to grow up."
He attended St. Phillip Benizi and St. Genevieve grade schools and then Roosevelt Military Academy in Aledo, Illinois. After attending Western Illinois University for one year, Fantino took a job with Motorola until he was drafted in March 1964.
Fantino completed basic training at Fort Knox, Ken., and advanced infantry training at Fort Gordon, Ga. Transferring to Fort Benning, Ga., Fantino was assigned 1st Cavalry Division (Air Mobile), which was originally named the 11th Air Assault.
Training for Air Mobile was extremely rigorous. Along with his 70-lb. backpack and M16 rifle, Fantino carried a 20-lb. pack as a radio telephone operator. Training included how to quickly load and unload helicopters, escape and evade the enemy, and fly into hot landing zones (LZs) under constant enemy fire.
In the summer of 1965, Fantino was deployed to Vietnam on the USS Maurice Rose. "I was scared like everybody else," Fantino says. "You don't know what's going to happen. But when they get done training you, especially under Rick, you feel invincible, you feel like you can go through walls."
Fantino is referring to Lt. Cyril Richard "Rick" Rescorla, one of the towering figures of the Vietnam War. Described by Lt. Col. Hal Moore as "the best platoon leader I ever saw," Rescorla was born and raised in England and served in the British military before joining the U.S. Army.
The ship bearing Rescorla's platoon landed in DaNang and trucks took the soldiers to the town of An Khe, where they built a base for their division using machetes to clear the area. The weather was hot and humid, with temperatures regularly topping 100 degrees, and the area was teeming with snakes and insects. "One thing you learned right away is that everything in the jungle wants to kill you," Fantino says, "not only people."
The enemy was always close because there were no secure areas. Fantino's platoon patrolled the jungle and set up night ambushes in locations where there had been some traffic. They lay hiding in the tall grass, waiting for the enemy. "Once you're in position, all is quiet, no talking, no moving … you can feel bugs, snakes crawling over you and you can't move!" Fantino says.
As the radio telephone operator for the platoon, Fantino was always at Rescorla's side, communicating vital battle information to the company commander.
Air Mobile's job was to go where there was activity, or to reinforce troops in trouble. On the night of Nov. 14, 1965, Fantino's unit — Company B, 2nd Battalion, 1st Cavalry — arrived at LZ X-Ray to support the 1st and 7th Battalion in the Ia Drang Valley. The Battle of Ia Drang was the first major engagement of the Vietnam War and one of its bloodiest. During four days of grueling combat from Nov. 14 to 17, the battalion was decimated.
C Company had been completely overrun by North Vietnamese soldiers when B Company came in to take back X-Ray and hold it. As the battle raged, "Broken Arrow" was called, signaling that the soldiers were being completely overrun and annihilated. Every fixed-wing aircraft and helicopter in Vietnam was called in to bomb the enemy positions. Fantino recalls standing next to Rescorla in elephant grass watching canisters of Napalm seeming to come right at them. "It's almost like slow motion, you would swear it's gonna hit you," he says. "There's no place you can go. It went over Rick and me and landed behind us."
During the final assault, a machine gun opened up and fired between Rescorla and Fantino. "Don't ask me how or why," Fantino says, "God must have the answer. Rick jumped one way, I jumped the other way and it fired between us!" The enemy was about 10 feet away and Rescorla, out of grenades, yelled to Fantino. "I threw a grenade to Rick, threw a fresh magazine in my M16 and started firing, trying to keep our heads down." Rescorla pulled the pin, threw the grenade and knocked out the machine gun nest. They were so close that brain matter from the explosion splattered Rescorla's helmet and shrapnel pierced Fantino's arms.
Nicknamed "Hard Core" for his bravery during battle, Rescorla was revered by his men for his calm, humor and compassion under fire.
"There was a break in the battle before the next assault and the guys were in their foxholes but Rick was out surveying the battlefield because he liked to look at things from the enemy's perspective," Fantino recalls. "There he was walking along like a Sunday stroll singing Cornish songs! Everybody is looking at him and thinking, 'What am I so worried about,' and suddenly you overcome your fears.
"Rick had the ability to help you reach deep down inside yourself and find a strength you didn't even know was there," Fantino continues. "That's the sort of thing that sticks with you for the rest of your life."
Three days in, Company B pulled out of X-Ray, returned to Camp Holloway and the soldiers were cleaning their weapons when Rescorla yelled to Fantino, "Get the men together, we gotta go right back." The rest of their battalion that had relieved them had walked out of LZ X-Ray and into LZ Albany and were caught in a massive ambush, suffering 80 percent casualties.
And so Company Bravo piled onto the helicopters and flew back in. Fighting was so intense that many Hueys didn't get in. Fantino's copilot was shot and the pilot banked to get out of the area. Rescorla gave the order to jump the 10 to 12 feet to the ground and the soldiers fought their way out and regrouped in a safe perimeter. Fantino called in for artillery and air support and prepared for their next ambush.
"You have to remember, your whole life is three to four men to your right, three to four men to your left. You really don't know anything else." Fantino says. "You know that as long as the men to your right are alive, you won't get hit there and as long as the guys to your left are alive, you won't get hit there, and they know the same about you. Your whole world is six to eight guys."
After the final assault, bodies lay everywhere, both American and North Vietnamese. Fantino and Rescorla were searching the area when they noticed a bugle on the body of a North Vietnamese soldier and they took it. It was later discovered that the bugle originally belonged to the French Army and was taken by the North Vietnamese Army during the Battle of Dien Bien Phu, a major devastating engagement that led to the withdrawal of the French from Vietnam.
The bugle remained in the possession of Fantino and then Rescorla throughout the war and afterward. In 1992, General Harold Moore and Joe Galloway, the only journalist on the ground during the fighting, wrote "We Were Soldiers Once and Young," chronicling the horrific battle. That book and resulting movie brought the soldiers together for a reunion that has continued annually. Rescorla brought the bugle and it has been present at every reunion since. "The bugle became the highlight of the reunion," Fantino explains. "It rests in a place of honor in the history museum at Fort Benning."
Fantino was discharged in March 1966 as Specialist 4th Class and returned to Chicago. Among the 13 medals that Fantino earned were the Combat Infantry Badge, Purple Heart, Bronze Star with a V for Valor, and the Presidential Unit Citation, a rare recognition that's given to all those who fought in a particularly perilous battle. He married his wife, Lorrie, in 1969 and they have two children and four grandchildren. Fantino is a retired insurance salesman and he also served in the Cook County Sheriff's Department for 17 years as assistant superintendent of the Holiday Court.
Fantino struggled for decades with the trauma he endured during the war when he returned to the States.
"When we came back, they treated us horribly. They spit on us, they wouldn't hire us, they called us baby killers. I started to block things out and what replaced it was this feeling that I had somehow let everybody down," he explains. "After the book came out in 1992, Rick gave me a signed copy and reminded me of what I had accomplished. He helped me realize that I had done my job, and that really did change my life."
Fantino cherishes his copy of "We Were Soldiers Once and Young," in which Rescorla wrote, "Remember the night defense against the NVA battalion at X-Ray? The final sweep where you crawled up with the grenade and saved my life? These, and many other proud memories, I associate with one of the finest soldiers I have known."
Joseph Galloway also wrote, "A genuine American hero who stood tall on the 2 worst battlefields of Vietnam," and Gen. Moore wrote, "With love and respect to a fellow veteran of the hell of LZ X-Ray."
Rescorla went on to become the director of security for Morgan Stanley at the World Trade Center. Anticipating the attack on the Twin Towers, he implemented evacuation procedures that saved hundreds of lives on Sept. 11, 2001, and died while leading evacuees from the South Tower.
When Rescorla's wife rallied support for a monument to be built at Ft. Benning in Rescorla's memory, Fantino pitched in, and when the base of the monument need replacing, he spearheaded the fundraising effort.
Reflecting on Ia Drang, Fantino says, "It was the worst and the best. I was challenged and I did my job. It was the worst and yet I formed a bond with brothers, and that made it the best."
Reprinted with permission from Fra Noi. (Copyright 2020) To learn more, click here.