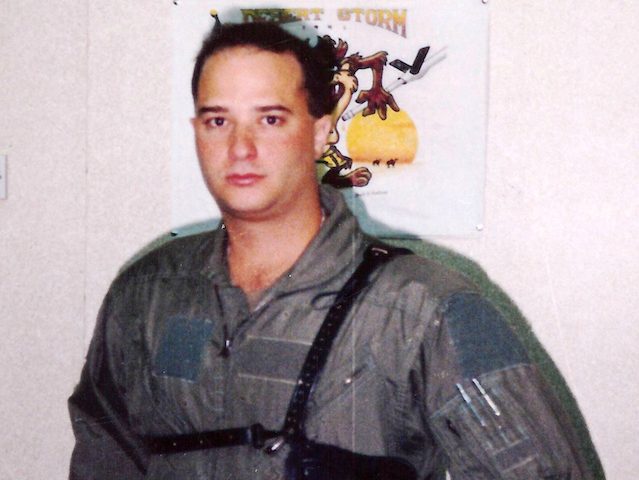 Refueling fighter jets during Desert Storm, Dominic Guerrieri flew over burning oil fields, saw bomb flashes and witnessed artillery launches into Kuwait.
The youngest of six children, Dominic Guerrieri was born in Chicago and grew up on the Far Northwest Side of Chicago near Foster and Cumberland. His father, Carmen, and mother, Rita (Mariano) were born in Chicago. His grandparents emigrated from Basilicata and Bari, Italy.
One of the youngest of 28 cousins, Guerrieri enjoyed his close-knit family. Christmas Eve was celebrated at home with the extended family enjoying the traditional Feast of the Seven Fishes. A favorite Easter dish prepared by his grandmother was calzone di cippola, onion pie. "I loved it so much," Guerrieri says. "She'd make it for me in October, for my birthday, even though it was more popular at Easter time."
Guerrieri attended Dirksen Grade School and Holy Cross High School. Three weeks after graduating he left for basic training with the Air Force. "I was 17 so my father had to sign permission," Guerrieri says. His paternal grandfather fought with the Italian Army during World War I, uncles served with the U.S. Army and Navy during World War II, and his older brother Vic had an Air Force career. "I always felt that I would be in the military," says Guerrieri.
He completed basic training at Lackland Air Force Base in San Antonio and then technical training at Sheppard Air Force Base, also in Texas. He worked as a diesel generator mechanic for four years, stationed at Tinker Air Force Base in Oklahoma and then at O'Hare. During this time he also deployed to Puerto Rico and Germany. His unit's expertise was in mobile communications, ensuring that air-to-ground communications, computer networking and telephone systems ran smoothly.
Guerrieri remained in the Air Force and trained to become a recruiter. He visited high schools and junior colleges and talked to students about career opportunities in the Air Force. They learned about military benefits, enlistment procedures and training.
After the recruiting stint, Guerrieri cross trained at Castle Air Force Base in California and became a boom operator on a KC-135 Stratotanker, a position he held for 10 years. "That was the best job of all," he says. The tanker refuels military aircraft in midair. The crew included a pilot, co-pilot, navigator and Guerrieri. He was responsible for safely transferring aviation fuel from the tanker to another military plane during flight. He operated the long extendable pole with wings on it, called the boom, which was attached to the rear underside of the tanker, and connected it to the fuel receptacle of the receiving plane. He likens it to refueling your car. "It's like you just pull up behind it and a pole comes out and sticks it right into your car for you, but you're doing it at 600 miles per hour in the air," Guerrieri says.
Guerrieri deployed to many countries including England, Spain, France, Germany, Italy, Iceland and the Caribbean. During Desert Shield/Desert Storm he was in Spain, Egypt, Saudi Arabia, Oman and the United Arab Emirates. Some missions involved accompanying fighter jets being transported overseas. His tanker flew with four fighter jets and refueled them from the East Coast all the way into Europe to ensure non-stop flying. At times, the KC-135 carried 20 to 30 ground troops that needed to go along with the fighters.
Flying two big planes within 30 feet of each other at 600 miles an hour is risky. "The first time you refuel a plane, especially a big plane like a bomber, or when a big cargo plane is right behind you, it's a little nerve wracking," Guerrieri says. "But once you do it for awhile it becomes a habit." For training, the KC-135 crews flew for four or five hours at a time practicing take offs and landings at different bases, air refueling, and doing navigational training. "There is an inherent danger in air refueling," says Guerrieri, "but there's also a lot of safety procedures, including training and discipline."
Guerrieri was paired with B52 or B1 bombers carrying nuclear weapons. "So I spent several days straight on alert … if the alarm went off we'd have to go launch and refuel the bombers on the way to the USSR," says Guerrieri. "We never had to actually launch against the USSR, but we were always ready for that."
Stationed in Iceland, Guerrieri accompanied F15 fighter jets. "If the F15 went up in the air, we went up to make sure they had enough fuel to escort the Russian bombers away," he says.
Guerrieri participated in a "tanker bridge" while refueling fighters going to the Mideast during Desert Shield. Tankers flew out of Maine and the Azores while Guerrieri was stationed in Spain with other tankers based in Sicily, Egypt and Saudi Arabia. Fighter planes flew from the East Coast all the way to Saudi Arabia with tankers all along to refuel them in their non-stop flight.
Guerrieri deployed to Saudi Arabia in December 1990 and two weeks before Desert Storm moved to Abu Dhabi, in the United Arab Emirates. During a crew briefing he learned a 20 percent loss of tankers was expected during the war. "Basically saying if you were flying in a tanker you had a 20 percent chance of being killed," says Guerrieri. "So we had a little bit of worry going in, but thankfully we didn't lose any tankers."
During Desert Storm, Guerrieri flew nearly every day for six weeks, almost exclusively refueling fighter planes. Within a week to 10 days of Desert Storm beginning it was clear that the Iraqis, besides a show of force around Baghdad and a few other key areas, had little air defense capabilities. "They were built up to be a really fierce military and in reality they weren't," Guerrieri says.
He flew over burning oil fields, saw bomb flashes and witnessed artillery launches into Kuwait. "It was kind of surreal," says Guerrieri. On most missions, his was one of eight to 10 tankers, each with four fighters behind it, about 30 or so planes all flying in formation. "It was a huge air invasion and there was a certain risk with flying in such large formations," Guerrieri says. "You had to be at the right place at the right time at the right altitude and make sure you're not in the way of anyone else."
Later Guerrieri was stationed in Pisa, flying missions into Bosnia from 1994 to 1998. He then flew missions out of Frankfurt, refueling F117 stealth fighters flying into Kosovo in early 1999. This was his last deployment before taking early retirement in July 1999, after an Air Force career of nearly 16 years. His rank was Technical Sergeant.
After retiring, Guerrieri began a successful career in wine sales. He and his wife, Carolyn, have three children. His son, an Army ROTC cadet, is proudly carrying on the family military tradition.
Recalling Desert Storm, he says, "It was a pretty massive feeling, definitely a show of force that I would not want to be on the other side of."
Reprinted with permission from Fra Noi. (Copyright 2020) To learn more, click here.