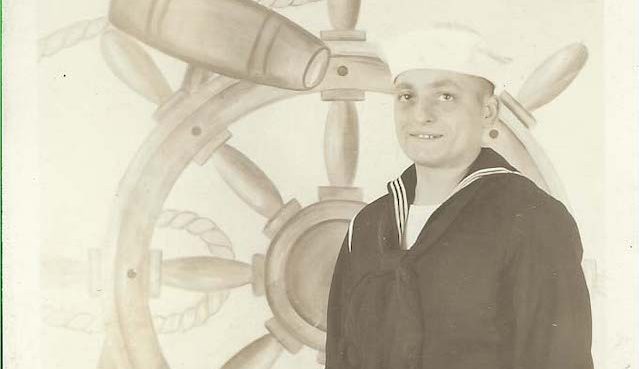 Serving in the Navy at the close of World War II, Vince DiCarlo watched from a transport ship 10 miles away during the first atomic bomb test at Bikini Atoll.
The fifth of six children, Roger Vincent DiCarlo was born in 1927 in his parents' home at 1121 S. Morgan St. His father, Settimio (Sam), and mother, Lucia (Zarlenga), were both from Pietrabbondante, Italy.
On Sundays, his family gathered with aunts, uncles and cousins to share meals for which "everything was homemade." DiCarlo played "kick the can" in the streets where, he says, "We had to watch out for horse and wagons."
The family moved to 4500 W. Van Buren St. when DiCarlo was 7 and he attended Sumner Grade School and Marshall High School, transferring to Crane High School before joining the Navy in 1945. "That was the mindset in those years," he says. "I was a kid but I was ashamed to go downtown because I wasn't in uniform."
His oldest brother, Al, was in the Army fighting in Europe, and brother Floyd, a Marine, was fighting in the Pacific. DiCarlo, only 17, needed his father's permission. DiCarlo remembers, "I just bugged that poor man until he finally said, 'You know, what are you gonna do?'"
DiCarlo went to Great Lakes Naval Center for nine weeks of boot camp. His parents visited, bringing a box filled with his father's homemade sausage and his mother's bread. "I was quite embarrassed because you could smell that sausage," DiCarlo says. As he returned to the barracks, his buddy, Dumbrock, asked, "Hey DiCarlo, what have you got? It smells so good!" Within minutes, he was surrounded and the food was gone. DiCarlo called home and said, "Hey dad, when you come out next week bring more sausage!"
After boot camp, Fireman 1st Class DiCarlo spent a short time at Camp Schumaker in San Francisco before boarding a troop transport ship. "I wasn't thinking that something bad could happen," he says. "You're 17, you're gung ho."
The ship arrived in Tokyo Bay as the war ended and after a few trips carrying soldiers from various islands to Hawaii, DiCarlo was assigned to the former Japanese cruiser Sakawa.
He was among a crew of 165 doing the work of 325 getting the Sakawa seaworthy. Most of its systems were non-functional and the leaky hull was filled with rats. The sailors emptied filthy water from the bilges and got the boilers running again. DiCarlo worked a four-hour shift and the conditions in the boiler room were terrible. "It was very, very hot," he recalls.
The former Japanese battleship Nagato was also in Tokyo Bay and they both shipped out on March 18, 1946, headed to Eniwetok. Ten days later, about 300 miles from their destination, the Nagato blew a boiler and radioed the Sakawa for help. DiCarlo was in the boiler room when the Sakawa pulled alongside to tow it, only to run out of fuel. The ships collided, making a booming sound and rattling the vessels. "We all went flying out of the boiler room," DiCarlo says. "All I know is that I thought we were sinking!"
The ships bobbed in the sea for days before barges towed them to Eniwetok. While there, a USO show was held to entertain the troops. One of the crew members complained that he couldn't attend because he had the 8 p.m. to midnight shift. DiCarlo told him, "If you want to go that bad, I'll take your watch and you take my watch."
Early the next morning, the chief awakened DiCarlo and a shipmate and told them to open up the main steam line to preheat the cold boiler room. The three of them went below, DiCarlo opened the main line and suddenly steam started shooting all over.
"We just barely made it out of there because that boiler room was 500 degrees in a matter of minutes," recalls DiCarlo. "What happened?"
Hours later, when the boiler room finally cooled down, they discovered that gauges had been smashed, pipes cut and sand had been poured into the oil and water pumps, disabling the ship's fuel system. Eventually five sailors, including the one that DiCarlo switched watch with, were found guilty of sabotage. DiCarlo explains that their motive was to put the Sakawa out of commission so they could be relieved of duty on that filthy ship.
After repairs, the Sakawa set off for Bikini Atoll to take part in Operation Crossroads, a pair of atomic bomb tests designed to study the effects of nuclear radiation. The target fleet consisted of more than 90 captured German and Japanese vessels and surplus U.S. ships loaded with equipment, animals and recording devises.
The first test, ABLE, took place on July 1, 1946. DiCarlo and crewmembers from the various target ships watched from troop transports about 10 miles off as a B-29 dropped a bomb on the target from above.
On deck, the soldiers were told to put their backs to the bombsite, squat and cover their heads with their arms. "We heard the countdown … 10, 9, 8 … It was exciting," recalls DiCarlo. Then he heard a rumble "like thunder that didn't stop, it just kept exploding and exploding and exploding."
Five minutes later, the men were told they could take a look. "It just kept exploding on top of the (original) mushroom cloud and another one would explode on top of that and so on," he says.
Back in the harbor, DiCarlo remembers seeing the USS Independence, an aircraft carrier whose deck had been filled with decommissioned planes. "There wasn't a plane left on deck and it was pretty much mangled," he says. "The Sakawa was listing on its side."
He was below deck on the transport ship when he heard, "Crew members of the Sakawa, come up on deck." DiCarlo scrambled topside to watch his ship sink, one of five that went under. The surviving ships weren't dangerously radioactive and were safely boarded within a day. It was lucky for DiCarlo that the Sakawa sunk; otherwise, he would have been present at the second test on July 25.
During the BAKER test, the bomb was detonated 90 feet underwater, bathing most of the target fleet in radioactive spray. The ships were contaminated for weeks before brief on-board activities could take place. Many sailors present for the second test suffered the effects of radiation exposure.
DiCarlo was discharged in August 1946 after being in the Navy for a little over a year. At that time, a sailor was eligible for discharge six months after the war ended. That, in addition to the fact that his ship had been sunk, made the early discharge possible.
He returned home, surprising his family. "My nieces and nephews were outside playing; spotted me and got all excited," he says. "Oh my God, you would have thought the King of Siam walked in … everybody was so happy."
DiCarlo owned V & F Liquors in Chicago with his brother, Floyd. He has one son and two grandchildren.
Reflecting on his service, DiCarlo says, "The experience I had was tremendous. I went in a boy and didn't come out a boy, that's for sure!"
Reprinted with permission from Fra Noi. (Copyright 2021) To learn more, click here.