As a platoon sergeant, Al Provenzano was responsible for shepherding his men across Europe from Omaha Beach to the brink of Berlin, earning a Purple Heart and five Battle Stars along the way.
Editor's Note: All passed away March 2018. This article was published in the April 2017 issue of Fra Noi and is being republished here in his memory.
The third of nine children, Angelo (Al) Provenzano was born on Feb. 29, 1920, in Melrose Park. His parents, Gaspero and Maria (Greco) Provenzano immigrated from Lappano in Calabria.
Provenzano attended Melrose Park Grade School and Proviso Township High School. Growing up during the Depression was tough, especially in a large family where everyone wore hand-me-downs. "It was some rough times, but everybody was on relief, so everybody was kind of equal," he says. Fondly recalling his mother's cooking, Provenzano says, "Her specialty was homemade raviolis. She'd get 100-pound sacks of flour, and she baked bread twice a week."
He worked for the Charles Bruning Co. in Chicago when he was drafted into the Army. "I went at a very sad time," he says. "My dad had leukemia and I was helping my family out."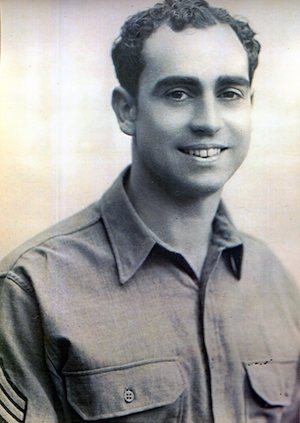 Provenzano completed basic training at Camp Robinson, Ark., and advanced infantry training at Camp Polk, La. His father passed away during this time and Provenzano recalls, "It was a little rough for my mom." Worried about the family, he designated a large portion of his monthly paycheck to his mother and the government added an allotment. "It wasn't much, but every little bit helped," he explains. "She used to wait for that check."
He deployed overseas on the Queen Mary. As the converted cruise ship zigzagged across the Atlantic from New Jersey to Glasgow, Scotland, Provenzano remembers the morale of his fellow soldiers: "The blood gets in you. You know you're going to battle sooner or later, you don't know when, but you know you're going to war. Everybody felt we gotta get this damn war over with and then we go back home."
From Glasgow, Provenzano boarded a train to Stratton on the Fos. As a platoon sergeant for the Army, he was stationed along with his men at a base near by. The soldiers trained continuously. "We knew there was going to be an invasion, we just didn't know when," he says.
Finally, the commanding officers told the platoon sergeants, "Get ready, get your men together, we're going, this is it!" That day was June 6, 1944: D Day! The soldiers piled onto the LCIs (Landing Craft Infantry) and headed across the choppy English Channel.
"Most of us got sick," remembers Provenzano. As they approached the beach, the Germans started shooting. "We sobered up in a hurry. We had our rifles, grenades. You rush out there, shooting. That's it: Shoot, kill or be killed!"
Bodies were in the water and on the beach; gunfire surrounded him, bombs flew through the air. "You had no time to think," Provenzano says. "You gotta protect yourself and your men. You gotta keep shooting."
As the German troops retreated up the hill toward St. Lo, Provenzano's company settled into Omaha Beach. "Paratroopers were stuck in the trees, dead, with their parachutes dangling," Provenzano says. "It was a sad thing to see!"
In the lull between gunfire, Provenzano grabbed two of his men and started climbing the hill to scope out the enemy. They were near the top when machinegun fire opened up. Provenzano yelled to his men, "Keep low, keep low, those machine guns are shooting down over us, but as long as we lay low, we'll be safe." They each had about 10 grenades and Provenzano told them, "If you get a chance, throw the hand grenades! Throw 'em all!"
They lobbed their grenades, knocking out the machinegun nest, and Provenzano told his men, "Scramble down the hill now, go back to the hedgerows!" As they reached safety, Provenzano turned to join them when fragments from a mortar shell hit both of his legs. "I had blood all over me. I thought I was through!" he remembers. Provenzano feared the worst, but he was lucky. Field medics removed shrapnel, bandaged him, gave him penicillin and he returned to his men. "You feel pain, but it's not unbearable," he says.
Provenzano reported to his colonel, "They got everything zeroed in on us. We're downhill, they're uphill, they got the advantage. We need our Air Corps to drop some bombs on St. Lo."
As they fought their way inland, Provenzano and his men took shelter in the dense hedgerows that lined the fields of Normandy. He told his men, "We gotta keep together and help each other. Don't go stickin' your necks out for no good reason."
A couple of days later, Provenzano and his men advanced to St. Lo. He remembers, "It was in smithereens; we walked right up!" The troops continued moving through France and Provenzano recalls that the civilians were lined up on the road waiting for them. "Oh they loved us; they grabbed us, kissed us."
German soldiers, waving their white handkerchiefs, surrendered to them. "They knew we had them outnumbered," Provenzano says. "They didn't want to fight anymore than we did. They were so happy to see us."
The Germans, along with Russian soldiers who were locked in a stockade and released by Provenzano, were taken to a safe place, as were the Italian soldiers that they encountered.
Continuing on to Belgium, "There were a few skirmishes here and there, but we cleaned them up in about 10 minutes," Provenzano recalls. "We were too many for them."
Recalling the Battle of the Bulge, Provenzano says, "It was vicious; there was always gunfire and it was cold! As you're going through and the bombs are landing here and there, you warm up in a hurry, your blood gets pumped up."
The soldiers rested when they could. "You're just concentrating on beating them up, winning the war, bombing the heck out of them so you can go home!" He shakes his head, "The snow was all red … Oh God, the poor guys … it was a sad, sad affair."
In all, Provenzano fought in five major battles on the way to victory against the Nazis. After the war ended, Provenzano returned home to Camp Grant and was discharged with a Purple Heart and Five Battle Stars.
He married his wife, Blanche (Bunny), in 1952 and they settled in Oak Park. Provenzano was the co-owner of two businesses, Tru-Pal Pet Supplies and Dan-Al Tool & Die Co. He meets friends daily for breakfast and lunch and is active with his church, occasionally visiting Hines Hospital to sing to the men.
Reflecting on the war, he says "Your heart gets acclimated to it and all you're thinking of is, you gotta save your life. To save your life you gotta be the winner. You have to do what you have to do!" Of his fellow soldiers he says, "You're with the guys night and day, your life depends on them and their life depends on you."
Reprinted with permission from Fra Noi. (Copyright 2021) To learn more, click here.