Having stared death in the face as a BAR gunner in Korea, Frank Calé was glad to close out his tour of duty as the platoon cook.
Editor's Note: Frank passed away in November 2020. This article was published in the April 2017 issue of Fra Noi and is being republished here in his memory.
Frank Calé was born in Valenzano in 1930, immigrating to the United States with his mother and sister when he was 6 years old. His father, who had moved to Chicago before them, picked them up at the train station and took them to their new home on 1106 S. Troy St. They eventually settled at 3046 W. Arthington Ave.
Calé attended St. Agatha Grade School and Manley High School. Working at various jobs — including construction, like his father — he joined the National Guard in 1947. He reported for infantry training every weekend until he joined the Army in December 1950. The fighting in Korea was raging and Calé's father did not want his only son to go off to war.
He deployed to Ft. Leonard Wood, Mo., for basic training and after two months received his assignment. Calé was headed for Korea. "I just took it in stride," Calé says. "My parents didn't like it. My father was very hurt."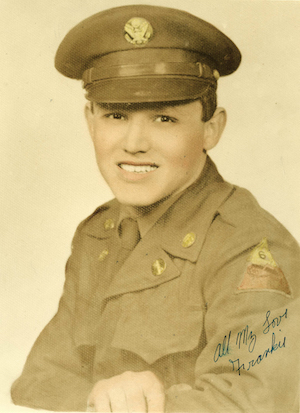 Calé boarded a train to Ft. Lawton in Seattle and embarked on a 14-day journey across the Pacific to Pusan, Korea. The soldiers slept in cloth bunks, six high. He remembers seas so rough that he could see the bottom of the ship as the waves crashed against it.
The soldiers trained and exercised daily on board in preparation for battle. "You had to be scared," Calé says. "If you say you're not scared, you're not right." He arrived in Pusan in March 1951 as part of the 24th Infantry Division, I Company, Third Battalion, Third Platoon. Calé's weapon was a Browning Automatic Rifle (BAR). The death rate was very high for soldiers carrying this particular machine gun, because "it's what the enemy goes for."
Calé marched from town to town, right behind the front line. He lived in a two-man pup tent and patrolled daily with seven to eight other comrades-at-arms, rookies paired with veterans, searching for North Korean and Chinese soldiers.
Calé fought not only the enemy, but also the snow and sub-zero temperatures in the winter; the hot, humid weather in the summer; and the treacherous mountain terrain. The region contained many small caves and other formations in which the enemy hid. When they came across one, the soldiers threw grenades in to flush the enemy out. Calé fought in several skirmishes amid exploding artillery shells and gunfire. "You're trying to stay alive," Calé remembers. "You're scared. … Are you going to be next to get it?"
North Korean and Chinese troops routinely booby-trapped their dead, dressing them in American uniforms and using them for bait, hoping to blow up unsuspecting American soldiers. Patrolling, Calé spotted a body lying in the middle of the road ahead. He reacted quickly but was suddenly pulled back. "You see a dead soldier on the ground and the first thing you want to do is get him off the road, but they were booby-trapped," Calé remembers. "I got sick." His buddies saved his life. "I was very thankful for them!"
Camped behind the front line, the soldiers had no place to bathe except in a ravine filled with 5 to 6 feet of water. Calé was in the water when his buddies yelled, "Frank get out of the way, get out of the way!" Two bodies were floating toward him. If one had touched him, he would have been blown up.
Casualties were high. One of Calé's close friends was killed in a firefight. He was distraught as he carried him up the hill. "That's something I don't like to talk about."
Calé's mother and sister wrote to him and regularly sent care packages that included spaghetti, tomato sauce, salami, provolone, capocollo: food that did not spoil. After six months of front-line combat, Calé heard about an opening for a cook. Using food he received from home, he whipped up a batch of spaghetti, complete with tomato gravy the way his mother made it, and served it to the troops.
Switching from BAR man to cook, his new job assignment, he fed the 300 or so troops on the front line, preparing three meals a day on propane-fueled field stoves. Meals included eggs, potatoes, sausage, bacon and whatever provisions he could get his hands on. Supplies and food were regularly delivered to the troops.
Calé filled containers with the food, packed it all up and — with the help of South Koreans, fondly called "Chickie Bears" — carried it up to the soldiers on the front line. When they finished eating, Calé packed everything back up and returned to the field kitchen. Reserve troops ate at the camp. Some of his buddies were mad at him for switching from a BAR man, but Calé responded, "I'm looking to stay alive. I'm still coming up to the front."
Calé served in Korea for 13 months and left for the states in April 1952. "Let me put it this way. Going out to Korea, I was one of the troops eating the food. Coming back, I was cooking it!" Back in the states, he was stationed at Ft. Jackson, S.C.
Calé was discharged from the Army in December 1953 with the rank of sergeant and returned to his parent's home in Chicago. He was introduced to his future wife, Terri, and when they met, they realized they knew each other as children. They married in June 1954, and have three daughters, six grandchildren and two great grandchildren. Calé worked for the Oak Park Water Department for 27 years, moving with his wife to Bolingbrook after he retired.
A scrapbook contains photos of Calé and his buddies in Korea outside of their pup tents and around camp. The book also has his orders to be a mess sergeant on a troop train that carried soldiers to the port of embarkation in Seattle.
Another souvenir is a menu of the three meals he prepared at Ft. Jackson on Oct. 16, 1953. Supper that day consisted of sautéed fish with a lemon wedge, creamed paprika potatoes, buttered lima beans, coleslaw, bread, butter, pineapple pie and coffee.
Calé is a member of the Italian American War Veterans, a former commander for Post 1 and a past state commander. He is active in the VFW, American Legion and the Knights of Columbus. He still cooks for his wife as well as for functions at St. Francis Church in Bolingbrook. Calé's photos, medals and army helmet are on display at the Italian American Veterans Museum at the Casa Italia in Stone Park.
Reflecting on his time on the front line, Calé says, "You never knew what would come up. You always gotta be watching."
Reprinted with permission from Fra Noi. (Copyright 2021) To learn more, click here.