One of history's greatest cyclists, Gino Bartali went above and beyond the call of duty during World War II on behalf of Italy's Jewish citizens.
Life has peaks and valleys, happiness and sadness, good and evil. In the course of a storied career, Italian cycling legend Gino Bartali pedaled through countless highs and lows, both physical and emotional, battling more than his fair share of evil along the way.
Gino was born to Torello and Giulia Sizzi Bartali in 1914 in Ponte a Ema, a small Tuscan town just south of Firenze. Torello often collected mud for bricks as a day laborer, and Giulia took in hotel laundry and made lace. The Bartalis were devout Catholics, and young Gino would later marry Adriana Bani in a ceremony officiated by a priest who went on to become the Archbishop of Firenze.
Torello felt Gino was too frail for hard labor, but insisted all his children work even at a young age, so Gino helped make lace and rope. He was also fortunate to find work in a bike shop. Back then, when no one could afford a car, the bicycle was a huge part of life in Italy. As revealed in Vittorio De Sica's 1949 neorealist classic "Ladri di biciclette" (Bicycle Thieves), the loss of a bike could lead to a family's economic ruin.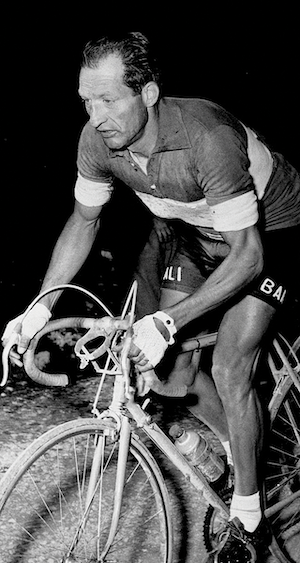 In 1925, 11-year-old Gino had the opportunity to attend school in Firenze but needed a bike, so he bought a used one from the shop where he worked and soon developed a passion for cycling. He and his younger brother, Giulio, would ride with other boys from the area through the hills of Toscana. Gino won his first race in 1931 and turned pro in 1935. Given the vital importance of bicycles to Italians, it should come as no surprise that champion racers became national heroes and stars. In 1936, Gino won his first Giro d'Italia, Italy's premier professional bike race, which that year covered 2,340 miles, ranging from Milano to Bari and back.
But tragedy struck the Bartali family when Giulio died in a cycling accident the same month as Gino's victory. Gino was devastated by the loss and considered giving up competing, but given the global economic malaise, he needed to win races to bring home prize money, so that's what he did. He dedicated his 1937 Giro to his brother, and when he won, his back-to-back victories made him a legend in Italy, which unfortunately caught the eye of Mussolini. General Francesco Antonelli, the fascist minister of sport, famously proclaimed that an Italian winner of the Tour de France would be a god and "proof of the superiority of the Italian race."
In 1938, Bartali crushed the competition and won his first Tour. The fascists were elated, but Bartali did not dedicate his victory to Il Duce, instead humbly bringing the traditional winner's bouquet to a church where he prayed. Bartali ended up being blessed by three popes for his support of Catholicism rather than fascism or communism. Because of his snub of Mussolini, he was not lauded or rewarded by the government on his return home.
Fausto Coppi also appeared on the Italian racing scene in the late 1930s. He was a junior teammate and eventual rival of Bartali, winning the 1940 Giro for himself rather than helping his team, angering Bartali in the process. Among Italian bike racing fans, the great Coppi/Bartali debate raged. Who was the better rider? Whose wins were more significant? There was also a cultural divide created by the riders' personal styles and beliefs. Bartali set up Catholic shrines in his hotel rooms and was happily married, while Coppi lived with a mistress. As in many cultural debates in Italy, there was also a regional divide. Born south of Turin, Coppi was the "volatile Ligurian," while Bartali was the "reliable Tuscan." Coppi fans, or "tifosi," were drawn from the industrial north, while the bulk of the "Bartaliani" were from the more conservative, agrarian south. By the time those divides began to emerge, Italy was gearing up for war, and all able-bodied men were called to arms. Both cyclists lost the best years of their careers as nations around the globe were pulled into the abyss of World War II.
Fortunately, Bartali, who was conscripted along with Coppi, was found to have a "heart issue," which is amusing given he was a world champion bike racer whose training regimen included cigarettes and espresso before races and sometimes wine during them. Clearly, someone in the Italian military hierarchy was a racing fan, as Bartali was assigned the job of bicycle messenger.
In 1943, Mussolini was deposed by King Vittorio Emanuele III during the Allied invasion of Italy, and an even darker chapter began for Italian Jews. Prior to 1943, laws excluded Jews from most aspects of Italian life, and they would ultimately facilitate future deportations. Under the German occupation that held sway north of Rome after the fall of Mussolini, Italy's Jewish citizens were now to be hunted.
Rising to the threat, Bartali's old friend, Firenze Archbishop Elia Della Costa, began working with the rabbi of Firenze, Nathan Cassuto, to create an organization to assist Jews and thwart German efforts to round them up. The Assisi Network was founded to help smuggle Jews out of the country, find them places to hide within it or provide them with fake identities to avoid the authorities.
The archbishop shared his plan with Bartali, who agreed to carry counterfeit documents and photos in the hollow frame of his bike. The plan was nearly perfect as Bartali knew the roads around Firenze well, and his need to train provided an ideal cover. One of the main centers of the counterfeiting effort was Assisi, whose bishop, Giuseppe Nicolini, was in on the scheme. Nicolini also arranged shelter for Jews in some 26 monasteries and convents, which were traditionally closed to outsiders due to monastic rules. False identity papers were created on a printing press hidden in an Assisi stationary shop, and Bartali's legendary devotion to the Catholic Church explained away his frequent deliveries to religious orders throughout the area.
If you're wondering how Bartali was able to slip past the numerous checkpoints along his hazardous routes, imagine how American soldiers and police in the 1930s would have reacted to seeing Babe Ruth at a roadblock. They would have been in awe and asked for his autograph, not checked him for hidden documents. Bartali rode thousands of miles on his courier missions to cities such as Genoa, Luca and Rome. One story has Bartali — who was known as the Mountain King for his prowess on the hills — towing Jewish children into Switzerland in a hidden compartment in a wagon attached to his bike. When questioned about the heavy wagon, he was said to have explained that it was part of a training regimen that helped him win the mountain stages of races.
The closest Bartali came to being captured was when he was arrested on suspicion of harboring a Jewish family and helping the Resistance. He was taken to Villa Triste (House of Sorrows), where people were imprisoned and tortured. Luckily, one of his old commanding officers was able to convince the security forces that Bartali was innocent. In reality, he and his wife were hiding the family of Giacomo Goldenberg, whom the couple had befriended before the war. Bartali kept all his activities with the underground secret.
In 1946, Bartali won his third Giro D'italia in a weakened field of competition that included his rival Coppi, who had spent time in an English POW camp at the end of the war. In 1947, the younger Coppi was back in form and again won the Giro, while the older Bartali, now 33, was seen as past his prime. In 1948, the Tour offered two spots for Italian teams. Coppi insisted on taking the lead, so Bartali formed his own team. Many doubted Bartali could emerge victorious at his age, but he astounded the naysayers, winning three consecutive stages in the mountains — a feat that went unmatched for half a century. Bartali won the Tour 10 years after doing it the first time, the longest hiatus between wins in the history of the race.
Bartali died in 2000 at the age of 85, and it was only after his death that the details of his wartime exploits became public. Late in life, Bartali told his son what he had done during the war, urging him and his wife to keep the information under wraps. At one point, Bartali met a relative of Rabbi Cassuto and agreed to explain his work with the Assisi Network, but only under the condition that she not record the discussion.
Bartali once said: "You must do good, but you must not talk about it. If you talk about it, you're taking advantage of others' misfortunes for your own gain." By some estimates, "Gino the Pius" saved the lives of 800 of Italy's Jewish citizens. On July 7, 2013, Yad Vashem recognized Gino Bartali as "Righteous Among the Nations," an honorific used by the state of Israel to describe Gentiles who risked their lives during the Holocaust to save Jews from extermination by the Nazis.
Reprinted with permission from Fra Noi. (Copyright 2021) To learn more, click here.