Whether by tracking Soviet subs or teaching members of the U.S. intelligence community about terrorism, Joseph Troiani has been helping keep America safe for more than three decades.
Joseph Troiani leads two very different lives.
Most days, Troiani, who has his Ph.D. in clinical psychology, serves as the director of behavioral health programs for the Will County Health Department, and is on the faculty at the Adler School of Professional Psychology.
But for the last 32 years, he has spent two to four weeks a year and one weekend assisting those who are at the front line of defense of our nation.
A commander in the U.S. Navy (Reserve Component), Troiani has spent much of his career in uniform applying the analytical and psychological skills he practices in civilian life to his work in Naval intelligence.
At age 60, Troiani is already one year past retirement age for officers — having stayed on an additional year by request — and plans to retire his commission in the coming months. With more than three decades of service under his belt, Troiani says he's immensely proud of his work — even if much of it is classified.
"Since I'm retiring soon, I can talk about it," Troiani jokes.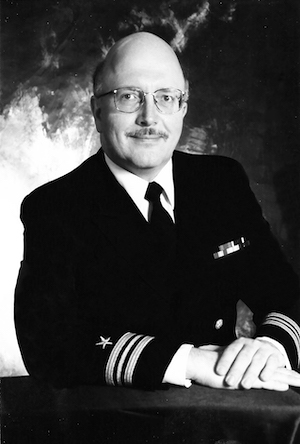 Born in Chicago and raised in Humboldt Park and later the Belmont-Cragin community, Troiani attended St. Patrick High School and eventually went on to earn his bachelor's degree in psychology from Northeastern Illinois University and his master's degree in health administration at Governors State University. (Troiani earned his M.A./Ph.D. in clinical psychology in 1992.)
After graduation, he went to work at the West Side Veterans Administration Hospital, and later at Loretto Hospital in Chicago as the director of its addictions treatment program. But by the time Troiani was 28, he was looking to expand his horizons.
"I've always had a desire to serve my country in the military," Troiani says. "We have a very strong family history of service."
Troiani's paternal grandfather, also named Joseph, emigrated from Italy in 1914. Even with limited language skills, he joined the Army four years later. Serving alongside other recent Italian immigrants, he often found himself translating his commanding officers' orders from English to Italian for the benefit of his comrades.
Troiani's father, Edward, was an Army enlistee serving with the 12th Air Force during World War II, and battled his way across North Africa, and the Italian peninsula to help liberate the Italian people from the grip of the Axis Powers.
It only made sense for Troiani to continue the family's military tradition. The Navy Reserve was appealing because of warm childhood memories of piling into the family station wagon to picnic near the Naval Air Station in Glenview, and of being in the audience at countless air and water shows.
"If any Navy ship was doing a summer tour to Chicago, I always could count on my father to have us waiting in line to get aboard," Troiani says.
Troiani's background in psychology and his interest in international relations and history made him a perfect fit for intelligence work such as analyzing and interpreting spy photographs and assembling studies on different countries.
One of his earliest, and most exciting, assignments was with Patrol Squadron Ninety (VP-90), an anti-submarine warfare squadron based at Glenview Naval Air Station, during a time when Cold War–related tensions ran high. Troiani would brief squadrons before their missions and inform them of the tactics and possible locations of Soviet subs near the East and West coasts of the United States.
"As they say, the only difference between what we do in peace and war is that in war, if we found the enemy, we would sink them," Troiani says.
After being commissioned as an officer in 1982, Troiani served a five-year tour as a reserve special agent with the Naval Investigative Service (NIS), which is today known as Naval Criminal Investigative Service, or NCIS, and is the basis for a very popular television series on CBS.
He later worked on political and military analysis with the Defense Intelligence Agency before settling into his current position as a reserve faculty member of the National Defense Intelligence College in Washington, D.C. There, Troiani teaches classes in a post-graduate intelligence program for reservists and civilians assigned to the intelligence community on topics ranging from homeland security and defense to the history of terrorism.
Troiani has worn numerous hats over the years in his dual careers, and has logged some serious miles traveling back and forth from his home in suburban Riverside, Ill., to posts in Washington, D.C., and across the country. But the get-up-and-go lifestyle of a reservist suits him well, Troiani says.
"I like to keep busy," he says. "If you're pursuing your passion, and if you enjoy what you're doing, it's not work."
Though his intelligence-gathering days are behind him, Troiani wants to continue teaching at military colleges in the areas of national security and intelligence.  "I'll continue in the game in one capacity or another," Troiani says.
But Troiani is excited that retirement will allow him to pursue a beloved hobby he shares with his wife — travel.
In addition to a yearly Caribbean cruise, the Troianis are globetrotters who have stamps in their passports from countries scattered across the globe, including Italy, England, Scotland, Japan, China, Korea and Thailand, to name a few.
On the occasion of his final tour of duty, Troiani says he's grateful for everything the United States Navy has given him.
"I learned about patriotism and I learned about leadership," Troiani says. "Also, the camaraderie is like nothing else I've experienced on the civilian side. You truly become a band of brothers and sisters."
Reprinted with permission from Fra Noi. (Copyright 2020) To learn more, click here.