Fascinated by America during his youth in Italy, Leonardo Aiello served both nations admirably during a three-year stint in the U.S. Navy.
One of four children, Leonardo Aiello was born in Bagheria, Sicily, to Angelo and Angela Buttitta Aiello. He grew up near grandparents, aunts, uncles and cousins on both sides of the family.
Among his favorite meals were two Sicilian specialties his grandmother prepared. Cuccia, a "soupy dish" of ceci beans and whole wheat kernels, was served on the Feast of Santa Lucia. "I used to love that," Aiello says. Sfincione, similar to focaccia, was enjoyed at Christmas.
He attended grammar school and high school in Bagheria and after graduating studied hotel management in Palermo. His father worked as a projectionist at the local movie theater. "I was always at the movies," says Aiello. "We would get in for free."
Aiello and his family immigrated to Chicago in 1970, when he was 15 years old. "I was incredibly excited," he says. Aiello had seen many movies and read books about the United States, and he had learned some English in school. "I was so impressed with the U.S.," Aiello says, "from a colony of England that became one of the most powerful countries in the world."
The family eventually settled in Stone Park. Aiello worked in various pizza parlors until he turned 18 and joined the Navy under its three years active duty, three years reserve program in 1973. "Nobody was happy about it. My parents, especially my mother, were really against it," Aiello says. His boss said, "No, no, I'm going to give you a raise so you'll stay with me."
Watching military movies as a child greatly influenced him. "I saw so many movies featuring the U.S. Navy, the U.S. Army, that was my first thought of joining," says Aiello. He admired the Navy uniforms, liked the big ships and loved the ocean. "When I was in the U.S., I saw a Navy poster: 'Don't read American history, make it.' So that was kind of another reason," Aiello says.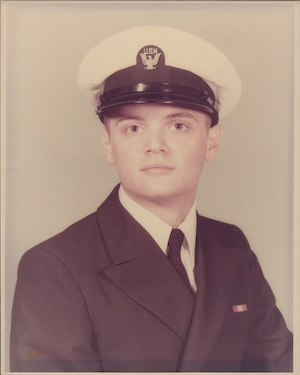 He attended boot camp in Orlando, Florida. "I was very out of place, like a fish out of water, not being able to speak the language fluently," says Aiello. With the help of his Italian/English dictionary, he scored high on tests, often better than everyone else. "I was really determined to make it," Aiello says. "I didn't want to go back home because a lot of people would make fun of me because they strongly discouraged me to go."
Aiello graduated with orders for Japan. "That was one of the reasons why I joined, because I wanted to travel," he says. He went home on leave before deploying. "Everybody was glad to see me," Aiello says. "My mom was of course crying."
He arrived at Yokosuka Naval Base, stationed on a destroyer, and after a few weeks, the ship sailed to the Philippines, Hong Kong and Singapore before returning to home port. Assigned to the weapons deck, Aiello was involved with supplying and taking care of ammunition, steering the ship under the control of the officer of the deck and painting the ship.
Aiello transferred to Gaeta after four months due to his proficiency in Italian. Situated between Rome and Naples, Gaeta was the home port of the flagship of the U.S. Navy in the Mediterranean for the Sixth Fleet. Stationed on the USS Little Rock, Aiello performed numerous duties, both on board and on shore in the Naval Support Activity building. "We spent approximately 40 percent in our home port, another 30 percent at sea doing war games, exercises, and the remaining time I was in different ports," says Aiello.
The ship made stops in Greece, France, Egypt, Morocco, Tunisia, and other countries in Europe, Africa and the Middle East. "The idea was to do naval exercises, but once we were there in those foreign countries, we usually stayed about four or five days," Aiello says. A high point was taking his relatives on board during a stop in Palermo.
On the ship, Aiello worked as a steward, cook and boatswain mate, taking care of the boats, painting the ship when needed and handling the rope in port. On shore, Aiello worked as a dental technician in the Naval support activity building, taking care of the dependents of military personnel.
Due to his fluency in Italian, Aiello worked extensively in translating for Navy personnel, officially and unofficially. He also translated for shore patrol when sailors found themselves in trouble with the Italian people. Additionally, he led locals on tours of the ship. "My skill in the Italian language was very valuable while I was in Italy," he says. "Every time I would go on shore, a lot of people would like to stick with me because I was able to communicate with the Italians."
Every few months, Aiello visited his family in Bagheria. "I would bring things that Italians loved: American cigarettes, sunglasses, anything American," he says.
Aiello was discharged from active duty in 1976 as Petty Officer Third Class (E-4). He returned home and took classes at Triton College while working full time at the River Grove Post Office and at a pizza parlor on the side, all while fulfilling his Naval Reserve duties.
After graduating from Triton, Aiello attended Northern Illinois University in the Army ROTC program. He joined the Army Reserve as a cadet (E-5) assigned to military intelligence within the Special Forces, focusing on the study of countries that are unfriendly to the United States. Aiello graduated with a bachelor of arts degree.
He and his wife, Martha Gonzalez Aiello, have two children. Aiello was employed as a special agent of the Department of Homeland Security for 22 years, retiring with the rank of GS-13, the equivalent to an Army Lieutenant Colonel or Navy Commander. During that stretch, Aiello located, interrogated, arrested and placed under deportation proceedings numerous criminal permanent residents and undocumented aliens and interacted with every branch of the Department of Defense. While assigned to the fraud and national security units, he worked very closely with them in conjunction with other local, state and federal law enforcement agencies, particularly during the Iraq War and in the aftermath of the events of 9/11. "Our job primarily is to investigate alleged offenses against the U.S., primarily terrorists and criminal aliens," Aiello says.
Reflecting on his time in Gaeta, he says, "I was an Italian and an American at the same time. For the Italians, I was an American. For the Americans, I was an Italian." The Italian flag and the American flag stood side by side at the entrance to the Little Rock, and every morning at 8 a.m., they played the American national anthem followed by the Italian national anthem. "It made me feel extremely proud knowing how close the alliance was and still is between the Italians and Americans, knowing what happened during WWII," Aiello says.
"I saw action in my own town sitting in the theater," he concluded, "and then when I came to the U.S., I lived a lot of those actions."
Reprinted with permission from Fra Noi. (Copyright 2022) To learn more, click here.