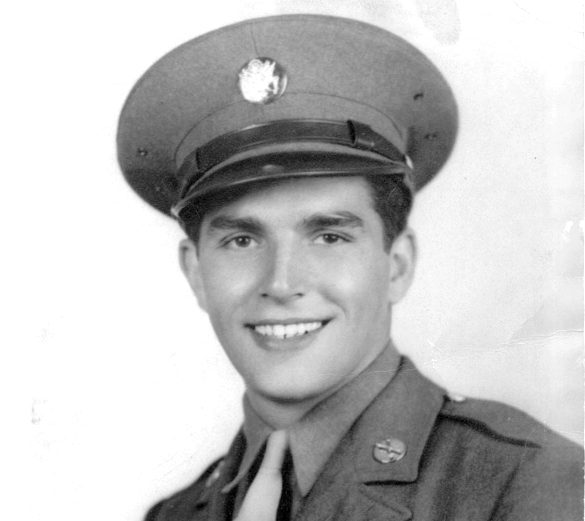 Frank Clarizio wasn't even 20 years old when he took part in one of the pivotal clashes in World War II: The Battle of the Bulge. At one point in the five-week-long fray, howitzer in hand, he squared off against a Nazi tank.
Frank Clarizio enlisted in the Army at the age of 18 and was assigned to the 106th Infantry Division.
Clarizio sailed on the SS Manhattan in November 1944 and landed in Liverpool, England. On his way to Le Havre, France, he saw the ravages of war. Buildings were toppled; bricks and broken glass lay strewn about the streets. The bridges on the Seine River were blown up. Clarizio remembered, "The twisted metal pieces looked like pretzels in the sky."
Clarizio's battery pushed on to St. Vith, Belgium, to the Battle of the Bulge. He was on patrol when suddenly, enemy guns opened up. He jumped into a foxhole, breaking through the ice into freezing water. Gunfire ripped the air. His lieutenant jumped in, said, "Stay right here, enemy is coming," and left. Nineteen-year-old Frank Clarizio crouched in the cold, wet foxhole for hours, not knowing if anyone else was around. He was wearing only a field jacket … no gloves, no boots. Gunfire ceased and Clarizio crawled out of the hole and just made it to his bunker when explosions filled the air. In the morning, he crawled out and said, "I'm still alive."
Clarizio spotted a German tank rolling toward him and his squad. He ran to the howitzer; loaded, fired and missed. The tank fired back. Clarizio reloaded and hit the tank with a ricochet shot. The tank fired and missed again. The third shot, a dud, hit the tank. The tank rolled closer. Clarizio reloaded, fired and hit the tank. It exploded into a ball of fire. "I heard men screaming," he whispers.
The squad packed up the guns and moved on through the woods, snow and mud bogging them down. From the top of a hill they saw a column of German tanks approaching. Clarizio and his sergeant moved the howitzer into position and the officer said, "I'll load, you shoot." Clarizio fired at the first tank, blew it up and continued to hit several tanks. He had two grenades and threw one down the hill and used the other to blow up the howitzer as he and the sergeant fled.
Only a small group of soldiers remained. Communications were cut off; they were lost and surrounded by the enemy. Clarizio was one of four soldiers chosen to go and "make contact with someone." The four marched down the narrow forest road, cold, wet, tired and hungry. Clarizio felt the effects of the icy cold foxhole on his feet and legs and lagged behind the others. He told them to go ahead, but they would not leave him. Suddenly, they heard an approaching vehicle. The men hid, two on each side of the narrow road with their guns drawn. It was an American jeep carrying four officers, including their colonel. The soldiers relayed the battle details. The colonel gave them some rations, showed them their location on a battle map and told them where to head.
A farm woman gave Clarizio and his fellow soldiers food and shelter. The men stayed at the farmhouse a couple of days, sleeping with the windows open in case they had to leave fast. Not trusting anyone, they took turns guarding themselves. One day, the woman screamed, "German's are coming, get out of here!"
The soldiers fled and Clarizio's feet were getting worse as they headed for Liege, Belgium. There, at a medical station, Clarizio's shoes had to be cut off. His feet were frozen and his legs were in bad shape. After being bombed out of a couple of hospitals, Clarizio finally made it to Camp Carson hospital in Colorado in April 1945. He and three other soldiers were the only survivors from his unit.
While recuperating there, Dinah Shore visited Clarizio's ward. She sat on the edge of his bed and said, "Hi soldier, how are you doing?" She put her arms around him, kissed him and said, "I'm here to sing some songs for you. What would you like to hear?" He answered, "You Belong to My Heart."
After receiving a Certified Disability Discharge, Clarizio returned to Chicago and found a job where he met his future wife. He married and was employed as a furniture salesman before opening his own store, Clarizio Furniture. He retired in 1996, and passed away peacefully on April 7, 2012, surrounded by his wife and three daughters.
To read Steve Corbo's incisive synopsis of the Battle of the Bulge, click here.
Reprinted with permission from Fra Noi. (Copyright 2020) To learn more, click here.
Linda Grisolia is a longtime Fra Noi correspondent, having contributed Onori and War Stories features over the years. She is a proud founding member of the Italian American Veterans Museum at Casa Italia and is a member of the board of directors. Many of the Italian-American veterans she interviewed for the Fra Noi were featured in the documentary, "5000 Miles from Home", which aired on Channel 11. As a child, she remembers paging through her grandpa's Fra Noi newspaper, fascinated with the Italian words, never dreaming that one day she would be a correspondent for that wonderful publication.