The son of a World War I veteran, Fred Randazzo served with pride during World War II and dedicated his life to supporting all veterans before and since.
Editor's Note: This story was first published in the November 2019 issue of Fra Noi, when the world was blissfully unaware of COVID-19 and Fred Randazzo was busily preparing for the 30th anniversary of the Veterans Day Mass at the Shrine of Our Lady of Pompeii in Chicago. The coronavirus pandemic swept the world the following spring and Fred passed away on December 6, 2020. We proudly reprint his story as it originally ran, in honor of the life of service that he led.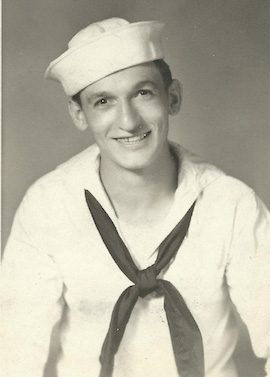 It's that time of the year when we pay tribute to all veterans of the U.S. Armed Forces who have served our country through the centuries. Since Nov. 11, 1954, Veterans Day has been observed as a national holiday in America. Originally dubbed Armistice Day, it marks the anniversary of the end of World War I, which formally came to a close at the 11th hour of the 11th day of the 11th month in 1918.
Thirty years ago, a Veterans Day Mass was first celebrated at the Shrine of Our Lady of Pompeii in Chicago's Little Italy on Taylor Street. Thanks to Fred Randazzo and the Italian-American War Veterans, it has become a much-anticipated annual event. "Because I didn't see action in the military, I've always wanted to do something for the veterans," Fred says. "I get very angry when I find that people are not patriotic, and the Mass is a way of showing patriotism as well as pride in our ethnicity."
Born in 1922, Ferdinando "Fred" Randazzo was the oldest of four sons. His parents, Giuseppe and Rose (DiPrima) Randazzo, both emigrated from Sicily to Chicago, where Giuseppe worked as a barber. After fighting in the U.S. Army during World War I, Giuseppe sent for his family to join him on Cambridge Avenue in the Little Sicily enclave on Chicago's Near North Side.
As a child, Randazzo enjoyed a close-knit upbringing, with grandparents, aunts and uncles all living in the same building and his mother cooking all the traditional Sicilian dishes. "She made the best pizza in the world, too," says Randazzo.
When he was 7 years old, the family moved to the Lakeview neighborhood, which was largely Jewish and Swedish at the time. "I was the only Italian in the school," says Randazzo. "Back then, people had the idea if you were Italian, you had the tendency to be a law breaker. It hasn't changed, it's still the same."
He attended Nettlehorst Grade School and Lane Tech High School and was employed by Wilson's Sporting Goods when he enlisted in the Navy. That same day, his dad died unexpectedly in his sleep and Randazzo needed to stay home and be the breadwinner. "I was left being the head of the family with four boys and my mother," he says. He was drafted later in 1943 and was still able to get into the Navy.
Randazzo completed boot camp at Great Lakes Naval Training Center and went to Fort Pierce, Florida, for landing craft training. Receiving a change in orders, he boarded a train to Terminal Island in San Pedro, California, where he was assigned to the U.S. Navy Disciplinary Barracks. "It was a total surprise to me," he says.
The military prison housed sailors, Marines and Coast Guardsmen who had been courtmartialed for breaking military laws. Crimes included desertion, theft and murder. The prisoners were guarded by Marines who were on the mend after sustaining combat injuries.
As a 3rd class coxswain, Randazzo oversaw more than 1,000 prisoners during their daily work detail. He interacted with them regularly, showing them no prejudice because of their crimes. "I was like the foreman who saw that the prisoners did what they were supposed to do," he says.
Every day, they marched as a unit to their assigned task. Whether it was loading or unloading ships, repairing equipment or salvaging parts, every prisoner had a job to do. "Whatever had to be done," says Randazzo.
Among their many crucial assignments, the prisoners were tasked with removing the insulation from degaussing cable recovered from sunken ships and salvaging the copper. "It was worth its weight in gold during World War II," Randazzo says.
Randazzo never had any problems with the prisoners except for one, who threatened him. Once a week, Randazzo took the prisoners who were to be discharged to the Long Beach City Jail to see if there were any civilian charges lodged against them. The sailor told him, "When I get on the beach, I'm gonna get you." His threats were unfounded, and the other prisoners berated him because Randazzo treated them all well.
As a recreational activity, Randazzo formed a baseball team of Navy personnel stationed on the island, and they played other teams on shore. When he was off duty on weekends, he often hitchhiked to Los Angeles or Long Beach. "Let's put it this way," he says, "I didn't let being in the service stop me from living."
Although Randazzo is thankful that he didn't see combat during the war, he says, "I didn't run away from it; I volunteered to begin with." He did his job, and Randazzo feels the experience helped him grow up. "I was happy to serve my country in time of need and keep the Randazzo name in the military in high gear," he says.
Randazzo was discharged from the Navy in 1945 and returned home to Chicago. He attended radio and TV school and began a lifelong career of selling radio time. He initially encountered the same stereotyping he endured as a child growing up in the Lakeview neighborhood. At one point, Vince Garrity, a radio personality at WAAF, invited Randazzo to apply for a job in the sales department at the station. Garrity told his boss he knew someone who would do a good job in sales and that his name was Fred Randazzo. His boss replied, "I don't want any Mafia guys working here!" Garrity told his boss, "If you don't hire him, I'm going to take my sponsors and go to another station." Fred was hired and a few months later, after the two men had become good friends, his boss told him, "Fred, you know, outside of the Italian musicians who work in the live orchestras at WBBM and WMAQ radio, there are no Italians. You're the only Italian." "So I broke the ice," says Randazzo.
Randazzo is divorced and has twin sons, three grandchildren and three great-grandchildren. A perennial activist in the Italian-American community, he was involved in the early years of Festa Italiana on Chicago's lakefront and served as the executive director of the Joint Civic Committee of Italian Americans. He was also a longtime member of the Italian-American War Veterans Filippo Mazzei Post #1. "My No. 1 love is helping the veterans," he says. "I will die trying to commemorate what the veterans have done, in the name of my father, who was a great American, wounded and gassed in World War I as part of the 77th Infantry Division, the Lost Division."
Randazzo encourages everyone who feels that same sense of devotion to attend the 30th anniversary Veterans Day Mass at the Shrine of Our Lady of Pompeii at 11 a.m. on Nov. 10. "It's a very moving service," he assures. "It makes you proud to be have served your country and to support those who have."
Reprinted with permission from Fra Noi. (Copyright 2020) To learn more, click here.